William Weed, letter, to John McCoy, 1865 July 22
ms-number: MS-605_37
---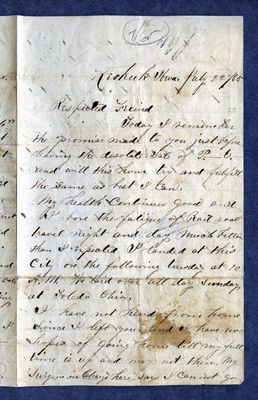 (View Page Image)
Keokuk Iowa
July 22

nd

/65
Respected Friend



Today I remember
the promise made to you just before
leaving the desolate Isle of P.—
[illegible]
[guess

(SJW)

: C.]
—
and will this hour try and fulfill
the same as best I can.
My health continues good and
I bore the fatigue of Rail road
travel night and day much better
than I expected I landed at this
City on the following tuesday at 10
A.M. We laid over all day Sunday
at Toledo Ohio.
I have not heard from home
Since I left you. and I have no
hopes of going home till my full
time is up and may not then. My
Surgeon in Charge
here Says I cannot go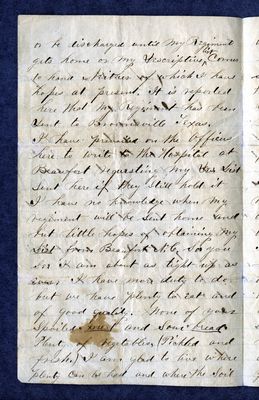 (View Page Image)
or be discharged until my Regiment
gets home or my Descriptive
⇑
list
comes
to hand neither of which I have
hopes at present. It is reported
here that my Regiment has been
Sent to Brownsville Texas.
I have prevailed on the Officers
here to write to the Hospital at
Beaufort requesting my Des. List
Sent here if they Still hold it
I have no knowledge when my
regiment will be Sent home and
but little hopes of obtaining my
List
from Beaufort N.C. So you
See I am about as tight-up as
ever. I have more duty to do
but we have plenty to eat and
of good quality. None of your
Spoiled
meat
and Sour
bread
Plenty of vegetables,(Pickled and
fresh.) I am glad to live where
plenty can be had and where the Soil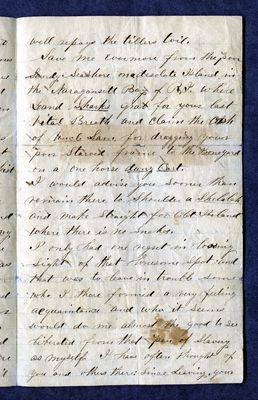 (View Page Image)
well repays the tillers toil.
Save me evermore from the poor
Sandy Seashore on a desolate Island in
the Naragansett Bay of R. I. where
Sand
Sharks
grab for your last
vital breath and claim the cash
of
Uncle
Sam
. for dragging your
poor Starved frame to the
Boneyard
on a one horse
dung
Cart
.
I would advise you sooner than
remain there to Shoulder a
Shelaleh
and make Straight for
[illegible]
[guess

(SJW)

: Old Ireland]
where there is no snakes.
I only had one regret in loosing
Sight of that lonesome spot: and
that was to leave in trouble some
who I there formed a very feeling
acquaintance and who it Seems
would do me almost the good to see
liberated from that pen of Slavery
as myself. I have often thought of
you and others there: Since leaving, you.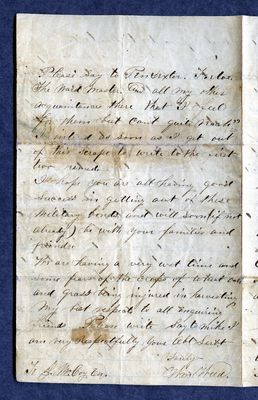 (View Page Image)
Please say to
[illegible]
[guess

(SJW)

: Pendexter]
.
[illegible]
[guess

(SJW)

: Fretoe. ]
The Ward Master. and all my other
acquaintences there that "I feel
for them but can't quite reach"
I intend as Soon as I get out
of this Scrape to write to the first
two named.
I hope you are all having good
Success in getting out of these
military bonds and will soon (if not
already) be with your families and
friends.
We are having a very wet time and
some fears of the crops of wheat oats
and grass being injured in havesting
My best respects to all enquiring
friends. Please write Say to Mike I
an very Respectfully your Obt. Servt.
Truly

[illegible]
[guess

(SJW)

: [W

m

Weed]