John McCoy, letter, to Martha McCoy, 1865 January 26
ms-number: MS-605_29
---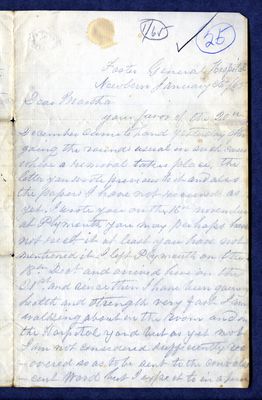 (View Page Image)
Foster General Hospital
Newbern
January 26

th

/65
Dear Martha

your favor of the 20
th
December came to hand yesterday after
going the rounds usual in such cases
where a removal takes place. the
letter you wrote previous to it and also
the papers I have not recieved as
yet. I wrote you on the 16
th
november
at Plymouth you may perhaps have
not rec
d
. it at least you have not
mentioned it. I left Plymouth on the
18
th
. Dec
r
. and arrived here on the
21
st
. and since then I have been gaining
health and strength very fast I am
walking about in the room and in
the Hospital yard but as yet
[illegible]
[guess

(SYA)

: not]
I am not considered sufficiently rec
-overed so as to be sent to the convales
-cent ward but I expect to in a few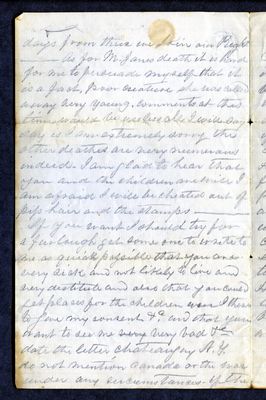 (View Page Image)
days from there we join our Regt.

As for M.
[illegible]
[guess

(SYA)

: Janes]
death it is hard
for me to persuade myself that it
is a fact. poor creature she was called
away very young. comments at this
time would be useless all I will say
say is I am extremely sorry the
other deathes are very numerous
indeed. I am glad to hear that
you and the children are will I
am afraid I will be cheated out of
pip hair and the stamps —
If you want I should try for
a furlough get some one to write to
me as quick
[illegible]
[guess

(SYA)

: pofsible]
that you are
very sick and not likely to live and
very destitute and also that you could
get places for the children were I there
to give my consent &
c
. and that you
want to see me
very
very bad
[illegible]
[guess

(SYA)

: &

c

]
date the letter chateaugay N.Y.
do not mention canada or the war
under any circumstances. if the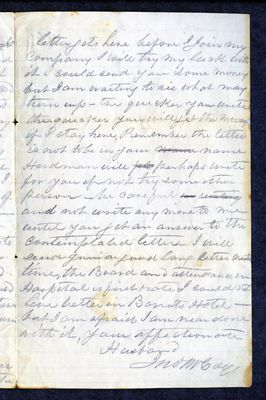 (View Page Image)
letter gets here before I join my
Company I will try my luck with
it I could send you some money
but I am waiting to see what may
turn up - the quicker you write
the quicker you will get the money
if I stay here, Remember the letter
is not to be in your
name
name
Herdman will
pe
perhaps write
for you if not try some other
person - be careful
in writing
and not write any more to me
until you get an answer to the
contemplated letter - I will
send
[illegible]
[guess

(SYA)

: you]
a good long letter next
time, the Board and attendance in
Hospital is first rate I could not
live better in
[illegible]
[guess

(MKR)

: Barrets]
Hotel -
but I am afraid I am near done
with it, your affectionate
Husband
JnoMCoy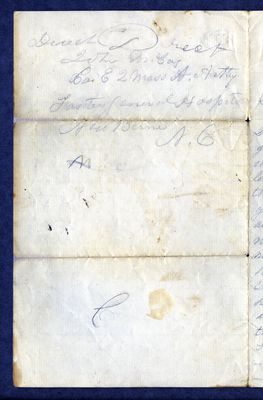 (View Page Image)
Direct Direct
John M. Coy
Co. E 2 Mass A. Artlry.
Foster General Hospital
New Berne N.C.
M