John McCoy, letter, to Martha McCoy, 1864 October 3
ms-number: MS-605_23
---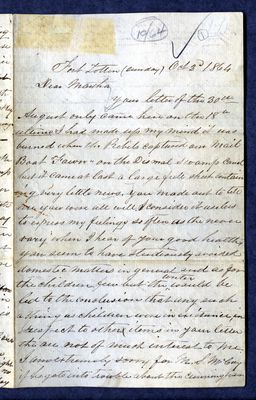 (View Page Image)
Fort Totten
(sunday) Oct 3

d

1864
Dear Martha

Your letter of the 30
th
August only came here on the 18
th
ultimo
I had made up my mind it was
burned when the Rebels captured our mail
Boat "
[illegible]
[guess

(SYA)

: Fawn]
" on the Dismal swamp canal
but it came at last a large full sheet contain
-ing very little news. you made out to tell
me you were all well. I consider it useless
to express my feelings so often as the never
vary when I hear of your good health,
you seem to have studiously avoided
domestic matters in general and as for
the children few but the
⇑
writer
would be
led to the conclusion that any such
a thing as children were in existance, in
respect to other
s
items in your letter
the are not of much interest to me.
I am extremely sorry for M.
[illegible]
[guess

(MKR)

: S]
M Coy
if
[illegible]
[guess

(SYA)

: he]
gets into trouble about the Cunningham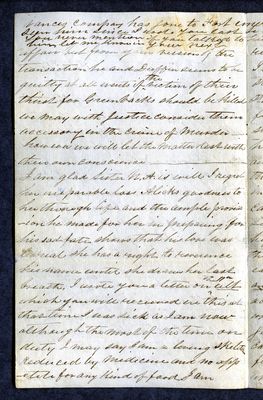 (View Page Image)
affair but from your version of the
transaction he and
[illegible]
[guess

(SYA)

: Duffin]
seems to be
guilty at all events if
⇑
the
victim of their
thirst for Greenbacks should be killed
we may with justice consider them
accessory in the crime of murder —
however we will let the matter rest with
their own conscience —
I am glad Sister
[illegible]
[guess

(SYA)

: N.A.]
is will I regret
her
[illegible]
[guess

(SYA)

: irreparable]
loss Alicks goodness to
her through life and the ample proviss
-ion he made for her in preparing for
his sad fate shows that his love was
le
real she has a right to reverence
his name until she draws her last
breath. I wrote you a letter on
⇑
the 11

th
ult
which you will received ere this at
that time I was sick as I am now
although the most of the time on
duty I may say I am a living skeleton
reduced by medicine and no app
-etite for any kind of food. I am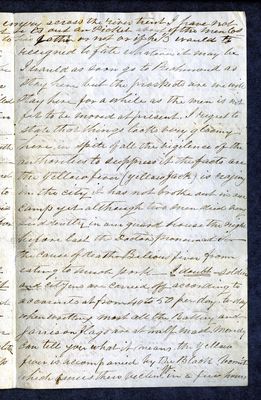 (View Page Image)
resigned to fate whatever it may be
I would as soon go to Richmond as
stay here but the prospects are we will
stay here for a while as the men is not
fit to be moved at present. I regret to
state that things looks very gloomy
here. in spite of all the vigilence of the
authorities to suppress it the facts are
the yellow fever (yellow jack) is raging
in the city it has not broke out in our
camp yet although two men died very
suddently in our guard house the night
before last the Doctor pronounced
it
the cause of death Bilious fiver from
eating to much pork —
I doubt
- soldiers
and citzens are carried off according to
accounts at from 40 to 50 per day. to-day
when
[illegible: [guess

(MKR)

: writting]]
most all the Battery and
garrison flags are at half mast Meredy
can tell you what it means. the yellow
fever is accompanied by the Black Vomit
which carries their victim
⇑
off
in a few hours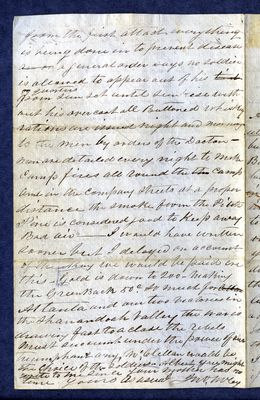 (View Page Image)
from the first attack every thing
is being done in to prevent disease
an on
a general order says no soldier
is allowed to appear out of his
[illegible: [guess

(MKR)

: tent]]
⇑
or

quarters
from sun set until sun rise with
out his overcoat all Buttoned whiskey
rations are issued night and morning
to the men by orders of the Doctor -
men are detailed every night to make
camp fires all round the
th
camp
and in the company streets at a proper
distance the smoke from the Pitch
Pine is considered good to keep away
Bad air — I would have written
sooner but I delayed on account
of thinking we would be paid ere
this. Gold is down to 200 - making
the GreenBack 50
c
. so much for
[illegible]
Atlanta and our two hectares in
the Shanandoah Valley the war is
drawing fast to a close the Rebels
must succumb under the power of our
triumphant army, M
c
Clellan would be
the choice of the soldiers - Albert you might
write to me since your mother has no
time
yours as usual
Jno.Mcoy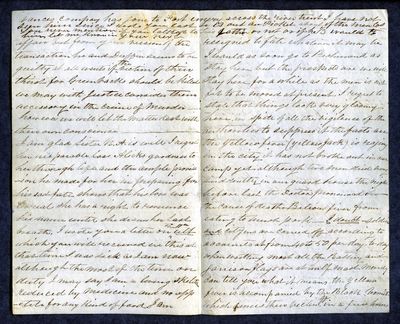 (View Page Image)
This postscript appears at the top of the second leaf. It starts on page 1v and runs across the fold to 2r
[illegible]
[guess

(SYA)

: Vances]
company has gone to Fort
[illegible]
[guess

(MKR)

: emery]
across the river
[illegible]
[guess

(SYA)

: trent]
I have not
seen him since I wrote you last
[illegible]
[guess

(SYA)

: he is]
out on Picket about of the men
[illegible]
you never mention if you talked to his father or not as if he's wanted to
him let me know in your next