John McCoy, letter, to Martha McCoy, 1864 June 19
ms-number: MS-605_16
---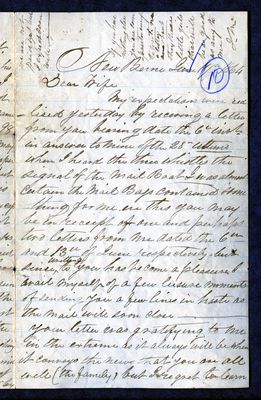 (View Page Image)
New Berne
June 19

th

1864
Dear Wife
My expectations were rea
-lised yesterday by receiving a letter
from you bearing date the 6
th
inst.
in answer to mine of the 28
th
ultimo
when I heard the three whistles the
signal of the mail Boat I was almost
certain the mail Bags contained some
-thing for me. ere this you may
be in receipt of one and perhaps
two letters from me dated the 6
th
and 13
th
of June respectively. but
since
⇑
writing
to you has become a pleasure I
avail myself of a few leasure moments
of sending you a few lines in haste as
the mail will soon close—
your letter is as gratifying to me
in the extreme as it always will be when
it conveys the news that you are all
well (the family) but I regret to learn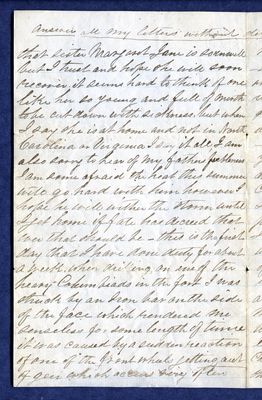 (View Page Image)
that sister Margaret-Jane is so unwell
but I trust and hope she will soon
recover it seems hard to think of one
like her so young and full of mirth
to be cut down with sickness. but when
I say she is at home and not in North
Carolina or Virginia I say it all, I am
also sorry to hear of my fathers feebleness
I am some afraid the heat this summer
[illegible: [guess

(MKR)

: will]]
go hard with him however I
hope he will wither the storm until
I get home if fate has decreed that
ever that should be- this is the first
day that I have done duty for about
a week. when drilling on one of the
heavy Columbiads in the fort I was
struck by an iron bar on the side
of the face which rendered me
senseless for some length of time
it was caused by a sudden reaction
of one of the front wheels getting out
of geer which accurs very often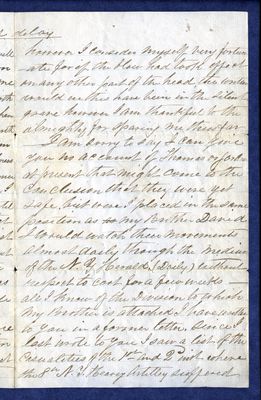 (View Page Image)
however I consider myself very fortun
-ate for if the blow had took effect
on any other part of the head the writer
would ere this have been in the silent
grave however I am thankful to the
almighty for sparing me thus far
—I am sorry to say I can give
you no account of Thomas or gardner
at present that might come to the
conclusion that they were yet
safe. but were I placed in the same
position as
as
my Brother David
I would watch their movements
almost daily though the medium
of the N.Y Herald, (Daily) without
respect to cost for a few weeks—
all I know of the Division to which
my Brother is attached I have written
to you in a former letter. Since I
last wrote to you I saw a list of the
Casualities of the 1
st
and 2
d
inst where
the 8
th
N.Y. Heavy Artilley suffered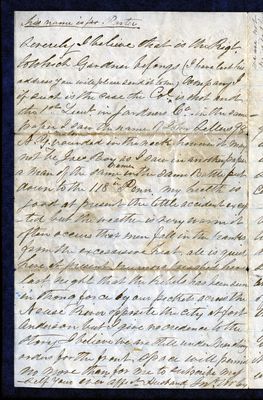 (View Page Image)
⇑
[top]
his name is

pt.

Porter
severely I believe that is the Regt.
to which Gardner belongs (I have lost his
address you will please send it to me) Company I
if such is the case the Col. is shot and
the 1
st
Lieut. in gardners C
o
. in the same
paper I saw the name of John Sellers 98
N.Y.
⇑
Malone
wounded in the neck. however it may
not be Jaes. Boy as I saw in another paper
a man of the same
⇑
name
in the same Battle put
down to the 118
th
Penn. my health is
good at present the little accident excep
-ted but the weather is very warm it
often occurs that men fall in the ranks
from the excessisive heat. all is quiet
here at present rumors reached here
last night that the Rebels has been seen
in strong force by our pickets across the
Neuse River oppssite the city at fort
Anderson but I give no credence to the
story I believe we are still under Marching
orders for the front, space will permit
no more than for me to subscribe my
-self
your ever affect Husband

Jn

o

. MCoy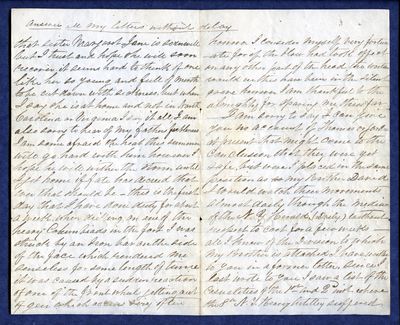 (View Page Image)
This postscript appears at the top of page 1v-2r
Answer all my letters without delay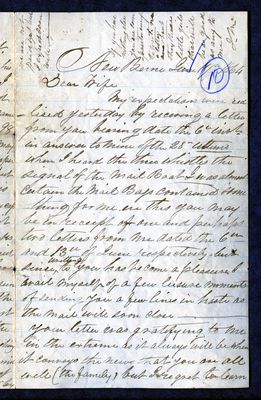 (View Page Image)
This postscript is written sideways across the top of the first page of the letter.
we are not
paid yet but
I expect soon
will—
If you have
nothing else
you are com
-pasionate enough
to write me
and
a letter about
they those
little girls
that will
be as good
as any to
me
J.M.