John McCoy, letter, to Martha McCoy, 1864 April 21
ms-number: MS-605_12
---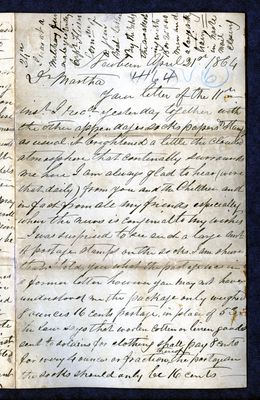 (View Page Image)
Newbern
April 21

st

1864
D

r

Martha

Your letter of the 11
th
inst. I rec.
d
yesterday together with
the other appendages socks papers
⇑
&
stamps
as usual it brightened a little the clouded
atmosphere that continally surrounds
me here I am always glad to hear (were
that daily) from you and the Children and
in fact from all my friends especially
when the news is congenial to my wishes
I was surprised to see such a large
[illegible]
[guess

(SYA)

: amn

t

]
of postage stamps on the socks. I am shure
that I told you what the postage was in
a former letter however you may not have
understood me. the package only weighed
8 ounces 16 cents postage. in place of 53
the law says that woolen cotten or linen goods
sent to soldiers for clothing shall pay 8 cents
for every 4 ounces or fraction
⇑
thereof
the postage on
the socks should only be 16 cents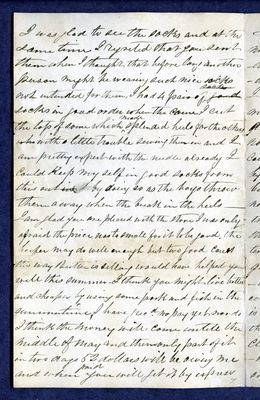 (View Page Image)
I was glad to see the socks and at the
same time I regreted that you sent
them when I thought that before long another
person might be wearing such nice socks
not intended for them. I had 4 pair of
⇑
socks
good
socks in good order when
[illegible]
[guess

(SYA)

: the came]
. I cut
the top of some which
⇑
made
splendid heels for the others
wh
with little trouble sewing them in and I
am pretty expert with the needle already I
could keep my self in good socks from
this
[illegible]
by doing so as the boys throw
them away when the break in the heels —
I am glad you are pleased with the stove I was only
afraid the price was to small for it to be good. the
heifer may do well enough but two good cows
the way Butter is selling would have helped you
well this summer. I think you might live better
and cheaper by using some pork and fish in the
summertime. I have rec.
d
no pay yet nor do
I think the money will come untill the
middle of May and then only part of it
in two days 52 dollars will be owing me
and when
⇑
paid
you will get it by express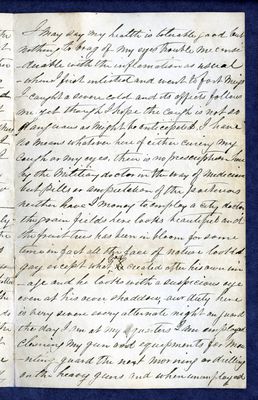 (View Page Image)
I may say my health is tolerable good but
nothing to brag of my eyes trouble me consi
-derable with the inflamation as usual
- when I first inlisted and went to Fort
[illegible]
[guess

(SYA)

: Meigs]
I caught a severe cold and its effects follows
me. yet though I hope the cough is not so
dangerous as might be anticipated. I have
no means whatever here of either curing my
cough or my eyes. there is no prescription here
by the militiary doctor in the way of medecine
but pills or amputation of the
[illegible]
[guess

(SYA)

: posteriors]
neither have I money to employ a city doctor
the grain fields here looks beautiful and
the fruit trees has been in bloom for some
time in fact all the face of nature looks
gay except what
⇑
God
he
created after his own im
-age and he looks with a suspicious eye
even at his own shadow, -our duty here
is very severe every alternate night on guard
the day I am at my quarters I am employed
cleaning my gun and equipments for mou
-nting guard the next morning or drilling
on the heavy guns and when unemployed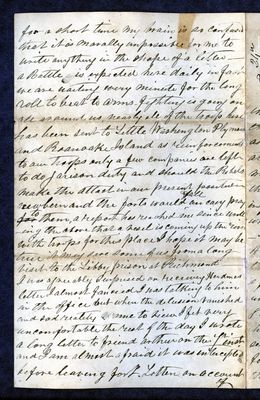 (View Page Image)
for a short time my brain is so confused
that it is morally impossible for me to
write anything in the shape of a letter —
a Battle is expected here daily in fact
we are waiting every minute for the long
roll to beat to arms. Fighting is going on
all around us, nearly all of the troop here
has been sent to Little Washington Plymouth
and Roanoake Island as reinforcements
to our troops only a few companies are left
to do garison duty and should the Rebels
make the attack in our present position
Newbern and the ports would
⇑
fall
an easy pray
for
⇑
to
them, a report has reached me since writ
-ing the above that a vesel is coming up the river
with troops for this place I hope it may be
true it may save some of us from a long
visit to the Libby prison at Richmond —
I was agreeably surprised on receiving
[illegible]
[guess

(SYA)

: Herdman's]
letter I almost fancied I was talking to him
in the office but when the delusion vanished
and sad reality came to view I
[illegible]
[guess

(SYA)

: got]
> very
uncomfortable the rest of the day I wrote
a long letter to friend Arthur on the
[illegible]
[guess

(SYA)

: 7

th

inst.]
and I am almost afraid it was intercepted
before leaving Fort Totten on account
⇑
[below]
of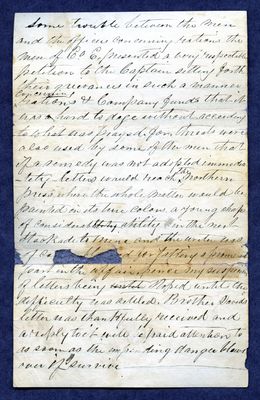 (View Page Image)
some trouble between the men
and the officers concerning rations the
men of Co. C. presented a very respectable
petition to the Captain setting forth
their grievances in such a manner
⇑
concerning
rations & Company funds that it
was hard to doge without acceeding
to what was prayed for. Threats were
also used by some of the men that
if a remedy was not adopted immedia
-tely letters would reach
⇑
the
northern
press where the whole matter would be
painted in its true colors. a young chap
of considerable ability in the next
[illegible]
[guess

(SYA)

: stockade]
to mine and the writer was
of
[gap: hole]
for taking a prominent
part in the affair, hence my suspicion
of letters being
until
stoped until the
difficulty was settled. Brother Davids
letter was thankfully received and
a reply to it will be paid attention to
as soon as the impending danger blows
over if
⇑
[inline]
I
survive —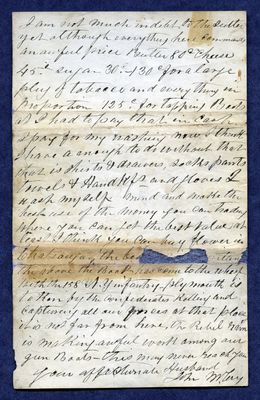 (View Page Image)
I am not much in debt to the
[illegible]
[guess

(SYA)

: sutler]
yet although everything here commands
an awful price Butter 80
c
Cheese
45
c
sugar 30
c
[illegible]
[guess

(SYA)

: -130]
c
for a large
plug of tobacco and every thing in
proportion 125
c
for tapping Boots
as I had to pay that in cash
I pay for my washing now I think
I have a enough to do
[illegible]
[guess

(SYA)

: without]
that
that is shirts & drawers, socks pants
towels &
[illegible]
[guess

(SYA)

: Handkef

s

]
and gloves I
wash myself. mind and make the
best use of the money you can
[illegible]
[guess

(SYA)

: trading]
where you can get the best value at
least I think you can buy flower in
Chateaugay the
[gap: hole]
the above the Boat has come to the wharf
with the 158 N.Y infantry - plymouth is
taken by the Confederates killing and
capturing all our forces at that place
it is not far from here, the Rebel ram
is making awful work among our
gun Boats - this may never reach you
your affectionate Husband
John M.Coy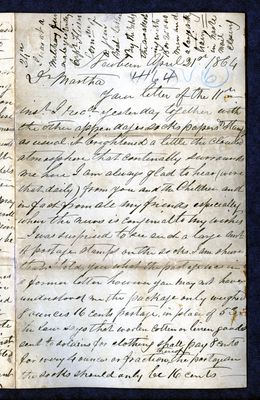 (View Page Image)
The postscript appears at the top of the first page of the letter.
24
th
I was at a
militiary fun
-eral yesterday
Capt. Flisson
Com.
der
of
a gun
Boat taken
By the Rebels
the are attack
-ing with
15 or 20000
men and
a large army
train —
in haste
mail
closing