John McCoy, letter, to Martha McCoy, 1864 March 29
ms-number: MS-605_11
---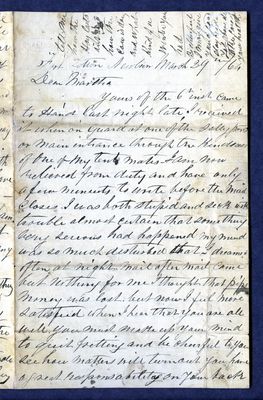 (View Page Image)
Fort Totten Newbern
March 29

th

/64
Dear Martha


Yours of the 6
th
inst came
to Hand last night late. I received
it when on guard at one of the sally ports
or main entrance through the kindness
of one of my tent mates. I am now
relieved from duty and have only
a few minutes to write before the mail
closes. I was both stupid and sick with
trouble almost certain that something
very serious had happened my mind
was so much disturbed that I dreamed
often at night. Mail after mail came
but nothing for me I thought that
pips
money was lost, but now I feel more
satisfied when I hear that you are all
well. You must make up your mind
to quit fretting and be cheerful to you
see how matters will turn out you have
a great responsability on your back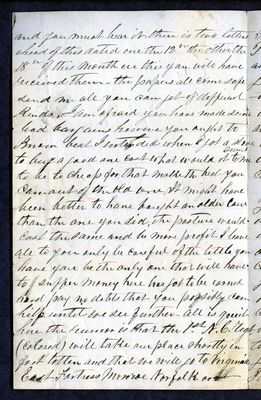 (View Page Image)
and you must bear it there is two letters
ahead of this dated one the 12
th
the other the
18
th
of this month ere this you will have
received them. the papers all come safe
send me all you can get of different
kinds. I am afraid you have made some
bad bargains however you ought to
know best I intended when I got a stove
to buy a good one cost what would it
⇑
seems
to me
to be to cheap for that make the best you
can out of the old one. It might have
been better to have bought an older cow
than the one you did, the pasture would
cost the same and be more profit I leave
all to you only be careful of the little you
have you be the only one that will have
to suffer money here has got to be earned
hard pay no debts that you possibly can
hilp until we see further. All is quiet
here the rumor is that the 1
st
N.C. Regt.
(colored) will take our place shortly in
fort totten and that we will go to Virginia
East Fortress Monroe Norfolk or
Pl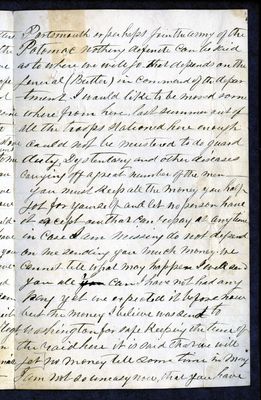 (View Page Image)
Portsmouth or perhaps Join the army of the
Potomac nothing definite can be said
as to where we will go. that depends on the
General (Butler) in command of the depar
-tment. I would like to be moved some
where from here. last summer out of
all the troops stationed here enough
could not be mustered to do guard
duty. Dystentary and other diseases
carrying off a great number of the men —
You must keep all the money you half
got for yourself and let no person have
it except one that can repay at anytime
in case I am missing do not depend
on me sending you much money. We
cannot tell what may happen I will send
you all
⇑
I
you
can I have not had any
pay yet we expected it before now
but the money I believe was sent to
Washington for safe keeping the time of
the raid here it is said that we will
get no money till some time in May
I am not so uneasy now, that you have
(View Page Image)
a little on hands last you a while
⇑
[illegible]
everything thing here is very dear
I had to pay $1.50 for tapping my
Boots I have to pay for Blackning
emery paper tripoli for my gun and
ten cents a week for washing I am not
much in debt yet if not paid till May
I can send you 45 dollars I think.
I have not money to buy stamps with
and there is none in the sutlers I have
to borrow some till pay day —
My health is very good as yet, I am
not as usual subject to
[illegible]
[guess

(SJW)

: dwams]
at
times always ready for eating at any
hour Blacheette has not paid me
neither has Leary I have done nothing
yet about the
[illegible]
[guess

(SJW)

: State]
aid Keep
secret till I see about it my
love
⇑
to
you all send me all the
news about the children how the
[illegible]
[guess

(SJW)

: C.]
Court gets along
your affectionate
Husband in haste

Jno MCoy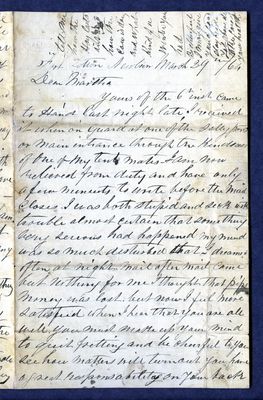 (View Page Image)
This postscript is written sideways across the top of the first page of the letter.
tell me
how the
Hay lasts
[illegible]
[guess

(SJW)

: and about]
how the
cow is doing
and what
kind of a
winter you
had
—-
Be cheerful
I may give
you a good
slay ride
yet above all
take care of
your health