John McCoy, letter, to Martha McCoy, 1864 February 27
ms-number: MS-605_07
---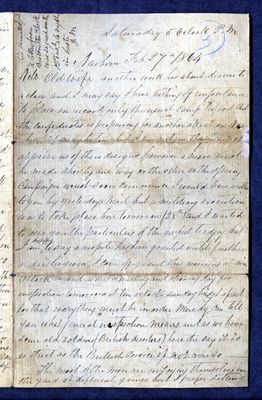 (View Page Image)
Saturaday 5 Oclock P.M


Newbern

Feb. 27

th

1864

Well Old wife

another week has about drawn to
a close and I may say I have nothing of importance
to place on record, only the usual camp report that
the confederates is preparing for another attact on New
-bern it may be true but I am certain they will not
apprise us of their designs however a move must
be made shortly one way or the other so the spring
campaign must soon commence I would have written
to you by yesterdays mail but a military excecution
was to take place here Tomorrow (28
th
) and I waited
to give you the particulars of the awful tradgey but
I am
⇑
happy
to say a respite has been granted until further
order be given. I came off guard this morning at nine
Oclock
[illegible]
and as this is washing and cleaning day for
inspection Tomorrow at ten oclock sunday being set apart
for that everything must be in order Meredy can tell
you what general inspection means and as we have
some old soldiers (British deserters) here the say it is
as strict as the British service if not more so—
—The most of the men are enjoying themselves in
the yard at different games but I prefer sitting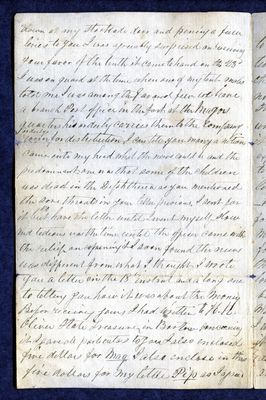 (View Page Image)
down at my stockade door and pening a few
lines to you I was agreeably surprised on receiving
your favor of the tenth it came to hand on the 23
d
I was on guard at the time when one of my tent mates
told me I was among the favored few. we have
a branch Post officer in the back at the Magors
quarters his orderly carries them to the company
⇑
orderlys
room for distribution. I can tell you many a notion
came into my head what the news could be and the
predominant one was that some of the children
was dead in the Diptheria as you mentioned
the sore throats in your letter previous. I sent for
it but
⇑
no
have the letter until I went myself slow
and tedious was the time until the officer came with
the relief on opening it I soon found the news
was different from what I thought I wrote
you a letter on the 18
th
instant and a long one
to telling you how it was about the money
Before receiving yours I had written to H. K.
Oliver State Treasurer in Boston concerning
it I gave all particulars to you I also enclosed
five dollars for
Mag
I aslo enclose in this
five dollars for my little
Pip
as I agreed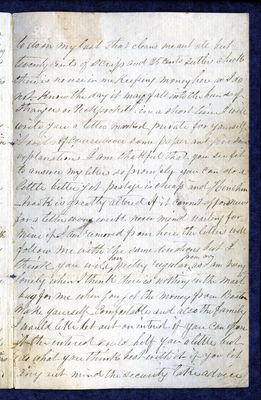 (View Page Image)
to do in my last that cleans me out all but
twenty cents of scrip and 25 cents sutlers check
there is no use in me keeping money here as I do
not know the day it may fall into the hands of
strangers or Pickpockets. in a short time I will
write you a letter marked private for yourself.
it will of course cover some paper and give some
explanations. I am thakful that you see fit
to answer my letters so promply you can do a
little better yet postage is cheap and Hinchin
-brook is greatly altered if it cannot afford news
for a letter every week never mind waiting for
mine if I am removed from here the letters will
follow me with the same directions but I
think you will
⇑
hear
pretty regular
⇑
from me
as I am very
lonely when I think there is nothing in the mail
bag for me when you get the money from Boston
make yourself Comfortable and also the family
I would like let out on interest if you can spare
it the interest could help you a little but
do what you think best with it if you let
any out mind the security take advice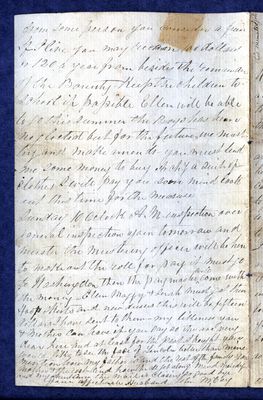 (View Page Image)
from some person you consider a friend
If I live you may reckon 100 dollars
or 120 a year from besides the remainder
of the Bounty-Keep the children to
school if possible Ellen will be able
to go this summer the Boys has been
neglected but for the future we must
try and make amends- you must lend
me some money to buy Archy a suit of
clothes I will pay you soon mind look
out this time for the measure—
Sunday 10 Oclock A. M. inspection over
general inspection again tomorrow and
muster tho mustering officers will be here
to make out the roll for pay it must go
to Washington then the pay master
⇑
will
come with
the money. Ellen Maggy + Sarah must get them
Hoop skirts and new dresses this will be fifteen
dollars I have sent to them. my likeness you
& mother can have if you say so the are very
dear here and at least for the past I hought you
would like to see the face of Lincoln better than mine
mention how my father is and the rest of the family your
mother + the rest and how the all get along mind Meredy
and my Aunt Ann the mail is closing so good bye
your affectionate Husband

John McCoy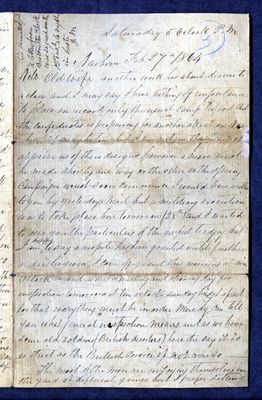 (View Page Image)
The postscript is written sideways across the top of the first page of the letter.
this minute I got
a letter from
Boston the check
was signed on the
12
th
inst. all right
in haste
J M