William Scoresby, Junior: Encyclopedia Arctica 15: Biographies
---
William Scoresby, Junior
(View Page Image)
EA-Biography
(R. N. Rudmose Brown)
WILLIAM SCORESBY, JUNIOR
William Scoresby, Junior (1789-1857), English whaler and arctic explorer,
was born at Cropton, near Whitby, Yorkshire, the son of William Scoresby, also
a Greenland whaler. Young Scoresby had a taste of whaling when he sailed with
his father in the
Resolution
in 1800 but returned to school until, in 1803, he
joined his father's ship as an apprentice and gradually worked his way up to
chief officer. In 1806 the
Resolution
reached the record latitude of 81° 30′ N.,
longitude 19° E. in an unusually good ice year in the Greenland Sea. Scoresby
left the sea for about a year to attend classes at the University of Edinburgh
when he was seventeen and again when he was twenty, and he had another inter–
lude from whaling when he was with Nelson's fleet at Copenhagen and helped to
sail to England the captured Danish ships. Meanwhile his scientific interests
were growing, due in part to the influence of Sir Joseph Banks whom he met about
this time and several of his Edinburgh professors.
In 1811 Scoresby became captain of his father's
Resolution
. Then, in com–
mand of the
Esk
and later the
Fame
, he made successful whaling voyages on all
of which he continued his scientific observations. He had hoped to be given
command of the expedition sent out by the British Government to Spitsbergen in
1818 under D. Buchan and J. Franklin in the
Dorothea
and the
Trent
, but a mer–
chant sailor was not to be considered in the running, however expert and dis–
tinguished he might be. In 1820 Scoresby published his
Account of the Arctic
Regions and Northern Whale Fishing
(2 vol.).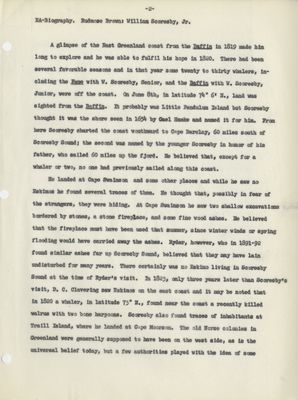 (View Page Image)
EA-Biography. Rudmose Brown: William Scoresby, Jr.
A glimpse of the East Greenland coast from the
Baffin
in 1819 made him
long to explore and he was able to fulfil his hope in 1820. There had been
several favorable seasons and in that year some twenty to thirty whalers, in–
cluding the
Fame
with W. Scoresby, Senior, and the
Baffin
with W. Scoresby,
Junior, were off the coast. On June 8th, in latitude 74° 6′ N., land was
sighted from the
Baffin
. It probably was Little Pendulum Island but Scoresby
thought it was the shore seen in 1654 by Gael Hamke and named it for him. From
here Scoresby charted the coast wouthward to Cape Barclay, 60 miles south of
Scoresby Sound; the second was named by the younger Scoresby in honor of his
father, who sailed 60 miles up the fjord. He believed that, except for a
whaler or two, no one had previously sailed along this coast.
He landed at Cape Swainson and some other places and while he saw no
Eskimos he found several traces of them. He thought that, possibly in fear of
the strangers, they were hiding. At Cape Swainson he saw two shallow excavations
bordered by stones, a stone fireplace, and some fine wood ashes. He believed
that the fireplace must have been used that summer, since winter winds or spring
flooding would have carried away the ashes. Ryder, however, who in 1891-92
found similar ashes far up Scoresby Sound, believed that they may have lain
undisturbed for many years. There certainly was no Eskimo living in Scoresby
Sound at the time of Ryder's visit. In 1823, only three years later than Scoresby's
visit, D. C. Clavering saw Eskimos on the east coast and it may be noted that
in 1820 a whaler, in latitude 73° N., found near the coast a recently killed
walrus with two bone harpoons. Scoresby also found traces of inhabitants at
Traill Island, where he landed at Cape Moorsom. The old Norse colonies in
Greenland were generally supposed to have been on the west side, as is the
universal belief today, but a few authorities played with the idea of some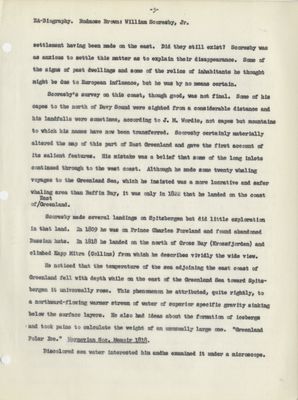 (View Page Image)
EA-Biography. Rudmose Brown: William Scoresby, Jr.
settlement having been made on the east. Did they still exist? Scoresby was
as anxious to settle this matter as to explain their disappearance. Some of
the signs of past dwellings and some of the relics of inhabitants he thought
might be due to European influence, but he was by no means certain.
Scoresby's survey on this coast, though good, was not final. Some of his
capes to the north of Davy Sound were sighted from a considerable distance and
his landfalls were sometimes, according to J. M. Wordie, not capes but mountains
to which his names have now been transferred. Scoresby certainly materially
altered the map of this part of East Greenland and gave the first account of
its salient features. His mistake was a belief that some of the long inlets
continued through to the west coast. Although he made some twenty whaling
voyages to the Greenland Sea, which he insisted was a more lucrative and safer
whaling area than Baffin Bay, it was only in 1822 that he landed on the coast
of
⇑
East
Greenland.
Scoresby made several landings on Spitsbergen but did little exploration
in that land. In 1809 he was on Prince Charles Foreland and found abandoned
Russian huts. In 1818 he landed on the north of Cross Bay (Krossfjorden) and
climbed Kapp Mitra (Collins) from which he describes vividly the wide view.
He noticed that the temperature of the sea adjoining the east coast of
Greenland fell with depth while on the east of the Greenland Sea toward Spits–
bergen it universally rose. This phenomenon he attributed, quite rightly, to
a northward-flowing warmer stream of water of superior specific gravity sinking
below the surface layers. He also had ideas about the formation of icebergs
and took pains to calculate the weight of an unusually large one. "Greenland
Polar Ice."
Wernevian Sec. Memoir 1818
.
Discolored sea water interested him andhe examined it under a microscope.
(View Page Image)
EA-Biography. Rudmose Brown: William Scoresby, Jr.
Brown-colored sea water, he found, was due to the "remains of animalcules"
but yellow-green water was of more interest since it contained "myriads of
animalcules moving at a great rate in a transparent substance of a lemon yellow
colour." He calculated that in a single drop of water there were 25,000 animal–
cules. It is now known that this yellow-green color of arctic seas is entirely
due to diatoms. Many small crustaceans feed on these diatoms.
Before he reached middle age Scoresby showed leanings toward the Church.
He tried always to hold a service on board every Sunday, morning and evening,
and he was strongly of the belief that a service preliminary to the "fishing"
furthered the success of the whaling. Also he never whaled on Sundays; "I could
relate several instances in which, after our refraining to fish on the Sabbath,
while others were thus successfully employed, our subsequent labours succeeded
under circumstances so striking that there was not, I believe, a man in the ship
who did not consider it the effect of the Divine Blessing." See his
Sabbaths
in the Arctic Regions
1850. In 1823 Scoresby left the sea and went into Queens
College, Cambridge, with the purpose of entering the Church. He was ordained
in 1825 and given the curacy of Bessingby, near Bridlington, in the East Riding
of Yorkshire, which he held until 1837 when he became vicar of Bradford, York–
shire. He health failing, he retired from active work in 1847 and went to live
at Torquay where he occupied himself in writing a life of "
My Father
(1851). He
also published in 1850 his views on the lost
Franklin Expedition, a Considera–
tion on measures for the Discovery and relief of our absent adventurers in the
Arctic Regions
. As a passanger in a steamship to Australia and back he made his
last sea voyage. Scoresby was married three times. He was elected an F.R.S. in
1824, and a corresponding member of the Institute of France in 1827. He died at
Torquay in 1857. His
Life
by his nephew, R. E. Scoresby-Jackson, was published
in 1861. In addition to his
Account of the Arctic Regions
, 1820, Scoresby pub–
lished
Journal of a Voyage to the Northern Whale Fishery
' 1823.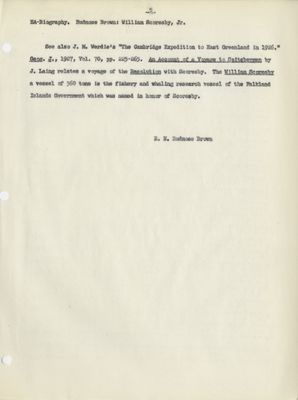 (View Page Image)
EA-Biography. Rudmose Brown: William Scoresby, Jr.
See also J. M. Werdie's "The Cambridge Expedition to East Greenland in 1926."
Geog. J
., 1927, Vol. 70, pp. 225-265.
An Account of a Voyage to Spitsbergen
by
J. Laing relates a voyage of the
Resolution
with Scoresby. The
William Scoresby
a vessel of 360 tons is the fishery and whaling research vessel of the Falkland
Islands Government which was named in honor of Scoresby.