George Francis Lyon: Encyclopedia Arctica 15: Biographies
---
George Francis Lyon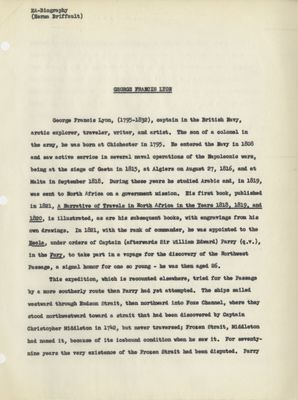 (View Page Image)
EA-Biography
(Herma Briffault)
GEORGE FRANCIS LYON
George Francis Lyon, (1795-1832), captain in the British Navy,
arctic explorer, traveler, writer, and artist. The son of a colonel in
the army, he was born at Chichester in 1795. He entered the Navy in 1808
and saw active service in several naval operations of the Napoleonic wars,
being at the siege of Gaeta in 1815, at Algiers on August 27, 1816, and at
Malta in September 1818. During these years he studied Arabic and, in 1819,
was sent to North Africa on a government mission. His first book, published
in 1821,
A Narrative of Travels in North Africa in the Years 1818, 1819, and
1820
, is illustrated, as are his subsequent books, with engravings form his
own drawings. In 1821, with the rank of commander, he was appointed to the
Hecla
, under orders of Captain (afterwards Sir William Edward) Parry (q.v.),
in the
Fury
, to take part in a voyage for the discovery of the Northwest
Passage, a signal honor for one so young - he was then aged 26.
This expedition, which is recounted elsewhere, tried for the Passage
by a more southerly route than Parry had yet attempted. The ships sailed
westward through Hudson Strait, then northward into Foxe Channel, where they
stood northwestward toward a strait that had been discovered by Captain
Christopher Middleton in 1742, but never traversed; Frozen Strait, Middleton
had named it, because of its icebound condition when he saw it. For seventy–
nine years the very existence of the Frozen Strait had been disputed. Parry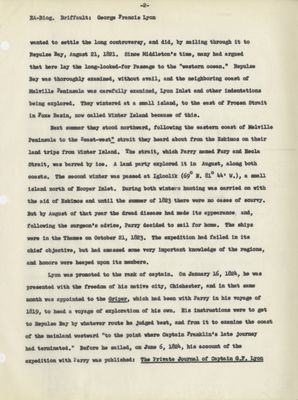 (View Page Image)
EA-Biog. Briffault: George Francis Lyon
wanted to settle the long controversy, and did, by sailing through it to
Repulse Bay, August 21, 1821. Since Middleton's time, many had argued
that here lay the long-looked-for Passage to the "western ocean." Repulse
Bay was thoroughly examined, without avail, and the neighboring coast of
Melville Peninsula was carefully examined, Lyon Inlet and other indentations
being explored. They wintered at a small island, to the east of Frozen Strait
in Foxe Basin, now called Winter Island because of this.
Next summer they stood northward, following the eastern coast of Melville
Peninsula to the
"
east-west
"
strait they heard about from the Eskimos on their
land trips from Winter Island. The strait, which Parry named Fury and Hecla
Strait, was barred by ice. A land party explored it in August, along both
coasts. The second winter was passed at Igloolik (69° N. 81° 44′ W.), a small
island north of Hooper Inlet. During both winters hunting was carried on with
the aid of Eskimos and until the summer of 1823 there were no cases of scurvy.
But by August of that year the dread disease had made its appearance and,
following the surgeon's advice, Parry decided to sail for home. The ships
were in the Thames on October 21, 1823. The expedition had failed in its
chief objective, but had amassed some very important knowledge of the regions,
and honors were heaped upon its members.
Lyon was promoted to the rank of captain. On January 16, 1824, he was
presented with the freedom of his native city, Chichester, and in that same
month was appointed to the
Griper
, which had been with Parry in his voyage of
1819, to head a voyage of exploration of his own. His instructions were to get
to Repulse Bay by whatever route he judged best, and from it to examine the coast
of the mainland westward "to the point where Captain Franklin's late journey
had terminated." Before he sailed, on June 6, 1824, his account of the
expedition with Parry was published:
The Private Journal of Captain G.F. Lyon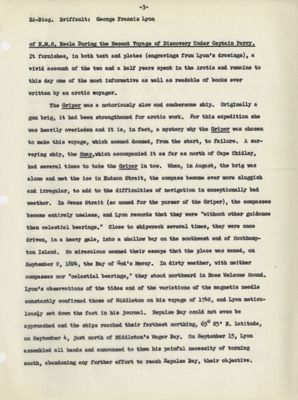 (View Page Image)
EA-Biog. Briffault: George Francis Lyon
of H.M.S. Hecla During the Recent Voyage of Discovery Under Captain Parry.
It furnishes, in both text and plates (engravings from Lyon's drawings), a
vivid account of the two and a half years spent in the Arctic and remains to
this day one of the most informative as well as readable of books ever
written by an arctic voyager.
The
Griper
was a notoriously slow and cumbersome ship. Originally a
gun brig, it had been strengthened for arctic work. For this expedition she
was heavily overladen and it is, in fact, a mystery why the
Griper
was chosen
to make this voyage, which seemed doomed, from the start, to failure. A sur–
veying ship, the
Snap
, which accompanied it as far as north of Cape Chidley,
had several times to take the
Griper
in tow. When, in August, the brig was
alone and met the ice in Hudson Strait, the compass became ever more sluggish
and irregular, to add to the difficulties of navigation in exceptionally bad
weather. In Evans Strait (so named for the purser of the Griper), the compasses
became entirely useless, and Lyon records that they were "without other guidance
than celestial bearings." Close to shipwreck several times, they were once
driven, in a heavy gale, into a shallow bay on the southwest end of Southamp–
ton Island. So miraculous seemed their escape that the place was named, on
September 2, 1824, the Bay of God's Mercy. In dirty weather, with neither
compasses nor "celestial bearings," they stood northward in Roes Welcome Sound.
Lyon's observations of the tides and of the variations of the magnetic needle
constantly confirmed those of Middleton on his voyage of 1742, and Lyon meticu–
lously set down the fact in his journal. Repulse Bay could not even be
approached and the ships reached their farthest northing, 65° 25′ N. latitude,
on September 4, just north of Middleton's Wager Bay. On September 15, Lyon
assembled all hands and announced to them his painful necessity of turning
south, abandoning any further effort to reach Repulse Bay, their objective.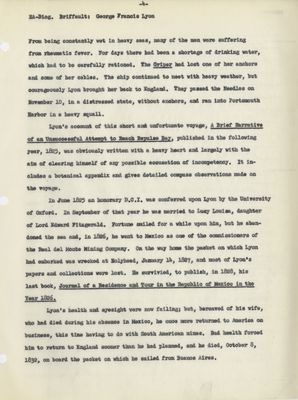 (View Page Image)
EA-Biog. Briffault: George Francis Lyon
From being constantly wet in heavy seas, many of the men were suffering
from rheumatic fever. For days there had been a shortage of drinking water,
which had to be carefully rationed. The
Griper
had lost one of her anchors
and some of her cables. The ship continued to meet with heavy weather, but
courageously Lyon brought her back to England. They passed the Needles on
November 10, in a distressed state, without anchors, and ran into Portsmouth
Harbor in a heavy squall.
Lyon's account of this short and unfortunate voyage, A Brief Narrative
of an Unsuccessful Attempt to Reach Repulse Bay , published in the following
year, 1825, was obviously written with a heavy heart and largely with the
aim of clearing himself of any possible accusation of incompetency. It in–
cludes a botanical appendix and gives detailed compass observations made on
the voyage.
In June 1825 an honorary D.C.I. was conferred upon Lyon by the University
of Oxford. In September of that year he was married to Lucy Louisa, daughter
of Lord Edward Fitzgerald. Fortune smiled for a while upon him, but he aban–
doned the sea and, in 1826, he went to Mexico as one of the commissioners of
the Real del Monte Mining Company. On the way home the packet on which Lyon
had embarked was wrecked at Holyhead, January 14, 1827, and most of Lyon's
papers and collections were lost. He survivied, to publish, in 1828, his
last book, Journal of a Residence and Tour in the Republic of Mexico in the
Year 1826.
Lyon's health and eyesight were now failing; but, bereaved of his wife,
who had died during his absence in Mexico, he once more returned to America on
business, this time having to do with South American mines. Bad health forced
him to return to England sooner than he had planned, and he died, October 8,
1832, on board the packet on which he sailed from Buenos Aires.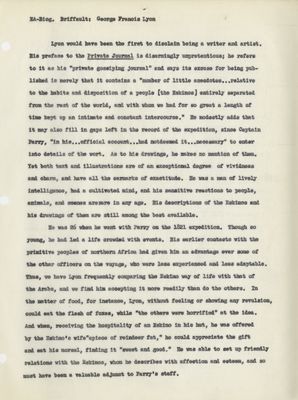 (View Page Image)
EA-Biog. Briffault: George Francis Lyon
Lyon would have been the first to disclaim being a writer and artist.
His preface to the
Private Journal
is disarmingly unpretentious; he refers
to it as his "private gossiping journal" and says its excuse for being pub–
lished is merely that it contains a "number of little anecdotes...relative
to the habits and disposition of a people [the Eskimos] entirely separated
from the rest of the world, and with whom we had for so great a length of
time kept up an intimate and constant intercourse." He modestly adds that
it may also fill in gaps left in the record of the expedition, since Captain
Parry, "in his...official account...had notdeemed it...necessary" to enter
into details of the wort. As to his drawings, he makes no mention of them.
Yet both text and illustrations are of an exceptional degree of vividness
and charm, and have all the earmarks of exactitude. He was a man of lively
intelligence, had a cultivated mind, and his sensitive reactions to people,
animals, and scenes are rare in any age. His descriptions of the Eskimos and
his drawings of them are still among the best available.
He was 26 when he went with Parry on the 1821 expedition. Though so
young, he had led a life crowded with events. His earlier contacts with the
primitive peoples of northern Africa had given him an advantage ever some of
the other officers on the voyage, who were less experienced and less adaptable.
Thus, we have Lyon frequently comparing the Eskimo way of life with that of
the Arabs, and we find him accepting it more readily than do the others. In
the matter of food, for instance, Lyon, without feeling or showing any revulsion,
could eat the flesh of foxes, while "the others were horrified" at the idea.
And when, receiving the hospitality of an Eskimo in his hut, he was offered
by the Eskimo's wife"apiece of reindeer fat," he could appreciate the gift
and eat his morsel, finding it "sweet and good." He was able to set up friendly
relations with the Eskimos, whom he describes with affection and esteem, and so
must have been a valuable adjunct to Parry's staff.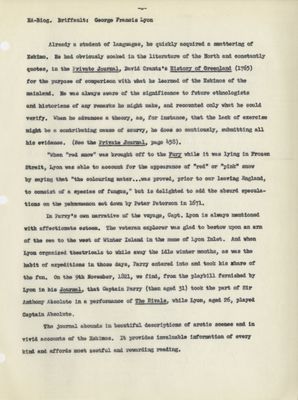 (View Page Image)
EA-Biog. Briffault: George Francis Lyon
Already a student of languages, he quickly acquired a smattering of
Eskimo. He had obviously soaked in the literature of the North and constantly
quotes, in the
Private Journal
, David Crantz's
History of Greenland
(1765)
for the purpose of comparison with what he learned of the Eskimos of the
mainland. He was always aware of the significance to future ethnologists
and historians of any remarks he might make, and recounted only what he could
verify. When he advances a theory, as, for instance, that the lack of exercise
might be a contributing cause of scurvy, he does so cautiously, submitting all
his evidence. (See the
Private Journal
, page 458).
"When "red snow" was brought off to the
Fury
while it was lying in Frozen
Strait, Lyon was able to account for the appearance of "red" or "pink" snow
by saying that "the colouring mater...was proved, prior to our leaving England,
to consist of a species of fungus," but is delighted to add the absurd specula–
tions on the phenomenon set down by Peter Peterson in 1671.
In Perry's own narrative of the voyage, Capt. Lyon is always mentioned
with affectionate esteem. The veteran explorer was glad to bestow upon an arm
of the sea to the west of Winter Island in the name of Lyon Inlet. And when
Lyon organized theatricals to while away the idle winter months, as was the
habit of expeditions in those days, Perry entered into and took his share of
the fun. On the 9th November, 1821, we find, from the playbill furnished by
Lyon in his
Journal
, that Captain Perry (then aged 31) took the part of Sir
Anthony Absolute in a performance of
The Rivals
, while Lyon, aged 26, played
Captain Absolute.
The journal abounds in beautiful descriptions of arctic scenes and in
vivid accounts of the Eskimos. It provides invaluable information of every
kind and affords most zestful and rewarding reading.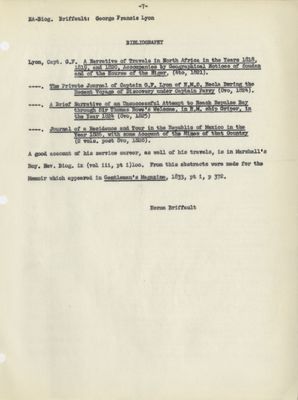 (View Page Image)
EA-Biog. Briffault: George Francis Lyon
BIBLIOGRAPHY
Lyon, Capt. G.F. A Narrative of Travels in North Africa in the Years 1818,
1819, and 1820, Accompanies by Geographical Notices of Soudan
and of the Course of the Niger , (4to, 1821).
----. The Private Journal of Captain G.F. Lyon of H.M.S. Hecla During the
Recent Voyage of Discovery under Captain Perry (8vo, 1824).
----. A Brief Narrative of an Unsuccessful Attempt to Reach Repulse Bay
through Sir Thomas Rowe's Welcome, in H.M. ship Griper, in
the Year 1824 (8vo, 1825)
----. Journal of a Residence and Tour in the Republic of Mexico in the
Year 1826, with some Account of the Nines of that Country
(2 vols. Post 8vo, 1828).
A good account of his service career, as well of his travels, is an Marshall's
Roy. Nav. Biog. ix (vol iii, pt i)100. From this abstracts were made for the
Memoir which appeared in Gentleman's Magazine , 1833, pt I,p 372.