Sir John Franklin: Encyclopedia Arctica 15: Biographies
---
Sir John Franklin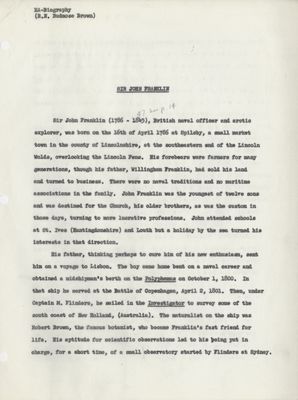 (View Page Image)
EA-Biography
(R. N. Rudmose Brown)
SIR JOHN FRANKLIN
Sir John Franklin (1786 −18
45
⇑
47 See p. 14
), British naval officer and arctic
explorer, was born on the 16th of April 1786 at Spilsby, a small market
town in the county of Lincolnshire, at the southeastern end of the Lincoln
Wolds, overlooking the Lincoln Fens. His forebears were farmers for many
generations, though his father, Willingham Franklin, had sold his land
and turned to business. There were no naval traditions and no maritime
associations in the family. John Franklin was the youngest of twelve sons
and was destined for the Church, his older brothers, as was the custom in
those days, turning to more lucrative professions. John attended schools
at St. Ives (Huntingdonshire) and Louth but a holiday by the sea turned his
interests in that direction.
His father, thinking perhaps to cure him of his new enthusiasm, sent
him on a voyage to Lisbon. The boy came home bent on a naval career and
obtained a midshipma's berth on the
Polyphemus
on October 1, 1800. In
that ship he served at the Battle of Copenhagen, April 2, 1801. Then, under
Captain M. Flinders, he sailed in the
Investigator
to survey some of the
south coast of New Holland, (Australia). The naturalist on the ship was
Robert Brown, the famous botanist, who became Franklin's fast friend for
life. His aptitude for scientific observations led to his being put in
charge, for a short time, of a small observatory started by Flinders at Sydney.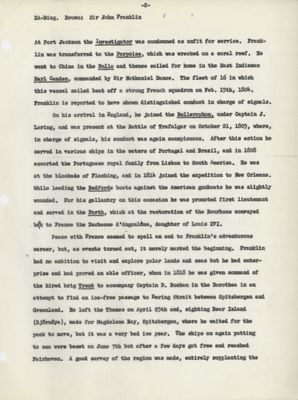 (View Page Image)
EA-Biog. Sir John Franklin
At Port Jackson the
Investigator
was condemned as unfit for service. Frank–
lin was transferred to the
Porpoise,
which was wrecked on a coral reef. He
went to China in the
Rollo
and thence sailed for home in the East Indiaman
Earl Camden,
commanded by Sir Nathaniel Dance. The fleet of 16 in which
this vessel sailed beat off a strong French squadron on Feb. 15th, 1804.
Franklin is reported to have shown distinguished conduct in charge of signals.
On his arrival in England, he joined the
Bellerophon,
under Captain J.
Loring, and was present at the Battle of Trafalgar on October 21, 1805, where,
in charge of signals, his conduct was again conspicuous. After this action he
served in various ships in the waters of Portugal and Brazil, and in 1808
escorted the Portuguese royal family from Lisbon to South America. He was
at the blockade of Flushing, and in 1814 joined the expedition to New Orleans.
While leading the
Bedfords
boats against the American gunboats he was slightly
wounded. For his gallantry on this occasion he was promoted first lieutenant
and served in the
Forth
, which at the restoration of the Bourbons conveyed
ba
⇑
c
k to France the Duchesse d'Angoul
e
⇑
ê
me, daughter of Louis XVI.
Peace with France seemed to spell an end to Franklin's adventurous
career, but, as events turned out, it merely marked the beginning. Fraklin
had no ambition to visit and explore polar lands and seas but he had enter–
prise and had proved an able officer, when in 1818 he was given command of
the hired brig
Trent
to accompany Captain D. Buchan in the Dorothea in an
attempt to find an ice-free passage to Bering Strait between Spitsbergen and
Greenland. He left the Thames on April 25th and, sighting Bear Island
(Björnöya), made for Magdelena Bay, Spitsbergen, where he waited for the
pack to move, but it was a very bad ice year. The ships on again putting
to sea were beset on June 7th but after a few days got free and reached
Fairhaven. A good survey of the region was made, entirely supplanting the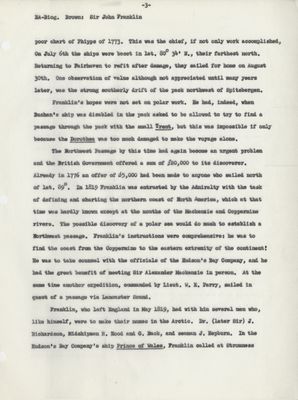 (View Page Image)
EA-Biog. Brown: Sir John Franklin
poor chart of Phipps of 1773. This was the chief, if not only work accomplished,
On July 6th the ships were beset in lat. 80° 34′ N., their farthest north.
Returning to Fairhaven to refit after damage, they sailed for home on August
30th. One observation of value although not appreciated until many years
later, was the strong southerly drift of the pack northwest of Spitsbergen.
Franklin's hopes were not set on polar work. He had, indeed, when
Buchan's ship was disabled in the pack asked to be allowed to try to find a
passage through the pack with the small
Trent,
but this was impossible if only
because the
Dorothea
was too much damaged to make the voyage alone.
The Northwest Passage by this time had again become an urgent problem
and the British Government offered a sum of
⇑
£
20,000 to its discoverer.
Already in 1776 an offer of
⇑
£
5,000 had been made to anyone who sailed north
of lat. 89°. In 1819 Franklin was entrusted by the Admiralty with the task
of defining and charting the northern coast of North America, which at that
time was hardly known except at the mouths of the Mackenzie and Coppermine
rivers. The possible discovery of a polar sea would do much to establish a
Northwest passage. Franklin's instructions were comprehensive: he was to
find the coast from the Coppermine to the eastern extremity of the continent!
He was to take counsel with the officials of the Hudson's Bay Company, and he
had the great benefit of meeting Sir Alexander Mackenzie in person. At the
same time another expedition, commanded by Lieut. W. E. Parry, sailed in
quest of a passage via Lancaster Sound.
Franklin, who left England in May 1819, had with him several men who,
like himself, were to make their names in the Arctic. Dr. (later Sir) J.
Richardson, Midshipmen R. Hood and G. Back, and seaman J. Hepburn. In the
Hudson's Bay Company's ship
Prince of Wales
, Franklin called at Stromness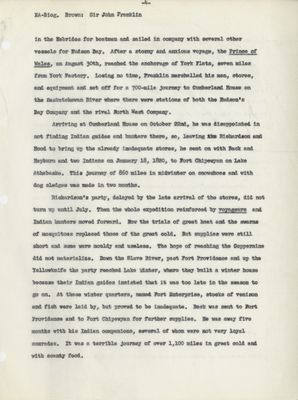 (View Page Image)
EA-Biog. Brown: Sir John Franklin
in the Hebrides for boatmen and sailed in company with several other
vessels for Hudson Bay. After a stormy and anxious voyage, the
Prince of
Wales
, on August 30th, reached the anchorage of York Flats, seven miles
from York Factory. Losing no time, Franklin marshalled his men, stores,
and equipment and set off for a 700-mile journey to Cumberland House on
the Saskatchewan River where there were stations of both the Hudson's
Bay Company and the rival North West Company.
Arriving at Cumberland House on October 22nd, he was disappointed in
not finding Indian guides and hunters there, so, leaving
[: ]
Richardson and
Hood to bring up the already inadequate stores, he sent on with Back and
Hepburn and two Indians on January 18, 1820, to Fort Chipewyan on Lake
Athabaska. This journey of 860 miles in midwinter on snowshoes and with
dog sledges was made in two months.
Richardson's party, delayed by the late arrival of the stores, did not
turn up until July. Then the whole expedition reinforced by
voyageurs
and
Indian hunters moved forward. Now the trials of great heat and the swarms
of mosquitoes replaced those of the great cold. But supplies were still
short and some were mouldy and useless. The hope of reaching the Coppermine
did not materialize. Down the Slave River, past Fort Providence and up the
Yellowknife the party reached Lake Winter, where they built a winter house
because their Indian guides insisted that it was too late in the season to
go on. At these winter quarters, named Fort Enterprise, stocks of venison
and fish were laid by, but proved to be inadequate. Back was sent to Fort
providence and to Fort Chipewyan for further supplies. He was away five
months with his Indian companions, several of whom were not very loyal
comrades. It was a terrible journey of over 1,100 miles in great cold and
with scanty food.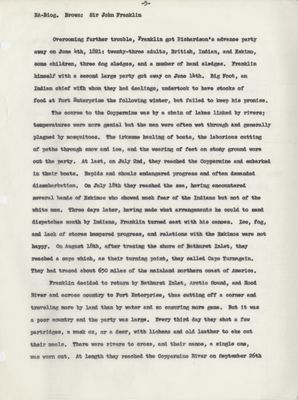 (View Page Image)
EA-Biog. Brown: Sir John Franklin
Overcoming further trouble, Franklin got Richardson's advance party
away on June 4th, 1821: twenty-three adults, British, Indian, and Eskimo,
some children, three dog sledges, and a number of hand sledges. Franklin
himself with a second large party got away on June 14th. Big Foot, an
Indian chief with whom they had dealings, undertook to have stocks of
food at Fort Enterprise the following winter, but failed to keep his promise.
The course to the Coppermine was by a chain of lakes linked by rivers;
temperatures were more genial but the men were often wet through and generally
plagued by mosquitoes. The irksome hauling of boats, the laborious cutting
of paths through snow and ice, and the wearing of feet on stony ground wore
out the party. At last, on July 2nd, they reached the Coppermine and embarked
in their boats. Rapids and shoals endangered progress and often demanded
disembarkation. On July 18th they reached the sea, having encountered
several bands of Eskimos who showed much fear of the Indians but not of the
white men. Three days later, having made what arrangements he could to send
dispatches south by Indians, Franklin turned east with his canoes. Ice, fog,
and lack of stores hampered progress, and relations with the Eskimos were not
happy. On August 18th, after tracing the shore of Bathurst Inlet, they
reached a cape which, as their turning point, they called Cape Turnagain.
They had traced about 650 miles of the mainland northern coast of America.
Franklin decided to return by Bathurst Inlet, Arctic Sound, and Hood
River and across country to Fort Enterprise, thus cutting off a corner and
traveling more by land than by water and so ensuring more game. But it was
a poor country and the party was large. Every third day they shot a few
partridges, a musk ox, or a deer, with lichens and old leather to eke out
their meals. There were rivers to cross, and their canoe, a single one,
was worn out. At length they reached the Coppermine River on September 26th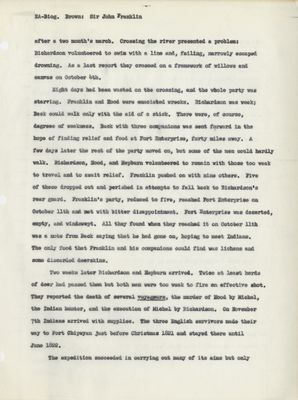 (View Page Image)
EA-Biog. Brown: Sir John Franklin
after a two month's march. Crossing the river presented a problem:
Richardson volunteered to swim with a line and, failing, narrowly escaped
drowning. As a last resort they crossed on a framework of willows and
canvas on October 4th.
Eight days had been wasted on the crossing, and the whole party was
starving. Franklin and Hood were emaciated wrecks. Richardson was weak;
Back could walk only with the aid of a stick. There were, of course,
degrees of weakness. Back with three companions was sent forward in the
hope of finding relief and food at Fort Enterprise, forty miles away. A
few days later the rest of the party moved on, but some of the men could hardly
walk. Richardson, Hood, and Hepburn volunteered to remain with those too weak
to travel and to await relief. Franklin pushed on with nine others. Five
of these dropped out and perished in attempts to fall back to Richardson's
rear guard. Franklin's party, reduced to five, reached Fort Enterprise on
October 11th and met with bitter disappointment. Fort Enterprise was deserted,
empty, and windswept. All they found when they reached it on October 11th
was a note from Back saying that he had gone on, hoping to meet Indians.
The only food that Franklin and his companions could find was lichens and
some discarded deerskins.
Two weeks later Richardson and Hepburn arrived. Twice at least herds
of deer had passed them but both men were too weak to fire and effective shot.
They reported the death of several
voyageurs
, the murder of Hood by Michel,
the Indians hunter, and the execution of Michel by Richardson. On November
7th Indians arrived with supplies. The three English survivors made their
way to Fort Chipwyan just before Christmas 1821 and stayed there until
June 1822.
The expedition succeeded in carrying out many of its aims but only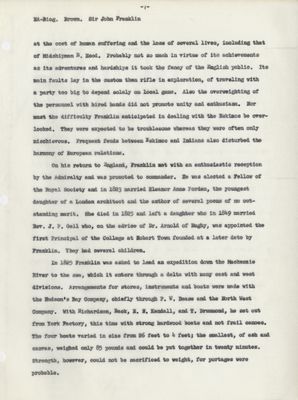 (View Page Image)
EA-Biog. Brown. Sir John Franklin
at the cost of human suffering and the loss of several lives, including that
of Midshipman R. Hood. Probably not so much in virtue of its achievements
as its adventures and hardships it took the fancy of the English public. Its
main faults lay in the custom then rifle in exploration, of traveling with
a party too big to depend solely on local game. Also the overweighting of
the personnel with hired hands did not promote unity and enthusiasm. Nor
must the difficulty Franklin anticipated in dealing with the Eskimos be over–
looked. They were expected to be troublesome whereas they were often only
mischievous. Frequent feuds between Eskimos and Indians also disturbed the
harmony of European relations.
On his return to England, Franklin met with an enthusiastic reception
by the Admiralty and was promoted to commander. He was elected a Fellow of
the Royal Society and in 1823 married Eleanor Anne Porden, the youngest
daughter of a London architect and the author of several poems of no out–
standing merit. She died in 1825 and left a daughter who in 1849 married
Rev. J. P. Gell who, on the advice of Dr. Arnold of Rugby, was appointed the
first Principal of the College at Hobart Town founded at a later date by
Franklin. They had several children.
In 1825 Franklin was asked to lead an expedition down the Mackenzie
River to the sea, which it enters through a delta with many east and west
divisions. Arrangements for stores, instruments and boats were made with
the Hudson's Bay Company, chiefly through P. W. Dease and the North West
Company. With Richardson, Back, E. N. Kendall, and T. Drummond, he set out
from York Factory, this time with strong hardwood boats and not frail canoes.
The four boats varied in size from 26 feet to 4 feet; the smallest, of ash and
canvas, weighted only 85 pounds and could be put together in twenty minutes.
Strength, however, could not be sacrificed to weight, for portages were
probable.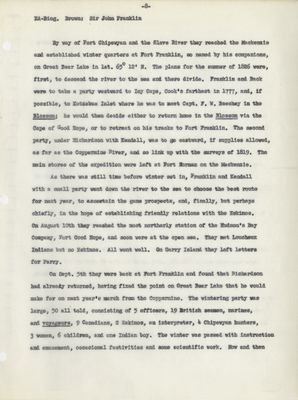 (View Page Image)
EA-Biog. Brown: Sir John Franklin
By way of Fort Chipewyan and the Slave River they reached the Mackenzie
and established winter quarters at Fort Franklin, so named by his companions,
on Great Bear Lake in lat. 65° 12′ N. The plans for the summer of 1826 were,
first, to descend the river to the sea and there divide. Franklin and Back
were to take a party westward to Icy Cape, Cook's farthest in 1777, and, if
possible, to Kotzebue Inlet where he was to meet Capt. F. W. Beechey in the
Blossom
; he would then decide either to return home in the
Blossom
via the
Cape of Good Hope, or to retreat on his tracks to Fort Franklin. The second
party, under Richardson with Kendall, was to go eastward, if supplies allowed,
as far as the Coppermine River, and so link up with the surveys of 1819. The
main stores of the expedition were left at Fort Norman on the Mackenzie.
As there was still time before winter set in, Franklin and Kendall
with a small party went down the river to the sea to choose the best route
for next year, to ascertain the game prospects, and, finally, but perhaps
chiefly, in the hope of establishing friendly relations with the Eskimos.
On August 10th they reached the most northerly station of the Hudson's Bay
Company, Fort Good Hope, and soon were at the open sea. They met Loucheux
Indians but no Eskimos. All went well. On Garry Island they left letters
for Parry.
On Sept. 5th they were back at Fort Franklin and found that Richardson
had already returned, having fixed the point on Great Bear Lake that he would
make for on next year's march from the Coppermine. The wintering party was
large, 50 all told, consisting of 5 officers, 19 British seamen, marines,
and
voyageurs
, 9 Canadians, 2 Eskimos, an interpreter, 4 Chipewyan hunters,
3 women, 6 children, and one Indian boy. The winter was passed with instruction
and amusement, occasional festivities and some scientific work. Now and then
(View Page Image)
EA-Biog. Brown: Sir John Franklin
mails arrived from the south and homeward ones were dispatched. The boats
were overhauled and a new one was built. All was ready for an early start
for the coast. Franklin might have to winter on the coast, so Fort Franklin
was to be kept in repair and well victualled until the spring of 1828.
Richardson on his return was to wait until 1827 before going back to England.
On June 22nd, 1826, the explorers left their winter home for the north.
At the beginning of the delta, Point Separation as it became known, Franklin
took a western and Richardson an eastern channel. Neither had native guides.
On July 7th at the mouth of the Mackenzie, Franklin met many Eskimos who
proved crafty and unfriendly and eventually had to be driven off with a show
of firearms. Other groups were less hostile, but the position was anxious.
On July 17th, Franklin reached and named Herschel Island, where he found
Eskimos. About three weeks later he was at Flaxman Island, and on August 16th
reached Return Reef as he called it, in lat. 70° 26′ N., long. 148° 52′W.
This was his farthest west; it was hopeless, owing to ice, wind, and fog, to
go farther.
At the same time, of course unknown to Franklin, J. Elson of the
Blossom
, sent with a boat party by Beechey from Cape Lisburne, after rounding
Ice Cape, had discovered point Barrow, lat. 71° 24′ N., the most northerly
point of that coast. Elson was 160 miles from Return Reef and started back
to the
Blossom
in Kotzebue Sound three days later.
Franklin and his party arrived back at the Mackenzie River on August 29th.
At Fort Franklin (Sept. 21st) he found Richardson and his party had returned
on Sept. 1st from a successful journey. Richardson had left the delta by the
most easterly opening and there met Eskimos who proved unfriendly and had to
be driven off by a show of force. Ice, gales, and fog hindered the journey.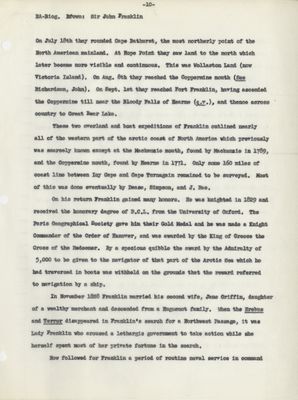 (View Page Image)
EA-Biog. Brown: Sir John Franklin
On July 18th they rounded Cape Bathurst, the most northerly point of the
North American mainland. At Hope Point they saw land to the north which
later became more visible and continuous. This was Wollaston Land (now
Victoria Island). On Aug. 8th they reached the Coppermine mouth (
See
Richardson, John). On Sept. 1st they reached Fort Franklin, having ascended
the Coppermine till near the Bloody Falls of Hearne (
q.v.
), and thence across
country to Great Bear Lake.
These two overland and boat expeditions of Franklin outlined nearly
all of the western part of the arctic coast of North America which previously
was scarcely known except at the Mackenzie mouth, found by Mackenzie in 1789,
and the Coppermine mouth, found by Hearne in 1771. Only some 160 miles of
coast line between Icy Cape and Cape Turnagain remained to be surveyed. Most
of this was done eventually by Dease, Simpson, and J. Rae.
On his return Franklin gained many honors. He was knighted in 1829 and
received the honorary degree of D.C.L. from the University of Oxford. The
Paris Geographical Society gave him their Gold Medal and he was made a Knight
Commander of the Order of Hanover, and was awarded by the King of Greece the
Cross of the Redeemer. By a specious quibble the award by the Admiralty of
5,000 to be given to the navigator of that part of the Arctic Sea which he
had traversed in boats was withheld on the grounds that the reward referred
to navigation by a ship.
In November 1828 Franklin married his second wife, Jane Griffin, daughter
of a wealthy merchant and descended from a Huguenot family. When the
Erebus
and
Terror
disappeared in Franklin's search for a Northwest Passage, it was
Lady Franklin who aroused a lethargic government to take action while she
herself spent most of her private fortune in the search.
Now followed for Franklin a period of routine naval service in command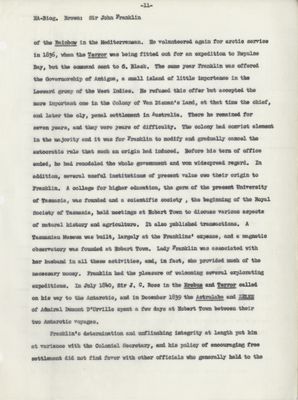 (View Page Image)
EA-Biog. Brown: Sir John Franklin
of the
Rainbow
in the Mediterranean. He volunteered again for arctic service
in 1836, when the
Terror
was being fitted out for an expedition to Repulse
Bay, but the command sent to G. Black. The same year Franklin was offered
the Governorship of Antigua, a small island of little importance in the
Leeward group of the West Indies. He refused this offer but accepted the
more important one in the Colony of Van Dieman's Land, at that time the chief,
and later the oly, penal settlement in Australia. There he remained for
seven years, and they were years of difficulty. The colony had convict element
in the majority and it was for Franklin to modify and gradually cancel the
autocratic rule that such an origin had induced. Before his term of office
ended, he had remodeled the whole government and won widespread regard. In
addition, several useful institutions of present value owe their origin to
Franklin. A college for higher education, the germ of the present University
of Tasmania, was founded and a scientific society, the beginning of the Royal
Society of Tasmania, held meetings at Hobart Town to discuss various aspects
of natural history and agriculture. It also published transactions. A
Tasmanian Museum was built, largely at the Franklins' expense, and a magnetic
observatory was founded at Hobart Town. Lady Franklin was associated with
her husband in all these activities, and, in fact, she provided much of the
necessary money. Franklin had the pleasure of welcoming several explorating
expeditions. In July 1840, Sir J. C. Ross in the
Erebus
and
Terror
called
on his way to the Antarctic, and in December 1839 the
Astrolabe
and
ZELEE
of Admiral Dumont D'Urville spent a few days at Hobart Town between their
two Antarctic voyages.
Franklin's determination and unflinching integrity at length put him
at variance with the Colonial Secretary, and his policy of encouraging free
settlement did not find favor with other officials who generally held to the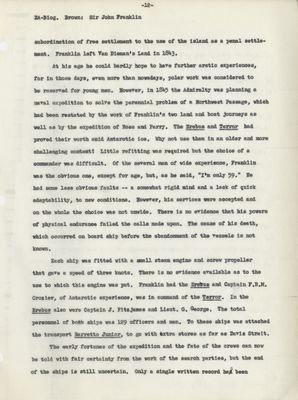 (View Page Image)
EA-Biog. Brown: Sir John Franklin
subordination of free settlement to the use of the island as a penal settle–
ment. Franklin left Van Dieman's Land in 1843.
At his age he could hardly hope to have further arctic experiences,
for in those days, even more than nowadays, polar work was considered to
be reserved for young men. However, in 1845 the Admiralty was planning a
naval expedition to solve the perennial problem of a Northwest Passage, which
had been restated by the work of Franklin's two land and boat journeys as
well as by the expedition of Ross and Parry. The
Erebus
and
Terror
had
proved their worth amid Antarctic ice. Why not use them in an older and more
challenging context? Little refitting was required but the choice of a
commander was difficult. Of the several men of wide experience, Franklin
was the obvious one, except for age, but, as he said, "I'm only 59." He
had some less obvious faults — a somewhat rigid mind and a lack of quick
adaptability, to new conditions. However, his services were accepted and
on the whole the choice was not unwide. There is no evidence that his powers
of physical endurance failed the calls made upon. The cause of his death,
which occurred on board ship before the abandonment of the vessels is not
known.
Each ship was fitted with a small steam engine and screw propeller
that gave a speed of three knots. There is no evidence available as to the
use to which this engine was put. Franklin had the
Erebus
and Captain F.R.M.
Crozier, of Antarctic experience, was in command of the
Terror
. In the
Erebus
also were Captain J. Fitz james and Lieut. G. Geroge. The total
personnel of both ships was 129 officers and men. To these ships was attached
the transport
Barretto Junior
, to go with extra stores as far as Davis Strait.
The early fortunes of the expedition and the fate of the crews can now
be told with fair certainty from the work of the search parties, but the end
of the ships is still uncertain. Only a single written record ha
d
⇑
s
been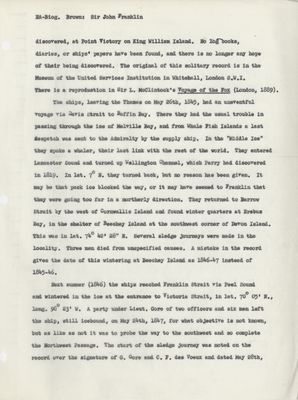 (View Page Image)
EA-Biog. Brown: Sir John Franklin
discovered, at Point Victory on King William Island. No log
books,
diaries, or ships' papers have been found, and there is no longer any hope
of their being discovered. The original of this solitary record is in the
Museum of the United Services Institution in Whitehall, London S.W.I.
There is a reproduction in Sir L. McClintock's
Voyage of the Fox
(London, 1889).
The ships, leaving the Thames on May 26th, 1845, had an uneventful
voyage via Davis Strait to Baffin Bay. There they had the usual trouble in
passing through the ice of Melville Bay, and from Whale Fish Islands a last
despatch was sent to the Admiralty by the supply ship. In the "Middle Ice"
they spoke a whaler, their last link with the rest of the world. They entered
Lancaster Sound and turned up Wellington Channel, which Parry had discovered
in 1819. In lat. 7° N. they turned back, but no reason has been given. It
may be that pack ice blocked the way, or it may have seemed to Franklin that
they were going too far in a northerly direction. They returned to Barrow
Strait by the west of Cornwallis Island and found winter quarters at Erebus
Bay, in the shelter of Beechey Island at the southwest corner of Devon Island.
This was in lat. 74° 42′ 28′ N. Several sledge journeys were made in the
locality. Three men died from unspecified causes. A mistake in the record
gives the date of this wintering at Beechey Island as 1846-47 instead of
1845-46.
Next summer (1846) the ships reached Franklin Strait via Peel Sound
and wintered in the ice at the entrance to Victoria Strait, in lat. 70° 05′ N.,
long. 98° 23′ W. A party under Lieut. Gore of two officers and six men left
the ship, still icebound, on May 24th, 1847, for what objective is not known,
but as like as not it was to probe the way to the southwest and so complete
the Northwest Passage. The start of the sledge journey was noted on the
record over the signature of G. Gore and C. F. des Voeux and dated May 28th,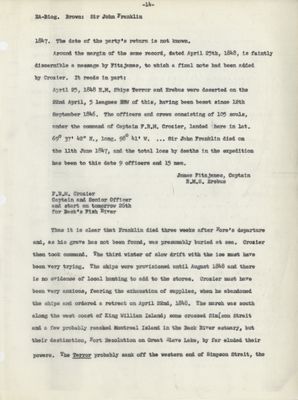 (View Page Image)
EA-Biog. Brown: Sir John Franklin
1847. The date of the party's return is not known.
Around the margin of the same record, dated April 25th, 1848, is faintly
discenible a message by Fitzjames, to which a final note had been added
by Crozier. It reads in part:
April 25, 1848 H.M. Ships Terror and Erebus were deserted on the
22nd April, 5 leagues NNW of this, having been beset since 12th
September 1846. The officers and crews consisting of 105 souls,
under the command of Captain F.R.M. Crozier, landed here in lat.
69° 37′ 42′ N., long. 98° 41′ W. ... Sir John Franklin died on
the 11th June 1847, and the total loss by deaths in the expedition
has been to this date 9 officers and 15 men.
James Fitzjames, Captain

H.M.S. Erebus
F.R.M. Crozier
Captain and Senior Officer
and start on tomorrow 26th
for Back's Fish River
Thus it is clear that Franklin died three weeks after Fore's departure
and, as his grave has not been found, was presumably buried at sea. Crozier
then took command. The third winter of slow drift with the ice must have
been very trying. The ships were provisioned until August 1848 and there
is no evidence of local hunting to add to the stores. Crozier must have
been very anxious, fearing the exhaustion of supplies, when he abandoned
the ships and ordered a retreat on April 22nd, 1848. The march was south
along the west coast of King William Island; some crossed Sim[son Strait
and a few probably reached Montreal Island in the Back River estuary, but
their destination, Fort Resolution on Great Slave Lake, by far eluded their
powers. The
Terror
probably sank off the western end of Simpson Strait, the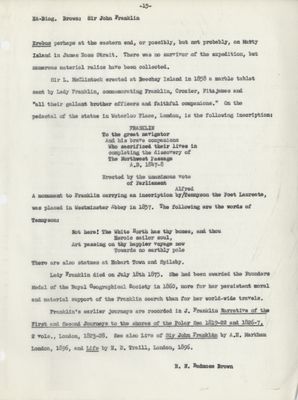 (View Page Image)
EA-Biog. Brown: Sir John Franklin
Erebus
perhaps at the eastern end, or possibly, but not probably, on Matty
Island in James Ross Strait. There was no survivor of the expedition, but
numerous material relics have been collected.
Sir L. McClintock erected at Beechey Island in 1858 a marble tablet
sent by Lady Franklin, commemorating Franklin, Crozier, Fitzjames and
"all their gallant brother officers and faithful companions." On the
pedestal of the statue in Waterloo Place, London, is the following inscription:
FRANKLIN

To the great navigator

And his brave companions

Who sacrificed their lives in

completing the discovery of

The Northwest Passage

A.D. 1847-8
Erected by the unanimous vote

of Parliament
A monument to Franklin carrying an inscription by
⇑
Alfred
Tennyson the Poet Laureate,
was placed in Westminster Abbey in 1857. The following are the words of
Tennyson:
Not here! The White North has thy bones, and thou
Heroic sailor soul,
Art passing on they happier voyage now
Towards no earthly pole
There are also statues at Hobart Town and Spilsby.
Lady Franklin died on July 18th 1875. She had been awarded the Founders
Medal of the Royal Geographical Society in 1860, more for her persistent moral
and material support of the Franklin search than for her world-wide travels.
Franklin's earlier journeys are recorded in J. Franklin
Narrative of the
First and Second Journeys to the shores of the Polar Sea 1819-22 and 1826-7,
2 vols., London, 1823-28. See also Live of
Sir John Franklin
by A. H. Markham
London, 1896, and
Life
by H. D. Traill, London, 1896.