Duc d'Orleans: Encyclopedia Arctica 15: Biographies
---
Duc d'Orleans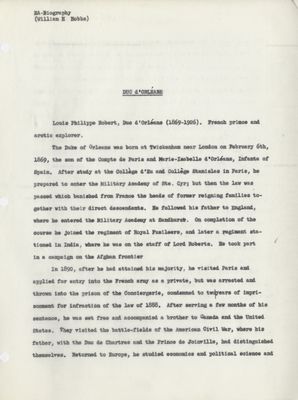 (View Page Image)
EA-Biography
(William H Hobbs)
DUC d'ORL

E

⇑

É

ANS
Louis Philippe Robert, Duc d'Orl
e
⇑
é
ans (1869-1926). French prince and
arctic explorer.
The Duke of Orleans was born at Twickenham near London on February 6th,
1869, the son of the Conpte de Paris and Marie-Isabelle d'Orl
e
⇑
é
ans, Infanta of
Spain. After study at the Coll
e
⇑
è
ge d'Eu and Coll
e
⇑
è
ge Stanislas in Paris, he
prepared to enter the Military Academy of Ste. Cyr; but then the law was
passed which banished from France the heads of former reigning families to–
gether with their direct descendents. He followed his father to England,
where he entered the Military Academy at Sandhurst. On completion of the
course he joined the regiment of Royal Fusileers, and later a regiment sta–
tioned in India, where he was on the staff of Lord Roberts. He took part
in a campaign on the Afghan frontier
In 1890, after he had attained his majority, he visited Paris and
applied for entry into the French army as a private, but was arrested and
thrown into the prison of the Conciergerie, condemned to two
⇑
years of impri–
sonment for infraction of the law of 1888. After serving a few months of his
sentence, he was set free and accompanied a brother to Canada and the United
States. They visited the battle-fields of the American Civil War, where his
father, with the Duc de Chartres and the Prince de Joinville, had distinguished
themselves. Returned to Europe, he studied economics and political science and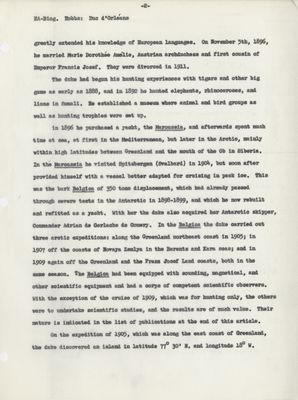 (View Page Image)
EA-Biog. Hobbs: Duc d'Orl e ⇑ é ans
greatly extended his knowledge of European languages. On November 5th, 1896,
he married Marie Doroth
e
⇑
é
e Am
e
⇑
é
lie, Austrian archduchess and first cousin of
Emperor Francis Josef. They were divorced in 1911.
The duke had begun his hunting experiences with tigers and other big
game as early as 1888, and in 1892 he hunted elephants, rhinoceroses, and
lions in Somali. He established a museum where animal and bird groups as
well as hunting trophies were set up.
in 1896 he purchased a yacht, the
Maroussia
, and afterwards spent much
time at sea, at first in the Mediterranean, but later in the Arctic, mainly
within high latitudes between Greenland and the mouth of the Ob in Siberia.
In the
Maroussia
he visited Spitsbergen (Svalbard) in 1904, but soon after
provided himself with a vessel better adapted for cruising in pack ice. This
was the bark
Belgica
of 350 tons displacement, which had already passed
through severe tests in the Antarctic in 1898-1899, and which he now rebuilt
and refitted as a yacht. With her the duke also acquired her Antarctic skipper,
Commander Adrian de Gerlache de Gomery. In the
Belgica
the duke carried out
three arctic expeditions: along the Greenland northeast coast in 1905; in
1907 off the coasts of Novaya Zemlya in the Barents and Kara seas; and in
1909 again off the Greenland and the Franz Josef Land coasts, both in the
same season. The
Belgica
had been equipped with sounding, magnetical, and
other scientific equipment and had a corps of competent scientific observers.
With the exception of the cruise of 1909, which was for hunting only, the others
were to undertake scientific studies, and the results are of much value. Their
nature is indicated in the list of publications at the end of this article.
On the expedition of 1905, which was along the east coast of Greenland,
the duke discovered an island in latitude 77° 30′ N. and longitude 18° W.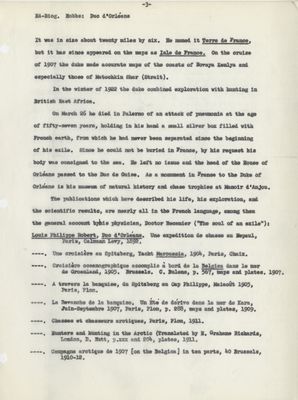 (View Page Image)
EA-Biog. Hobbs: Duc d'Orl e ⇑ é ans
It was in size about twenty miles by six. He named it
Terre de France
,
but it has since appeared on the maps as
Isle de France.
On the cruise
of 1907 the duke made accurate maps of the coasts of Novaya Zemlya and
especially those of Matochkin Shar (Strait).
In the winter of 1922 the duke combined exploration with hunting in
British East Africa.
On March 26 he died in Palermo of an attack of pneumonia at the age
of fifty-seven years, holding in his hand a small silver box filled with
French earth, from which he had never been separated since the beginning
of his exile. Since he could not be buried in France, by his request his
body was consigned to the sea. He left no issue and the head of the House of
Orl
e
⇑
é
ans passed to the Duc de Guise. As a monument in France to the Duke of
Orl
e
⇑
é
ans is his museum of natural history and chase trophies at Manoir d'Anjou.
The publications which have described his life, his exploration, and
the scientific results, are nearly all in the French language, among them
the general account by
⇑
his physician, Doctor Recamier ("The soul of an exile"):
Louis Phillippe Robert
,
Duc d'Orl

e

⇑

é

ans
. Une expedition de chasse au Nepaul,
Paris, Calmann Levy, 1892. ----. Une croisi
e
⇑
è
re au Spitzberg, Yacht
Maroussia
, 1904, Paris, Chaix. ----. Croisi
e
⇑
è
re oceanographique accomplis
a
⇑
à
bord de la
Belgica
dans le mer
de Groenland, 1905. Brussels. C. Bulens, p. 567, maps and plates. 1907. ----. A travers la banquise, du Spitzberg au Cap Philippe, Maiao
u
⇑
û
t 1905, ----. La Revanche de la banquise. Un
E
⇑
É
t
e
⇑
é
de d
e
⇑
é
rive dans la mer de Kara,
Juin-Septembre 1907, Paris, Plon, p. 288, maps and plates, 1909. ----. Chasses et chasseurs arctiques, Paris, Plon, 1911. ----. Hunters and hunting in the Arctic (Translated by H. Grahame Richards,
London, D. Nutt, p.xxx and 204, plates, 1911. ----. Campagne arctique de 1907 [on the Belgica] in ten parts, 40 Brussels,
1910-12.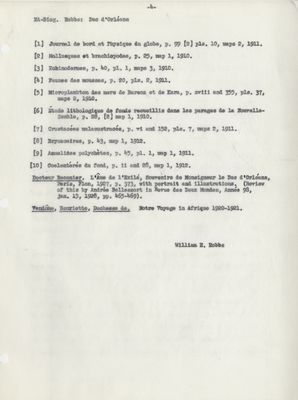 (View Page Image)
EA-Biog. Hobbs: Duc d'Orl e ⇑ é ans
[1] Journal de bord et Physique du globe, p. 99 [2] pls. 10, maps 2, 1911. [2] Mollusques et brachiopodes, p. 25, map 1, 1910. [3] Echinodermes, p. 40, pl. 1, maps 3, 1910. [4] Faunes des mousses, p. 20, pls. 2, 1911. [5] Microplankton des mers de Barenz et de Kara, p. xviii and 355, pls. 37,
maps 2, 1910. [6]
E
⇑
É
tude lithologique de fonds recueillis dans les parages de la Nouvelle–
Zemble, p. 28, [2] map 1, 1910. [7] Crustac
e
⇑
é
es malacostrac
e
⇑
é
s, p. vi and 152, pls. 7, maps 2, 1911. [8] Bryozoaires, p. 43, map 1, 1912. [9] Annelides polych
e
⇑
è
tes, p. 45, pl. 1, map 1, 1911. [10] Coelent
e
⇑
é
r
e
⇑
é
s du fond, p. ii and 28, map 1, 1912.
Docteur Recamier
. L'
⇑
â
me de l'Exil
e
⇑
é
, Souvenirs de Monsigneur le Duc d'Orl
e
⇑
é
ans,
Paris, Plon, 1927, p. 373, with portrait and illustrations. (Review
of this by Andr
e
⇑
é
e Bellessort in Revue des Deux Mondes, Ann
e
⇑
é
e 98,
jan. 15, 1928, pp. 465-469).
Vend

o

⇑

ô

me
,
Henriette
,
Duchesse de.
Notre Voyage in Afrique 1920-1921.