Frederick William Beechey: Encyclopedia Arctica 15: Biographies
---
Frederick William Beechey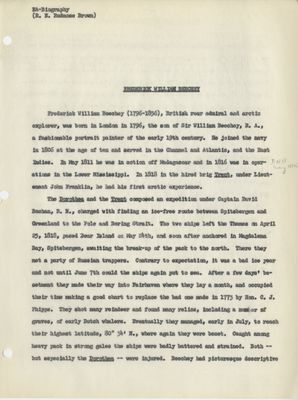 (View Page Image)
EA-Biography
(R. N. Rudmose Brown)
FREDERICK WILLIAM BEECHEY
Frederick William Beechey (1796-1856), British rear admiral and arctic
explorer, was born in London in 1796, the son of Sir William Beechey, R. A.,
a fashionable portrait painter of the early 19th century. He joined the navy
in 1806 at the age of ten and served in the Channel and Atlantic, and the East
Indies. In May 1811 he was in action off Madagascar and in 1816
⇑
DNB say 1815
was in oper–
ations in the Lower Mississippi. In 1818 in the hired brig
Trent
, under Lieut–
enant John Franklin, he had his first arctic experience.
The
Dorothea
and the
Trent
composed an expedition under Captain David
Buchan, R. N., charged with finding an ice-free route between Spitsbergen and
Greenland to the Pole and Bering Strait. The two ships left the Thames on April
25, 1818, pased Bear Island on May 24th, and soon after anchored in Magdalena
Bay, Spitsbergen, awaiting the break-up of the pack to the north. There they
met a party of Russian trappers. Contrary to expectation, it was a bad ice year
and not until June 7th could the ships again put to sea. After a few days' be–
setment they made their way into Fairhaven where they lay a month, and occupied
their time making a good chart to replace the bad one made in 1773 by Hon. C. J.
Phipps. They shot many reindeer and found many relics, including a number of
graves, of early Dutch whalers. Eventually they managed, early in July, to reach
their highest latitude, 80° 34′ N., where again they were beset. Caught among
heavy pack in strong gales the ships were badly battered and strained. Both —
but especially the
Dorothea
— were injured. Beechey had picturesque descriptive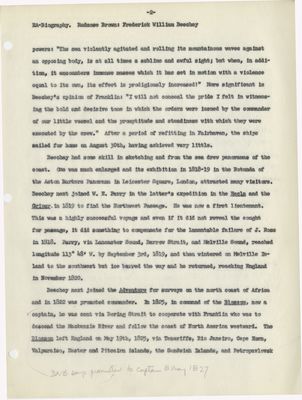 (View Page Image)
EA-Biography. Rudmose Brown: Frederick William Beechey
powers: "The sea violently agitated and rolling its mountainous waves against
an opposing body, is at all times a sublime and awful sight; but when, in addi–
tion, it encounters immense masses which it has set in motion with a violence
equal to its own, its effect is prodigiously increased:" More significant is
Beechey's opinion of Franklin: "I will not conceal the pride I felt in witness–
ing the bold and decisive tone in which the orders were issued by the commander
of our little vessel and the promptitude and steadiness with which they were
executed by the crew." After a period of refitting in Fairhaven, the ships
sailed for home on August 30th, having achieved very little.
Beechey had some skill in sketching and from the sea drew panoramas of the
coast. One was much enlarged and its exhibition in 1818-19 in the Rotunda of
the Aston Barkers Panorama in Leicester Square, London, attracted many visitors.
Beechey next joined W. E. Parry in the latter's expedition in the
Hecla
and the
Griper
. in 1819 to find the Northwest Passage. He was now a first lieutenant.
This was a highly successful voyage and even if it did not reveal the sought
for passage, it did something to compensate for the lamentable failure of J. Ross
in 1818. Parry, via Lancaster Sound, Barrow Strait, and Melville Sound, reached
longitude 113° 48′ W. by September 3rd, 1819, and then wintered on Melville In–
land to the southwest but ice barred the way and he returned, reaching England
in November 1820.
Beechey next joined the
Adventure
for surveys on the north coast of Africa
and in 1822 was promoted commander. In 1825, in command of the
Blossom
, now a
⇑
DNB says promoted to captain 8 May 1827 ✓
captain, he was sent via Bering Strait to cooperate with Franklin who was to
descend the Mackenzie River and follow the coast of North America westward. The
Blossom
left England on May 19th, 1825, via Teneriffe, Rio Janeiro, Cape Horn,
Valparaiso, Easter and Pitcairn islands, the Sandwich Islands, and Petropavlovsk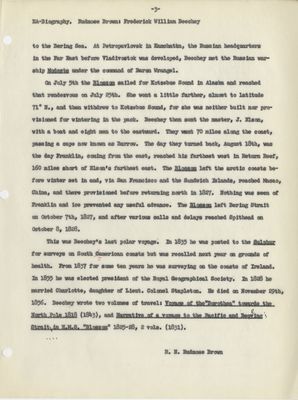 (View Page Image)
EA-Biography. Rudmose Brown: Frederick William Beechey
to the Bering Sea. At Petropavlovsk in Kamchatka, the Russian headquarters
in the Far East before Vladivostok was developed, Beechey met the Russian war–
ship
Modeste
under the command of Baron Wrangel.
On July 5th the
Blossom
sailed for Kotzebue Sound in Alaska and reached
that rendezvous on July 25th. She went a little farther, almost to latitude
71° N., and then withdrew to Kotzebue Sound, for she was neither built nor pro–
visioned for wintering in the pack. Beechey then sent the master, J. Elson,
with a boat and eight men to the eastward. They want 70 miles along the coast,
passing a cape now known as Barrow. The day they turned back, August 18th, was
the day Franklin, coming from the east, reached his farthest west in Return Reef,
160 miles short of Elson's farthest east. The
Blossom
left the arctic coasts be–
fore winter set in and, via San Francisco and the Sandwich Islands, reached Macao,
China, and there provisioned before returning north in 1827. Nothing was seen of
Franklin and ice prevented any useful advance. The
Blossom
left Bering Strait
on October 7th, 1827, and after various calls and delays reached Spithead on
October 8, 1828.
This was Beechey's last polar voyage. In 1835 he was posted to the
Sulphur
for surveys on South
Ca
⇑
A
american coasts but was recalled next year on grounds of
health. From 1837 for some ten years he was surveying on the coasts of Ireland.
In 1855 he was elected president of the Royal Geographical Society. In 1828 he
married Charlotte, daughter of Lieut. Colonel Stapleton. He died on November 29th,
1856. Beechey wrote two volumes of travel:
Voyage of the "Dorothea" towards the
North Pole 1818
(1843), and
Narrative of a voyage to the Pacific and Bee

v

⇑

r

ing

⇑

's


Strait

⇑

[: ]

in H.M.S. "Blossom
" 1825-28, 2 vols. (1831).