Svalbard: Geography: Encyclopedia Arctica 14: Greenland, Svalbard, Etc. Geography and General
---
Svalbard: Geography
Spitsbergen
AUTHOR: R.N. Rudmose Brown
6,350 words
Spitsbergen
Spitsbergen
Spitsbergen
Spitsbergen
<bibl>
Binney, G.
With Seaplane and Sledge in the Arctic
, 1925
</bibl>
<bibl>
Conway, W.M.
The First Crossing of Spitsbergen
, 1897
</bibl>
<bibl>
Glen, A.R. and Croft, A.C.
Under the Pole Star
, 1937
</bibl>
<bibl>
Gordon, S.
Amid Snowy Wastes
, 1922
</bibl>
<bibl>
Lamont, J.
Seasons with the Sea Horses
, 1861
</bibl>
<bibl>
----------
Yachting in Arctic Seas
, 1876
</bibl>
<bibl>
H.W. Ahlmann and
E. Sverdrup "Scientific Results of the Norwegian Swedish Expedition
in 1934,"
Geografisker Annaler
, Stockholm, 1935 and 1938
</bibl>
<bibl>
Andersson, Gunnar "Spetsbergens koltillg
⇑
å
ngar och Sveriges kolbehof,"
Ymer
, Arg. 37, 1917, Stockholm, 1918. pp. 201-48
</bibl>
<bibl>
Berr, M. R. "Les gisements de charbon du Spitsberg,"
Ann. Min.
,
Paris, 1914.
</bibl>
Spitsbergen
<bibl>
Blake, C. T. (ed)
The True and Perfect Description of Three Voyages
(Including that of Barents), Hakluyt Society, 1853
</bibl>
<bibl>
Cadell, H. M. "Coal Mining in Spitsbergen,"
Trans
. Inst. Min. Engrs.,
Vol. 60, pt. 2. Newcastle-upon Tyne, 1920. pp. 119-142
</bibl>
<bibl>
Conway, W
[: ]
.M. (ed)
Early Dutch and English Voyages to Spitsbergen
,
Hakluyt Society, 1904
</bibl>
<bibl>
-----
No Man's Land
, 1906
</bibl>
<bibl>
-----
Spitzbergen Handbuch
, Berlin, 1926
</bibl>
<bibl>
Dole, Nathan H.
Americans in Spitsbergen
, Boston, 1922
</bibl>
<bibl>
Gray, L. H.
Spitsbergen and Bear Island
(for official use)
Washington, 1919
</bibl>
<bibl>
Hoel, Adolf "The Coal Deposits and Coal Mining of Svalbard (Spits–
bergen and Bear Island,"
Result
. Norske Spitsbergen–
eksped., Bd. 1, Nr. 6. Oslo, 1925
</bibl>
<bibl>
Horn, Gunnar "Beiträge zur Kenntnis der Kohle von Svalbard (Spitz
bergen und der Bäreninsel),"
Skr.
Svalbard og Ishavet,
[: ]
Nr. 17. Oslo, 1928.
</bibl>
<bibl>
-----. and "Geology of Bear Island with special reference to the
Orvin, Anders K. Coal Deposits, and with an account of the History of
the Island,"
Skr.
Svalbard og Ishavet., Nr. 15. Oslo 1928
</bibl>
<bibl>
Knothe, H. "Spitzbergen,"
Petermann's Mitteilungen Evganzungschaft
No. 211, Gotha, 1931
</bibl>
<bibl>
Kotlukov, V.A. "The Geological Structure and Coal Deposits of Barents–
burg and of the Boheman Tundra (Western Spitsbergen),"
Trans.
Leningrad Geol. Trust, Fasc. 11. Leningrad–
Moscow, 1936. [In Russian with English summary.]
</bibl>
<bibl>
Laing, J.
An Account of a Voyage to Spitzbergen,
1815
</bibl>
<bibl>
Lutkevich, E.M. "Geology of the Tertiary Coal-bearing Deposits of Spits–
bergen in the Ice-Fjord Region,"
Trans.
Arctic Inst.,
Vol. 76. Leningrad, 1937. [In Russian with English
summary.] pp. 7-24
</bibl>
<bibl>
----- "Geological Survey and the Problems of the Coal Fields
of Mount Pyramid, Spitsbergen Island,"
Ibid
. pp. 25-38.
[In Russian with English summary.]
</bibl>
<bibl>
Nansen, Fridtjof
En Ferd til Spitsbergen
, Kristiania, 1920
</bibl>
<bibl>
----
The Spitsbergen Treaty
, 1920
</bibl>
Spitsbergen
<bibl>
Orvin, Anders K. "Geology of the Kings Bay Region, Spitsbergen, with
special reference to the Coal Deposits,"
Skr.
Svalbard
og
[: ]
Ishavet., Nr. 57. Oslo, 1934
</bibl>
<bibl>
----- "Outline of the Geological History of Spitsbergen,"
Skr.
Svalbard og
[: ]
Ishavet, No. 78, Oslo, 1940
</bibl>
<bibl>
----- "Bibliography of Literature about the Geology, Physical
Geography, Useful Minerals, and Mining of Svalbard,"
Skr.
Norges Svalbard-og Ishavs-unders
o
kelser, Nr. 89.
Oslo, 1947. [In this paper is found all literature
about coal deposits, coal mining, coal production, coal
analyses, and mineral deposits.]
</bibl>
<bibl>
Rudmose-Brown, R.N.
The Polar Regions
, 1927
</bibl>
<bibl>
-----
Spitsbergen
, 1920
</bibl>
<bibl>
Sindballe, K.
Report Concerning Claims to Land in Svalbard
, Copenhagen
and Oslo, 1927. [Report and Atlas]
</bibl>
<bibl>
White, A. (ed)
A Collection of Documents on Spitsbergen and Greenland
,
1855
⇑
. Haklwyt Society
</bibl>
<bibl>
Wieder, C.
The Dutch Discovery and Mapping of Spitsbergen
,
Amsterdam, 1919
</bibl>
EA-Geog. Greenland-Svalbard
Author: R. N. Rudmose Brown
Date Received: 8/8/47
No. of words: 300
Prins Karls Forland (or Prince Charles For
l

⇑

e

land) Island

PRINS KARLS FORLAND or Prince Charles Foreland is the most westerly of the islands

of the Spitsbergen group. It is 86 km. long and 5 to 11 km. wide and has an area

of 650 sq. km. It is separated from the mainland by Forlandsundet which by rea–

son of Forlandsrevet, a sandy reef across its northern part, is navigable only to

small vessels. Prins Karls Forland is very mountainous rising to several summits

of over a thousand metres, Monaco-fjellet (1081m), Jessiefjellet (1034m), Phipps–

fjellet (

[: ]

1022m.) etc. On both sides the island has a wide belt of lowland

which inorigin is a raised beach: it is interrupted in several places by shallow

lagoons and in the southern half extends across the island for a distance of

fifteen kilometres. On the east side of the island large glaciers descend to

the sea; the west side is almost clear of ice. There are no natural harbors ex–

cept for small vessels. The rocks are mainly shales, limestone and quartzites

of the Hecla Hock formation with a small

[: ]

area of tertiary rocks on Forland–

sundet against the "Bar" or Forlandsrevet. Str

e

⇑

u

cturally the island is part of the

old Caledonian folds reelevated in tertiary times and separated by down faulting

from the mainland. A little iron ore has been reported but the deposits are not

of great value. There is no coal. Norwegian trappers used to winter on the

island until the foxes were almost exterminated. There are now no reindeer and

bears seldom visit the island since pack-ice does not often reach it. Barents

saw the island in 1596 and thought it to be part of the mainland. Many casual

landings, including small whaling stations are recorded. Scoresby who landed

and J. Lamont give descriptions but no systematic exploration of the island was

made before W. S.

K

Bruce's (q.v.) expedition of 1906. This was followed by later

expeditions which resulted in a detailed map by W.S. Bruce and J. Mathieson pub–

lished in 1913. See also works

[: ]

cited under SPITSBERGEN.
Author: R. N. Rudmose Brown
500 words.
Noraustlandet (or North-East Land)
NORDAUSTLANDET
, or North-East Land, so called from its position in the Spitsbergen
or Svalbard group of which it is the second largest island with an area of
15,000 sq. km. Pack ice from the north makes it inaccessible in many months
and sometimes throughout the year. This difficulty of access delayed its ex–
ploration until recent years. The greater part of the island is smothered
with ice lying in five masses, Vestfonna, Austfonna, Sörfonna, Glitnefonna
and Vegafonna of which the highest is 600-700 metres. On the east and south the
ice caps meet the sea and calve off the largest icebergs that Spitsbergen produces.
On the north and west coasts which are indented by long fjords there is much ice
free land. The island is almost cut into two by Wahlenbergfjorden and Ri
p
⇑
j
pfjorden
and between the heads of the two there are 20 km. of ice free land. The struc–
ture of the islands is one of Hecla Hoek (?), granite, schists and limestone,
now thought to belong to the early Palaeozoic age. The southern part is built
of Carboniferous strata covered by a sill of dolomite. Raised beaches are a
marked feature. Under the ice domes the land surface probably rises as high as
500 metres. The climate is severe and more continental than in West Spitsbergen.
The ice area is not large enough to cause a permanent high pressure area. At–
lantic "lows" not infrequently cross the island. Strong winds are chiefly from
the south. Precipitation is as high as 700-800 mm. on the plateau. Temperature
may fall below freezing point in every month. The extreme winter minimum recorded,
at sea level, is -26°F. The mean of the warmest months is 38.2°F. for August.
There is, however, a great lack of detailed records.
Vegetation except near bird cliffs is scanty. In summer there are large
colonies of fulmars, kittiwakes, terns guillemots,
[: ]
Brent geese, eider ducks
Noraustlandet
and ivory gulls as well as fewer snow buntings, purple sandpipers, divers, grey
phaleropes etc. Ptarmigan are not numer
u
⇑
o
us. Birds start to migrate southward
by mid-August. Foxes and reindeer are few but bears and seals are fairly nu–
merous. Walrus are now rare. The whole island by virtue of its structure is
outside the area of mining claims and has never been much frequented by trappers.
The island first appears as Sir Thomas Smith's Island on Edge's map of 1625.
In Dutch maps of the seventeenth century the coasts gradually emerged but their
accurate survey was late. Parry did a little in 1827, A.E. Nordenskjöld in 1864,
a few Norwegian sealers at times. B. Leigh Smith in 1871, Nordenskjöld, with the
first crossing of the interior in 1872-73 and the Swedish Arc of Meridian Ex–
pedition in 1901. But the systematic exploration of the island was the work
of H. W. Ahlmann's Swedish-Norwegian Expedition in 1931, A. R. Glen's Oxford
Expedition in 1935-36 and the Norwegian Government aerial survey in 1938.
Surveys revealed a huge advance of ice on a 21 km. front on the south coast
between 1936 and 1938.
See works on Spitsbergen and A.R. Glen UNDER THE POLE STAR, 1937, and
H.W. Ahlmann and others SCIENTIFIC RESULTS OF THE SWEDISH NORWEGIAN ARCTIC
EXPEDITION OF 1931, 2 vols. Stockholm, 1934 and 1936.
Author: R. N. Rudmose Brown'
80 words.
Kvitoya
KVITOYA
, White Island, or Giles Land, lies east of Spitsbergen. It has an area
of 250 sq. km. and is covered with an ice sheet except at its western and
northern tips. Schist and gneiss are the foundation rocks. The island is
undoubtedly the land reported by Giles in 1707. It was examined in detail only
in 1930 when G. Horn and others found the remains of S. A. Andree (q.v.) and
his companions who had perished there after the wreck of their balloon in 1897.
See
The Andree Diaries
, 1931.
Author: R. N. Rudmose Borwn
150 words.
Kong Karls Land (or Wiches Land)
KONG KARLS LAND
or Wiches Land is a group of small islands with a total area
of 331 sq.km. lying on the east of Spitsbergen. They are flat topped with
hard dolerite capping sandstone and shales. Altitudes reach 200 to 300 m.
There are some small glaciers. Lowlands are wet and boggy in summer. Bears
[: ]
visit the islands in winter when the pack surrounds them; foxes are few.
In 1617 a land was discovered to the east of Spitsbergen as far north as 79°
N. and called Edge Eiches Land. In 1864 A. E. Nordenskjöld and N. Duner re–
discovered this land but took it to be Giles Land, now Kvitöya. In 1870 von Heuglin
named the islands for the King of Würtemberg but in 1872 H. Mohn referred them
to another Karl, the King of Sweden and Norway. There is little doubt that
the true name is Wiches Lend. The most thorough exploration was by A. G.
Nathorst's Swedish expedition in 1898.
AUTHOR: R. N. Rudmose Brown
Received 8/8/47
160 words.
Berentsöya
BARENTSöYA is an island on the east of theSpitsbergen group with an area of
1300 sq. km. separated from Vest Spitsbergen by the narrow head of Storfjorden.
It is part of the plateau of eastern Spitsbergen built of almost horizontal
strata of sandstone, shales and limestone and a few dolerite sills. There
are several glaciers particularly on the east. The Duckwith glacier on the
southwest has shown violent fluctuations in recent years, advancing over the
low Anderssonöyane and then receding and leaving them clear of ice. There are
no good harbors or even anchorages. The interior was little known until it
was aerially surveyed by Norway in 1936. The island as a peninsula appeared
on the Muscovy Company's map of 1625 and the Giles and Rep map of 1710. It
was only in 1859 that J. Lemont (q.v.) found Heleysundet to be a strait. The
Russian-Swedish Arc of Meridian Expedition fixed points only on the west coast.
Author: R. N. Rudmose Brown
Received: 8/8/47.
200 words.
EDGEÖYA
EDGEÖYA is a large island on the southeast of the Spitsbergen group with
an area of about 5150 sq. km. It is separated from Vest Spitsbergen by the
wide Storfjord. Part of the plateau of eastern Spitsbergen, it is built of
horizontal beds of sandstone and shale with a few dolerite sills. The west–
ern and central parts, comprising more than
⇑
half the island, are ice free. Domes
of dead ice, showing conditions of waning glaciation, rise to 600 m. Several
raised beaches at different levels afford good travelling surfaces. Anchorages
are poor and there are no good harbors; the east coast should be avoided. Sum–
mer is a period of gales and fog; winter is quieter and cold. Access by sea
is often hindered by pack ice. Vegetation is scanty. Foxes, reindeer, and
bears are found. Wolves
[: ]
used to be numerous among the archipelago of
Tusenöyane (Thousand Island). Russian trappers huts occur in many places on
the coast. EDGEÖYA was probably discovered by Edge in 1616 but may have been
sighted by the Dutchman Carolus in 1614 and called by him Morfyn. The Russian–
Swedish Arc of Meridian Expedition fixed some points on the west in 1899-1901
and the Cambridge Expedition under H.G. Watkins in 1927 made useful surveys
but the final mapping was not completed until Norwegians did it from the air
in 1936.
Author: R.N. Rudmose Brown
400 words.
Hopen (Hope or Seahorse Island)
HOPEN, Hope or Seahorse Island, is a small detached island of the Svalbard
group lying 125 nautical miles due east of South Cape (Sörkapp) and 47 nauti–
cal miles S.S.E. of Edge Island. Its exact position is now accepted as lat.
76° 35′N., long. 25° 30′E. This differs from earlier positions including
that of Iversen in 1924. It is a long narrow strip of land 37 kilometr
⇑
¯
es in
length and three quarters to two kilometeres wide with a total area of 46 sq.
kilometers. In structure it is a detached fragment of the plateau of eastern
Spitsbergen and is built of horizontal layers of soft Cretaceous rocks rising
to flat topped hills of which the highest is Iversenfjellet, 365 metres, at
the south end. Nearly everywhere the island meets the sea in steep cliffs but
in places where there are raised beaches landing is possible when the sea is
calm. Wave action is very destructive and in time will reduce the island to
a shoal. The coasts are clear of rocks, but are fringed with shallow water.
There is no evidence of the occurrence of coal or other minerals of value.
There are no glaciers.
Vegetation is scanty; the twenty species of flowering plants occur
also on Spitsbergen. Mosses and lichen
s are numerous. The fox has been seen
and the polar bear comes in winter when pack-ice may invest the island.
[: ]
Walrus used to be abundant but are now scarce. Guilletmots, glaucous gulls, kit–
tiwakes, skuas, sandpipers and eider ducks frequent the islands. There are
ruins of a few trappers huts of long ago.
Hopen according to Edge was discovered in 1613 but the Dutch may have
known it some years earlier. It appears with varying shape and position on
several English and Dutch charts on some of which anchorages are mar
c
ked. J.
Payer landed in 1876 and writes of rocks on the coasts and mentions the
[: ]
Hopen
abundant driftwood. A.G. Nathorst in 1898 was unable to land but the same
year W.S. Bruce landed from
⇑
t
he Prince of Monaco's yacht. Norwegians failed
to get ashore in 1920 but twice in 1924 and in 1926 Th. Iversen landed and
explored the island making at l
e
⇑
a
st a satisfactory map. Further work was done
in 1939 by Th. Askheire.
The best account is by Th. Iversen "Hopen" Res. Av de Norske
Statsunder-Stöttede Spitsbergenekspeditioner Bind I, Nr. 10, Oslo, 1926
(In English)
Author: R. N. Rudmose Brown
Received 8/8/47
No. of words: 1,000
Björnöya (or Bear Island)
BJÖRNÖYA or Bear Island is a small isolated lying between Norway
(240 miles) and Spitsbergen (120 miles) and is regarded as one of the Sval–
bard group. It extends between lat. 74° 20′N. and 74°
[: ]
31′N. and between
long. 18° 46′E. and 19° 17′E. Its total area is 178 sq. kilometres. The
island is roughly triangular and rises to 536 metres in the highest of the
three summits of Miseryfjellet. The north is a plain area lying at an ele–
vation of about 30 to 45 metres above sea level, an area of bare Carbonifer–
ous sandstone, limestone and shale with scabbered rock fragments, many wind–
ing unnavigable streams and a great number of shallow lakes of which the
largest is Laksvat with a depth of 2 to 3 metres. The southern
[: ]
part is
mountainous with several summits and wide valleys and a few deep lakes. The
who
e
le island meets the sea in steep cliffs 24 to over 300 metres in height.
Mount Misery has cliffs of 425 metres.
[: ]
On the stepping of the horizontal
beds many sea birds find nesting places. Off the coast there are many pro–
minent stacks. Geologically Björnöya is a detached part of the belt of Cale–
donian foldings of western Norway and western Spitsbergen and is built of
Hec
k
la Hock shales, dolomites and limestones on the peneplained surface of
which were laid down, Devonian, Carboniferous and since eroded Triassic rocks.
In Te
r
⇑
t
iary times a great upheaval occurred and the present small island
since isolated by erosion alone remains between the larger areas in Norway
and Spitsbergen. There are numerous levels of ancient beaches. At present
there are no glaciers but signs of former glaciation are numerous. Landslides
in the mountainous part are frequent. There are no good harbors and access
to the interior is gnerally difficult. On the east and north are the places
with easiest access. The coal miners had great difficulty in finding an
outlet for their coal. Austerväg which was used had little advantage
Björnöya
except that it is on the eastern or lee side. Kvalrossbukta, further south,
offers anchorage for
[: ]
small vessels and easy access to the interior, but has
a rock studded entrance. Herwighamna on the north may be a useful anchorage
for small vessels.
Pack-ice from the east of Spitsbergen is driven south to envelope
Björnöya especially in April, May and June. July, August and September are
months when the island is almost certain to be icefree, but such conditions
may
[: ]
persist throughout the year. On the west the warm Svalbard drift
keeps open the waters on the Spitsbergen Bank. British trawlers now work
on the Spitsbergen Bank within sight of Bear Island. The climate is most
unattractive. Winter is a time of strong Atlantic gales with low cloud, mist
rain with means below freezing point from October to May and
[: ]
er very much
above. Summer has a few clear and warm days but the highest recorded tempera–
ture is 61° F in August. The lowest record is -26° F in March. The driest
period is April to August but all months have some precipitation with a to–
tal for the year of 330 mm. Snow falls as a rule from October to May.
Vegetation is poor and un
v
⇑
e
ven but rich near bird cliffs. The flora,
with some fifty species of flowering plants, is a third of that of Spits–
bergen but very closely related. There are many mosses and lichens. There
are foxes but no reindeer. Bears visit the island in winter. Fulmar guille–
monts and other sea birds, as in Spitsbergen, nest in myriads in summer.
All animal life, except the glaucous gull, is protected
⇑
(?)
throughout the islan
d.
The Norse discovery of Svalbard in 1194 may have been Björnöya but
was more likely Spitsbergen. At any rate Heemskerck and Barents found the
island in 1596 before discovering Spitsbergen and called it T'veeve Eylandt
(Bear Island). A landing was made. In 1603 S. Bennet, in
⇑
ignorance of the
Dutch discovery, called it Cherrie Island, after the patron of his voyage.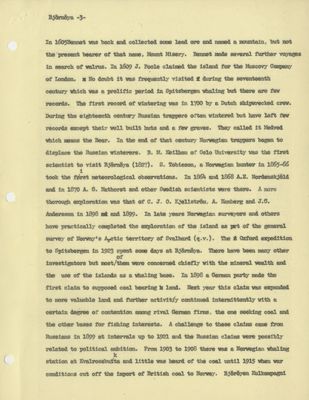 (View Page Image)
Björnöya
In 1605Bennet was back and collected some lead ore and named a mountain, but not
the present bearer of that name, Mount Misery. Bennet made several further voyages
in search of walrus. In 1609 J. Poole claimed the island for the Muscovy Company
of London.
[: ]
No doubt it was frequently visited
[: ]
during the seventeenth
century which was a prolific period in Spitsbergen whaling but there are few
records. The first record of wintering was in 1700 by a Dutch shipwrecked crew.
During the eighteenth century Russian trappers often wintered but have left few
records except their well built huts and a few graves. They called it Medved
which means the Bear. In the end of that century Norwegian trappers began to
displace the Russian winterers. B. M. Keilhau of Oslo University was the first
scientist to visit Björnöya (1827). S. Tobieson, a Norwegian hunter in 1865-66
took the f
o
⇑
i
rst meteorological observations. In 1864 and 1868 A.E. Nordenskjöld
and in 1870 A. G. Nathorst and other Swedish scientists were there. A more
thorough exploration was that of C. J. O. Kjellström, A. Hamberg and J.G.
Andersson in 1898
[: ]
and 1899. In late years Norwegian surveyors and others
have practically completed the exploration of the island as part of the general
survey of Norway's Arctic territory of Svalbard (q.v.). The
[: ]
Oxford expedition
to Spitsbergen in 1923 spent some days at Björnöya. There have been many other
investigators but most
⇑
of
them were concerned chiefly with the mineral wealth and
the use of the islands as a whaling base. In 1898 a German party made the
first claim to supposed coal bearing
[: ]
land. Next year this claim was expanded
to more valuable land and further activit
i
y continued intermittently with a
certain degree of contention among rival German firms, the one seeking coal and
the other bases for fishing interests. A challenge to these claims came from
Russians in 1899 at intervals up to 1921 and the Russian claims were possibly
related to political ambition. From 1903 to 1908 there was a Norwegian whaling
station at Kvalrossbu
t
⇑
k
ta and little was heard of the coal until 1915 when war
conditions cut off the import of British coal to Norway. Björöyen Kulkompagni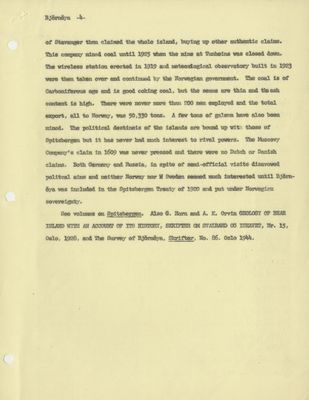 (View Page Image)
Björnöya
of Stavanger then claimed the whole island, buying up other authentic claims.
This company mined coal until 1925 when the mine at Tunheins was closed down.
The wireless station erected in 1919 and meteorological observatory built in 1923
were then taken over and continued by the Norwegian government. The coal is of
Carboniferous age and is good coking coal, but the seams are thin and the ash
content is high. There were never more than 200 men employed and the total
export, all to Norway, was 50,330 tons. A few tons of galena have also been
mined. The political destineis of the islands are bound up with those of
Spitsbergen but it has never had much interest to rival powers. The Muscovy
Company's claim in 1609 was never pressed and there were no Dutch or Danish
claims. Both Germany and Russia, in spite of semi-official visits disavowed
political aims and neither Norway nor
[: ]
Sweden seemed much interested until Björn–
öya was included in the Spitsbergen Treaty of 1920 and put under Norwegian
sovereignty.
See volumes on
Spitsbergen
. Also G. Horn and A. K. Orvin GEOLOGY OF BEAR
ISLAND WITH AN ACCOUNT OF ITS HISTORY, SKRIFTER OM SVALBARD OG ISHAVET, Nr. 15,
Oslo, 1928, and The Survey of Björnöya,
Skrifter
, No. 86. Oslo 1944.