Monchegorsk: Encyclopedia Arctica 10: Soviet North, Geography and General
---
Monchegorsk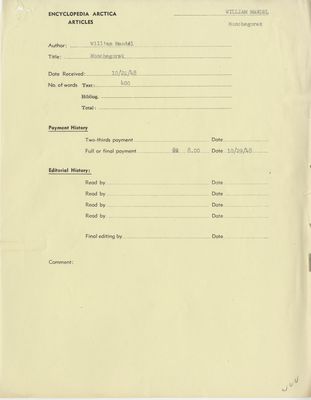 (View Page Image)
[Figure]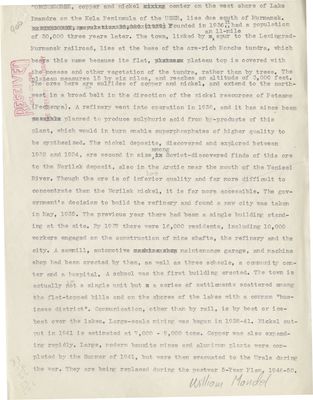 (View Page Image)
MONCHEGORSK, copper and nickel
[: ]
center on the west shore of Lake
Imandra on the Kola Peninsula of the USSR, lies due south of Murmansk.
[: ]
Founded in 1936,
⇑
it
had a population
of 30,000 three years later. The town, linked by
[: ]
⇑
an ll-mile
spur to the Leningrad–
Murmansk railroad, lies at the base of the ore-rich Monche tundra, which
bears this name because its flat,
[: ]
plateau top is covered with
the mosses and other vegetation of the tundra, rather than by trees. The
plateau measures 15 by six miles, and reaches an altitude of 3,000 feet.
The ores here are sulfides of copper and nickel, and extend to the north–
west in a broad belt in the direction of the nickel resources of Petsamo
(Pechenga). A refinery went into operation in 1938, and it has since been
[: ]
planned to produce sulphuric acid from by-products of this
plant, which would in turn enable superphosphates of higher quality to
be synthesized. The nickel deposits, discovered and explored between
1932 and 1934, are second in size
[: ]
⇑
among
Soviet-discovered finds of this ore
to the Norilsk deposit, also in the Arctic near the mouth of the Yenisei
River. Though the ore is of inferior
⇑
200
quality and far more difficult to
concentrate than the Norilsk nickel, it is far more accessible. The gov–
ernment's decision to build the refinery and found a new city was taken
in May, 1935. The previous year there had been a single building stand–
ing at the site. By 1937 there were 16,000 residents, including 10,000
workers engaged on the construction of mine shafts, the refinery and the
city. A sawmill, automotive
[: ]
maintenance garage, and machine
shop had been erected by then, as well as three schools, a community cen–
ter and a hospital. A school was the first building erected. The town is
actually not a single unit but
[: ]
a series of settlements scattered among
the flat-topped hills and on the shores of the lakes with a common "bus–
iness district". Communication, other than by rail, is by boat or ice–
boat over the lakes. Large-scale mining was begun in 1938-41. Nickel out–
put in 1941 is estimated at 7,000 - 9,000 tons. Copper was also expand–
ing rapidly. Large, modern bauxite mines and aluminum plants were com–
pleted by the Summer of 1941, but were then evacuated to the Urals during
the war. They are being replaced during the postwar 5-Year Plan, 1946-50.