Consultants: Encyclopedia Arctica Volume 1: Geology and Allied Subjects
---
Consultants, Volume 1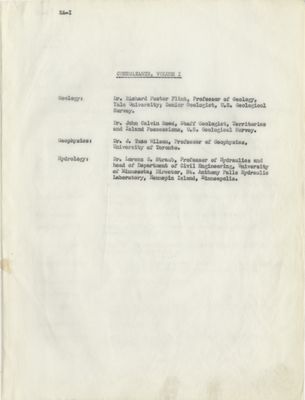 (View Page Image)
EA-I
CONSULTANTS, VOLUME I
Geology:
Dr. Richard Foster Flint, Professor of Geology,
Yale University; Senior Geologist, U.S. Geological
Survey.
Dr. John Calvin Reed, Staff Geologist, Territories
and Island Possessions, U.S. Geological Survey.
Geophysics:
Dr. J. Tuzo Wilson, Professor of Geophysics,
University of Toronto.
Hydrology:
Dr. Lorenz G. Straub, Professor of Hydraulics and
head of Department of Civil Engineering, University
of Minnesota; Director, St. Anthony Falls Hydraulic
Laboratory, Hennepin Island, Minneapolis.