Press translations [Japan]. Social Series 0267, 1946-02-18.
translation-number: social-1402
call-number: DS801 .S84
---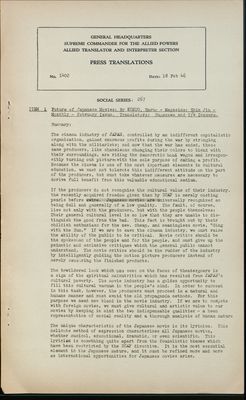 (View Page Image)
GENERAL HEADQUARTERS

SUPREME COMMANDER FOR THE ALLIED POWERS

ALLIED TRANSLATOR AND INTERPRETER SECTION

PRESS TRANSLATIONS

SOCIAL SERIES: 267

ITEM 1 Future of Japanese Movies: By KONDO, Haruo - Magazine: Shin Jin - Monthly - February Issue. Translators: Sugasawa and T/4 Ikemura.
Summary:

The cinema industry of JAPAN, controlled by an indifferent capitalistic organization, gained enormous profits during the war by stringing along with the militarists; and now that the war has ended, these same producers, like chameleons changing their colors to blend with their surroundings, are riding the democratic band wagon and irresponsibly turning out pictures with the sole purpose of making a profit. Because the cinema is one of the most important elements in cultural education, we must not tolerate this indifferent attitude on the part of the producers, but must take whatever measures are necessary to derive full benefit from this valuable educational medium.

If the producers do not recognize the cultural value of their industry, the recently acquired freedom given them by SCAP is merely casting pearls before swine. Japanese movies are universally recognized as being dull and generally of a low equality. The fault, of course, lies not only with the producers, but with the people themselves: Their general cultural level is so low that they are unable to distinguish the good from the bad. This fact is brought out by their childish enthusiasm for the new, cheap, and meaningless movie, "Sing with the Sun." If we are to save the cinema industry, we must raise the ability of the public to be critical. Movie critics should be the spokesman of the people and for the people, and must give up the pedantic and exclusive critiques which the general public cannot understand. The movie critics should be the rudder of the industry by intelligently guiding the motion picture producers instead of merely censoring the finished products.

The bewildered look which one sees on the faces of theatergoers is a sign of the spiritual malnutrition which has resulted from JAPAN's cultural poverty. The movie industry has a golden opportunity to fill this cultural vacuum in the people's mind. In order to succeed in this task, however, the producers must proceed in a natural and humane manner and must avoid the old propaganda methods. For this purpose we need new blood in the movie industry. If we are to compete with foreign movies, we must give cultural and artistic value to our movies by keeping in mind the two indispensable qualities - a keen representation of social reality and a thorough analysis of human nature

The unique characteristic of the Japanese movie is its lyricism. This delicate method of expression characterizes all Japanese movies, whether musical, educational, dramatic, or even scientific. This lyricism is something quite apart from the feudalistic themes which have been restricted by the SCAP directive. It is the most essential element in the Japanese nature, and it must be refined more and more as international opportunities for Japanese movies arise.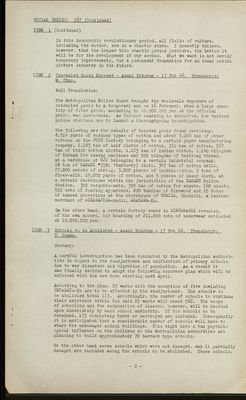 (View Page Image)
SOCIAL SERIES: 267 (Continued)
In this democratic revolutionary period, all fields of culture, including the movies, are in a chaotic state. I honestly believe, however, that the longer this chaotic period persists, the better it will be for the development of our movies. What we want is not merely temporary improvements, but a permanent foundation for an ideal motion picture industry in the future.

ITEM 2 Concealed Goods Exposed - Asahi Shimbun - 17 Feb 46. Translator: M. Ohno.
Full Translation:

The Metropolitan Police Board brought the wholesale exposure of concealed goods to a temporary end on 16 February, when a large quantity of fiber goods, amounting to 10,000,000 yen at the official price, was descovered. As further hoarding is suspected, the various police stations are to launch a thoroughgoing investigation.

The following are the details of hoarded goods found yesterday. 8,516 yards of various types of cotton and about 3,000 kan of other cottons at the JUJO factory belonging to a certain paper manufacturing company, 1,183 tan of half cloths of cotton, 310 tan of cotton, 167 tan of thick cotton cloths, 1,123 tan of Indian cotton, 1,140 kilogram of thread for sewing machines and 500 kilogram of knitting thread, at a warehouse at OJI belonging to a certain industrial company. 68 tan of BABARI *(TN: ?burberry) cloth, 347 tan of cotton drill, 27,000 meters of string, 3,000 pieces of machine cotton, 9 tons of floss-silk, 15.000 yards of cotton, and 5 pieces of heavy cloth, at a certain storehouse within the jurisdiction of the NAKANO Police Station. 300 mosquito-nets, 300 kan of cotton for sheets, 160 sheets, 500 sets of fencing apparatus, 200 bundles of firewood and 15 boxes of canned provisions at the storehouse of TOMIBA, Shokichi, a leather merchant of MIKAWAJIMA-Machi, ARAKAWA-Ku.

On the other hand, a certain factory owner in NIHOMBASHI revealed, of his own accord, his hoarding of 211,000 sets of underwear estimated at 10,000,000 yen.

ITEM 3 Schools to be Abolished - Asahi Shimbun - 17 Feb 46. Translator: T. Ogawa.
Summary:

A careful investigation has been conducted by the Metropolitan authorities in regard to the readjustment and unification of primary schools due to war disasters and migration of population. As a result it was finally decided to adopt the following concrete plan which will be enforced with the new term starting next April.

According to the plan, 29 wards with the exception of five including SETAGAYA-Ku are to be affected by the readjustment. The schools to be abolished total 113. Accordingly, the number of schools to continue their existence within the said 29 wards will reach 562. The scope of schooling and the composition of classes, however, will be decided upon immediately by each school authority. Of the schools to be retained, 179 completely burnt or destroyed are included. Consequently it is anticipated that a considerable number of schools will have to share the undamaged school buildings. This might have a bad psychological influence on the children so the Metropolitan authorities are planning to build approximately 70 barrack type schools.

On the other hand seven schools which were not damaged, and 11 partially damaged are included among the schools to be abolished. These schools,

- 2 -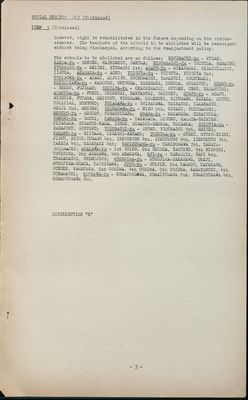 (View Page Image)
SOCIAL SERIES: 267 (Continued)
however, might he rehabilitated in the future depending on the circumstances. The teachers of the schools to be abolished will be reassigned without being discharged, according to the readjustment policy.

The schools to be abolished are as follows:
KOJIMACHI-Ku
- KUDAN;
KANDA-Ku
- RENSEI, HASHIMOTO, SAKUMA;
NIHOMBASHI-Ku
- CHIYODA, HAMACHO;
KYOBASHI-Ku
- MEISEI, KYOBASHI 1st;
AZABU-Ku
- MIKAWADAI, HIGASHIMACHI, IIGURA;
AKASAKA-Ku
- AOKO;
YOTSUYA-Ku
- YOTSUYA, YOTSUYA 2nd;
USHIGOME-Ku
- AKAGI, AIJITSU, YOCHOMACHI, YAMABUKI, TSURUMAKI;
KOISHIKAWA-Ku
- KAGOCHO, OHTSUKA, TAKEHAYA, KURODA, GOTENCHO;
HONGO-Ku
- HONGO, FUJIMAE;
SHITAYA-Ku
- OKACHIMACHI, RYUSEN, UENO, YAMABUSHI;
ASAKUSA-Ku
- FUKUI, SHIMBORI, SANYABORI, SEITOKU;
HONJO-Ku
- HONGO, NISSHIN, FUTABA, MEITOKU, YOKOGAWA, MIMEGURI, KIKUGAWA, KAYABA, KOTOH, USHIJIMA, HONYOKO;
FUKAGAWA-Ku
- SHIRAKAWA, OGIBASHI, TAKAHASHI, MEIJI 2nd, MEISEN;
SEINAGAWA-Ku
- HINO 5th, OHSAKI, SUZUGAMORI;
MEGURO-Ku
- MEGURO, HIGASHIBARA;
EBARA-Ku
- NAKAHARA, HIRATSUKA;
OHMORI-Ku
- OMORI;
KAMATA-Ku
- TAKABATA, MISONO, KAMATA-SHINDEN, KITAKAMA, HIGASHI-KAMA, IZUMO, HIGASHI-HANEDA, OGINAKA;
SHIBUYA-Ku
- HARAJUKU, GYOTOKU;
YODOBASHI-Ku
- GYOKO, YODOBASHI 5th, MEISEI;
NAKANO-Ku
- NIIYAMA, HIGASHI-NAKANO;
TOSHIMA-Ku
- GYOKO, GYOKO-NISHI, JISHU, NISHI-SUGAMO 4th, IKEBUKURO 4th, IKEBUKURO 6th, IXEBUEURO 7th, TAKATA 4th, NAGASAKI 4th;
TAKINOGAWA-Ku
- TAKINOGAWA 7th, TABATA-SHIMMACHI;
APAKAWA-Ku
- 1st ZUIKO, 6th SEXODA, YASHIRO, 5th NIPPORI, USHIRODA, 2nd ARAKAWA, 4th ARAKAWA;
OJI-Ku
- YANAGITA, OHJI 4th, UBAGAHASHI, SHIMOJUJO;
MUKOJIMA-Ku
- MUKOJIMA-NAKAGAWA, UKEJI, MUKOJIMA-OHATA, TACHIBANA;
JOTO-Ku
- SUIJIN, 2nd KAMEDO, TATEKAWA, BUNSEN, KAMETAKA, 2nd OSHIMA, 4th OSHIMA, 5th OSHIMA, KAMAYABORI, 4th SUNAMACHI;
EDOGAWA-Ku
- KOMATSUGAWA, KOMATSUGAWA 2nd, KOMATSUGAWA 4th, KOMATSUGAWA 6th.
DISTRIBUTION "X"

- 3 -