Press translations [Japan]. Social Series 0266, 1946-02-18.
translation-number: social-1396
call-number: DS801 .S84
---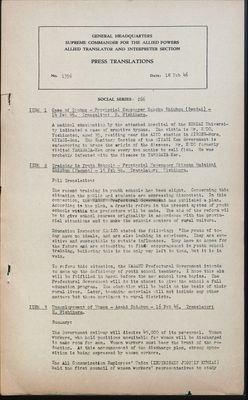 (View Page Image)
GENERAL HEADQUARTERS

SUPREME COMMANDER FOR THE ALLIED POWERS

ALLIED TRANSLATOR AND INTERPRETER SECTION

PRESS TRANSLATIONS

SOCIAL SERIES: 266

ITEM 1 Case of Typhus - Provincial Newspaper Kahoku Shimbun (Sendai) - 14 Feb 46. Transaltor: H. Hishihara.
A medical examination by the attached hospital of the SENDAI University indicated a case of eruptive typhus. The victim is Mr. ENDO, Yoshimatsu, aged 35, residing near the AIKO station in HIROSE-Mura, MIYAGI-Gun. The Sanitary Section of the MIYAGI Ken Government is endeavoring to trace the origin of the disease. Mr. ENDO formerly visited YAMAGATA-Ken once every two months to sell fish. He was probably infected with the disease in YAMAGATA—Ken.

ITEM 2 Training in Youth Schools - Provincial Newspaper Shinano Mainichi Shimbun (Nagano) - 15 Feb 46. Translator: Nishihara.
Full Translation:

The recent training in youth schools has been slight. Concerning this situation the public and students are expressing discontent. In this connection, the NAGANO Prefectural Government has published a plan. According to the plan, a drastic reform in the present system of youth schools within the prefecture will be made. The aim of the reform will be to give school courses originality in accordance with the provincial situations and to make the schools centers of rural culture.

Education Inspector KAMIJO stated the following; "The youth of today have no ideals, and are also lacking in experience. They are sensitive and susceptible to outside influences. They have no hopes for the future and are attempting to find encouragement in youth school training, believing this is the only way left to them, but it is in vain.

To reform this situation, the NAGANO Prefectural Government intends to make up the deficiency of youth school teachers. I hope this aim will be fulfilled in March before the new school term begins. The Prefectural Government will do its utmost to give the school a full education program. The education will be built on the basis of their rural lives. Later, teaching materials will not include any other matters but those pertinent to rural districts.

ITEM 3 Unemployement of Women - Asahi Shimbun - 16 Feb 46. Translator: H. Nishihara.
Summary:

The Government railway will dismiss 45,000 of its personnel. Women workers, who hold positions unsuitable for women will be discharged to make room for men. Women workers must bear the brunt of the reduction. At this announcement of the discharge plan, strong opposition is being expressed by women workers.

The All Communication Employees' Union (ZENTEISHIN JOGYOIN KUMIAI) held the first council of women workers' representatives to study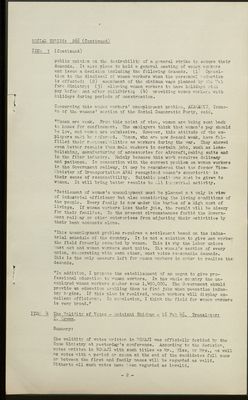 (View Page Image)
SOCIAL SERIES: 266 (Continued)
public opinion on the desirability of a general strike to secure their demands. It also plans to hold a general meeting of women workers and issue a decision including the following demands. (1) Opposition to the dismissal of women workers when the personnel reduction is effected; (2) amendment of the minimum wage planned by the Welfare Ministry; (3) allowing women workers to have holidays with pay before and after childbirth; (4) providing women workers with holidays during periods of menstruation.

Concerning this women workers' unemployment problem, AKAMHTSU, Tsuneko of the womens' section of the Social Democratic Party, said,

"Women are weak. From this point of view, women are being sent back to homes for confinement. The employers think that women's pay should be low, and women are submissive. However, this attitude of the employers must be reformed. Women, who are now deemed weak, have fulfilled their responsibilities as workers during the war. They showed even better results then male workers in certain jobs, such as lens-polishing, manufacturing of accessories for aircraft, making suits and in the fiber industry. Mainly because this work requires delicacy and patience. In connection with the current problem on women workers in the Government railway, it may be remembered, that the former Vice-Minister of Transportation ARAI recognized women's superiority in their sense of responsibility. Suitable positions must be given to women. It will bring better results to all industrial activity.

"Settlement of women's unemployment must be planned not only in view of industrial efficiency but also considering the living conditions of the people. Every family is now under the burden of a high cost of livings. If women workers lose their jobs, the result will be misery for their families. So the present circumstances forbid the Government railway or other enterprises from adjusting their activities by their bank accounts alone.

"This unemployment problem requires a settlement based on the industrial schedule of the country. It is not a solution to give men worker the field formerly occupied by women. This is why the labor unions must act and women workers must unite. The women's section of every union, cooperating with each other, must voice reasonable demands. This is the only measure left for women workers in order to realize the demands.

"In addition, I propose the establishment of an organ to give professional education to women workers. In the whole country the unemployed women workers number some 1,490,000. The Government should provide an education enabling them to find jobs when peacetime industry begins. If this plan is realized, women workers will display excellent efficiency. In conclusion, I think the field for women workers is very broad."

ITEM 4 The Validity of Votes - Mainichi Shimbun - 16 Feb 46. Translator: T. Ogawa.
Summary:

The validity of votes written in ROMAJI was officially decided by the Home Ministry at yesterday's conference. According to the decision, votes written in ROMAJI with such titles as Mr., Miss, or Mrs., as well as votes with a period or comma at the end of the candidates full name or between the first and family names will be regarded as valid. Hitherto all such votes have been regarded as invalid.

- 2 -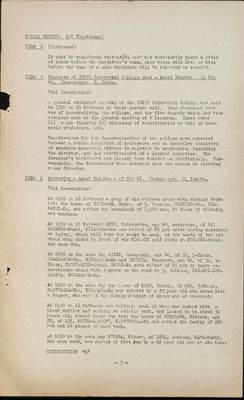 (View Page Image)
SOCIAL SERIES: 226 (Continued)
It must be remembered that voters need not necessarily place a title of honor before the candidate's name, also votes with Mrs. or Miss before the name of a male candidate will be regarded as invalid.

ITEM 5 Students of TOKYO Industrial College Meet - Asahi Shimbun - 16 Feb 46. Translator: S. Shiba.
Full Translation:

A general students' meeting of the TOKYO Industrial College was held at 1300 on 15 February in their lecture hall. They discussed best way of democratizing the college, and the five demands which had been resolved upon at the general meeting of 5 December. These were: (l) a new director (2) dismissal of reactionaries as well as incapable professors, etc.

Negotiations for the democratization of the college were repeated between a reform committee of professors and an executive committee of students personnel affairs in relation to professors, including the director, and the establishment of a general committee. The director's retirement had already been decided on unofficially. Consequently, the discussions were centered upon the method of electing a new director.

ITEM 6 Robberies - Asahi Shimbun - 17 Feb 46. Translator: S. Sakata.
Full Translation:

At 0100 on 16 February a gang of six robbers armed with pistols broke into the house of YONEYAMA, Shiro, of 3. 5-chomo, HOGYOKU-Cho, ITABASHI-Ku, and robbed the household of 7,000 yen, 20 items of clothing and watches.

At 1930 on 15 February SUDO, Chiyomatsu, age 40, carpenter, of 421 TANASHI-Machi, KITATAMA-Gun was robbed of 60 yen after having sustained an injury, which will take two weeks to heal, at the hands of two men armed with clubs in front of the KOGANEI golf links in KOGAHEI-Machi, the same Gun.

At 2030 on the same day HORII, Masayoshi, age 45, of 39, 1-Chome, OSAKI-HON-Cho, SHINAGAYA-Ku and TSURUTA. Suematsu, age 42, of 32, 1-Chome, CHOFU-MINE-Machi, OMORI-Ku were robbed of 60 yen by three ex-servicemen armed with daggers on the road in 3, 3-Chone, HIGASHI-SHINAGAWA, SHINAGAWA-Ku.

At 1900 on the same day the house of KATO, Toshio, of 940, 3-Chome, MATSUBARA-Cho, SETAGAYA-Ku was entered by a 23 year old man armed with a dagger, who robbed the family of pair of shoes and an overcoat.

At 0130 on 16 February two robbers, each of whom was masked with a black muffler and wearing an aviator suit, and looked to be about 30 years old, forced their way into the house of HIROSAWA, Eikichi, age 28, of 123, HONDA-AWANOSU, KATSUSHIKA-Ku and robbed the family of 260 yen and 14 pieces of hard tack.

At 1130 on the same day FUTABA, Kitaro, of 1691, 3-chome, KANA-Machi, the same ward, was robbed of five yen by a 22 year old man in his house

DISTRIBUTION "X"

- 3 -