Press translations [Japan]. Social Series 0265, 1946-02-18.
translation-number: social-1387
call-number: DS801 .S84
---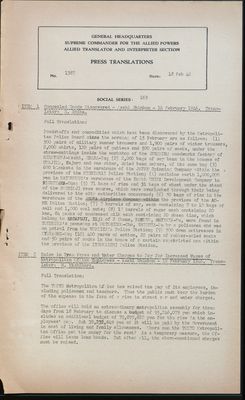 (View Page Image)
GENERAL HEADQUARTERS

SUPREME COMMANDER FOR THE ALLIED POWERS

ALLIED TRANSLATOR AND INTERPRETER SECTION

PRESS TRANSLATIONS

SOCIAL SERIES: 265

ITEM 1 Concealed Goods Discovered - Asahi Shimbun - 16 February 1946. Translator: S. Shiba.
Full Translation:

Foodstuffs and commodities which have been discovered by the Metropolitan Police Board since the morning of 15 February are as follows: (1) 500 pairs of military summer trousers and 1,900 pairs of winter trousers, 2,000 shirts, 120 pairs of puttees and 500 pairs of socks, under the straw-mattings inside the workshop of the SUNAMURA woodworks factory of HIRATSUKA-Machi, EBARA-Ku; (2) 2,000 bags of soy bean in the houses of UWAJIMA, Kajuro and one other, dried bean makers, of the same ku; (3) 600 blankets in the warehouse of the JAPAN Spinning Company within the province of the NISHIARAI Police Station; (4) medicine worth 1,000,000 yen in MATSUMOTO's warehouse of the North CHINA Development Company in NISHITAMA-Gun; (5) 71 bags of rice and 31 bags of wheat under the stand of the HACHIOJI race course, which were overlooked through their being delivered to the city authorities concerned; (6) 50 bags of rice in the warehouse of the SHOWA Airplane Company within the province of the AOME Police Station; (7) 7 barrels of soy, each containing 7 to 10 bags of salt and 1,000 coal nuts; (8) 17 barrels of sugar each containing 20 kan, 84 packs of condensed milk each containing 20 dozen tins, which belong to NAGAFUJI, Eiji of 2 Chome, KAMOTO, SHITAYA-Ku, were found in YOKUKURA's pawnshop at MOTOHIROO-Cho, SHIBUYA-Ku by a policeman who was on patrol from the TORIIZAKA Police Station; (9) 300 down mattresses in KYOBASHI-Ku; (10) 400 yards of cotton, 22 pairs of rubber-soled socks and50 pairs of socks in the house of a certain repatriated man within the province of the ITSUKAICHI Police Station.

ITEM 2 Raise in Tram Fares and Water Charges to Fay for Increased Wages of Metropolitan Office Employees - Asahi Shimbun - 16 February 1946. Translator: H. Nishihara.
Full Translation:

The TOKYO Metropolitan Office has raised the pay of its employees, including policemen and teachers. Thus the public must bear the burden of the expense in the form of a rise in street car and water charges.

The office will hold an extraordinary metropolitan assembly for three days from 18 February to discuss a budget of 95,246,079 yen which includes an additional budget of 79,899,822 yen for the rise in the employees' pay. But 38,232,849 yen of it will be paid by the Government in cost of living and family allowances. Where can the TOKYO Metropolitan Office get the money for the rest? As a temporary measure, the Office will issue loan bonds. But after all, the above-mentioned charges must be raised.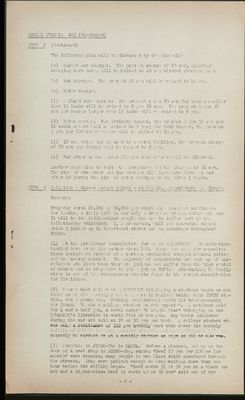 (View Page Image)
SOCIAL SERIES: 265 (Continued)
The following plan will be discussed by the assembly.

Street car charges. The present charge of 20 sen, allowing changing cars once will be raised to 40 sen without changing cars.
Bus charges. The present 20 son will be raised to 140 sen.
Water charge.
A fixed rate system: The present 1 yen 50 sen for houses smaller than 15 tsubo will be raised to 3 yen 50 sen. The present 2 yen 50 sen for houses larger than 15 tsubo will be raised to 6 yen
Meter system. For ordinary houses, the present 3 yen 50 sen per 20 cubic meters will be raised to 3 yen; for bath houses, the present 5 yen per 100 cubic meters will be raised to 20 yen.
If one water tap is used by several families, the present charge of 70 sen per family will be raised to 2 yen.
For other uses: About 120 per cent raises will be effected.
Another plan aims to raise the streetcar and bus charges to 50 sen. The rise of streetcar and bus charges will come into force on and after 10. March; the rise of water charges on and after 1 March.

ITEM 3 Inflation - Nippon Sangyo Keizai - 16 Feb 46. Translator: S. Inque.
Summary:

Property worth 20,000 or 30,000 yen which bore interest sufficient for leading a daily life is now only a dream we dreamt before the war. It will be the middle-class people who are to suffer most by the inflationary whirlwind. I, a press-man, will now introduce scenes which I picked up in department stores and in pawnshops throughout TOKYO.

At the Livelihood Consultative Bureau in MARUNOUCHI. Consultations handled here every day number about 100. Those who came for consultations include an ex-head of a certain provincial thought control police and an ex-army colonel. The majority of consultants are made up of war refugees who plead that they are jobless and suffer from the high rental of houses and so they want to get a job in TOKYO. Job-hunting by family wives is one of the conspicuous aspects found in the recent consultation for livelihood.
Near a book sellar at

[illegible]

RUNCUCHI displaying sacondhand books or not books on an old Newpaper below a certain railway bridge near TOKYO station, was a young man. Nothing professional about his tradesmanship was found. He was a college student as was expected. A notebook sold for 4 and a half yen, a novel marked "A Single Star" belonging to the YUWANAMI's libraries is worth five or ten yen. Any books published during the war are sold at 20 or 30 yen per book. A college student who was only a remittance of 300 yen monthly must thus cover his monthly default of 200 to 300 yen, because the Metropolitan collegiate life

[illegible]

scarcely be carried on at a monthly expense as high as 500 to 600 yen.
Shopping in JINBO-Cho in KANDA. Before a placard, put up on the door of a meat shop in JINBO-Cho, saying "Beef 20 yen per 100 me (or momme)" were standing many people in two lines which meandered through the streets. They were patient enough to keep waiting more than one hour before the selling began. "Beef costs 31 or 32 yen at a black market and a higher-class beef is worth 40 or 50 yen" said one of the

- 2 -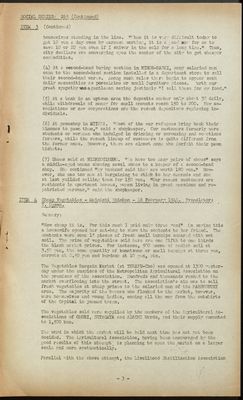 (View Page Image)



SOCIAL SERIES: 265 (Continued)





ITEM 3

(Continued)

housewives standing in the line. "When it is very difficult today to get 10 yen a day even by earnest working, it is a good way for me to save 10 or 20 yen even if I shiver in the cold for a long time." Thus, city dwellers ere converging upon the center of the city to get cheaper commodities.
At a second-hand buying section in NIHON-BASHI, man salaried men came to the second-hand section installed in a department store to sell their second-hand wares. Among such sales there begin to appear such daily necessities as porcelains or small furniture pieces. Worth our great sympathy was a gentleman saying jestingly "I sell those for my food."
At a bank in an uptown area the deposits number only about 30 daily, while withdrawals of money for small amounts reach 150 to 200. New associations or new corporations are the recent depositors replacing individuals.
At pawnshop in MITAKA. "Most of the war refugees bring back their kimonos to pawn them," said a shopkeeper. Our customers formerly were students or workmen who indulged in drinking or carousing and sometimes farmers, while the recent lineup of customers is quite different from the former ones. However, there are almost none who forfeit their pawn tickets.
Shoes sold at NISHIOGIKUBO. "We have too many pairs of shoes" says a middle-aged woman showing naval shoes to a keeper of a second-hand shop. She continued "My husband said they are worth 180 yen." However, she was too new at bargaining to stick to her demands and she at last yeilded selling them for 150 yen. "Our recent customers are residents in apartment houses, women living in great mansions and repatriated persons," said the shopkeeper.
ITEM 4 Cheap Vegetables - Mainichi Shimbun - 16 February 1946. Translator: T. Ogawa.
Summary:

"How cheap it is. For this much I paid only three yen!" On saving this a housewife opened her net-bag to show the contents to her friend. The contents were some 15 pieces of fresh small turnips smeared with wet soil. The price of vegetables sold here are one fifth to one thirds the black market prices. For instance, 500 momme of radish sell at 3.50 yen, the same quantity of komatsuna or small turnips at three yen, carrots at 8.50 yen and burdock at 10 yen, etc.

The Vegetables Bargain Market (at YURAKU-Cho) was opened at 1300 yesterday under the auspices of the Metropolitan Agricultural Association on the premises of the association. Hundreds and thousands rushed to the market overflowing into the street. The association's aim was to sell fresh vegetables at cheap prices to the salaried men of the MARUNOUCHI area. The majority of the buyers who flocked to the market, however, were housewives and young ladies, coming all the way from the outskirts of the Capital in jammed trams.

The vegetables sold were supplied by the members of the Agricultural Associations of OMORI, SETAGAYA and ADACHI Wards, and their supply amounted to 1,500 kan.

The ward in which the market will be held next time has not yet been decided. The Agricultural Association, having been encouraged by the good results of this attempt is planning to open the market on a larger scale and more systematically.

Parallel with the above attempt, the Livelihood Stabilization Association

- 3 -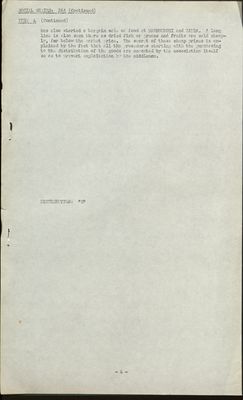 (View Page Image)
SOCIAL SERIES: 265 (Continued)
has also started a bargain sale of food at MARUNOUCHI and KANDA. A long line is also seen there as dried fish or greens and fruits are sold cheaply, far below the market price. The secret of these cheap prices is explained by the fact that all the procedures starting with the purchasing to the distribution of the goods are executed by the association itself so as to prevent exploitation by the middlemen.

DISTRIBUTION: "X"

- 4 -