Press translations [Japan]. Social Series 0235, 1946-02-07.
translation-number: social-1185
call-number: DS801 .S84
---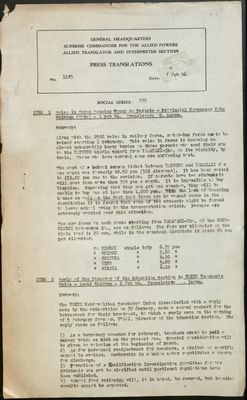 (View Page Image)
GENERAL HEADQUARTERS

SUPREME COMMANDER FOR THE ALLIED POWERS

ALLIED TRANSLATOR AND INTERPRTER SECTION

PRESS TRANSLATIONS

SOCIAL SERIES: 235

ITEM 1 Raise in Fares Causing worry to parents - Provincial Newspaper Kobe Shimbun (Kobe) - 1 Feb 46. Translator: T. Ogawa.
Summary:

Along with the 25% raise in railway fares, motor-bus fares axe to be raised starting 1 February. This raise in fares is becoming an almost unbearably heavy burden on those parents who send their son to the TATSUNO Middle school from YAMAZAKI-Cho for its vicinity, by train. Those who have several sons are suffering most.

The cost of a school season ticket between TATSUNO and YAMAZAKI for one month was formerly 42, 50 yen (50% discount). It has been raised to 151,20 yen due to the revision. If parents have two students it will cost them more than 300 yen a month. It is impossible to buy bicycles, supposing that they can get one somehow, they will be unable to buy one at less than 1,000 yen. With the lack of boarding houses as well as the fact that there are no vacant rooms in the dormitories it is feared that some of the students might be forced to leave school owing to the transportation crisis. Parents are extremely worried over this situation.

The new fares on each route starting from YAMAZAKI-Cho, of the KOBEHIMEJI Motor-Bus Co., are as follows: The fare per kilometer on the plain road is 20 sen, while In the mountain districts it costs 24 sen per kilometer.

| | | |
| --- | --- | --- |
| To HIMEJI | single trip | 6.35 yen |
| " SHINGU | " | 2.30 " |
| " CHIKUSA | " | 6.90 " |
| " UENO | " | 5080 " |
| " MIKATA | " | 6.10 " |
ITEM 2 Reply of the Director of the Education Section to TOKYO Teachers Union - Asahi Shimbun - 6 Feb 46. Translator: Inoue.
Summary:

The TOKYO Metropolitan Teachers' Union dissatisfied with a reply made by the authorities on 30 January, made a second request for the betterment for their treatment, to which a reply came on the morning of 5 February from Mr. Director of the education Section. The reply reads as follows:
As a temporary measure for February, teachers are to be paid a salary twice as high as the present one. Special consideration win be given to salaries at the beginning of March.
As for personnel readjustment for teachers, a minimum of sacrifice cannot be avoided. Membership in a union never constitutes a reason for discharge.
Formation of a Qualification Investigation committee for Criminals can not be clarified until pertinent regulations have been published.
School food rationing will, it is hoped, be resumed, but immediate results cannot be expected.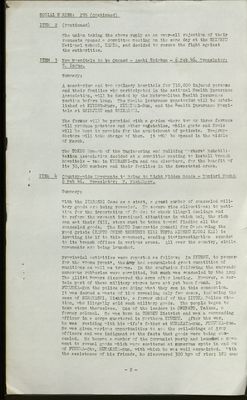 (View Page Image)
SOCIAL SERIES: 235 (Continued)
The union taking the above reply as an over-all rejection of their requests opened a committee meeting on the same day at the SHINRYU National school, KANDA, and decided to resume the fight against the authorities.

ITEM 3 New Hospitals to be Opened Asahi Shimbun - 6 Feb 46. Translator: Inoue.
A sanatorium and two ordinary hospitals for 710,000 injured persons and their families who participated in the national Health Insurance Association, will be erected by the Metropolitan Health Insurance Section before long. The Health Insurance sanatorium will be established at KIYOSS -Mura, KITATAMA-Gun, and the Health insurance Hospitals at SHINJIKU and SHINAGAWA.

The former will be provided with a garden where two or three farmers will produce potatoes and other vegetables, while goats and fowls will be kept to provide for the nourishment of patients. Ex-Army-doctors will take charge of them. It will be opened in the middle of March.

The TOKYO Branch of the Engineering and Building Workers' Rehabilitation Association decided at a committee meeting to install branch hospitals two in KYOBASHI-Ku and one elsewhere, for the benefit of its 30,000 members and their families in the devastated areas.

ITEM 4 Country-wide Movements to Bring to Light Hidden Goods - Yomiuri Hochi - 6 Feb 46. Translator: H. Nishihara.
Summary:

With the ITABASHI Case as a start, a great number of concealed military goods are being revealed. To secure rice allocations; to petition for the importation of foods; to check illegal dealings and to reform the present irrational situations in which only the rich can eat their fill, steps must be taken toward finding all the concealed goods, The KANTO Democratic council for Overcoming the Food crisis (KANTO CHIHO SHOKURYO KIKI TOPPA MINSHU KYOGI KAI) is devoting its If to this movement, sending its" investigation squads" to its branch offices in various areas. All over the country, similar movements are being launched.

Provincial activities were reported as follows: In KYUSHU, to prepare for the Home Front", the Army had accumulated greet quantities of munitions as well as troops. In the confusion following the surrender numerous robberies were committed, but much was concealed by the Army The Allied Powers discovered the arms after landing. However, a certain part of these military stores have not yet been found. In FUKUOKA-Ken the police are doing what they can in this connection. It was deemed a waste of time revealing only few cases, including the case of KOBAYASHI, Kichita, a former chief of the IIZUKA Police station, who illegally sold such military goods. The people began to take steps themselves. One of the leaders is OMINATO, Taikan, a former colonel. He was born in TOHOKU District and was a commanding officer in a corps quartered in Northern KYUSHU. After the war, he was residing with his wife's father at MUNAKATA-Gun, FUKUCKA-Ken. He was given various opportunities to see the evil-doings of Army officers and was indignant at the facts that goods were being concealed. He became a member of the Communist party and launched a movement to reveal goods which were scattered at numerous spots in and out of FUKUMA-cho, MUNAKATA-Gun, with which he was well acquainted. with the assistance of his friends, he discovered 300 hyo of rice; 180 cans

- 2 -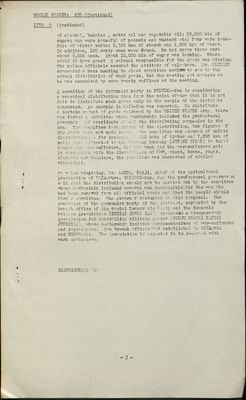 (View Page Image)
SOCIAL SERIES: 235 (Continued)
of alcohol, benzine, motor oil and vegetable oil; 50,000 kin of sugar; one ware houseful of peanuts and mustard etc; four ware housefuls of winter suits; 6,300 kan of starch and 1,000 hyo of wheat. In addition, 120 empty cans were found. He had known there were about 6,000 cans. About 10,000 kin of sugar was lacking. Where could it have gone? A colonel responsible for the goods was missing. The police officials assumed the attitude of onlookers. Kr. OMINATO sponsored a mass meeting to elect committee members to see to the actual distribution of such goods, but the meeting got nowhere as he was assaulted by some twenty ruffians at the meeting.

A committee of the communist party in FUKUOKA-Ken is considering a practical distribution plan from the point of view that it is not fair to distribute such goods only to the people of the districts concerned. An example in CITA-Ken was reported. To distribute a certain exeunt of goods released by the UNITED STATES Army, there was formed a committee whose membership included the prefectural governor and presidents of all the distributing companies in the ken. The committee took charge of the distribution, but figures of the goods were not made known. The committee was accused of unfair distribution; for instance
[illegible]
000 koku of timber and 7,800 kan of nails were allocated to the Forcing company (JUTAKU EIDAN) to build house for sufferers, but now much did the war-sufferers get? In connection with the dis
[illegible]
of wheat, beans, sugar, slippers and machines, the committee was suspected of similar misconduct.
To voice misgiving, Mr. MAEDA, Keiji, chief of the Agricultural Association of WADA-Mura, SHIMOGE-Gun mac the prefectural governor at said chat the distribution should not be carried out by the committee whose membership included several men responsible for the war who had been removed from all official posts and that the people should form a committee. The governor consented to this proposal. The committee of the communist party of the district, supported by the branch office of the Social Democratic Party and the Economic Friends Association (KEIZAI DOSHI KAI), sponsored a "preparatory Association for Controlling Military Goods (GUNJU BUSSHI KANIRI JUNBIKAI), whose membership includes representatives of war-sufferers and repatriates. Two branch offices was established in OITA-Shi and BEPPU-shi. The Association is expected to be received with much enthusiasm.

DISTRIBUTION "X"

- 3 -