Press translations [Japan]. Social Series 0232, 1946-02-07.
translation-number: social-1158
call-number: DS801 .S84
---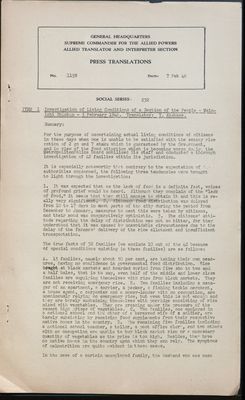 (View Page Image)
GENERAL HEADQUARTERS

SUPREME COMMANDER FOR THE ALLIED POWERS

ALLIED TRANSLATOR AND INTERPRETER SECTION

PRESS TRANSLATIONS

SOCIAL SERIES: 232

ITEM 1 Investigation of Living Conditions of a Section of the People - Mainichi Shimbun - 5 February 1946. Translator: Y. Akabane.
Summary:

For the purpose of ascertaining actual living conditions of citizens in these days when one is unable to be satisfied with the scanty rice ration of 2 go and 7 shaku which is guaranteed by the Government, and in view of the food situation which is becoming worse daily, the Metropolitan Police Board mobilized its staff and conducted a thorough investigation of 42 families within its jurisdiction.

It is especially noteworthy that contrary to the expectation of authorities concerned, the following three tendencies were brought to light through the investigation:

1. It was expected that as the lack of food is a definite fact, voices of profound grief would be heard. Although they complain of the "lack of food," it seems that they still manage to obtain it and this is really very significant. 2. Although food distribution was delayed from 10 to 17 days in most parts of the city during the period from December to January, measures to meet this were taken by citizens, and their mood was comparatively optimistic. 3. The citizens' attitude regarding the delay of distribution was not so bitter, for they understood that it was caused by unavoidable circumstances due to the delay of the farmers' delivery of the rice allotment and insufficient transportation.

The true facts of 32 families (we exclude 10 out of the 42 because of special conditions existing in these families) are as follows:

A. 15 families, namely about 50 per cent, are taking their own measures, having no confidence in governmental food distribution. Rice bought at black markets and hoarded varied from five sho to two and a half bales, that is to say, even half of the middle and lower class families are supplying themselves with rice from black markets. They are not receiving emergency rice. B. Ten families including a manager of an apartment, a carrier, a packer, a fishing tackle merchant, a house agent, a carpenter and a money-lender with no occupation, are unanimously relying on emergency rice", but even this is not enough and they are barely sustaining themselves with porridge consisting of rice mixed with vegetables. They are groaning under the pressure of the recent high prices of vegetables. C. Two families, one employed in a national school and the other of a bereaved wife of a soldier, are barely subsisting by receiving food supplements from their respective native homes in the country. D. The remaining five families including a national school teacher, a tailor, a post office clerk, and two others with no occupation are unable to buy black market rice or a necessary quantity of vegetables as the price is too high. Besides, they have no native homes in the country upon which they can rely. The symptoms of malnutrition are quite evident in these cases.

In the case of a certain unemployed family, the husband who was once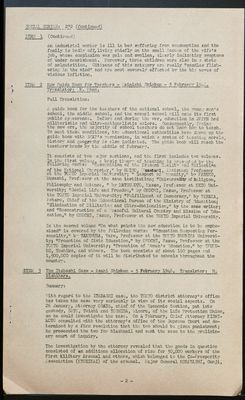 (View Page Image)
SOCIAL SERIES: 232 (Continued)
an industrial worker is ill in bed suffering from consumption and the family is badly off, living chiefly on the small income of the wife's job, whose complexion was pale and swollen, clearly indicating symptoms of under nourishment. Moreover, three children were also in a state of malnutrition. Citizens of this category are really "candles flickering in the wind" and are most severely affected by the big waves of vicious inflation.

ITEM 2 New Guide Book for Teachers - Mainichi Shimbun - 5 February 1946. Translator: M. Ohno.
Full Translation:

A guide book for the teachers of the national school, the young men's school, the middle school, and the normal school will make its first public appearance. Before and during the war, education in JAPAN had militaristic and ultra-nationalistic colors. Consequently, facing the new era, the majority of school teachers do not know how to teach. To meet these conditions, the educational authorities have drawn up the guide book with SCAP's permission, in which a system of teaching morals, history and geography is also indicated. The guide book will reach the teachers' hands by the middle of February.

It consists of two major sections, and the first includes two volumes. In the first volume, a basic theory of teaching is presented by the following works: "Recognition of the Present Reality and Reflection of the National Character," by UMIGO, Munstami, Assistant Professor at the TOKYO Imperial University; "Respect of Humanity," by KANEKO, Musashi, Professor at the same institution; "Universality of Religion, Philosophy and Science, "by MATSUHOTO, Masao, Professor at KEIO University; "Social Life and Freedom," by OKOCHI, Kazuo, Professor at the TOKYO Imperial University; "Fulfillment of Democracy," by TANAKA, Kotaro, Chief of the Educational Bureau of the Ministry of Education; "Elimination of Militarism and Ultra-Nationalism," by the same writer; and "Reconstruction of a Peaceful Cultural Country and Mission of Education," by OKOCHI, Kazuo, Professor at the TOKYO Imperial University.

In the second volume "On what points the now education is to be emphasized" is covered by the following works: "Education Respecting Personality," by TAKEMURA, Taro, Professor at the TOKYO BUNRIKA University; "Promotion of Civic Education," by OKOCHI, Kazuo, Professor at the TOKYO Imperial University; "Promotion of Women's Education," by IFUKUBE, Toshiko, and others. The book consists of about 160 pages and 1,500,000 copies of it will be distributed to schools throughout the country.

ITEM 3 The Itabashi Case - Asahi Shimbun - 5 February 1946. Translator: H. Nishihara.
Summary:

With regard to the ITABASHI case, the TOKYO district attorney's office has taken the case very seriously in view of its social aspects. On 26 January, Attorney OSABE, chief of the Economic Section, put into custody, SATO, Toichi and YOSHIDA, Minoru, of the Life Protection Union, so he could investigate the ease. On 4 February, Chief Attorney KISHIMOTO consulted with the attorney's office of the Supreme Court and determined by a firm resolution that the two should be given punishment; he prosecuted the two for blackmail and sent the case to the preliminary court of inquirer.

The investigation by the attorney revealed that the goods in question consisted of an additional allocation of rice for 50,000 workers of the First Military Arsenal and others, which belonged to the Co-Prosperity Association (KYOEIKAI) of the arsenal. Major General KOBAYASHI, Gunji,

- 2 -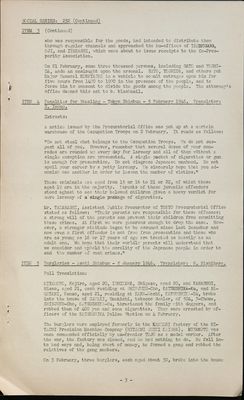 (View Page Image)
SOCIAL SERIES: 232 (Continued)
who was responsible for the goods, had intended to distribute them through regular channels and approached the Ku-offices of TAKINOGAWA, OJI, and ITABASHI, which were about to issue receipts to the Co-Prosperity Association.

On 21 February, some three thousand persons, including SATO and YOSHIDA, made an onslaught upon the arsenal. SATO, YOSHIDA, and others put Major General KOBAYASHI in a vehicle to commit outrages upon him for five hours from 1400 to 1900 in the presence of the people, and to force him to consent to divide the goods among the people. The attorney's office deemed this act to be blackmail.

ITEM 4 Penalties for Stealing - Tokyo Shimbun - 5 February 1946. Translator: S. Inoue.
Extracts:

A notice issued by the Procuratorial Office was put up at a certain warehouse of the Occupation Troops on 2 February. It reads as follows:

"Do not steal what belongs to the Occupation Troops. We do not suspect all of you. However, remember that several dozen of your comrades are rounded up every day for larceny and all of them without a single exception are prosecuted. A single packet of cigarettes or gum is enough for prosecution. Do not disgrace Japanese manhood. Do not spoil your career by a petty larceny. We sincerely hope that you admonish one another in order to lessen the number of victims."

These criminals are aged from 15 or 16 to 21 or 22, of which those aged 19 are in the majority. Parents of these juvenile offenders stood aghast to see their beloved children given a heavy verdict for more larceny of a single package of cigarettes.

Mr. TAKAHASHI, Assistant Public Procurator of TOKYO Procuratorial Office stated as follows: "Their parents are responsible for these offences; a strong will of the parents can prevent their children from committing these crimes. At first we wore generous enough to drop the case. However, a stronger attitude began to be assumed since last December and now even a first offender is not free from prosecution and those who are as young as 16 or 17 years of age are treated as heavily as an adult man. We hope that their worldly parents will understand that we consider and uphold the morality of the Japanese people in order to end the number of such crimes."

ITEM 5 Burglaries - Asahi Shimbun - 5 January 1946. Translator: H. Nishihara.
Full Translation:

MIYAMOTO, Kojiro, aged 20, ISHIKAWA, Shigezo, aged 20, and KANASUGI, Hisao, aged 21, each residing at SHINJUKU-Cho, KATSUSHIKA-Ku, and NAGATANI, Kenzo, aged 21, residing at KANA-Machi, KATSUSHIKA-Ku, broke into the house of SAWAKI, Umekichi, tobacco dealer, of 504, 3-Chome, SHINJUKU-Cho, KATSUSHIKA-Ku, threatened the family with daggers, and robbed them of 400 yen and some cigarettes. They were arrested by officers of the KATSUSHIKA Police Station on 4 February.

The burglars were employed formerly in the KAMEARI factory of the HITACHI Precision Machine Company (HITACHI SEIKI KAISHA). MIYAMOTO was once commended officially by ex-Premier TOJO as a model worker. After the war, the factory was closed, and he had nothing to do. He foil into bad ways and, being short of money, he formed a gang and robbed the relatives of the gang members.

On 3 February, three burglars, each aged about 30, broke into the house

- 3 -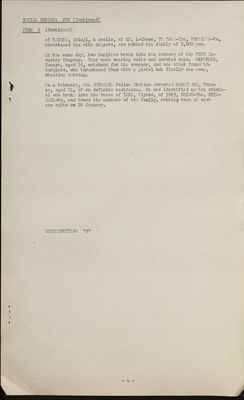 (View Page Image)
SOCIAL SERIES: 232 (Continued)
of KANEKO, Shinji, a coolie, of 10, 1-Chome, TO
[illegible]
TOKA-Cho, FUKAGAWA-Ku, threatened him with daggers, and robbed the family of 3,000 yen.
On the same day, two burglars broke into the factory of the FUJI Industry Company. They were wearing suits and worsted caps. HAMANAKA, Yonezo, aged 35, watchman for the company, and one other found the burglars, who threatened them with a pistol but finally ran away, stealing nothing.

On 4 February, the SETAGAYA Police Station arrested KOBAYASHI, Tokuzo, aged 31, of no definite residence. He was identified as the criminal who broke into the house of TANI, Kiyoko, of 3963, SEIJO-Cho, SETAGAYA-Ku, and bound the members of the family, robbing them of cash ans suits on 26 January.

DISTRIBUTION: "X"

- 4 -