Press translations [Japan]. Social Series 0230, 1946-02-06.
translation-number: social-1151
call-number: DS801 .S84
---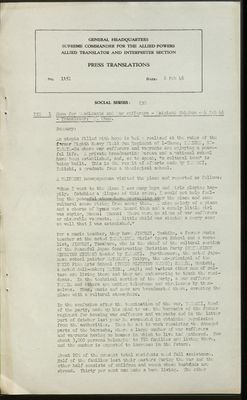 (View Page Image)
GENERAL HEADQUARTERS

SUPREME COMMANDER FOR THE ALLIED POWERS

ALLIED TRANSLATOR AND INTERPRETER SECTION

PRESS TRANSLATIONS

SOCIAL SERIES: 230

ITEM 1 Home for Mendicants and War sufferers - Mainichi Shimbun - 4 Feb 46 - Translator: M. Ohno.
Summary:

An utopia filled with hope is being realized at the ruins of the farmer Eighth Heavy Field Gun Regiment of 1-Chome, KAMIUMA, SETAGAYA-Ku where war sufferers and vagrants are enjoying a peaceful life. A private broadcasting bureau and a national school have been established, and, so to speak, "a cultural town" is being built. This is the result of efforts made by T
[illegible]
OKI, Keiichi, a graduate from a theological school.
A MAINECHI newspaperman visited the place and reported as follows:

"When I went to the place I saw many boys and girls playing happily. Catching a glimpse of this scene, I could not help feeling the peaceful atmosphere prevailing over the place and some cultural sense rising from among them. A nice melody of a piano and a chorus of hymns were heard then and a comely little girl was saying, Mamma! Mamma! There were no signs of war sufferers or miserable vagrants. A little child was singing a merry song so well that I was astonished."

For a music teacher, they have JINGUJI, Toshiko, a former music teacher at the noted TAKARAZUKA Girls' Opera School and a vocalist, JINGUJI, Yusaburo, who is the chief of the cultural section of the Peaceful Japan Constructing Christian Party (HEI
[illegible]
ANIHON KENSETSU KYODAN) headed by T
[illegible]
OKI. Furthermore, the noted Japanese school painter WATAMABE, Taikyo, the ex-principal of the TOKYO Fine Arts School (TOKYO BIJYUTSU GA
[illegible]
KTO); SAWADA, Genichi, a noted doll-maker; MATOBA, Asaji; and various other men of culture are living there and they are endeavoring to teach the residents. In the technical section of the Party, a war sufferer YAMADA and others are making telephone and wirelesses by themselves. Thus, music and news are broadcasted there, covering the place with a cultural atmosphere.
In the confusion after the termination of the war,
[illegible]
OKI, head of the party, made up his mind to use the barracks of the former regiment for housing war sufferers and vagrants and in the latter part of October last year he succeeded in obtaining permission from the authorities. Then he set to work repairing the damaged parts of the barracks, where a large number of war sufferers and vagrants having no houses in which to live had gathered. Now about 3,000 persons belonging to 750 families are living there, and the number is expected to increase in the future.
About 20% of the present total residents need full assistance. Half of the families lost their masters during the war and the other half consists of children and women whoso husbands are abroad. Thirty per cent can make a bare living. The other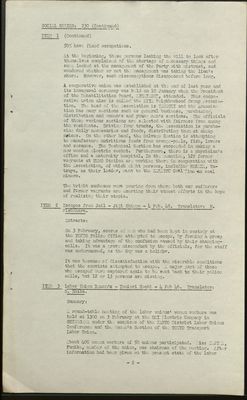 (View Page Image)
SOCIAL SERIES: 230 (Continued)
50% have fixed occupations.

At the beginning, these persons lacking the will to look after themselves complained of the shortage of necessary things and some looked at the management of the Party with mistrust, and wondered whether or not the management was taking the lion's share. However, such misconceptions disappeared before long.

A cooperative union was established at the end of last year and its inaugural ceremony was held on 10 January when the President of the Rehabilitation Board, KOBAYASHI, attended. This cooperative union also is called the KITA Neighborhood Group association. The head of the Association is TAMAOKI and the Association has many sections such as general business, purchasing, distribution and women's and young men's sections. The officials of these various sections are selected with fairness from among the residents, Driving four trucks, the Association is purchasing daily necessaries and foods, distributing them at cheap prices. On the other hand, the Salvage Section is attempting to manufacture nutritious foods from orange-peels, fish, lavers and sesames. The Technical Section has succeeded in making a now wooden electric socket. Furthermore, there is a physician's office and a maternity hospitals In the meantime, 129 former vagrants at UENO Station are working there in cooperation with the Association, of which eight persons, including HOZAKA, Tatsuya, as their loader, went to the KARATSU Coal Mine as coal minors.

The bright sunbeams wore, pouring down where both war sufferers and former vagrants are exerting their utmost efforts in the hope of realizing their utopia.

ITEM 2 Escapes from Jail - Jail Shimpo - 4 Feb. 46. Translator: H. Nishihara.
Extracts:

On 3 February, scores of men who had been kept in custody at the TOKYO Police Office attempted to escape, by forming a group and taking advantage of the confusion caused by their changing cells. It was a grave misconduct by the officials, for the staff was undermanned, as the day was a holiday.

It was because of dissatisfaction with the miserable conditions that the convicts attempted to escape. A major part of those who escaped were captured again to be sent back to their police cells, but 12 or 13 persons are missing.

ITEM 3 Labor Union Demands - Yomiuri Hochi - 4 Feb 46. Translator: S. Shiba.
Summary:

A round-table meeting of the labor unions' women workers was hold at 1300 on 3 February at the OKI Electric Company in SHINAGAWA under the auspices of the KANTO District Labor Unions Conference and the Women's Section of the TOKYO Transport Labor Union.

About 4.00 women workers of 50 unions participated. Miss YAJIMA, Fumiko, member of the union, was chairman of the meeting. After information had been given on the present state of the labor

- 2 -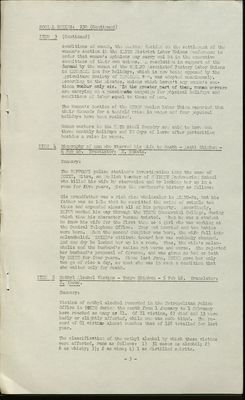 (View Page Image)
SOCIAL SERIES: 230 (Continued)
conditions of women, the meeting decided on the settlement of the women's section in the KANTO District Labor Unions Conference in order that women's opinions may carry weight in the executive Committees of their own unions. A resolution in support of the demand by the women of the HATANO Associated Factory Labor Unions in KANAGAWA Ken for holidays, which is now being opposed by the Agriculture Society of KAMAGAWA Ken, was adopted unanimously. According to the minutes, unions which haven't any women's sections number only six. In the greater part of then, women workers are carrying on a passionate campaign for physical holidays and conditions of labor equal to those of men.

The Women's Section of the NIHON Woolen Labor Union reported that their demands for a tenfold raise in wages and four physical holidays have been realized.

Women workers in the KATO Steel Foundry are said to have won throe monthly holidays and 70 days of leave after parturition besides a raise in wages.

ITEM 4 Biography of man who starved his wife to death - Asahi Shimbun - 4 Feb 46. Translator: S. Sakata.
Summary:

The ROPPONGI police station's investigation into the case of KOIKE, Mitsu, an English teacher of KEIHOKU Engineering School who killed his wife by starvation and by locking her up in a room for five years, gives the murderer's history as follows:

His grandfather was a rich rice wholesaler in AZABU-Ku, but his father was so idle that he committed the crime of swindle ten times and expended almost all of his property. Accordingly, KOIKE worked his way through the TOKYO Commercial College, during which tine his character became twisted. When he was a student he knew his wife for the first tine as a girl who was working at the Central Telephone Office. They got married and two babies were born. When the second daughter was born, the wife fell into melancholia. KOIKE'S attitude toward her was suddenly changed. And one day he locked her up in a room. Thus, the wife's melancholia and the husband's sadism got worse and worse. She rejected her husband's proposal of divorce, and was given no bed or bath by KOIKE for four years. Since last June, KOIKE gave her only two go of rice a day, so that she was in such a condition that she waited only for death.

ITEM 5 Methyl Alcohol Victims - Tokyo Shimbun - 5 Feb 46. Translator: S. Inoue.
Summary:

Victims of methyl alcohol recorded in the Metropolitan Police Office in TOKYO during the month from 1 January to 1 February have reached as many as 81. Of 81 victims, 67 died and 13 were badly or slightly affected, while one was made blind. The record of 81 victims almost reaches that of 128 totalled for last year.

The classification of the methyl alcohol by which these victims were affected, runs as follows: 1) 31 cases as alcohol; 2) 6 as whisky; 3); 2 as wine; 4) 1 as distilled spirits.

- 3 -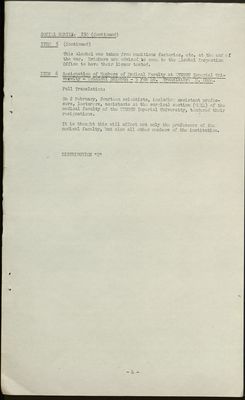 (View Page Image)
SOCIAL SERIES: 230 (Continued)
This alcohol was taken from munitions factories, etc, at the end of the war. Drinkers are advised to come to the Alcohol Inspection Office to have their liquor tested.

ITEM 6 Resignation of Members of Medical Faculty at KYUSHU Imperial - University - Mainichi Shimbun - 5 Feb 46. Translator: K. Ohno.
Full Translation:

On 2 February, fourteen scientists, including assistant professors, lecturers, assistants at the surgical section (GEKA) of the medical faculty of the KYUSHU Imperial University, tendered their resignations.

It is thought this will affect not only the professors of the medical faculty, but also all other members of the institution.

DISTRIBUTION "X"

- 4 -