Press translations [Japan]. Social Series 0225, 1946-02-04.
translation-number: social-1119
call-number: DS801 .S84
---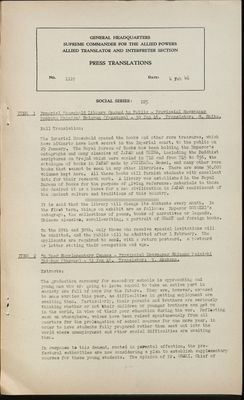 (View Page Image)
GENERAL HEADQUARTERS

SUPREME COMMANDER FOR THE ALLIED POWERS

ALLIED TRANSLATOR AND INTERPRETER SECION

PRESS TRANSLATIONS

SOCIAL SERIES: 225

ITEM 1 Imperial Household library Opened to Public - Provincial Newspaper Hokkoku Mainichi Shimbun (kanazawa) - 30 Jan 46. Translator: S. Shiba.
Full Translation:

The Imperial Household opened the books end other rare treasures, which have hitherto have kept secret in the Imperial court, to the public on 29 January. The Royal Bureau of Books has been holding the Emperor's autographs and many classics of JAPAN and CHINA, including the Buddhist scriptures on Prajna which were copied in 712 and from 749 to 856, the catalogue of books in JAPAN made by FUJIHARA, Sosei, and many other rare books that cannot be seen in any other libraries. There are some 30,000 volumes kept here. All these books will furnish students with excellent data for their research work. A library was established in the Royal Bureau of Books for the purpose of giving reference materials to those who desired it as a bases for a new civilization in JAPAN reminiscent of the ancient culture and traditions of this country.

It is said that the library will change its contents every month. In the first tem, things on exhibit are as follows: Emperor GOYOZEI's autograph, the collections of poems, books of narratives or legends, Chinese classics, scroll-writing, a portrait of GRANT and foreign books.

On the 29th and 30th, only those who receive special invitations will be admitted, and the public will be admitted after 1 February. The applicants are required to send, with e return postcard, a postcard or letter stating their occupation and age.

ITEM 2 Year Supplementary Causes - Provincial Newspaper Shinano Mainichi Chimbun (Nagano) - 31 Jan 46. Translator: Y. Akabane.
Extracts:

The graduation ceremony for secondary schools is approaching and young men who are going to leave school to take an active part in society are full of hope for the future. They are, however, exposed to some worries this year, as difficulties in getting employment are awaiting them. Particularly, their parents and brothers are seriously thinking whether or not their children or younger brothers can get on in the world, in view of their poor education during the war. Reflecting such an atmosphere, voices have been raised spontaneously from all quarters for the prolongation of school courses for one more year, in order to have students fully prepared rather than sent out into the world where unemployment and other social difficulties are awaiting them.

In response to this demand, rooted in parental affection, the prefectural authorities are now considering a plan to establish supplementary courses for these young students. The opinion of Mr. OSAKI, Chief of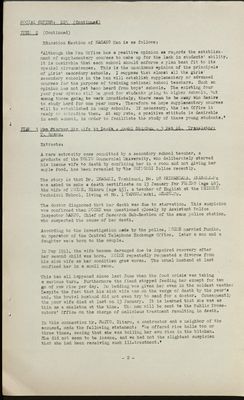 (View Page Image)
SOCIAL SERIES: 225 (Continued)
Education Section of NAGANO Ken is as follows:

"Although the Ken Office has a positive opinion as regards the establishment of supplementary courses to make up for the lack in students' ability, it is desirable that each school should enforce a plan best fit to its special circumstances. This is the unamimous opinion of the principals of girls' secondary schools. I suppose that almost all the girls' secondary schools in the ken will establish supplementary or advanced courses for the purpose of training national school teachers. Such an opinion has not yet been heard from boys' schools. The existing four year system will be good for students going to higher schools but among those going to work immediately, there seem to be many who desire to study hard for one year more. Therefore we hope supplementary courses will be established in many schools. If necessary, the Men Office is ready to subsidize them. At any rate, a positive attitude is desirable in each school, in order to facilitate the study of these young students."

ITEM 3 Man Starves His Wife to Death - Asahi Shimbun - 3 Feb 46. Translator: T. Ogawa.
Extracts

A rare actrocity case committed by a secondary school teacher, a graduate of the TOKYO Commercial University, who deliberately starved his insane wife to death by confining her in a room and not giving her ample food, has been revealed by the ROPPONGI Police recently.

The story is that Dr. INAGAKI, Toshizumi, No. 28 REINANZAKA, AKASAKA-Ku was asked to make a death certificate on 13 January for FUMIRO (age 40), the wife of KOIKE, Hikaru (age 45), a teacher of English at the KEIHOKU Technical School, living at No. 1 TANSU-Machi, AZABU-Ku.

The doctor diagnosed that her death was due to starvation. This suspicion was confirmed when KOIKE was questioned closely by Assistant Police Inspector NANJO, Chief of Research Sub-Section of the same police station, who suspected the cause of her death.

According to the investigation made by the police, KOIKE married Fumiko, an operator of the Central Telephone Exchange Office. Later a son and a daughter were born to the couple.

In May 1941, the wife became deranged due to impaired recovery after her second child was born. KOIKE repeatedly requested a divorce from his sick wife as her condition grew worse. The cruel husband at last confined her in a small room.

This has all happened since last June when the food crisis was taking a serious turn. Furthermore the fiend stopped feeding her except for two go of raw rice per day. No bedding was given her even in the coldest weather Despite the fact that his sick wife was on the verge of death by the year 's end, the brutal husband did not even try to send for a doctor. Consequents the poor wife died at last on 13 January. It is learned that she was as thin as a skeleton at the time. The man will be sent to the public prosecutors' Office on the charge of malicious treatment resulting in death.

In this connection Mr. SAITO, Eitaro, a contractor and a neighbor of the accused, made the following statement: "We offered rice balls two or three times, seeing that she was boiling her own rice in the kitchen. She did not seem to be insane, and we had not the slightest suspicion that she had been receiving such ill-treatment.

- 2 -

(View Page Image)
SOCIAL SERIES: 225 (Continued)
Mr. HATTORI, Harutaro, the Head of the Neighborhood Group Association stated, "The accused seemed to be an honest man, so it was quite unexpected that he could commit such a crime. Mrs. KOLLE was a little abnormal when her second child was still in her womb, and was always confined to her bed

Mr. SEKI, the Chief of the ROPPIONGI Police stated, "It is monstrous that he dared to murder his wife, to whom he had been married for ten years, no matter how serious the food crisis had become, even if she was insane, Being a graduate of a commercial university, he was an educated man. He did not seem to be unable to earn a living. Having received a report from the doctor who was asked to make the death certificate, complaining that he could not issue the certificate under such circumstance, we sent Mr. NANJO to make an inquest. As a result, this horrible case was disclosed.

ITEM 4 New Controls for open Stalls - Asahi Shimbun - 3 Feb 46. Translator: M. Ohno.
Full Translation:

It is said that the open stalls in the metropolitan areas number about 60,000. Those open stall dealers sell various things at exorbitant prices, threatening the living of the general public and disturbing the social economic order. To meet this situation, the Metropolitan Police Board has formed a temporary rule for controlling the open stalls which will be put into effect on 6 February. Hitherto, the open stall dealers have not been restricted by any settled regulations and have been placed under the management of their freely-organized union, but hereafter they are to be managed by the new rule containing such statements as, "the open stall dealers must obtain permission from the chief of the police station at the place where they want to begin their work," "perishable foods must be sold at the designated places," "permit cards must be hung in a visible place," and "the prices of goods written in Arabic numerals must be shown to the public." Also, hereafter, the dealers must be placed under the guidance of their unions, and the unions must obtain the sanction of the Authorities.

The Metropolitan Police Board Authorities said, "we launched a campaign against the management of the open stall dealers. Hereafter, the black market dealings will be exposed." In the meantime, at the open stalls there are many Army goods which, it is thought have come there through illegal channels. For example, at the time immediately after the end of the war, 23,000 tons of rubber were owned by the Army, but now only 11,000 tons are in store, while the remaining 12,000 tons have been disposed of illegally, it is thought.

Thus, rubber boots, whose official price is 21 yen 50 sen, are sold at the black market at the exorbitant price of several hundred yen a pair. Regular dealers say, "we cannot sell the boots at the official price, but we can sell them at 30 yen a pair. We do not take a loss by selling a pair of the rubber-soled socks at 10 yen and one bicycle tire at 0 yen." The black market prices are 10 times higher than the official Ones; This was caused by the improper profit of the middle-men. There were, incidentally, some 17,000 open stalls around the middle of December last year, while the number was 60,000 around the end of January this year.

- 3 -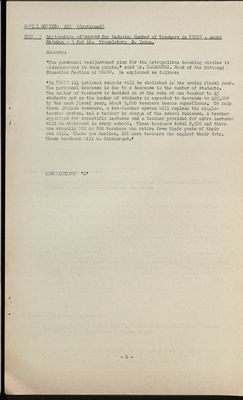 (View Page Image)
SOCIAL SERIES: 225 (Continued)
ITEM 5 Explanation of Reasons for Reducing Number of Teachers in TOKYO - Asahi Shimbun - 3 Feb 46. Translator: S. Inoue.
Summary:

"The personnel readjustment plan for the Metropolitan teaching circles is misunderstood in some points, said Mr. YAMAGUCHI, Head of the National Education Section of TOKYO. He explained as follows:

"In TOKYO 114 national schools will be abolished in the coming fiscal year. The personnel decrease is due to a decrease in the number of students. The number of teachers is decided on at the rate of one teacher to 45 students and as the number of students is expected to decrease to 405,000 by the next fiscal year, about 3,800 teachers become superfluous. To help these jobless teachers, a two-teacher system will replace the single-teacher system, and a teacher in charge of the school business, a teacher appointed for scientific lectures and a teacher provided for extra lecturer will be stationed in every school These teachers total 2,500 and there are annually 700 or 800 teachers who retire from their posts of their own will. There are besides, 200 more teachers who neglect their duty. These teachers mill be discharged.

DISTRIBUTION "X"

- 4 -