Press translations [Japan]. Social Series 0223, 1946-02-03.
translation-number: social-1107
call-number: DS801 .S84
---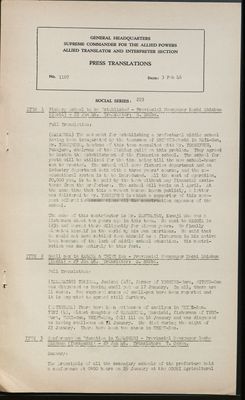 (View Page Image)
GENERAL HEADQUARTERS

SUPREME COMMANDER FOR THE ALLIED POWERS

ALLIED TRANSLATOR AND INTERPRETER SECTION

PRESS TRANSLATIONS

SOCIAL SERIES: 223

ITMH 1 Fishery School to be Established - Provincial Newspaper Kochi Shimbun (Kochi) - 23 Jan 46. Translator: S. Shiba.
Full Translation:

(NAKAMURA) The movement for establishing a prefectural middle school having been inaugurated by the townsmen of SHIMIZU-Machi in HATA-Gun, Mr. YOSHIMOTO, headman of this town consulted with Mr. YOSHIFUKU, Fukujuro, chairman of the fishing guild on this problem. They agreed to hasten the establishment of the fisheries school. The school for youth will be utilized for the time being till the new school-house can be erected. The school will have fisheries department and an industry department both with a three years' course, and the coeducational system is to be introduced. All the cost of operation, 20,000 yea, is to be paid by the town without any financial assistance from the prefecture. The school will begin on 1 April. At the same time that this movement became known publicly, a letter was delivered to Mr. YOSHIFUKU in which a supporter of this movement offered to assume alone all the construction expenses of the school.

The name of this contributor is Mr. KANEMATSU, Kumaji who was a fisherman about ten years ago in this town. He went to NAGOYA in 1935 and worked there diligently for eleven years. He finally elevated himself in the world by his own exertions. He said that he could net have settled down himself as a fisherman in his native town because of the lack of middle school education. His contribution was due entirely to this fact.

ITEM 2 Small pox in KAGAMA & EHIME Ken - Provincial Newspaper Kochi Shimbun (Kochi) - 29 Jan 46. Translator: S. Shiba.
Full Translation:

(TAKAMATSU) TOKIOKA, Junichi (48), farmer of YOSHIZU-Mura, MITOYO-Gun was diagnosed as having small pox on 17 January. In all, there are 11 cases. Two supposed cases of small-pox have been reported and it is expected to spread still further.

(MATSUYAMA) There have been evidence's of smallpox in EHIME-Ken. YUMI (4), eldest daughter of NAGASHIMA, Masaichi, fishermen of YUGE-Mura, ECHI-Gun, EHIME-Ken, fell ill on 16 January and was diagnosed as having small-box on 21 January. She died during the night of 23 January. There have been two cases in EHIME-Ken.

ITEM 3 Conference on Education in YAMAGUCHI - Provincial Newspaper Bocho Shimbun (Yamaguchi) - 29 Jan 46. Translator: T. Ogawa.
Summary:

The Principals of all the secondary schools of the prefecture held a conference at 0900 hours on 26 January at the OGORI Agricultural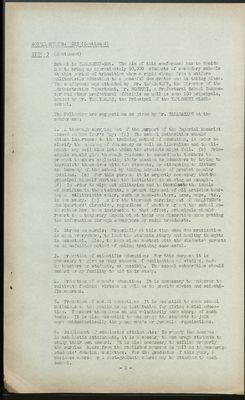 (View Page Image)
SOCIAL SERIES: 223 (Continued)
School in YAMAGUCKT-Shi. The aim of this conference was to decide how to bring up approximately 50,000 students of secondary schools at this period of transition when a rapid change from a uniform militaristic education to a peaceful democratic one is taking place. The conference was attended by Mr. TAKABATAKE, the Director of the administration Department, Mr. NOHTOMI, a Prefectural School Inspector and other prefectural officials as well as some 100 principals, headed by Mr. TAKMYANAGI, the Principal of the YAMAGUCHI Middle School.

The following are suggestions as given by Mr. TAKATAKE at the conference:
A thorough carrying out of the purport of the Imperial Rescript issued on New Year's Day: (a) The school authorities should attach importance to the training method of education, in order to clarify the moaning of democracy as well as liberalism and to eliminate any evil bias into which the students might fall, (b) Principals should give thorough guidance to subordinate teachers to prevent teachers neglecting their mission as educators by trying to ingratiate themselves with the students, or attempting to disturb the harmony of the school by taking advantage of present popular pinions, (c) For this purpose it is urgently necessary that the principal himself must take the initiative in showing an example. (d) In order to wipe out militarism and to inoculoate the ideals of pacifism in the students, a prompt disposal of all articles bearing a militaristic color, such as bomb-shelters, arms, maps, etc., is necessary. (e) As for the thorough carrying out of MacARTHUR's Headquarters' directive, regardless of whethers or not the school authorities have been instructed to that effect, principals should resort to a temporary expedient at their own discretion upon getting the information through newspapers or radio broadcasts.
Stress on morals: Especially at this time when democratization is seen everywhere, to lead the students sturdy and healthy thoughts is essential. Also, to keep close contact with the students' parents is an unfailing method of making training successful.
Promotion of scientific education: For this purpose it is necessary to give as many chances of publication of studies, made by teachers or students, as possible. The school authorities should accord every facility to aid their study.
Promotion of women's education: It is necessary to endeavor to cultivate feminine virtues as well as to provide civics and scientific courses.
Promotion of social education: It is essential to open school buildings to the public as an institution for giving social education. Teachers themselves should voluntarily take charge of such tasks. It is also essential to encourage the students to join more enthusiastically the young men's or juvenile organizations.
Supplement of scholastic attainments: To remedy the decrease in scholastic attainments, it is necessary to encourage students to study their own accord. It is also necessary to utilize properly the surplus hours from the abolished courses as well as to encourage students' debating societies. For the graduates of this year, a business course or a post-graduate course nay be attached to each school.

- 2 -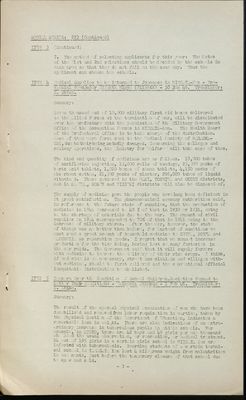 (View Page Image)



SOCIAL SERIES: 223 (Continued)





ITEM 3

(Continued)
The method f selecting applicants for this year: The dates of the "1st and 2nd selections should be decided by the schools in each area so that they do not fall on the same day. Thus the applicant can choose two schools.
ITEM 4 Medical Supplies to be Returned to Japanese in NIIGATA-Ken - Provincial Newspaper Niigata Mippo (Niigata) - 30 Jan 46. Translator:
Summary:

Seven thousand out of 10,000 military first aid boxes delivered to the Allied Forces at the termination of war, will be distributed over the prefecture with the permission of the Military Government Office of the Occupation Forces in NIIGATA-Ken. The Health Board of the Prefectural Office is to take charge of the distribution. Some of them were first sent to the Medical Society of NAGAOKA-Shi, due to their being so badly damaged. Concerning the colleges and railway operatives, the Ministry for Welfare will take care of them.

The kind and quantity of medicines are as follows. 18,000 tubes of acriflavine injection, 15,000 rolls of bandage, 25,000 packs of boric acid tablets, 1,020 boxes of senna tablets, 4,150 packs of absorbent cotton, 21,500 packs of plaster, 296,000 tubes of liquid vitamin B. Those gathered in the MAKI, YOSHIDA and OKOZU districts, and in KAMEDA, GOSEN and NIIZEKI districts will also be disposed of.

The supply of medicine gave the people who have long been deficient in it great satisfaction. The pharmaceutical company authorities said, in reference to the future state of supplies, that the production of medicine in 1944 decreased to 40 % of that in 1930 or 1931, owing to the shortage of materials due to the war. The amount of civil supplies in 1944 corresponded to 70% of that in 194l owing to the increase of military stores. After the war, however, the state of things was no better than before, for instead of munitions we must send a great amount of household medicine to CHIMA, KOREA and WANCHURI as reparation goods. I regret that we cannot increase production for the time being, having lost so many factories in the air raids. The Government said that it will supply farmers with medicine to im
[illegible]
the delivery of their rice crops. I think, if mad
[illegible]
cine is so necessary, street ass ciati
[illegible]
ns and villages without medicine, should be first relieved and the conventional official inoquitable distribution be abolished.
ITEM 5 Concern Over the Condition of School Children. Societies Formed to Bettor Their Conditions - Mainichi Shimbu - 1 Feb 46. Translator: S. Shiba.
Summary:

The result of the special physical examination of men who have been demobilized and removed from labor requisition in wartime, taken by the Physical Section of the
[illegible]
partment of Education, indicates a remarkable loss in weight. There are also indications of an extraordinary increase in tuberculous pupils in middle schools. For example, in KYOTO, there are b2 boys and b9 girls per en thousand who heed the usual observation, or recreation, or medical treatment 24 out of 195 girls in a certain girls school in NIIGATA Ken are infected with tuberculosis. Boarding students of a certain technical school, in YAMAGATA-Ken lost 4 kilograms weight from malnutrition in one month, just before the temporary closure of that school due to snow and cold.
- 3 -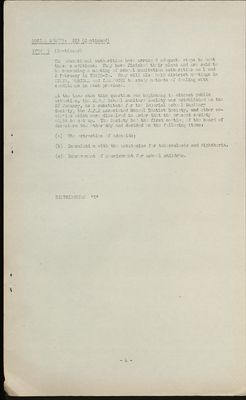 (View Page Image)
SOCIAL SERIES: 223 (Continued)
The educational authorities have arranged adequate steps to meet these conditions. They have finished their plans and are said to be convening a meeting of school sanitation authorities on 1 and 2 February in TOKIO-To. They will also hold district meetings in KYCTO, MORIOKA and YAMAGUCHI to study methods of dealing with conditions in each province.

At the time when this question was beginning to attract public attention, the JAPAN School Sanitary Society was established On the 23 January, as a substitute for the Imperial School Sanitary Society, the JAPAN Associated School Dentist Society, and other societies which were dissolved in order that the present society might be set up. The Society had the first meeting of the board of directors the other day and decided on the following items:
The extraction of adenoids;
Inoculation with the antitoxins for tuberculosis and diphtheria.
Improvement of nourishment for school children.
DISTRIBUTION "X"

- 4 -