Press translations [Japan]. Social Series 0222, 1946-02-03.
translation-number: social-1106
call-number: DS801 .S84
---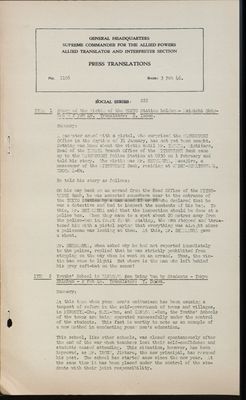 (View Page Image)
GENERAL HEADQUARTERS

SUPREME COMMANDER FOR THE ALLIED POWERS

ALLIED TRANSLATOR AND INTERPRETER SECTION

PRESS TRANSLATIONS

SOCIAL SERIES: 222

ITEM 1 Story of the victim of the TOKYO Station holdup - Mainichi Shimbun -2 Feb 46. Translator: S. Inoue.
Summary:

A gangster armed with a pistol, who surprised the MARUNOUCHI Office in the daytime of 31 January, has not yet been caught. Nothing was know about the victim until Mr. TANAKA, Michitaro, Head of the YAHATA Branch Office of the MITSUBISHI Bank came up to the MARUNOUCHI Police Station at 0930 on 1 February and told his story. The victim was Mr. SHIMAMURA, Masajiro, a messenger of the MITSUBISHI Bank, residing at NISHI-KOMATSUGAWA, EDOGAWA-Ku.

He told his story as follows:

On his way back on an errand from the Head Office of the MITSUBISHI Bank, he was accosted somewhere near to the entrance of the TOKYO Station by a man aged 27 or 28 who declared that he was a detective and had to inspect the contents of his bar. To this, Mr. SHIMAMURA said that the inspection should be done at a police box. When they came to a spot about 20 metres away from the police-box in front the of the station, the man stopped and threatened him with a pistol saying that everything was alright since a policeman was looking at them. At this, Mr. SHIMAMURA gave a shout.

Mr. SHIMAMURA, when asked why he had not reported immediately to the police, replied that he was strictly prohibited from stopping on the way when he went on an errand. Thus, the victim has come to light! But where is the man who left behind his grey soft-hat on the scene?

ITEM 2 Youths' School in KANAGAWA Ken Being Run by Students - Tokyo Shimbun - 2 Feb 46. Translator: T. Ogawa.
Summary:

At this time when young men's enthusiasm has been causing a tempest of reform in the self-government of towns and villages, in NINOMIYA-Cho, MAKA-Gun, and KANAGAWA-Ken, the Youths' Schools of the towns are being operated successfully under the control of the students. This fact is worthy to note as an example of a new method in conducting young men's education.

This school, like other schools, was closed spontaneously after the end of the war when teachers lost their self-confidence and students ceased attending. This situation, however, has been improved, as Mr. INOUE, Jintaro, the new principal, has resumed his post. The school has started anew since the new year. At the sane time it has been placed under the control of the students with their joint responsibility.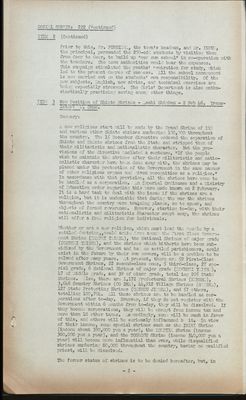 (View Page Image)
SOCIAL SERIES: 222 (Continued)
Prior to this, Mr. FURUZAWA, the town's headman, and Mr. INOUE, the principal, persuaded the 200-odd students by visiting then from door to door, to build up "our own school" in co-operation with the teachers. The town authorities would bear the expenses. This campaign; stimulated the youths' aspiration for study, which led to the present degree of success. All the school management is now carried out on the students' own responsibility. Of the new subjects, English, new civics, and technical exercises are being especially stressed. The Girls' Department is also enthusiastically practicing sewing among other things.

ITEM 3 New Position of Shinto Shrines - Asahi Shimbun - 2 Feb 46. Translator: M. Ohno.
Summary:

A new religious start will be made by the Grand Shrine of island various other Shinto shrines numbering 100,000 throughout the country. The 15 December directive ordered the separation of Shinto and Shinto shrines from the State and stripped them of their militaristic and nationalistic character. But the provisions of the directive included a sentence, "If the people wish to maintain the shrines after their militaristic and nationalistic character have been done away with, the shrines may be placed under the protection of the Government in the same manner of other religious organs and given recognition as a religion." In accordance with that provision, all the shrines have come to be handled as a corporation. An Imperial Ordinance and a Ministry of Education order regarding this were made known on 2 February. It is a hard task to deal with the issue if the shrines arc a religion, but it is undeniable that during the war the shrines throughout the country were training places, so to speak, and objects of forced reverence. However, starting to-day, with their nationalistic and militaristic character swept away, the shrines will offer a free religion for individuals.

Whether or not a new religion, which must load the people by a settled doctrine, could arise from among the First Class Government Shrine (KAMPEI TAISHA), the National Shrines of major grade (KOKUHEI TAISHA), and the shrines which hitherto have been subsidized by the Government and had no settled parishioners, could exist in the future by their own powers, will be a problem to be solved after many years. At present, there are 59 First-Class Government Shrines, 22 second-class ones, 5 third-class, 27 special grade, 6 National Shrines of major grade (KOKUHEI TAISHA), 47 of middle grade, and 39 of minor grade, totalling 205 State Shrines. Also, there are 1,172 Prefectural Shrines (KENSHA), 3,646 Country Shrines (GO SHA), 44,912 Village Shrines (SONSHA), 127 State Protecting Shrines (GOKOKU JINSHA), and 57 others, totalling 109,704. All these shrines are to be handled as corporations after to-day. However, if they do not register with the Government within 6 months from to-day, they will be dissolved. If they become corporations, they will be exempt from income tax and more than 10 other taxes. Accordingly, some will be much in favor of this, and others will be seriously influenced
[illegible]
it. In view of their income, some special shrines such as the INARI Shrine (income about 380,000 yen a year), the KOMPIRA Shrine (income 360,000 yen a year), and the TOSHOGU Shrine (income 340,000 yen a year) will become more influential than ever, while disqualified shrines numbering 60,000 throughout the country, having no qualified priest, will be dissolved.
The former status of shrines is to be denied hereafter, but, in

- 2 -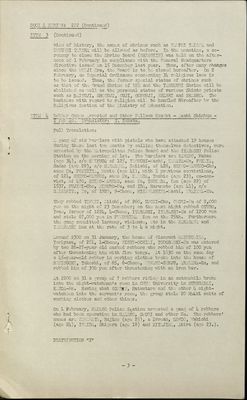 (View Page Image)
SOCIAL SERIES: 222 (Continued)
view of history, the names of shrines such as KAMPEI TAISHA and KOKUMEI TAISHA will be allowed as before. In the meantime, a ceremony to close the Shrine Board (SHINGIIN) was held on the afternoon of 1 February in compliance with the General Headquarters directive issued on 15 December last year. Thus, after many changes since the MEIJI Era, the Board is to be closed hereafter. On 2 February, an Imperial Ordinance concerning 34 religious laws is to be issued. Thus, the former special status of shrines such as that of the Grand Shrine of ISE and the YASUKUNI Shrine will be abolished as well as the personal status of various Shinto priests such as DAIGUJI, SHOGUJI, GUJI, GONGUJI, SHASHI and SHASHO. The business with regard to religion will be handled hereafter by the Religious Section of the Ministry of Education.

ITEM 4 Robber Gangs Arrested and Other Follows Caught - Asahi Shimbun - 2 Feb 46. Translator: S. Sakata.
Full Translation:

A gang of six burglars with pistols who have attacked 19 houses during these last two months by calling themselves detectives, were arrested by the Metropolitan Police Board and the ITABASHI Police Station on the morning of 1st. The burglars are KAWANO, Nakao (age 34), c/o SEIFUSO of 125, YAGUCHI-Machi, KAMATA-Ku, FUKAYA, Sadao (age 29), c/o NAGASAWA, Seiichi, of 426, SHIMO-MARUKO-Cho, same Ku, FUJIHIRA, Morio (age 4l), with 5 previous convictions, of 121, SHIMO-MARUKO, same Ku, KAMEDA, Yoshio (age 23), ex-convict, of 470, SHIMO-WARUKO, same Ku, TSUKADA, Ken (age 29) of 1537, FUJIMI-Cho, MEGURO-Ku, and IDA, Harumoto (age 41), c/o SAKASHITA, Ko, of 1920, 9-Chome, MIKAWASHIMA-Machi, ARAKAWA-Ku.

They robbed TEEMEI, Kiichi, of 260, UNOKI-Cho, OMORI-Ku of 2,000 yen on the night of 23 December; on the next night robbed OTUBO, Iwao, farmer of 1224, 4-Chome, ITABASHI, ITABASHI-Ku of 1200 yen and stole 67,000 yen in FUKUSHIMA Ken on the 25th. Furthermore the gang committed larceny, violence, etc in the KANAGAWA and YAMANASHI Ken at the rate of 3 to 4 a night.

Around 2300 on 31 January, the house of Viscount MATSUDAIRA, Yoriyasu, of 281, 1-Chome, NISHI-OCHIAI, YODOBASHI-KU was entered by two 26-27-year old masked robbers who robbed him of 100 yen after threatening him with fire tongs. At 1830 on the same day a 45-year-old robber in working clothes broke into the house of SEKIGUCHI, Takeshi, of 65, 6-Chomo, MINAMI-SENJU, ARAKAWA-Ku, and robbed him of 300 yen after threatening with an iron bar.

At 2200 on 31 a group of 7 robbers riding in an automobile broke into the night-watchman's room in CHUO University in SURUGADAI, KANDA-Ku. Having shut KOMINE, Hatsutaro and the other 4 night watchmen into the servant's room, the group stole 20 khaki suits of working clothes and other things.

On 1 February, NAKANO Police Station arrested a gang of 4 robbers who had been operating in NAKANO, OMORI and other Ku. The robbers' names are KAWAMATA, Hajime (age 25), a Korean, KONDO, Wakichi (age 24), IWAIDA, Shigeru (age 18) and KITAJIMA, Akira (age 23.)

DISTRIBUTION "X"

- 3 -