Press translations [Japan]. Social Series 0214, 1946-01-31.
translation-number: social-1049
call-number: DS801 .S84
---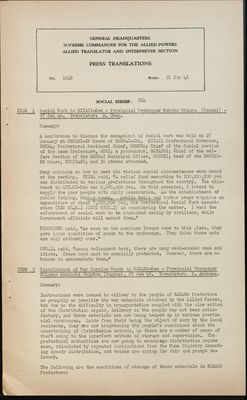 (View Page Image)
GENERAL HEADQUARTERS

SUPREME COMMANDER FOR THE ALLIED POWERS

ALLIED TRANSLATOR AND INTERPRETRE SECTION

PRESS TRANSLATIONS

SOCIAL SERIES: 214

ITEM 1 Social Work in MIYAGI-Ken - Provincial Newspaper Kahoku Shimpo. (Sendai) - 27 Jan 46. Translator: M. Ohno.
Summary:

A conference to discuss the management of social work was held on 25 January at CHOSEI-EN House of SENDAI-Shi. MIYAGI Prefectural Governor, CHIBA; Prefectural Sectional Chief, NOMURA; Chief of the Social Section of the same Prefecture, MORI; a prosecutor, HAYASHI; Chief of the welfare Section of the SENDAI Municipal Office, SUZUKI; head of the CHOSEIEN House, KUNIYASU; and 30 others attended.

Many opinions on how to meet the vicious social circumstances were heard at the meeting. CHIBA said, "A relief fund amounting to 200,000,000 yen was distributed to various prefectures throughout the country. The allotment to MIYAGI-Ken was 2,580,000 yen. On this occasion, I intend to supply the poor people with daily necessaries. As the establishment of public lodging, dining rooms, public boths and barber shops requires an expenditure of about 7,000,000 yen, the Prefectural Social Work Association (KEN SHAKAI JIGYO KYOKAI) is considering the matter. I want the enforcement of social work to be conducted mainly by civilians, while Government officials will assist them."

PISONNETO said, "As soon as the American Troops came to this place, they gave large quantities of goods to the orphanage. They think those acts are only ordinary ones."

OHSAKA said, "Among delinquent boys, there are many weak-minded ones and idiots. These boys must be specially protected. However, there are no houses to accommodate them."

ITEM 2 Distribution of War Surplus Goods in NAGANO-Ken - Provincial Newspaper Shinano Mainichi Shimbun (Nagano), 28 Jan 46. Translator: Y. Akabane.
Summary:

Instructions were issued to deliver to the people of NAGANO Prefecture as promptly as possible the war materials returned by the Allied Forces, but due to the difficulty in transportation coupled with the slow action of the distribution organs, delivery to the people has not been satisfactory, and these materials are now being heaped up in various provincial warehouses, Aside from their being the object of envy by the local residents, they are now heightening the peopled suspicions about the uncertaining of distribution methods, as there are a number of cases of theft owing to the imperfect methods of storage and supervision. The prefectural authorities are now going to encourage distribution organs anew, stimulated by repeated instinctions from the Home Ministry demanding speedy distribution, and voices are crying for fair and prompt delivery.

The following are the conditions of storage of these materials in NAGANO Prefecture:

(View Page Image)
SOCIAL SERIES 214 (Continued)
a. Rape-seed oil, etc., in NISHICHICUMA-Gun:

In the fields near the public hall and national schools in the village of NARAI, about 9,000 cans of rape-seed oil and 8,470 cans of machine oil - each of 18 litres - are laying idle, making the people envious. This is in addition to over 65,000 kilolitres of other types of oil in drums. The oil is exposed to robbery every night and police are posted to guard the oil.

b. Japanese soybean sauce and Miso in KITAAZUMI-Gun:

There are sanitary materials still awaiting distribution, though a part of them will be distributed by the JAPAN veterinary society and the JAPAN horse society; the remainder will be distributed by the prefectural agricultural association. Clothing and leather in the town of IKEDA are being disposed of by a local distribution agency. Moreover, 236 barrels of Japanese soybean sauce, 1,290 boxes of dried Miso (bean-mash) and 128 barrels of dried plum pickles are now in NANAKI-Mura awaiting distribution, while 270 boxes of food and 427 boxes of nutritious food are to be sent to the Occupation Forces.

c. MATSUMOTO and its neighboring districts:

In these districts there were many military warehouses scattered in various sections with enormous quantities of war-materials such as soya beans, Kaoliang, clothing, paper, construction materials, automobile parts, gasoline, etc. A portion of these materials was concealed by villagers and other unauthorized parties and partly disposed of illegally; but with the arrival of the Occupation Forces, concealed materials were discovered and delivered to the prefectural authorities for proper distribution. The supervision of materials still remaining in storage is being entrusted to town or village offices but there are frequently thefts, and the police are posted to guard these goods.

d. MINAMI AZUMI-Gun:

A large quantity of foodstuffs are in storage in these districts and a part has already been delivered through regular channels; the remainder will be distributed by the end of March. Moreover, there is still a pretty large amount of veterinary materials stored in warehouses of several brewing companies, awaiting legal disposition.

e. KAMIINA-Gun:

About 15,000 Kan of ammonia sulphate are in custody in several places. Prefectural agricultural associations are consulting with the authorities concerned as to their disposal. If they are released, farmers will be greatly convenienced. There are many straw-bags, rope, and straw mats stored in farmers warehouses infested with rats. It is rumored that 90 bales of rice and a certain quantity of canned beef, salt, and Japanese soybean sauce, as well as 800 pairs of gum boots, were hidden in a warehouse in INA-Machi in October by a certain army officer.

f. KITASAKU:

No largo stores of concealed war materials are formed here since almost all of them have been discovered and duly disposed of already, though there are still minor eases of offences regarding their delivery and disposition.

- 2 -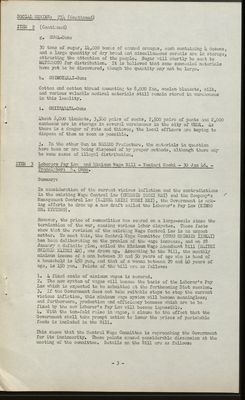 (View Page Image)
SOCIAL SERIES: 214 (Continued)
g. SUWA-Gun:

30 tons of sugar, 14,000 boxes of canned oranges, each containing 4 dozens, and a large quantity of dry broad and miscellaneous cereals are in storage, attracting the attention of the people. Sugar will shortly be sent to MATSUMOTO for distribution. It is believed that some concealed materials have yet to be discovered, though the quantity may not be large.

h. SHIMOTAKAI-Gun:

Cotton and cotton thread amounting to 8,000 Kan, woolen blankets, silk, and various valuable medical materials still remain stored in warehouses in this locality.

i. CHIISAGATA-Gun:

About 6,000 blankets, 3,500 pairs of socks, 2,000 pairs of pants and 2,000 canteens are in storage in several warehouses in the city of UEDA. As there is a danger of rats and thieves, the local officers are hoping to dispose of them as soon as possible.

j. In the other Gun in NAGANO Prefecture, the materials in question have been or are being disposed of by proper methods, although there may be some cases of illegal distribution.

ITEM 3 Laborers Pay Law and Minimum Wage Bill - Yomiuri Kochi - 30 Jan 46. - Translator: M. Ohno.
Summary:

In consideration of the current vicious inflation and the contradictions in the existing Wage Control Law (CHINGIN TOSEI REI) and the Company's Management Control Law (KAISHA KEIRI TOSEI REI), the Government is making efforts to draw up a now draft called the Laborer's Pay Law (KINRO SHA KYUYOHO).

However, the price of commodities has soared on a large-scale since the termination of the war, causing various labor disputes. These facts show that the revision of the existing Wage Control Law is an urgent matter. To meet this, the Central Wage Committee (CHUO CHINGIN IINKAI) has been deliberating on the problem of the wage increase, and on 28 January a definite plan, called the Minimum Wage Amendment Bill (SAITEI CHINGIN KAISEI AN), was drawn up. According to the Bill, the monthly minimum income of a man between 30 and 50 years of age who is head of a household is 450 yen, and that of a woman between 20 and 40 years of age, is 150 yen. Points of the bill are as follows:
A fixed scale of minimum wages is secured.
The new system of wages will become the basis of the Laborer's Pay, Law which is expected to be submitted at the forthcoming Diet session.
If the Government does not take suitable steps to stop the current vicious inflation, this minimum wage system will become meaningless; and furthermore, production and efficiency bonuses which are to be fixed by the new Laborer's Pay Law will become impossible.
With the ten-fold raise in rages, a clause to the effect that the Government shall take prompt action to lower the prices of perishable foods is included in the Bill.
This shows that the Central Wage Committee is reproaching the Government for its insincerity. These points caused considerable dissension at the meeting of the committee. Details on the Bill are as follows:

- 3 -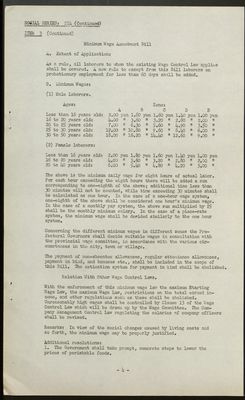 (View Page Image)
SOCIAL SERIES: 214 (Continued)
ITEM 3 (Continued)

Minimum Wage Amendment Bill

A. Extent of Application:

As a rule, all laborers to whom the existing Wage Control Law applies shall be covered. A new rule to except from this Bill laborers on probationary employment for less than 60 days shall be added.

B. Minimum Wages:

(1) Male Laborers.

Ages: Zone:

| | | | | | |
| --- | --- | --- | --- | --- | --- |
| | A | B | C | D | E |
| Less than 16 years old: | 2.00 yen | 1.80 yen | 1.60 yen | 1.40 | 1.00 yen |
| 16 to 20 years old:4.00 | 4.00 yen | 3.60 yen | 3.20 yen | 2.80 yen | 2.00 yen |
| 20 to 25 years old: | 7.00 yen | 6.30 yen | 5.60 yen | 4.90 yen | 3.50 yen |
| 25 to 30 years old: | 12.00 yen | 10.80 yen | 9.60 yen | 8.40 yen | 6.00 yen |
| 30 to 50 years old: | 18.00 yen | 16.20 yen | 14.40 yen | 12.60 yen | 9.00 yen |
(2) Female laborers:
| | | | | | |
| --- | --- | --- | --- | --- | --- |
| Less than 16 years old: | 2.00 yen | 1.80 yen | 1.60 yen | l.40 yen | 1.00 yen |
| 16 to 20 years old: | 4.00 yen | 3.60 yen | 3.20 yen | 2.80 yen | 2.00 yen |
| 20 to 40 years old: | 6.00 yen | 5.40 yen | 4.80 yen | 4.20 yen | 3.00 yen |
The above is the minimum daily wage for eight hours of actual labor. For each hour exceeding the eight hours there will be added a sum corresponding to one-eighth of the above; additional time less than 30 minutes will not be counted, while time exceeding 30 minutes shall be calculated as one hour, In the case of a one-hour wage system, one-eighth of the above shall be considered one hour's minimum wage. In the case of a monthly pay system, the above sum multiplied by 25 shall be the monthly minimum salary. In the case of a piece-rate system, the minimum wage shall be derided similarly to the one hour system.

Concerning the different minimum wages in different zones the Prefectural Governors shall decide suitable wages in consultation with the provincial wage committee, in accordance with the various circumstances in the city, town or village.

The payment of non-absentee allowances, regular attendance allowances, payment in kind, and bonuses etc., shall be included in the scope of this Bill. The estimation system for payment in kind shall be abolished.

Relation With Other Wage Control Laws.

With the enforcement of this minimum wage law the maximum Starting Wage Law, the maximum Wage Law, restrictions on the total earned income, and other regulations such as these shall be abolished. Unreasonably high wages shall be controlled by Clause 13 of the Wage Control Law which will be drawn up by the Wage Committee. The Company Management Control Law regulating the salaries of company officers shall be revised.

Remarks: In view of the social changes caused by living costs and so forth, the minimum wage may be properly justified.

Additional resolutions:
The Government shall take prompt, concrete steps to lower the prices of perishable foods.

- 4 -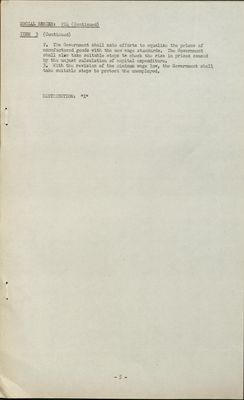 (View Page Image)



SOCIAL SEREIS: 214 (Continued)





ITEM 3

(Continued)
The Government shall make efforts to equalize the prices of manufactured goods with the new wage standards. The Government shall also take suitable steps to check the rise in prices caused by the unjust calculation of capital expenditure.
With the revision of the minimum wage law, the Government shall take suitable steps to protect the unemployed.
DISTRIBUTION: "X"

- 5 -