Press translations [Japan]. Social Series 0207, 1946-01-29.
translation-number: social-1012
call-number: DS801 .S84
---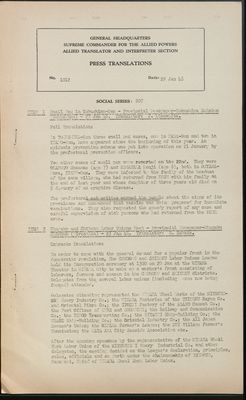 (View Page Image)
GENERAL HEADQUARTERS

SUPREME COMMANDER FOR THE ALLIED POWERS

ALLIED TRANSLATOR AND INTERPRETER SECTION

PRESS TRANSLATIONS

SOCIAL SERIES: 207

ITEM 1 Small Pok

[illegible]

in Tokushima-Ken - Provincial Newspaper-Tokushima Shimbun (Tokushima) - 23 Jan 46. Translator: J. Kinoshita.
Full Translation:

In TOKUSHIMA-Ken three small pox cases, one in HAGA-Gun and two in ITAMO-Gun, have appeared since the beginning of this year. An epidemic prevention scheme was put into operation on 21 January by the prefectural prevention officers.

Two other cases of small pox were reported on the 22nd. They were OKAHOTO Masanao (age 7) and NAGAHAMA Kenji (age 6), both in OHYAMA-Mura, ITANO-Gun. They were infected by the family of the headman of the sane village, who had returned from KOBE with his family at the end of last year and whose daughter of three years old died on 5 January of an eruptive disease.

The prefectural authorities warned the people about the signs of its prevalence and announced that vaccine was being prepared for immediate vaccinations. They also requested the speedy report of any case and careful supervision of sick persons who had returned from the KOBE area.

ITEM 2 Chugoku and Shikoku Labor Unions Meet - Provincial Newspaper-Chugoku Shimbun (Hiroshima) - 23 Jan 46. Translator: S. Sakata.
Extracts Translation:

In order to cope with the general de and for a popular front in the democratic revolution, The CHUGOKU and SHIKOKU Labor Unions League hole, its inauguration ceremony at 1300 on 20 Jan at the MIHARA Theater in MIHARA City to make up a worker's front consisting of laborers, farmers and seamen in the CKUGOKU and SHIKOKU districts. Delegates from the several labor unions (including ones now being formed) attended.

Delegates attending represented the MIHARA Wheel Works of the MITSUBISHI Heavy Industry Co.; the MIHARA Factories of the TEIKOKU Rayon Co, and Oriental Fibre Co.; the ITOZKI Factory of the ASANO Cement Co.; the Post Offices of KURE and ONOMICHI; the Railway and Communication Co.; the BINGO Transporting Co.; the HITACHI Ship-Building Co.; the URABE Ship-Building Co.; the Oriental Industry Co.; the All Japan Seamen's Union; the MIHARA Farmer's League; the KUI Village Farmer's Commission; the HATA AMA City Seaside Association etc.

After the opening speeches by the representative of the MIHARA Wheel Work Labor Union of the MITSUBIS I Heavy Industrial Co. and other delegates, the meeting decided on the League's declaration, principles, rules, officials and so forth under the chairmanship of ISEMOTO, Hana
[illegible]
chi, Chief of HINARA Wheel Work Labor Union.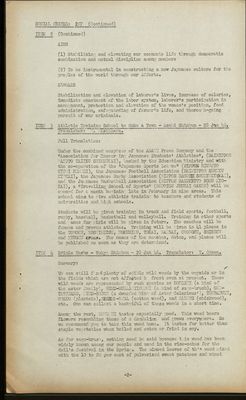 (View Page Image)
SOCIAL SERIES: 207 (Continued)
AIMS

Stabilizing and elevating our economic life through democratic combination and mutual discipline among members
To be instrumental in constructing a new Japanese culture for the peoples of the world through our efforts.
SLOGANS

Stabilization and elevation of laborer's lives, increase of salaries, immediate enactment of the labor system, laborer's participation in management, protection and elevation of the women's position, food administration, safeguarding of farmer's life, and thorough-going pursuit of war criminals.

ITEM 3 Athletic Training School to Make a Town - Asahi Shimbun - 28 Jan 46. Translator: H. Nishihara.
Full Translation:

Under the combined auspices of the ASAHI Press Company and the "Association for Encouraging Japanese Students' Athletics", (DAINIPPON GAIKUTO TAIIKU SHINKOKAI), backed by the Education Ministry and with the co-operation of the "Japanese Sports League" (NIPPON RIKUJYO KYOGI REMMEI), the Japanese Football Association (DAINIPPON SHUKYU KYOKAI), the Japanese Rugby Association (NIPPON RAGUBII SHUKYUKYOKAY), and the Japanese Basketball Association (NIPPON BASUKETTO BORU KYOKAI), a "Travelling School of Sports" (SUPOTSU JUNKAI GAKKO) will be opened for a month begining late in February in nine areas. This school aims to give athletic training to teachers and students of universities and high schools.

Students will be given training in track and field sports, football, rugby, baseball, basketball and volleyball. Training in other sports and games for girls will be given in future. The coaches will be famous and proven athletes. Training will be given in 41 places in the TOHOKU, KOSHINETSU, HOKURIKU, TOKAI, KANSAI, CHOGOKU, SHIKOKU and KYUSHU areas. The names of the coaches, dates, and places will be published as soon as they are determined.

ITEM 4 Edible Herbs - Tokyo Shimbun - 28 Jan 46. Translator: T. Ogawa.
Summary:

We can still fund plenty of edible wild weeds by the wayside or in the fields which are not affected b
[illegible]
frost even at present. These wild weeds are represented by such species as NOGESHI (a kind of the aster family), HIME-MUKASHIYOMOGI (a kind of sage-brush), ONI-TABIRAKO, HIME-SHION (a dwarfed king of Aster Calaricus'), TSUBABUKI, OBAKO (plantain), HAHAKO-GUSA. (cotton weed), and HAKOBE (chickweed), etc. One can collect a basketful of these weeds in a short time.
Among the rest, NOGESHI tastes especially good. This weed bears flowers resembling those of a dandelion and grows everywhere. So we recommend you to take this weed home. It tastes far better than staple vegetables when boiled and eaten or fried in soy.

As for sage-brush, nothing need be said because this weed has been widely known among our people and used in the rice-cakes for the doll's festival in the Spring. The minced leaves of this weed mixed with the 10 to 20 per cent of pulverized sweet patatoes and wheat

- 2 -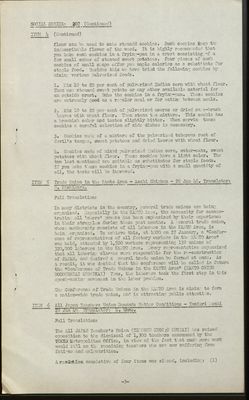 (View Page Image)
SOCIAL SERIES: 207 (Continued)
flour can be used to make steamed cookies. Such cookies keep the indescribable flavor of the weed. It is highly recommended that you bake such cookies in a frying-pan in a crust consisting of a few small cubes of steamed sweet potatoes. Four pieces of such cookies of small shape offer yon ample calories as a substitute for staple food. Besides this we have tried the following cookies by mixing various pulverized foods.

Mix 10 to 20 per cent of pulverized Indian corn with wheat flour. Then use steamed sweet potato or any other available material for an outside crust. Bake the cookies in a frying-pan. These cookies are extremely good as a regular meal or for eating between meals.
Mix 10 to 20 per cent of pulverized acorns or dried sage-brush leaves with wheat flour. Then steam the mixture. This cookie has a brownish color and tastes slightly bitter. When serving those cookies a careful selection of side dishes is necessary.
Cookies made of a mixture of the pulverized tuberous root of devil's tongue, sweet potatoes and dried leaves with wheat flour.
Cookies made of mixed pulverized Indian corn, water-oats, sweet potatoes with wheat flour. These cookies have a light color, The two last mentioned are suitable as substitutes for staple foods. If you bake these cookies in a frying-pan with a small quantity of oil, the taste will be improved.
ITEM 5 Trade Union in the Kanto Area - Asahi Shimbun - 28 Jan 46. Translator: H. Nishihara.
Full Translation:

In many districts in the country, general trade unions are being organized. Especially in the KANTO Area, the necessity for concentrating all labors' powers has been emphasized by their experience in their struggles during these past months. A general trade union, whose membership consists of all laborers in the KANTO Area, is being organized. To achieve this, at 1000 on 27 January, a "Conference of representatives of all factory workers in the KANTO Area" was held, attended by 1,500 workers representing 139 unions of 320,000 laborers in the KANTO Area. Every representative emphasized that all laboring classes were responsible for the re-construction of JAPAN, and desired a general trade union be formed at once. As a result, it was decided that the conference will be called in future the "Conference of Trade Unions in the KANTO Area" (KANTO CHIHO RODOKUMIAI KYOGIKAI) Thus, the laborers took the first step in this epoch-making movement in the labor problem.

The Conference of Trade Unions in the KANTO Area is aiming to form a nation-wide trade union, and is attracting public attention.

ITEM 6 All Japan Teachers Union Demands Better Conditions - Yomiuri Hochi 28 Jan 46 Translator: N. Ohno.
Full Translation:

The All JAPAN Teacher's Union (ZENTOKU KYOI
[illegible]
N KUMIAI) has raised opposition to the dismissal of 1,300 teachers announced by the TOKYO Metropolitan Office, in view of the fact that much more work would fall on the remaining teachers who are now suffering from fatigue and malnutrition.
A resolution consistive of four items was signed, including: (1)

- 3 -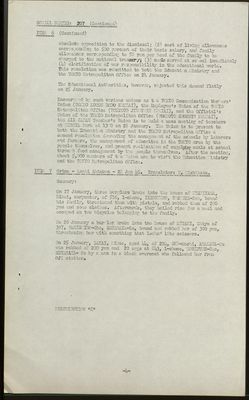 (View Page Image)
SOCIAL SERIES: 207 (Continued)
absolute opposition to the dismissal; (2) cost of living allowances corresponding to 500 percent of their basic salary, and family allowances corresponding to 50 yen per head of the family to be charged to the national treasury; (3) meals served at school immediately (k) clarification of war responsibility in the educational world. This resolution was submitted to both the Education Ministry and the TOKYO Metropolitan Office on 24 January.

The Educational Authorities, however, rejected this demand flatly on 25 January.

Encouraged by such various unions as the TOKYO Communication Workers' Union (TOKYO KOTSU RODO KUMJAI), the Employee's Union of the TOKYO Metropolitan Office (TOKYOTO JYUGYOIN KUHIAI), and the Official's Union of the TOKYO Metropolitan Office (TOKYOTO SHOKUIN KUMIAI), the All JAPAN Teacher's Union is to hold a mass meeting of teachers at HIBIYA Park at 1300 on 28 January. The Union is to present to both the Education ministry and the TOKYO Metropolitan Office a second resolution demanding the management of the schools by laborers and farmers, the management of education in the TOKYO area by the people themselves, and prompt realization of supplying meals at school through food management by the people themselves. After the meeting, about 5,000 members of the Wnion are to visit the Education Ministry and the TOKYO Metropolitan Office.

ITEM 7 Crime - Asahi Shimbun - 28 Jan 46. Translator: H. Nishihata.
Summary:

On 27 January, throe burglars broke into the house of NISHIYAMA, Rihei, carpenter, of 516, 1-chome, IKEBUKURO, TOSHIMA-Ken, bound his family, threatened them with pistols, and robbed thorn of 200 yen and some clothes. Afterwards, they boiled rice for a meal and escaped on two bicycles belonging to the family.

On 26 January a burglar broke into the house of MITANI, Chiyo of 397, NARISMIIRO-Cho, SETAGAYA-Ku, bound and robbed her of 300 yen, threatening her with something that looked like scissors.

On 25 January, SAKAI, Kikue, aged 44, of 204, OKU-Machi, ARAKAWA-Ku was robbed of 200 yen and 20 eggs at 843, 1-chome, HORIFUME-Cho, SETAGAYA- Ku by a man in a black overcoat who followed her from OJI station.

DISTRIBUTION "X"

- 4 -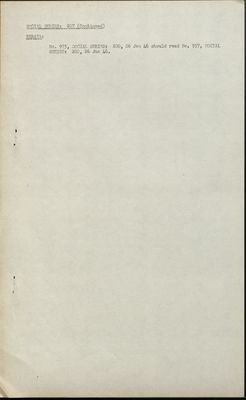 (View Page Image)
SOCIAL SERIES: 207 (Continued)
No. 975, SOCIAL SERIES: 200, 26 Jan 46 should read No. 957, SOCIAL SERIES: 200, 26 Jan 46.

- 5 -