Press translations [Japan]. Social Series 0206, 1946-01-29.
translation-number: social-0998
call-number: DS801 .S84
---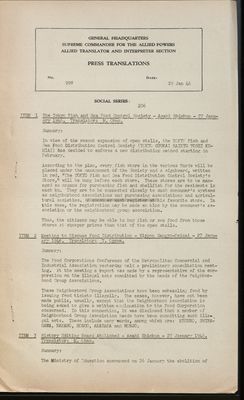 (View Page Image)
GENERAL HEADQUARTERS

SUPREME COMMANDER FOR THE ALLIED POWERS

ALLIED TRANSLATOR AND INTERPRETER SECTION

PRESS TRANSLATIONS

SOCIAL SERIES: 206

ITEM 1 The Tokyo Fish and Sea Food Control Society - Asahi Shimbun - 27 January 1946. Translator: M. Ohno.
Summary:

In view of the recent expansion of open stalls, the TOKYO Fish and Sea Food Distribution Control Society (TOKYO GYOKAI HAIKYU TOSEI KUMIAI) has decided to enforce a new distribution method starting in February.

According to the plan, every fish store in the various Wards will be placed under the management of the Society and a signboard, written in red, "The TOKYO Fish and Sea Food Distribution Control Society's Store," will be hung before each store. These stores are to be managed as organs for purchasing fish and shellfish for the residents in each ku. They are to be connected closely to such consumer's systems as neighborhood associations and purchasing associations and agricultural societies. A consumer must register at his favorite store. In this case, the registration may be made en bloc by the consumer's association or the neighborhood group association.

Thus, the citizens may be able to buy fish or sea food from those stores at cheaper prices than that of the open stalls.

ITEM 2 Meeting to Discuss Food Distribution - Nippon Sangyo-Keizai - 27 January 1946. Translator: T. Ogawa.
Summary:

The Food Corporations Conference of the Metropolitan Commercial end Industrial Association yesterday held a preliminary consultation meeting. At the meeting a report was made by a representative of the corporation on the illegal acts committed by the heads of the Neighborhood Group Associations.

These Neighborhood Group Associations have been embezzling food by issuing food tickets illegally. The cases, however, have not been made public, usually except that the Neighborhood Association is being asked to give a written explanation to the Food Corporation concerned. In this connection, it was disclosed that a member of Neighborhood Group Association heads have been committing such illegal acts. These include many wards, among which are: MEGURO, SHINAGAWA, NAKANO, HONGO, AKABAKA and HONJO.

ITEM 3 History Editing Board Abolished - Asahi Shimbun - 27 January 1946. Translator: M. Ohno.
Summary:

The Ministry of Education announced on 26 January the abolition of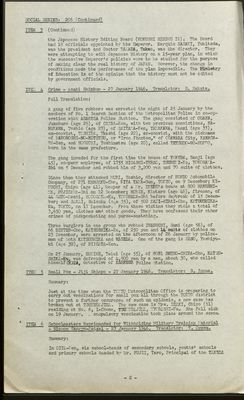 (View Page Image)
SOCIAL SERIES: 206 (Continued)
the Japanese History Editing Board (KOKUSHI HENSHU IN). The Board had 19 officials appointed by the Emperor. Marquis SASAKI, Yukitada, was the president and Doctor YAMADA, Tekao, was the director. They were attempting to edit Japanese History on a 15-year plan, in which the successive Emperor's policies were to be studied for the purpose of making clear the real history of JAPAN. However, the change in conditions made the performance of the plan impossible. The Ministry of Education is of the opinion that the history must not be edited by government officials.

ITEM 4 Crime - Asahi Shimbun - 27. January 1946. Transistor: S. Sakata.
Full Translation:

A gang of five robbers was arrested the night of 25 January by the members of No. 1 Search Section of the Metropolitan Police in co-operation with ASAKUSA Police Station. The gang consisted of OGAWA, Juzaburo (age 26), of CHIBA-Ken, with two previous convictions, NARUKAWA, Toshio (age 23), of SAITAMA-Ken, YAMAKAWA, Manzi (age 33), ex-convict, YOSHIDA, Tkashi (age 22), ex-convict, with the nickname of MABOROSHI-NO-KOTETSU, or "Iron Phantom," of ODAWARA City, KANAGAWA-Ken, and NOGUCHI, Toshimatsu (age 20), called TETSUDO-NO-NOPPO, born in the same prefecture.

The gang invaded for the first time the house of TAKEDA, Sanji (age 45), company employee, of 1755 HIGASHI-TERAO, TSURUM-Ku, YOKOHAWA-Shi on 5 December and robbed him of 3,200 yen and 70 suits of clothes.

Since then they attacked MORI, Yoshio, director of KONDO Automobile Company, of 271 RENJAKU-Cho, KITA TAMA-Gun, TOKYO, on 9 December; KIKUCHI, Chiyo (age 41), keeper of a Jr. IKEBE's house at 800 HANESHIMA, FUJISAWA-Shi on 12 December; HORIE, Kintaro (age 46), fireman, of 44 SETO-Machi, HODOGAYA-Ku, YOKOHAHA-Shi before daybreak of 15 December; and SAKAI, Seisaku (age 35), of 502 KAMI-HIRAI-Cho, KATSUSHIKA-Ku, TOKYO, on 17 December. From these victims they stole a total of 3,650 yen, clothes and other goods. They have confessed their other crimes of pickpocketing and purse-snatching.

Three burglars in one group who robbed IWABUCHI, Sumi (age 56), of 66 BENTEN-Cho, KATSUSHIKA-Ku, of 250 yen and 14 suits of clothes on 23 December, were arrested on the afternoon of 26 January by policemen of both KATSUSHIKA and WASEDA. One of the gang is SANO, Yoshiyuki (age 32), of NIIGATA-Ken.

On 25 January, SEKINE, Teiei (age 55), of 8081 SHIMO-CHIBA-Cho, KATSUSHIKA-Ku, was defrauded of 4,500 yen by a man, about 30, who called himself OKADA, detective of ASAKUSA Police Station.

ITEM 5 Small Pox - Jiji Shimpo - 27 January 1946. Translator: S. Inoue.
Summary:

Just at the time when the TOKYO Metropolitan Office is preparing to carry out vaccinations for small pox all through the TOKYO district to prevent a further occurence of such an epidemic, a new case has broken out at TSUKUDAJIMA. The new case is Mrs. EZAKI, Chiyo (51) residing at No. 6, 1-Chome, TSU
[illegible]
UDAJIMA, "KYOBASHI-Ku. She fell sick on 19 January. A compulsory vaccination took place around the scene.
ITEM 6 Schoolmasters Reprimanded for Withholding Military Training Material - Nippon Sangyo-Keizai - 27 January 1946. Translator: T. Ogawa.
Summary:

In OITA-Ken, six school-heads of secondary schools, youths' schools and primary schools headed by Mr. FUJII, Taro, Principal of the TAKEDA

- 2 -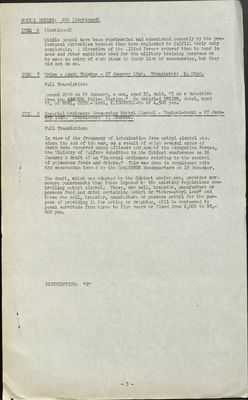 (View Page Image)
SOCIAL SERIES: 206 (Continued)
Middle School have been reprimanded and admonished recently by the prefectural authorities because they have neglected to fulfill their duty completely. A directive of the Allied Forces ordered them to hand in arms and other munitions used for the military training purposes or to make an entry of such items in their list of accessories, but they did not do so.

ITEM 7 Crime - Asahi Shimbun - 27 January 1946. Translator: M. Ohno.
Full Translation:

Around 2000 on 25 January, a man, aged 30, said, "I am a detective from the ASAKUSA Police Station." He swindled SEKINE, Jeiei, aged 55, of 8081, CHIBA-Machi, KATSUSHUKA-Ku of 4,500 yen.

ITEM 8 Imperial Ordinance Concerning Methyl Alcohol - Yomiuri-Hochi - 27 January 1946. Translator: Y.

[illegible]

kabane.
Full Translation:

In view of the frequency of intoxication from methyl alcohol etc. Since the end of the war, as a result of which several cases of death have occurred among officers and men of the Occupation Forces, the Ministry of Welfare submitted to the Cabinet conference on 26 January a draft of an "Imperial ordinance relating to the control of poisonous foods and drinks." This was done in compliance with the memorandum issued by the MacARTHUR Headquarters on 18 December.

The draft, which was adopted by the Cabinet conference, provides more severe punishments than those imposed by the existing regulations controlling methyl alcohol. Those, who sell, transfer, manufacture or possess food and drink containing methyl or "tetra-ethyl lead" and those who sell, transfer, manufacture or possess methyl for the purpose of providing it for eating or drinking, will be sentenced to penal servitude from three to five years or fined from 2,000 to 10,000 yen.

DISTRIBUTION: "X"

- 3