Press translations [Japan]. Social Series 0199, 1946-01-26.
translation-number: social-0954
call-number: DS801 .S84
---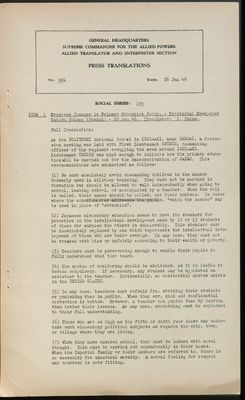 (View Page Image)
GENERAL HEADQUARTERS

SUPREME COMMANDER FOR THE ALLIED POWERS

ALLIED TRANSLATOR AND INTERPRETER SECTION

PRESS TRANSLATIONS

SOCIAL SERIES: 199

ITEM 1 Proposed Changes in Primary Education Setup. - Provincial Newspaper Kahoku Shimpo (Sendai) - 20 Jan 46. Translator: I. Inoue.
Full Translation:

At the SUMIYOSHI National School in ISKIMAKI, near SENDAI, a discussion meeting was held with First Lieutenant CHURCH, commanding officer of the regiment occupying the area around ISHIMAKI. Lieutenant CHURCH was kind enough to indicate how the primary education will be carried out for the democratization of JAPAN. This recommendations are summarized as follows:
We must absolutely avoid commanding children in the manner formerly used in military training. They must not be marched in formation but should be allowed to walk independently when going to school, leaving school, or accompanied by a teacher. When the roll is called, their names should be called, not their numbers. In cases where the schoolmaster addresses the pupils, "watch the master" may be used in place of "attention".
Japanese elementary education seems to have its standard for promotion in the intellectual development made by 12 or 13 students of class who surpass the others in scholarship. This standard must be immediately replaced by one which represents the intellectual development of those who are below average. In any case, they must not be treated with bias or unfairly according to their wealth or poverty.
Teachers must be persevering enough to enable their pupils to fully understand what they teach.
The system of monitoring should be abolished, as it is liable to become compulsory. If necessary, any student may be appointed an assistant to the teacher. Incidentally, no monitorship system exist3 in the UNITED STATES.
In any case, teachers must refrain from striking their students or punishing them in public. When they err, kind and confidential correction is better. However, a teacher can punish them by hearing them review their lessons. At any rate, everything must be explained to their full understanding.
Those who are as high as the fifth or sixth year class may undertake such elementary political subjects as regards the city, town, or village where they are living.
When they have entered school, they must be imbued with moral thought. This must be carried out concurrently in their homes. When the Imperial family or their members are referred to, there is no necessity for unnatural worship. A normal feeling for respect and courtesy is more fitting.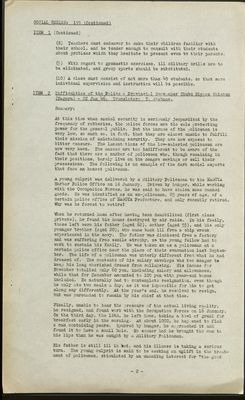 (View Page Image)



SOCIAL SERIES: 199 (Continued)





ITEM 1

(Continued)
Teachers must endeavor to make their children familiar with their school, and be tender enough to consult with their students about problems which they hesitate to present even to their parents.
With regard to gymnastic exercises, ill military drills are to be eliminated, and group sports should be substituted.
A class must consist of not more than 40 students, so that more individual supervision and instruction will be possible.
ITEM 2 Difficulties of the Police - Provincial Newspaper Chubu Nippon Shimbun (Nagoya) - 22 Jan 46. Translator: Y. Akabane.
Summary:

At this time when social security is seriously jeopardized by the frequency of robberies, the police forces are the sole protecting power for the general public. But the income of the policemen is very low, so much so, in fact, that they are almost unable to fulfill their mission of maintaining security. They are now exposed to bitter censure. The lamentations of the low-salaried policemen are now very keen. The masses are too indifferent to be aware of the fact that there are a number of policemen who, though remaining in their positions, barely live on the meagre savings or sell their possessions. The following is an example of the dark social aspects that face an honest policeman.

A young culprit was delivered by a Military Policeman to the NAGOYA Harbor Police Office on 18 January. Driven by hunger, while working with the Occupation Forces, he was said to have stolen some canned goods. He was identified as an ex-policeman, 25 years of age, of a certain police office of NAGOYA Prefecture, and only recently retired. Why was he forced to retire?

When he returned home after having been demobilized (first class private), he found his house destroyed by air raids. In his family, those left were his father (aged 62), mother (aged 59), and his only younger brother (aged 20), who came back ill from a ship wreck experienced in the navy. The father was dismissed from a factory and was suffering from senile atrophy, so the young fellow had to work to sustain his family. He was taken on as a policeman at a certain police office near the place of their evacuation last September. The life of a policeman was utterly different from what he had dreamed of. The contents of his salary envelope was too meager to keep his long cherished dreams from collapsing. His income for November totalled only 60 yen, including salary and allowances, while that for December amounted to 100 yen with year-end bonus included. He naturally had to contemplate resignation, even though he only ate two meals a day, as it was impossible for him to get along any differently. At the year's end, he resolved to resign, but was pursuaded to remain by his chief at that time.

Finally, unable to bear the pressure of the actual living reality, he resigned, and found work with the Occupation Forces on 16 January. On the third day, the 18th, he left home, taking a bowl of gruel for breakfast early in the morning. At about 1000, he happened to find a can containing pears. Spurred by hunger, he approached it and found it to have a small hole. No sooner had he brought the can to his lips than he was caught by a Military Policeman.

His father is still ill in bed, and his illness is taking a serious turn. The young culprit is said to be seeking an uplift in the treatment of policemen, stimulated by an unending interest for "the good

- 2 -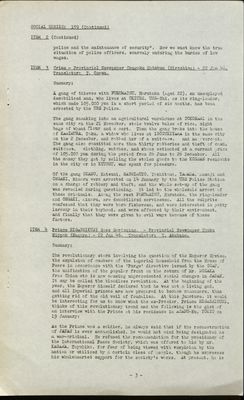 (View Page Image)
SOCIAL SERIES: 199 (Continued)
police and the maintenance of security". Now we must know the true situation of police officers, scarcely enduring the burden of low wages.

ITEM 3 Crime - Provincial Newspaper Chugoku Shimbun (Hiroshima) - 22 Jan 46. Translator: T. Ogawa.
Summary:

A gang of thieves with FURUMATSU, Harutaka (aged 22), an unemployed demobilized man, who lives at OKIUBE, USE-Shi, as its ring-leader, which made 105,000 yen in a short period of six months, has been arrested by the UBE Police.

The gang sneaking into an agricultural warehouse at TOKONAMI in the same city on the 21 November, stole twelve bales of rice, eight bags of wheat flour and a cart. Then the gong broke into the house of KAMIMURA, Toku, a widow who lives at ISOZUKIYAMA in the same city on the 2 December, and robbed her of a suitcase, and an overcoat. The gang also committed more than thirty robberies and theft of cash, suitcase, clothing, watches, and shoes estimated at a current price of 105,000 yen during the period from 26 June to 26 December. All the money they got by selling the stolen goods to the KOREAN residents in the city or in KYUSHU, was spent for pleasure.

Of the gang OKANO, Katsumi, HASHIMOTO, Yoshitomo, YAMADA, I Masaji and OHGAKI, Mincru were arrested on 14 January by the UBE Police Station on a charge of robbery and theft, and the whole set-up of the gang was revealed during questioning. It led to the wholesale arrest of these criminals. Among the rest FORUMATSU, Harutaka, the ring-leader and OHGAKI, Minoru, are demobilized servicemen. All the culprits confessed that they were born fishermen, and were interested in petty larceny in their boyhood, and were affected by their environment, and finally that they were given to evil ways because of these factors.

ITEM 4 Prince HIGASHIKUNI Goes Gardening. - Provincial Newspaper Chubu Nippon (Nagoya) - 22 Jan 46. Translator: Y. Akabane.
Summary:

The revolutionary storm involving the question of the Emperor System, the expulsion of members of the imperial household from the House of Peers in accordance with the 'Purge' directive issued by the SCAP, the unification of the popular front on the return of Mr. NOZAKA from China etc is now causing unprecedented social changes in JAPAN. It may be called the bloodless revolution. At the beginning of the year, the Emperor himself declared that he was not a living god, and all Imperial princes are now prepared to become commoners, thus getting rid of the old veil of feudalism. At this juncture, it would be interesting for us to know what the ex-Premier, Prince HIGASHIKUNI, thinks of this revolutionary trend and the following is the gist of an interview with the Prince at his residence in ASABU-Ku, TOKYO on 19 January:

As the Prince was a soldier, he always said that if the reconstruction of JAPAN is ever accomplished, he would not mind being designated as a war-criminal. He refused the recommendation for the presidency of the International Peace Society, which was offered to him by Mr. KAGAWA, Toyohiko, for fear of being viewed with suspicion by the nation or utilized by a certain class of people, though he expresses his wholehearted support for the society's works. At present, he is

- 3 -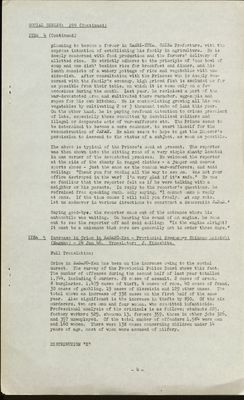 (View Page Image)
SOCIAL SERIES: 199 (Continued)
planning to become a farmer in SMRI-ZUKA, CHIBA Prefecture, with the express intention of establishing his family in agriculture. He is deeply concerned with food production and the farmers' delivery of allotted rice. He strictly adheres to the principle of 'one bowl of soup and one dish' besides rice for breakfast and dinner, and his lunch consists of a watery pottage of rice and vegetables with one side-dish. After consultation with the Princess who is deeply Concerned with the family's economy, high priced fish is excluded as for as possible from their table, on which it is seen only on a few occasions during the month. Last year, he reclaimed a part of the war-devastated area and cultivated there cucumber, egg-apple and rapes for his own kitchen. He is contemplating growing all his own vegetables by cultivating 2 or 3 thousand tsubo of land this year. On the other hand, he is paying profound attention to crimes prevalent of late, especially those committed by demobilized soldiers and illegal or desperate acts of war-sufferers etc. The prince seems to be determined to become a mere commoner, to exert himself for the reconstruction of JAPAN. He also seems to hope to get the Emperor's permission to descend to the status of a subject, as soon as possible.

The above is typical of the Prince's mood at present. The reporter was then shown into the sitting room of a very simple shanty located in one corner of the devastated premises. Ha welcomed the reporter at the side of the shanty in ragged clothes - a jumper and canvas sports shoes - just the same as the common war-sufferers, and said smiling: "Thank you for coining all the way to see me. Was not your office destroyed in the war? I'm very glad if it's safe." He was so familiar that the reporter felt as if he were talking with a neighbor or his parents. In reply to the reporter's questions, he refrained from speaking much, only saying, "I cannot make a reply at once. If the time comes I will tell you freely. At any rate, let us endeavor in various directions to construct a democratic JAPAN."

Saying good-bye, the reporter came out of the entrance where his automobile was waiting. On hearing the sound of an engine, he came out to see the reporter off and said smiling: "Is the engine alright? It must be a nuisance that cars are generally not in order these days."

ITEM 5 Increase in Crime in NAGANO-Ken - Provincial Newspaper Shinano Mainichi (Nagano) - 24 Jan 46. Translator: J. Kinoshita.
Full Translation:

Crime in NAGANO-Ken has been on the increase owing to the social unrest. The survey of the Provincial Police Board shows this fact. The number of offences during the second half of last year totalled 1,744, including 6 murders, 28 cases of assault, 2 cases of arson, 8 burglaries, 1,479 cases of theft, 4 cases of rape, 40 cases of fraud, 30 cases of gambling, 19 cases of disseizin and 129 other cases. The total shows an increase of 938 cases on the first half of the same year. Also significant is the increase in thefts by 890. Of the six murderers, two are men and four women, who committed infanticide. Professional analysis of the criminals is as follows; students 225, factory workers 525, shopmen 13, farmers 359, those in other jobs 326, and 397 unemployed. Of the total number of offenders 1,584 were men and l60 women. There were 138 causes concerning children under years of age, most of whom were accused of pilfery.

DISTRIBUTION "X"

- 4 -