Press translations [Japan]. Social Series 0196, 1946-01-25.
translation-number: social-0926
call-number: DS801 .S84
---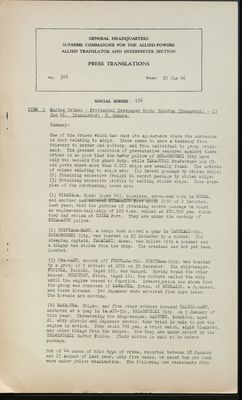 (View Page Image)
GENERAL HEADQUARTERS

SUPREME COMMANDER FOR THE ALLIED POWERS

ALLIED TRANSLATOR AND INTERPRETER SECTION

PRESS TRANSLATIONS

SOCIAL SERIES: 196

ITEM 1 Marine Crimes - Provincial Newspaper Bocho Shimbun (Yamaguchi) 17 Jan 46. Translator: S. Sakata.
Summary:

One of the crimes which has made its appearance since the surrender is that relating to ships. Crime seems to show a tendency from thievery to murder and robbery, and from individual to group criminals. The present condition of preventative measures against these crimes is so poor that the harbor police of SHIMONOSEKI City have only two vessels for guard duty, while YAMAGUCHI Prefecture has 20-odd ports where more than 2,000 ships are usually found. The motives of crimes relating to ships are: (1) Secret passage by stolen ships; (2) Obtaining excessive freight in secret passage by stolen ships; (3) Obtaining excessive profits by selling stolen ships. Some examples of the outstanding cases are:
HIRAYAMA, Hondo (aged 44), homeless, ex-seaman born in KOREA, and another man entered KUDAMATSU Port about 2100 of 2 December, last year, with the purpose of obtaining secret passage on board an engine-and-sail-ship of 120 tons, valued at 200,000 yen, which they had stolen at UJINA Port. They are under the custody of KUDAMATSU police.
TOKUYAMA-MARU, a cargo boat moored a quay in TAKEZAKI-Cho, SHIMONOSEKI City, was boarded on 29 December by a robber. The sleeping captain, YAMAZAKI, Masao, was killed with a spanner and a dinghy was stolen from the ship. The criminal has not yet been located.
OWA-MARU, moored off FUKUKAWA-Cho, TOKUYAMA City, was boarded by a group of 5 robbers at 2200 on 30 December. The ship-keeper, FUJIOKA, Teiichi, (aged 16), was hanged. Having bound the other keeper, SUETSUGU, Mitsu, (aged 14), the robbers sailed the ship until the engine ceased to function. Investigation has shown that the group was composed of KAWAMURA, Tetsu, of HOKKAIDO, a Japanese, and three Koreans. Two Japanese were arrested five days later. The Koreans are missing.
NAKAMURA, Shigeo, and five other robbers invaded TAlSEI-MARU, anchored at a quay in YAMATO-Cho, SHIMONOSEKI City, on 3 January of this year. Threatening the ship-keeper, MATSUNO, Renkichi, aged 21, with pistols and Japanese swords, they tried in vain to put the engine in motion. They stole 700 yen, a wrist watch, eight blankets, and other things from the keeper. Now they are under arrest by the SHIMONOSEKI Harbor Police. Their motive is said to be secret passage.
Out of 44 cases of this type of crime, reported between 10 January and 15 August of last year, only five cases, or about ten per cent were under police examination. The following are statements from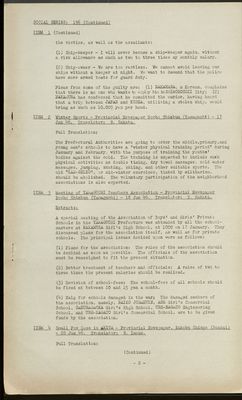 (View Page Image)
SOCIAL SERIES: 196 (Continued)
the victims, as well as the assailants:
Ship-keeper - I will never become a ship-keeper again, without a risk allowance as much as two to three times my monthly salary.
Ship-owner - We are too restless. We cannot avoid leaving our ships without a keeper at night. We want to demand that the police have more armed boats for guard duty.
Pleas from some of the guilty are: (1) NAKAHARA, a Korean, complains that there is no one who wants to employ him in SHIMONOSEKI City; (2) NAKAMURA has confessed that he committed the murder, having heard that a trip between JAPAN and KOREA, utilizing a stolen ship, would bring as much as 10,000 yen per head.

ITEM 2 Winter Sports - Provincial Newspaper Bocho Shimbun (Yamaguchi) - 17 Jan 46. Translator: S. Sakata.
Full Translation:

The Prefectural Authorities are going to order the middle, primary and young men's schools to have a "winter physical training period" during January and February, with the purpose of training the youths' bodies against the cold. The training is expected to include such physical activities as double timing, dry towel massages, cold water massages, jumping, skating, skiing, and other suitable sports. The old "KAN-GEIKO", or mid-winter exercises, tinted by militarism, should be abolished. The voluntary participation of the neighborhood associations is also expected.

ITEM 3 Meeting of YAMAGUCHI Teachers Association - Provincial Newspaper Bocho Shimbun (Yamaguchi) - 18 Jan 46. Translator: S. Sakata.
Extracts:

A special meeting of the Association of Boys' and Girls' Private Schools in the YAMAGUCHI Prefecture was attended by all the schoolmasters at NAKAMURA Girl's High School, at 1000 on 17 January. They discussed plans for the association itself, as well as for private schools. The principal issues decided upon were as follows:
Plans for the association: The rules of the association should be decided as soon as possible. The officials of the association must be reassigned to fit the present situation.
Better treatment of teachers and officials: A raise of two to three times the present salaries should be realized.
Revision of school-fees: The school-fees of all schools should be fixed at between 10 and 15 yen a month.
Help for schools damaged in the war; The damaged members of the association, namely, BAIKO JOGAKUIN, ABE Girl's Commercial School, SAKURAGAOKA Girl's High School, UBE-NAGATO Engineering School, and UBE -NAGATO Girl's Commercial School, are to be given funds by the association.
ITEM 4 Small Pox Case in AKITA - Provincial Newspaper, Kahoku Shimpo (Sendai)
20 Jan 46. Translator: S. Inoue.
Full Translation:

(Continued)

- 2 -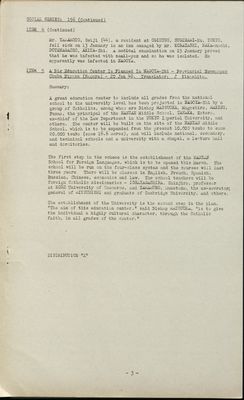 (View Page Image)
SOCIAL SERIES: 196 (Continued)
Mr. YAKAMOTO, Seiji (44), a resident at OGIKUBO, SUGINAMI-Ku, TOKYO, fell sick on 13 January in an inn managed by Mr. KOBAYASHI, NAKA-Machi, DOTENAGACHO, AKITA-Shi. A medical examination on 19 January proved that he was infected with small-pox and so he was isolated. He apparently was infected in NAGOYA.

ITEM 5 A Big Education Center Is Planned NAGOYA-Shi - Provincial Newspaper Chubu Nippon (Nagoya) - 20 Jan 46. Translator: J Kinoshita.
Summary:

A great education center to include all grades from the national school to the university level has been projected in NAGOYA-Shi by a group of Catholics, among whom are Bishop MATSUOKA, Magoshiro, MAKINO, Fusao, the principal of the NANZAN Middle School, TANAKA, Kotaro, ex-chief of the Law Department in the TOKYO Imperial University, and others. The center will be built on the site of the NANZAN Middle School, which is to be expanded from the present 10,000 tsubo to some 20,000 tsubo (some 16.6 acres), and will include national, secondary, and technical schools and a university with a chapel, a lecture hall and dormitories.

The first step in the scheme is the establishment of the NANZAN School for Foreign Languages, which is to be opened this March. The school will be run on the four-class system and the courses will last three years. There will be classes in English, French, Spanish, Russian, Chinese, economics and law. The school teachers will be foreign Catholic missionaries - IOHUTAGASHIRA, Shinjiro, professor at KOBE University of Commerce, and YAMAMURO, Munetada, the ex-secretary general of MITSUBISHI and graduate of Cambridge University, and others.

The establishment of the University is the second step in the plan. "The aim of this education center," said Bishop MATSUOKA, "is to give the individual a highly cultured character, through the Catholic faith, in all grades of the center."

DISTRIBUTION "X"

- 3 -