Press translations [Japan]. Social Series 0191, 1946-01-23.
translation-number: social-0896
call-number: DS801 .S84
---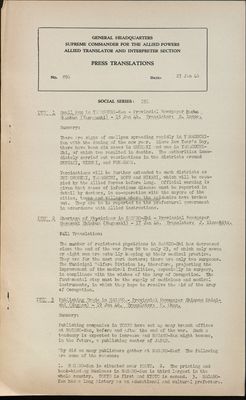 (View Page Image)
GENERAL HEADQUARTERS

SUPREME COMMANDER FOR THE ALLIED POWERS

ALLIED TRANSLATOR AND INTERPRETER SECTION

PRESS TRANSLATIONS

SOCIAL SERIES: 191

ITEM 1 Small Pox in YAMAGUCHI-Ken - Provincial Newspaper Bocho Shimbun (Yamaguchi) - 15 Jan 46 Translator: S. Inoue.
Summary:

There are signs of smallpox spreading rapidly in YAMAGUCHI-Ken with the coming of the new year. Since New Year's Day, there have been six cases in SENZAKI and one in YAMAGUCHI-Shi, of which two resulted in deaths. The authorities immediately carried out vaccinations in the districts around SENZAKI, MISUMI, and FUKAGAMA.

Vaccinations will be further extended to such districts as SHIKONOSEKI, YAMAGUCHI, BOFU and HIKARI, which will be occupied by the Allied Forces before long. Official warning is given that cases of infectious disease must be reported in detail by doctors, in co-operation with the mayors of the cities, towns and villages where the epidemics have broken out. They are to be reported to the prefectural government in accordance with Allied instructions.

ITEM 2 Shortage of Physicians in SASEBO-Shi - Provincial Newspaper Nagasaki Shimbun (Nagasaki) - 17 Jan 46. Translator: J. Kinoshita.
Full Translation:

The number of registered physicians in SASEBO-Shi has decreased since the end of the war from 98 to only 23, of which only seven or eight men are actually keeping up their medical practice. They are for the most part doctors; there are only two surgeons. The Municipal Welfare Division is, therefore, projecting the improvement of the medical facilities, especially in surgery, in compliance with the wishes of the Army of Occupation. The fundamental step must be the supply of medicines and medical instruments, in which they hope to receive the aid of the Army of Occupation.

ITEM 3 Publishing Trade in NAGANO.- Provincial Newspaper Shinano Mainichi (Nagano) - 19 Jan Translator: N. Ohno.
Summary:

Publishing companies in TOKYO have set up many branch offices at NAGANO-Ken, before and after the end of the war. Such a tendency is expected to increase and NAGANO-Ken might become, in the future, a publishing center of JAPAN.

Why did so many publishers gather at NAGANO-Ken? The following are some of the reasons:

1. NAGANO-Ken is situated near TOKYO. 2. The printing and book-binding business in NAGANO-Ken is third largest in the whole country. TOKYO is first and KYOTO is second. 3. NAGANO-Ken has a long history as an educational and cultural prefecture.

(View Page Image)
SOCIAL SERIES: 191 (Continued)
4. A considerable number of novelists and other writers have come to NAGANO-Ken.

The publishing companies which have their branch office in NAGANO-Ken are the IWANAMI-SHOTEN, SHINCHO-SHA, TSUKUBA-SHOBO, SOGEN-SHA, KAISEI-KAN, KODAN-SHA, FUIKU-SHUPPAN SHA, and SANKAI-DO. The printing and book-binding businesses are conducted at NAGANO-Shi, MATSUMOTO-Shi, OKAYA-Shi, INA-Shi, and IWAMURATA-Machi.

During the period from the end of the war to 20 December of last year, 600,000 copies of 40 books, estimated worth about 1,300,000 yen, were produced in NAGANO-Shi. Some of these are as follows: "Current Study on Buddhism (BUKKYO NO GEN
[illegible]
AI TEKI KENKYU)" by ABE , Yoshiharu; "Outline of Financial Science (ZAISEIGAKU TAIKO)" by OUCHI, Hyoe; "Our Science Was Defeated (
[illegible]
GA KAGAKU YABURE TARI) " by TOMIZUKA, Kiyoshi; "New Explanation on
[illegible]
ANNYO SHU, or a Collection of Old Japanese Poems (MANNYOSHU SHINKAI)", by TAKEDA, Yukichi; and "Morning Cloud (ASAGUMO)" by KAWABATA, Yasunari.
The activities of these branch offices are now supplementary to those of the head offices in TOKYO. However, in these days when cultural development in the provincial districts is being considered as a necessary thing, the branch offices are expected to become independent of their head offices in TOKYO. On the other hand, in step with this tendency, the number of men wishing to become publishers is increasing in NAGANO-Ken. A member of the I
[illegible]
NA
[illegible]
-SHOTEN NAGANO Branch Office said, "We have two offices at NAGANO-Shi and SUWA-Shi. The printing faculty in NAGANO-Ken is a noteworthy one. Our employer, IWANAMI, hails from NAGANO -Ken and so NAGANO is a very suitable place for us. Our NAGANO Branch Office might become independent of the management of the Head Office in TOKYO.
ITEM 4 Entrance Examinations for Secondary Schools to be Postponed - Provincial Newspaper Shinano Mainichi (Nagano) - 20 Jan 46. Translator: J. Kinoshita.
Full Translation:

The school inspectors' conference of NAGANO-Ken, held, on 18 and 19 January at the Prefectural Office, decided the entrance examinations for secondary schools in the coming school year would take place in April. The unusual postponement in the date of examinations was decided upon in view of the fact that both secondary and national schools would have lessons up to the end of March to make up for lost time caused by various public works and abolition of trains for externs.

Accordingly written application for admission to secondary schools may be presented up to 15 March and the entrance examinations will be held during the period from 1 to 7 April with the announcement of successful applicants made before 10 April.

ITEM 5 Crime - Yomiuri-Hochi - 22 Jan 46. Tarnslator: H Nishihara.
Full Translation:

Around 03.30 on 21 January, four burglars in one group broke into the house of FUKUI, Takeo, of 34, 5-Chome, ASAGAY, SUGINAKI-Ku. The family was threatened with pistols and a sword,

- 2 -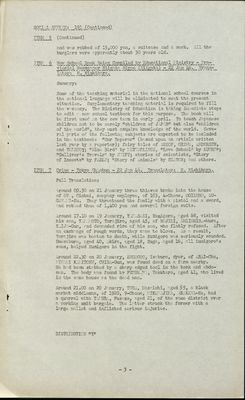 (View Page Image)
SOCIAL SERIES: 192 (Continued)
and was robbed of 15,000 yen, a suitcase and a sack. All the burglars were apparently about 30 years old.

ITEM 6 New School Book Being Compiled by Educational Ministry - Provincial Newspaper Niigate Nippo (Niigata) - 22 Jan 46. Translator: H. Nishihara.
Summary:

Some of the teaching material in the national school courses in the national language will be eliminated to meet the present situation. Supplementary teaching material is required to fill the vacancy. The Ministry of Education is taking immediate steps to edit a new school textbook for this purpose. The book will be first used in the new term in early April. To teach Japanese children not to be merely "children of JAPAN" but also "children of the world", they must acquire knowledge of the world. Several parts of the following subjects are expected to be included in the textbook: "Our Emperor" (based upon an article written last year by a reporter); fairy tales of AESOP, GRIMM, ANDERSEN, and TOLSTOY; "Blue Bird" by METTERLINCK, "Love School' by KUORE*; "Gulliver's Travels" by SWIFT; stories of scientists, "Story of Insects" by FABLE; "Story of Animals" by SEATON; and others.

ITEM 7 Crime - Tokyo Shimbun - 22 Jan 46. Translator: H. Nishihara.
Full Translation:

Around 00.30 on 21 January three thieves broke into the house of OTA, Ginkei, company employee, of 103, 4-Chorae, OGIKUBO, SUGIMAMI-Ku. They threatened the family with a pistol and a sword, and robbed them of 1,400 yen end several foreign suits.

Around 17.10 on 19 January, YAMASAKI, Kunigoro, aged 68, visited his son, YAMAMOTO, Torajiro, aged 45, of NOJIRI, SHIISHIBA-Mura, KAIJO-Gun, and demanded rice of his son, who flatly refused. After an exchange of rough words, they came to blows. As a result, Torajiro was beaten to death, while Kunigoro was seriously wounded. Umesaburo, aged 40, Akira, aged 18, Suga, aged 16, all Kunigoro's sons, helped Kunigoro in the fight.

Around 22.30 on 20 January, ENOMOTO, Iseburo, dyer, of, ARAI-Cho,
[illegible]
INAMI KAMITOKU, CHIBA-Gun, was found dead on a farm nearby. He had been stabbed by a sharp edged tool in the back and abdomen. The body was found by FURUKAWA, Tokutaro, aged 41, who lived in the same house as the dead man.
Around 21.00 on 20 January, TODA, Maseichi, aged 55, a black market middleman, of 1920, 9-Chome, MIKAWAJIMA, ARAKAWA-Ku, had a quarrel with TAMURA, Fusazo, aged 21, of the same district over a working smit bargain. The latter struck the former with a large mallet and inflicted serious injuries.

DISTRIBUTION "X"

- 3 -