Press translations [Japan]. Social Series 0190, 1946-01-22.
translation-number: social-0891
call-number: DS801 .S84
---
(View Page Image)
GENERAL HEADQUARTERS

SUPREME COMMANDER FOR THE ALLIED POWERS

ALLIED TRANSLATOR AND INTERPRETER SECTION

PRESS TRANSLATIONS

SOCIAL SERIES: 190

ITEM 1 Foundation of Japanese Culture (Part 8) - Mainichi Shimbun - 21 Jan 46. Translator: Y. Akabane.
Summary:

MAINICHI: The phrase "cultural JAPAN" is now very popular among us. I am anxious to know what we should do or in what way we must behave ourselves from now on.

YAGI: I have at present no concrete idea or plan. People should have more confidence in themselves, and it may well be said that it is religions belief which is wanting among the Japanese. Without this, even concrete policies may not be of much service to society. How can confidence or belief be given to the people? Social or democratic tendencies ought to be introduced in that direction, but the concrete ways and means are difficult to realize. At least those who are in leading social positions with a good education as well as educators in general must first have belief. If this forms a social tendency, concrete policies will without fail have the full play of their value.

KATAYAMA: Political vices and defects are responsible for the present poverty and disorderly conditions of JAPAN. The standard of the construction of a cultural country is political revolution. Politics is the composite product of almost all the elements of a Country. Religions belief and new education, comprising truth, good, and beauty, are all supported by politics in some way or other. This is what drove students to the war and gave them their mistaken notion in politics Therefore, we must strive in a new direction, using the present opportunity, or else no culture will appear in JAPAN, nor can a peaceful JAPAN be established. We must push our way to political revolution. What is wanted most now is the establishment of a political theory or ideology, and policies must come out along these lines. In this sense the political ideology of the JAPAN Social-Democrat Party comprises a thoroughness of democracy, a realization of socialism, and dissemination of pacifism, on the foundation of which a cultural country can be established by accomplishing new policies, new education, and new social institutions. Truth must be made the foundation of education.

TANAKA: Political ideals, which are the basis of politics, must be right according to Mr. KATAYAMA. This naturally leads to the question of belief. For example the question of what is culture in a cultural country is nothing but the question of the view of life and the world. Unless we have a clear conception in connection with this point, "the cultural country" may become a mere subject of prayer or sermon. The same may be said regarding democracy, and different interpretations may arise. Similarly the interpretation of a cultural JAPAN should not differ and should be strictly in conformity with objective truth, including morals. Such a truth is by no means a product of defeat in the war, nor has it been discovered by us. It is the truth taught by ancient sages over 2,000 years ago. This must be the political and educational foundation. In conclusion, it is human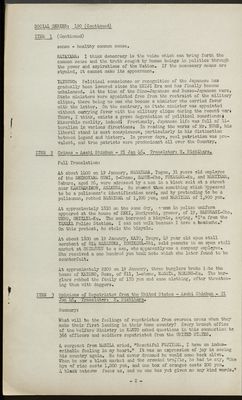 (View Page Image)
SOCIAL SERIES: 190 (Continued)
sense - healthy common sense.

KATAYAMA: I think democracy is the voice which can bring forth the common sense and the truth sought by human beings in politics through the power and aspirations of the Nation. If the necessary means are stymied, it cannot make its appearance.

TATSUNO: Political conscience or recognition of the Japanese has gradually been lowered since the MEIJI Era and has finally become unbalanced. At the time of the Sino-Japanese and Russo-Japanese wars, State ministers were appointed free from the restraint of the military clique, there being no one who became a minister who carried favor with the latter. On the contrary, no State minister was appointed without currying favor with the military clique during the recent war There, I think, exists a grave degradation of political conscience. Miserable reality, indeed! Previously, Japanese life was full of liberalism in various directions. In reading the works of Mr. KUME, his liberal stand is most conspicuous, particularly in his distinction between legend and history. In prewar days, real patriotism was prevalent, and true patriots were predominant all over the Country.

ITEM 2 Crimes - Asahi Shimbun - 21 Jan 46. Translator: H. Nishihara.
Full Translation:

At about 1400 on 19 January, NAGAYAMA, Togon, 31 years old employee of the SHIROYAMA GUMI, 2-Chome, SARUE-Cho, FUKAGAWA-Ku, and NARIYAMA, Saburo, aged 26, were addressed by a man in a black suit at a street near KAMINARIMON, ASAKUSA. He showed them something which appeared to be a policeman's identification card, and by pretending to be a policeman, robbed NAGAYAMA of 1,200 yen, and NARIYAMA of 1,900 yen.

At approximately 1810 on the same day, - a
[illegible]
man in police uniform appeared at the house of SEKI, Moriyoshi, grocer, of 19, SAKURAGI-Cho, UENO, SHITAYA-Ku, The man borrowed a bicycle, saying, "I'm from the YANAKA Police Station. I can not walk because I have a headache." On this pretext, he stole the bicycle.
At about 1800 on 19 January, KATO, Tsuyo, 49 year old open stall merchant of 814 SASAZUKA, ICHIKAWA-Shi, sold peanuts in an open stall market at SHINJUKU to a man, who apparently was a company employee. She received a one hundred yen bank note which she later found to be counterfeit.

At approximately 2200 on 19 January, three burglars broke into the house of KATANO, Suzu, of 811, 1-chome, NAGATA, NAKANO-Ku. The burglars robbed the family of 170 yen and some clothing, after threatening thorn with daggers.

ITEM 3 Opinions of Repatriates from the United States - Asahi Shimbun - 21 Jan 46. Translator: H. Nishihara.
Summary:

What will be the feelings of repatriates from oversea areas when they make their first landing in their home country? Every branch office of the Welfare Ministry in KANTO asked questions in this connection to 366 officers and soldiers repatriated from the UNITED STATES.

A sergeant from MANILA cried, "Beautiful FUJIYAMA, I have an indescribable feeling in my heart." It was an expression of joy in seeing his country again. He had never dreamed he would come back alive. When he saw a black market and the crowded traffic, he had to say, "One hyo of rice costs 1,000 yen, and one box of oranges costs 200 yen. A bleak outcome faces us, and no one has yet given me any kind words,"

- 2 -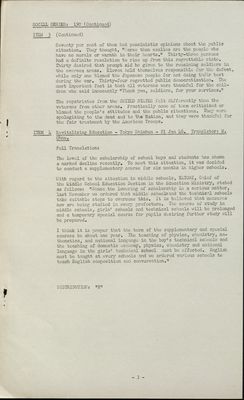 (View Page Image)
SOCIAL SERIES: 190 (Continued)
Seventy per cent of them had pessimistic opinions about the public situation. They thought, "Worse than coolies are the people who have no morals or warmth in their hearts." Thirty-three persons had a definite resolution to rise up from this regrettable state. Thirty desired that prompt aid be given to the remaining soldiers in the oversea areas. Eleven held themselves responsible for the defeat, while only one blamed the Japanese people for not doing their best during the war Thirty-four regretted public democratization. The most important fact is that all veterans were thankful for the children who said innocently "Thank you, soldiers, for your services."

The repatriates from the UNITED STATES felt differently than the veterans from other areas. Practically none of them criticized or blamed the people's attitudes and the public situations. They were apologizing to the dead and to the Nation, and they were thankful for the fair treatment by the American Troops.

ITEM 4 Revitalizing Education - Tokyo Shimbun - 21 Jan 46. Translator: M. Ohno.
Full Translation:

The level of the scholarship of school boys and students has shown a marked decline recently. To meet this situation, it was decided to conduct a supplementary course for six months in higher schools.

With regard to the situation in middle schools, YATOMI, Chief of the Middle School Education Section in the Education Ministry, stated as follows: "Since the lowering of scholarship in a serious matter, last November we ordered that middle schools and the technical schools take suitable steps to overcome this. It is believed that measures now are being studied in every prefecture. The course of study in middle schools, girls' schools and technical schools will be prolonged and a temporary special course for pupils desiring further study will be prepared.

I think it is proper that the term of the supplementary and special courses be about one year. The teaching of physics, chemistry, mathematics, and national language in the boy's technical schools and the teaching of domestic economy, physics, chemistry and national language in the girls' technical school mist be effected. English must be taught at every schools and we ordered various schools to teach English composition and conversation,"

DISTRIBUTION: "X"

- 3 -