Press translations [Japan]. Social Series 0185, 1946-01-20.
translation-number: social-0864
call-number: DS801 .S84
---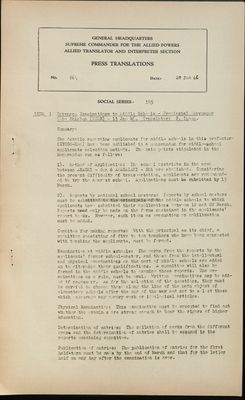 (View Page Image)
GENERAL HEADQUARTERS

SUPREME COMMANDER FOR THE ALLIED POWERS

ALLIED TRANSLATOR AND INTERPRETER SECTION

PRESS TRANSLATIONS

SOCIAL SERIES: 185

ITEM 1 Entrance Examinations to Middle Schools - Provincial Newspaper Kobe Shinbun (KOBE) - 13 Jan 46. Translator: S. Inoue.
Summary:

The details regarding applicants for middle schools in this prefecture (HYOGO-Ken) have been published in a memorandum for middle-school applicants selection methods. The main points stipulated in the Memorandum run as follows:
Method of Application: The school districts in the area between AKASHI - Gun & AMAGAZAKI - Shi are abolished. Considering the present difficulty of transportation, applicants are recommended to try the nearest school. Applications must be submitted by 15 March.
Reports by national school masters: Reports by school masters mast be submitted to the principals of the middle schools to which applicants have submitted their applications between 18 and 22 March. Reports need only be made on the forms contained in the applicants' report books. However, such items as evacuation on mobilization must be added.
Commitee for making reports: With the principal as its chief, a committee consisting of five to ten teachers who have been connected with teaching the applicants, must be formed.

Examination at middle schools: The marks from the reports by the applicants' former school-master, and these from the intellectual and physical examinations on the part of middle schools are added up to determine their qualifications. A committee will also be formed in the middle schools to examine these reports. The examinations as a rule, must be oral. Written examinations may be added if necessary. As for the selection of the questions, they must be careful to choose those along the line of the main object of elementary schools after the end of the war and not to select those which encourage any memory work or idealogical articles.

Physical Examination: This examination must be executed to find out whether the examines are strong enough to bear the rigors of higher education.

Determination of entries: The collation of marks from the different exams and the determination of entries shall be assumed in the reports examining committee.

Publication of entries: The publication of entries for the first half-term must be made by the end of March and that for the latter half on any day after the examination is over.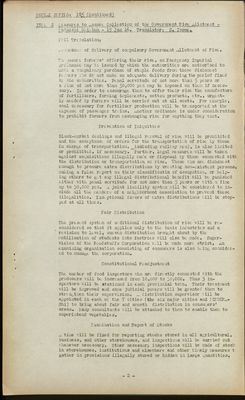 (View Page Image)
SOCIAL SERIES: 185 (Continued)
ITEM 2 Measures to Assure Collection of the Government Rice Allotment - Mainichi Shimbun - 19 Jan 46. Translator: S. Inoue.
Full Translation:

Assurance of delivery of compulsory Government Allotment of Rice.

To assure farmers' offering their rice, an Emergency Imperial Ordinance may be issued by which the authorities are authorized to make a compulsory purchase of staple foods from those dishonest fammers who do not make an adequate delivery during the period fixed by the authorities. Penal servitude of not more than 5 years or a fine of not more than 50,000 yen may be imposed on them if necessary. In order to encourage them to offer their rice the manufacture of fertilizers, farming implements, cotton products, etc., urgently needed by farmers will be carried out at all costs. For example, coal necessary for fertilizer production will be transported at the expense of passenger trains. Another ordinance is under consideration to prohibit farmers from exchanging rice for anything they want.

Prevention of Iniquities

Black-market dealings and illegal removal of rice will be prohibited and the acceptance of orders for the transportation of rice by those in charge of transportation, including railway men), is also limited or prohibited, if necessary. Further, legal measures will be taken against acquisitions illegally made or disposal by those connected with the distribution or transportation of rice. Those who are dishonest enough to procure extra distributions by creating non-existent persons, making a false report on their classification of occupation, or helping others to get any illegal distributional benefit will be punished either with penal servitude for not mare than 5 years or with a fine up to 30,000 yen. A joint liability system will be considered to include all the members of a neighborhood association to prevent these illegalities. Exceptional favors of extra distributions will be stopped at all times.

Fair Distribution

The present system of additional distribution of rice will be reconsidered so that it applies only to the basic industries and a revision to level, uneven distribution brought about by the mobilization of students into factries will also be made. Supervision of the Foodstuff's Corporation will be made more strict. An examining organization consisting of consumers is also being considered to manage the corporation.

Constitutional Readjustment

The number of food inspectors who are directly connected with the producers will be increased from 10,000 to 30,000. Thus 3 inspectors will be stationed in each provincial town. Their treatment will be improved and some judicial powers will be granted them to strengthen their supervision. A distribution supervisor will be appointed in each of the 7 cities (the six major cities and FUKUOKA-Shi) to bring about fair and smooth distribution in consumers' areas. Many consultants will be attached to them to enable them to superintend vegetables.

Examination and Report of Stocks

A time will be fixed for reporting stocks stored in all agricultural, business, and other storehouses, and inspections will be carried cut whenever necessary. Other necessary inspections will be made of stock in storehouses, institutions and elsewhere and other timely measures to gather in provisions illegally stored or hidden in large quantities.

- 2 -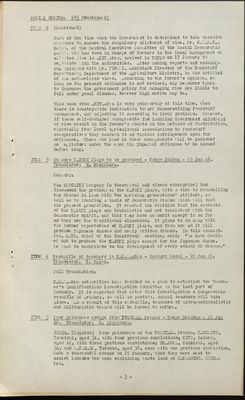 (View Page Image)
SOCIAL SERIES: 185 (Continued)
Just at the time when the Government is determined to take decisive measures to ensure the compulsary allotment of rice, Mr. KAWAMATA, Seion, of the Central Executive Committee of the Social Democratic party, who has been in charge of farmers in the local management of allotted rice AKITA-Ken, arrived in TOKYO on 17 January to negotiate with the authorities. After making reports and exchanging opinions with Mr. KUSUKI, Assistant Director of the Foodstuff Supervising Department of the Agriculture Ministry, he was notified of the authorities views. According to the former's opinion, so long as the present ordinance is not revised, any measures taken to denounce the government policy for managing rice are liable to fall under penal clauses, however high motive may be.

This case from AKITA-Ken is very noteworthy at this time, when there is country-wide inclination toward democratizing foodstuff management, and adjusting it according to local problems. However, if these self-designed managements for handling Government allotment of rice result in the farmer's doubts in the methods of distribution, especially from local agricultural associations to foodstuff co-operatives they condemn it as vicious infringement upon the ordinance. Those who lead in these managements will be punished as agitators under the emerging Imperial ordinance to be issued before long.

ITEM 3 No more KABUKI Plays to be produced - Yokyo Simbun - 20 Jan 46. Translator: H. Nishihara.
Summary:

The SHOCHIKU Company (a theatrical and cinema enterprise) has discussed the problem of the KABUKI plays, with a view to remodelling the dramas in line with the uprising generations' attitude, as well as to founding a basis of democratic dramas which will suit the present generation. It reached the decision that the contents of the KABUKI plays are feudalistic and not consistent with the democratic spirit, and that they have no merit except in so far as they are the traditional classics. It plans to do away with the former repertories of KABUKI plays, and from now on it will produce Japanese dances and newly written dramas. In this connection, SATO, chief of the theatrical section, said: We have decided not to produce the KABUKI plays except for the Japanese dance. We went to contribute to the development of every school of dramas."

ITEM 4 Reshuffle of teachers in KAGAWA-Ken - Yomiuri Hochi - 20 Jan 46. Translator: T. Ogawa.
Full Translation:

KAGAWA-Ken authorities have decided on a plan to establish the Teacher's Qualifications Investigation Committee in the last part of January. It is expected that after this investigation a large-scale reshuffle of primary, as well as youth's, school teachers will take place. As a result of this reshuffle, teachers of ultra-nationalistic and militaristic trends will be forced to refiro.

ITME 5 Four prisoners escape from TOYOTAMA Prison - Tokyo Shimbun - 20 Jan 46. Translator: H. Nishihara.
(CHIBA Dispatch) Four prisoners of the TOYOTAMA Prison, TANIMOTO, Taneichi, aged 31, with four previous convictions, KITO, Saburo, aged 24, with three previous convictions; OKAMURA, Daikichi, aged 34; and WATANABE, Tatsuzo, aged 36, each with one previous conviction, made a successful escape on 19 January, when they were sent to assist labours who were reclaiming waste land at NARASHINO, CHIBA-Ken.

- 3 -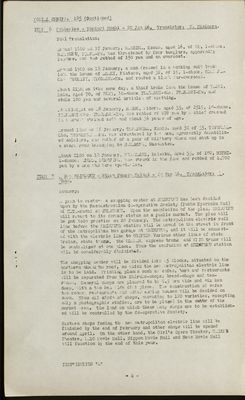 (View Page Image)
SOCIAL SERIES: 185 (Continued)
ITEM 6 Robberies - Yomiuri Hochi - 20 Jan 46, Translator: H. Nisihara.
Full Translation:

Around 1600 on 17 January, HASHIMA, Kazuo, aged 16, of 24, 1-chome, NAKANOBU, FBARA-Ku, was threatened by four burglars, apparently labours, and was robbed of 150 yen and an overcoat.

Abound 1900 on 15 January, a man dressed in a working suit broke into the house of ASAHI, Rintaro, aged 32, of 19, 1-chome, ODAWAFA-Cho TSUKYJI, KYOBASHY-Ku, and robbed a black fur-overcoat.

About 2130, on the same day, a thief broke into the house of YASUI, Kata, aged 70, of 2823, 10-chome ITABASHI-cho, ITABASHI-Ku, and stole 100 yen and several articles of clothing.

At midnight on 18 January, HANNO, Midori. aged 35, of 2519, 10-chome, ITAFASHI-Cho. ITABASHK-Ku, was robbed of 270 yen by a thief dressed in a brown striped suit and about 36 years of age.

Around 1200 on 18 January, TERASHIMA, Kunio, aged 32 of 55, TOYOKAWA Cho, KOISHIGAI-Ku, was threatened by the men, apparently demobilized soldiers, and robbed of a pair of military shoes and shut up in a store room belonging to NAKAMURA, Masaketsu.

About 2100 on 18 January, KO
[illegible]
ZASHI, Heisaku, aged 35, of 102, NISHI 4-chome, AZUMA, MUKOJIMA, was struck in the face and robbed of 4,700 yen by a man who wore spectacles.
ITEM 7 A New SHINJUKU - Nihon Sangyo Keizai - 20 Jan 46. Translator:

[illegible]

. Ohno.
Summary:

A plan to restore a shopping center at SHINJUKU has been decided upon by the Reconstruction Co-operative Society (Fukko Kyoryoku Kai) of KITA-Machi at SHINJUKU. Upon the completion of the plan, SHINJUKU will revert to its former status as a public market. The plan will be put into practice on 20 January. The metropolitan electric rail line before the SHINJUKU station will be moved to the street in front of the metropolitan bus garage at SHINJUKU, and it will be connected with the electric line to OGIKUBO Various other lines of state trains, state trams, the ODAWARA express trams and KEIO trams will be centralized at one place. Thus the confusion at SHINJUKU station will be considerably diminished

The shopping center will be divided into 15 blocks, situated on the northern side of the road, on which the new metropolitan electric line is to be laid. Drinking places such as cafes, bars and restaurants will be separated from the Shiruko-shops, bread-shops and tearooms. General shops are planned to be 2.5 ken vide and Six ken deep, with a two ken wide di
[illegible]
t place. The construction of cafes tea rooms, restaurants and other eating houses will be decided on soon. Thus all kinds of shops, amounting to 120 varieties, excepting only a photographic studied, are to be placed in the center of the market area. The land on which these many shops are to be established will be controlled by the Co-operative Society.
Sixteen shops facing the new metropolitan electric line will be finished by the end of February and other shops will be opened around April. On the other hand, the Girl's Opera Theater, TAISHO Theatre, WAYO Movie Hall, Nippon Movie Hall and News Movie Hall will function by the end of this year.

DISTRIBUTION "X"

- 4 -