Press translations [Japan]. Social Series 0184, 1946-01-21.
translation-number: social-0860
call-number: DS801 .S84
---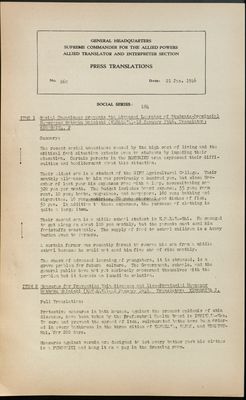 (View Page Image)
GENERAL HEADQUARTERS

SUPREME COMMANDER FOR THE ALLIED POWERS

ALLIED TRANSLATOR AND INTERPRETER SECTION

PRESS TRANSLATIONS

No. 860 Date:
21 Jan. 1946
SOCIAL SERIES: 184

ITME 1 Social Uneasiness prevents the Advanced Learning of Students-Provincial Newspaper Hokkoku Mainichi (KANAZAWA) - 12 January 1946. Translator: KINCSHITA. J
Summary:

The recent social uneasiness caused by the high cost of living and the critical food situation extends oven to students by impeding their education. Certain parents in the HOKURIKU area expressed their difficulties and bewilderment about this situation.

Their eldest son is a student of the GIFU Agricultural College. Their monthly allowance to him was previously a hundred yen, but since November of last year his expenses rose with a leap, necessitating now 320 yen per month. The budget includes board expense, 55 yen; room rent, 10 yen; books, magazines, and newspapers, 100 yen; bathing and cigarettes, 40 yen; sundries, 70 yen; charcoal and dishes of fish, 50 yen. In addition to those expenses, the purchase of clothing is quite a large item.

Their second son is a middle school student in KANAZAWA-Shi. He managed to get along on about 100 yen monthly, but the parents must send him foodstuffs constantly. The supply of food to school children is a heavy burden even to farmers.

A certain farmer was recently forced to remove his son from a middle school because he could not send him five sho of rice monthly.

The check of advanced learning of youngsters, it is stressed, is a grave problem for future culture. The Government, schools, and the general public have not yet seriously concerned themselves with the problem but it demands an immediate solution.

ITEM 2 Measures for Preventing Skin diseases and lice-Provincial Newpaper Hokkoku Mainichi (KANAZAWA) 12 January 1946. Translator; KINOSHITA J.
Full Translation:

Protective measures in bath houses, against the present epidemic of skin diseases, have been taken by the Prefecutral Health Board in ISHIKAWA-Ken To cure and prevent the spread of itch, sulphurated baths have been ordered in every bathhouse in the three cities of KANAZAWA, NANAO, and KOMTSU-Shi. for 200 days.

Measures against vermin are designed to let every bather pack his clothes in a FUROSHIKI and hang it on a peg in the dressing room.

(View Page Image)
SOCIAL SERIES: 184 (Continued)
ITEM 3 Theft of Rice-Asahi Shimbun-19 January 1946. Translator: OGAWA. Tenoye.
Summary:

Yesterday, at 0100 hours, a burglar broke into the night duty room of a citizens' huffet, in the premises of the USHIGOME Primary School, at USHIG0M5-HARAMACHI, 2-Chome, USHIGOME-Ku.

Mr. SUGIURA, Yasuji, who was on duty at the tire, was hit on the head with a piece of fiewood and tied up with some rope. Then the burglar threatened his victim with a kitchen knife, but after hearing that he had no money on hand, the burglar sat down composedly to a hearty meal.

After having eaten, the burglar ran away with two "to" of rice wrapped in a big FUROSHIKI, one "sho" of rice in a towel, and three "sho" of rice in a white canvas bag.

The burglar, however, was arrested around 0430 at the IIDABASHI Station by policement from the KAGURAZAKA Police. They were able to waylay the culprit because of timely instructions from the WASEDA POLICE.

ITEM 4 Reduction in the number of Natiopal School-Yomiuri Hochi-19 January 1946. Translator: NISHIHARA H.
Summary:

The Education Bur au of the TOKYO Office has decided to discharge about 1,300 teachers from the National Schools to make room for new and younger teachers, thereby introducing fresh blood into the teaching world.

About 200 teachers, aged 50 or more, will be discharged, as well as some 400 women pensioners, aged 40 or pore, about 200 inefficient teachers, and 500 assistant women teachers, who are of marriageable ages, The TOKYO Office will demand their voluntary resignations through their schoolmasters.

Simultaneous to their discharge, many schoolmasters will be dismissed when the burned national schools are liquidated. These measures will be realized at the beginning of the new school term.

In addition, a measure will be carried out to appoint for every school a special teacher of science, a teacher who will take charge of the business of the school, and n teacher who will take the place of absent teachers.

Of 355 national schools in TOKYO which were burned during the war, 141 will be liquidated at the beginning of the new school term in April. Before that time the Bureau will publish its decision concerning the schools which will accommodate the children from the liquidated schools.

At first the Bureau planned to liquidate 163 schools, but, in conformity with public opinion, it consulted with ward chiefs and members of the municipal assembly. As a result, the above decision was reached.

Thus, the present number of 675 national schools in 35 words in TOKYO will be decreased to 534.

In connection with the liquidation of burned middle schools, the Bureau is planning to be away with about 30 schools. It will be done after discussing the matter first with ever group in order to determine public opinion. Before long a decision will be reached in accordance with public opinion.
- 2 -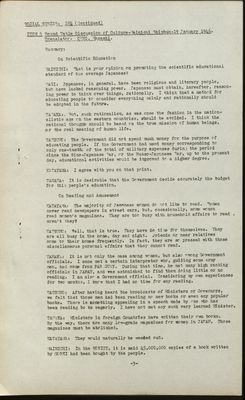 (View Page Image)
SOCIAL SERIES: 184 (Continued)
ITEM 5 Round Table Discussion of Culture-Meinichi Shimbun-19 January 1946. Translator: OHNO, Masashi.
Summary:

On Scientific Education

MAINICHI: What is your opinion on promoting the scientific educational standard of the average Japanese?

YAGI: Japanese, in general, have been religious and literary people, but have lacked reasoning power. Japanese must obtain, hereafter, reasoning power to think over things, rationally. I think that a method for educating people to consider everything calmly and rationally should be adopted in the future.

TAWAAKA: But, such rationalism, as was once the fashion in the nationalistic age on the western countries, should be avoided. I think the rational thoughts should be based on the true mission of human beings, or the real meaning of human life.

TATSUNO: The Government did not spend much money for the purpose of educating people. If the Government had used money corresponding to only one-tenth: of the total of military expenses during the period since the Sino-Japanese war or the Russo-Japanese war, up to the present day, educational activities would be improved to a higher degree.

KATAYAMA: I agree with you on that point.

TANAKA: It is desirable that the Government decide accurately the budget for this people's education.

On Reading and Amusement

KATAYAMA: The majority of Japanese women do not like to read. Women never read newspapers in street cars, but, occasionally, some women read women's magazines. They are too busy with household affairs to read aren't they?

TATSUNO: Well, that is true. They have no time for themselves. They are all busy in the home, day and night. Friends or near relatives come to their homes frequently. In fact, they are so pressed with those miscellaneous personal affairs that they cannot read.

TANAKA: It is not only the case among women, but also among Government officials. I once met a certain interpreter who, guiding some army men, had come from PARAGUAY. During that time, he met many high ranking officials in JAPAN, and was astonished to find them doing little or no reading. I am also a Government official. Considering my own experiences for two months, I know that I had no time for any reading.

TATSUNO: After having heard the broadcasts of Ministers or Governors, we felt that those men had been reading no new books or even any popular books. There is something appealing in a speech made by one who has been reading books eagerly. I have not met any such very learned Minister.

TANAKA: Ministers in foreign Countries have written their own books. By the way, there are many low-grade magazines for women in JAPAN. Those magazines must be abolished.

KATAYAMA: They would naturally be weeded out.

MAINICHI: In the SCVIET, it is said 45,000,000 copies of a book written by GORKI had been bought by the people.

- 3 -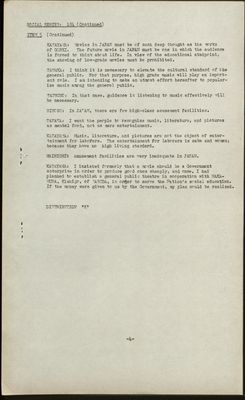 (View Page Image)
SOCIAL SERIES: 184 (Continued)
KATAYAMA: movies in JAPAN must be of such deep thought as the works of GORKI. The future movie in JAPAN must be one in which the audience is forced to think about life. In view of the educational standpoint, the showing of low-grade movies must be prohibited.

TANAKA: I think it is necessary to ele
[illegible]
nte the cultural standard of the general public. For that purpose, high grade music will play an important role. I am intending to make an utmost effort hereafter to popularize music among the general public.
TATSUNO: In that case, guidance in listening to music effectively will be necessary.

NINOBE: In JAPAN, there are few high-class amusement facilities.

TANAKA: I want the people to recognize music, literature, and pictures as mental food, not as mere entertainment.

KATAYAMA: Music, literature, and pictures are not the object of entertainment for laborers. The entertainment for laborers is sake and women; because they have no high living standard.

MAINICHI: Amusement facilities are very inadequate in JAPAN.

KATAYAMA: I insisted formerly that a movie should be a Government enterprise in order to produce good ones cheaply, and once, I had planned to establish a general public theatre in cooperation with NAKAMURA, Kishigo, of WASEDA, in order to serve the Nation's social education. If the money were given to us by the Government, my plan could be realized.

DISTRIBUTION "X"

- 4 -