Press translations [Japan]. Social Series 0177, 1946-01-18.
translation-number: social-0815
call-number: DS801 .S84
---
(View Page Image)
GENERAL HEADQUARTERS

SUPREME COMMANDER FOR THE ALLIED POWERS

ALLIED TRANSLATOR AND INTERPRETER SECTION

PRESS TRANSLATIONS

SOCIAL SERIES: 177

ITEM 1 Increase of Crimes in NIIGATA-Ken - Provincial Newspaper Niigata Nippo - (Niigata) - 14 Jan 46. Translator: J. Kinoshita.
The remarkable increase of robbery in NIIGATA-Ken is clearly shown by crime statistics for November and December of last year, issued by the NIIGATA Provincial Law Court. The thefts are mostly concerned with goods, such as food, clothing and bicycles. The bulk of the crimes are first offences, committed by unemployed persons between 17 and 26. Their motive is usually to get money for carousing. The root of these offences lies in the social uneasiness, together with unemployment and the vicious inflation, which demand a political solution.

The 14 offenders, who are now locked up at the NIIGATA police station, are mostly young and middle-aged men, who have committed robberies under pressure of difficult living. The increase in the numbers of children and women offenders is said to be significant.

ITEM 2 Birth Control - Nippon Sangyo Keizai - l6 Jan 46. Translator: H. Nishihara.
Full Translation:

Birth control is being discussed to ascertain a concensus of opinion, the Public in all circles. Opinion Investigation Institute of JAPAN polled representative individuals with the following results:

114 persons (63 per cent) ——- favor birth control
62 persons (35 per cent) ——- oppose birth control
4 persons (2 per cent) ——- are neutral

Of those questioned, 78 per cent wore males.

The reasons given for favoring birth control are: safeguarding women's health, eugenics, and the food shortage, Moreover, hygiene and morality were emphasized. Those opposed stated that birth control will decrease the population.

Among 16 doctors, 13 favored birth control and three were in opposition. The opinions of two midwives wore divided, for and against.

ITEM 3 Ships and crews to return repatriates - Asahi Shimbun - l6 Jan 46. Translator: S. Inoue.
Summary:

It is reported that the UNITED STATES is gracious enough

(View Page Image)
SOCIAL SERIES: 177 (Continued)
to lend JAPAN ships to enable her to bring back those left behind overseas or to transport imported goods. These are 100 LST's. 100 liberty ships and nine CI-type cargo ships. The terms of the loan are as indefinite as the date of the conclusion of the repatriations, bat no Allied crew members are available.

By this American gestire, we will have a means to transport, at one time, 422,000 repatriates and 100,000 tons of goods in the JAPAN-KOREA Area. However, in order to pat these ships in full operation, about 2,900 officers and 11,000 sailors are needed. Under these conditions, it is predicted that it will to very difficult to provide that many crew members. This is mainly due to the fact that sailors, thrown into confusion after the end of the war without any allowances, are now very busy dealing in black markets or working in harbors in co-operation with the occupation troops. Moreover, those who were summoned last December by telegrams containing the words, "By General MacARTHUR's Directive," rushed to YOKOHAMA only to find neither food nor shelter on Now Year's Day. All of this was due to the Indifference shown by the Shipping Management Bureau.

Although they are now using the ROBERT LOUIS STEVENSON, a liberty ship, to accomodate these seamen, blankets and food are, of course, not sufficient to give them any satisfaction. Thus, their negligence is hampering the work which will play a great role in postwar rehabilitation.

What is worse, the bureau will be dissolved before long and seamen now in its charge will be returned to their former shipping companies. They are now trying to make up a crew for a ship with seamen of every rank. This is also making the ship schedules more complicated. We sincerely hope for measures by the bureau on beneficial to seamen.

ITEM 4 Japanese in YENAN - Asahi Shimbun - 16 Jan 46. Translator: T. Ogawa.
Summary:

Five comrades mentioned below are men who were repatriated together with Mr. NOSAKA, Sanji, to JAPAN, their fatherland, where the storm of the bloodless revolution is raging for democracy. All these comrades have had very romantic careers because each of them was captures by the Communist 8th Route Army while they were at the continental front as soldiers or employees of the South Manchurian Railway Company. They were sent to YENAN, where they received lessons on communism. They made an about free and became the leaders of the Japanese Emancipation League. They changed from disciples of the Imperialistic war to members of the vanguard sworn to smash up Imperialism. These people were called "brothers in YENAN" and were welcomed as if they were veterans who had made a triumphant return. Upon arriving in TOKYO, their true names were revealed.

Their aliases and true names are as follows:- YOSHIZUMI, Kiyoshi (32) of KOBUKUBO-Cho, KAHO-Gun, FUKUOKA-Ken, alias (in YENAN) - MORI, Ken; KAGAWA, Takashi (32), of AWA-Gun, KAGAWA-Ken, alias UMEDA, Terubomi; SATO, Takeo, of HISAKATA-Cho, KOISHIKAWA-Ku, TOKYO, alias YAMADA, Ichiro; UEHARA, Tai of TOKIWA-Cho, URAWA-Shi, alias MATSUE , Ichiro; and OKADA, Bunkichi, of OKAYAMA-Shi.

- 2 -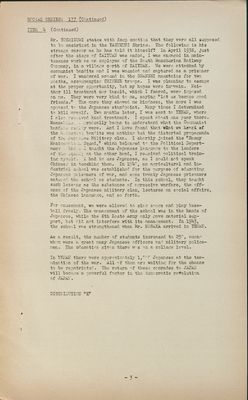 (View Page Image)
SOCIAL SERIES: 177 (Continued)
Mr. YOSHIZUMI states with deep emotion that they were all supposed to ho enshrined in the YASUKUNI Shrine. The following is his strange career as he has told it himself: In April 1938, just after the siege of TAIYUAN was ended. I was engaged in maintenance work as an employee of the South Manchurian Railway Company, in a village north of TAIYUAN. We were attacked by communist bandits and I was wounded and captured as a prisoner of war. I wandered around in the SHANSHI mountains for two months, accompanying CHINESE troops. I was planning to escape at the proper opportunity, but my hopes were in vain. Neither ill treatment nor insult, which I feared, were imposed on me. They were very kind to me, saying "let us "become good friends." The more they showed me kindness, the more I was opposed to the Japanese standpoint. Many times I determined to kill myself. Two months later, I was sent to YENAN, where I also received kind treatment. I spent about one year there. Meanwhile
[illegible]
gradually began to understand what the Communist bandits
[illegible]
were. And I have found that what we heard of the Communist bandits was nothing but the distorted propaganda of the Japanese Military clan. I shortly joined the "Enemy
[illegible]
Squad," which belonged to the Political Department There I taught the Japanese language to the leaders of the
[illegible]
on the other hand, I received political training myself. I had to use Japanese, as I could not speak Chinese in teaching them. In 1940, an agricultural and Industrial school was established for the purpose of educating Japanese prisoners of war, and some twenty Japanese prisoners entered the school as students. In this school, they taught such lessons as the substance of aggressive warfare, the offence of the Japanese military clan, lectures on social affairs, the Chinese language, and so forth.
For amusement, we were allowed to sing songs and play baseball freely. The management of the school was in the hands of Japanese, while the 8th Route Army only gave material support, but did not interfere with its management. In 1943, the school was strengthened when Mr. NOSAKA arrived in YENAN.

As a result, the number of students increased to 250, among whom were a great many Japanese officers and military policemen. The education given there was on a college level.

In YENAN there were approximately 1,000 Japanese at the termination of the war. All of them are waiting for the chance to be repatriated. The return of these comrades to JAPAN will become a powerful factor in the democratic revolution of JAPAN.

DISTRIBUTION "X"

- 3 -