Press translations [Japan]. Social Series 0171, 1946-01-16.
translation-number: social-0781
call-number: DS801 .S84
---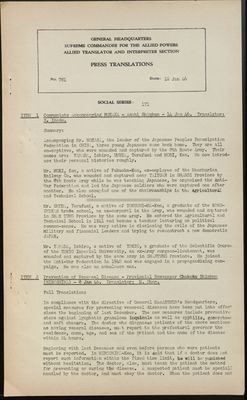 (View Page Image)
GENERAL HEADQUARTERS

SUPREME COMMANDER FOR THE ALLIED POWERS

ALLIED TRANSLATOR AND INTERPRETER SECTION

PRESS TRANSLATIONS

SOCIAL SERIES: 171

ITEM 1 Communists Accompanying NOZAKA - Asahi Shimbun - 14 Jan 46. Translator: S. Inode.
Summary:

Accompanying Mr. NOZAKA, the leader of the Japanese Peoples Emancipation Federation in CHINA, three young Japanese came back home. They are all en-captives, who were wounded and captured by the 8th Route Army. Their names are: YAMADA, Ichiro, UMEDA, Terufumi and MORI, Ken. We now introduce their personal histories roughly.

Mr. MORI, Ken, a native of Fukuoka-Ken, ex-employee of the Manchurian Railway Co. was wounded and captured near TAIYUAN in SHANSI Province by the 8th Route Army while he was teaching Japanese, he organized the Anti-War Federation and led the Japanese soldiers who were captured one after another. He also occupied one of the chairmanships in the Agricultural and Technical School.

Mr. UMEDA, Terufumi, a native of TOKUSHI-MA-Ken, a graduate of the KOKUSHIKAN trade school, an ex-corporal in the Army, was wounded and captured in SHAN TUNG Province by the same army. He entered the Agricultural and Technical School in 1941 and became a teacher lecturing on political common-sense. He was very active in disclosing the evils of the Japanese military and financial leaders and trying to reconstruct a new democratic JAPAN.

Mr. YAMADA, Ichiro, a native of TOKYO, a graduate of the Scientific Course of the TOKYO Imperial University, an ex-Army surgeon-lieutenant, was wounded and captured by the same army in SHANTUNG Province. He joined the Anti-War Federation in 1940 and was engaged in a propagandizing campaign. He was also an ambulance man.

ITEM 2 Prevention of Venereal Disease - Provincial Newspaper Chukoku Shimbun (HIROSHIMA) - 8 Jan 46. Translator: M. Ohno.
Full Translation:

In compliance with the directive of General MacARTHUR's Headquarters, special measures for preventing venereal diseases have been put into effect since the beginning of last December. The new measures include preventive steps against lymphatic granuloma inquinale as well as syphilis, gonorrhoea and soft chancre. The doctor who diagnoses patients of the above mentioned as having veneral diseases, must report to the prefectural governor the residence, name, age, and sex of the patient and the name of the disease within 24 hours.

Beginning with last December and even before persons who were patients must be reported. In HIROSHIMA-Ken, it is said that if a doctor does not report such information within the fixed time limit, he will be punished without hesitation. The doctor, also, must teach the patient the method for preventing or curing the disease. A suspected patient must be special handled by the doctor, and must obey the doctor. When the patient does not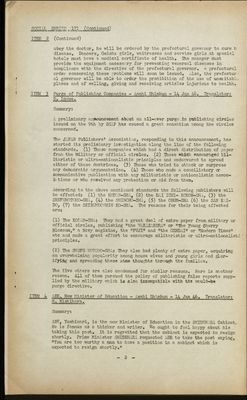 (View Page Image)
SOCIAL SERIES 171 (Continued)
obey the doctor, he will be ordered by the prefectural governor to cure disease. Dancers, Geisha girls, waitresses and service girls at special hotels must hove a medical certificate of health. The manager must provide the equipment necessary for preventing venereal diseases in compliance with the directive of the prefectural governor. A prefectural order concerning these problems will soon be issued. Also, the prefectural governor will be able to order the prohibition of the use of unsuitable places and of selling, giving and receiving articles injurious to health.

ITEM 3 Purge of Publishing Companies - Asahi Shimbun - 14 Jan 46. Translator: D. Inoue.
Summary:

A preliminary announcement about an all-over purge in publishing circles issued on the 9th by SCAP has caused a great sensation among the circles concerned.

The JAPAN Publishers! Association, responding to this announcement, has started its preliminary investigation along the line of the following standards. (1) Those companies which had a direct distribution of paper from the military or official circles. (2) Those which encouraged Militaristic or ultra-nationalistic principles and endeavored to spread either of these doctrines. (3) Those who tried to attack or surpress any democratic argumentation. (4) Those who made a conciliatory or communicative publication with any militaristic or nationalistic associations or who received any protection or aid from them.

According to the above mentioned standards the following publishers will be affected: (1) the KODAN-SHA, (2) the DAI ICHI- KORON-SHA, (3) the SHUFUNOTOMO-SHA, (4) the SHINCHO-SHA, (5) the OBUN-SHA (6) the SAN KAIDO, (7) the SEIBUNDOSHIN KO-SHA. The reasons for their being affected are:
The KOEAN-SHA: They had a great deal of extra-paper from military or official circles, publishing "the WAKAZAKURA" or "The young Cherry Blossom," a Navy magizine, the "FUJI" and "the GENDAI" or "Modern Times" etc and made a great effort to encourage militaristic or ultra-nationalist principles.
The SHUFU NOTOMO-SHA: They also had plenty of extra paper, acquiring an overwhelming popularity among house wives and young girls and glorifying and spreading these same thoughts through the families.
The five others are also condemned for similar reasons. Here is another reason. All of them pursued the policy of publishing false reports supplied by the military which is also imcompatible with the would-be purge directive.

ITEM 4 ABE, New Minister of Education - Asahi Shimbun - 14 Jan 46. Translator: H. Nishihara.
Summary:

ABE, Yoshinari, is the new Minister of Education in the SHIDEHARA Cabinet, He is famous as a thinker and writer. We ought to feel happy about his taking this post. It is regretted that the cabinet is expected to resign shortly. Prime Minister SHIDEHARA requested ABE to take the post saying, "You are too worthy a man to have a position in a cabinet which is expected to resign shortly,"

- 2 -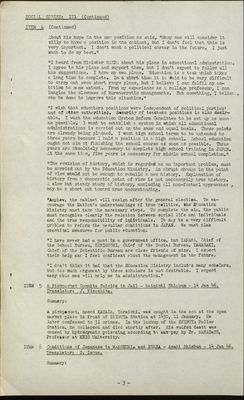 (View Page Image)
SOCIAL SERIES: 171 (Continued)
About his hope in the new position he said, "Many men will consider it silly to have a position in the cabinet, but I don't feel that this is very important. I don't want a political career in the future. I just want to do my best."

"I heard from Minister MAEDA about his plans in educational adminstration. I agree to his plans and support them, but I don't expect to follow all his suggestions. I have my own plans. Education is a task which takes a long time to complete. In a short time it is said to be very difficult to carry out even short range plans, but I believe I can fulfil ray ambition to some extent. From my experience as a college professor, I can imagine the slowness of bureaucratic managements. But something, I believe, can be done to improve this situation."

"I wish that educators positions were independent of political parties' and of other authorities. Security of teachers positions is also desirable. I want the education System Reform Committee to be set up as soon as possible. I want to establish a system in which all educational administrations is carried out on the same and equal basis. These points are already being planned. I want high school terms to be extended to three years because I held a position in a high school. School education ought not aim at finishing the school course as soon as possible. Three years are absolutely necessary to complete high school training in JAPAN. At the same tire, five years is necessary for middle school completion."

"The revision of history, which is regarded as an important problem, must be carried out by the Education Ministry. An abrupt change in the point of view would not be enough to rebuild a new history. Explanation of history from a democratic point of view is not necessarily true history. A slow but steady study of history, excluding all non-factual approaches, may be a short cut toward true understanding.

"Anyhow, the cabinet will resign after the general election. To encourage the Ration's understandings of true politics, the Education Ministry must take the necessary steps. To complete the aim, the public must recognize clearly the relation between social life and individuals and the true responsibility of individuals. It may be a very difficult problem to reform the peculiar conditions in JAPAN. We must plan practical measures for public education.

"I have never had a post in a government office, but TANAKA, Chief of the School Bureau, SEKIGUCHI, Chief of the Social Bureau, YAMASAKI, Chief of the Scientific Bureau are close friends of mine. I expect their help and. I feel confident about the management in the future.

"I don't think it bad that the Education Ministry includes many scholars, but too much argument by these scholars is not desirable. I expect many able men will help me in administration."

ITEM 5 A Pickpocket Commits Suicide in Jail - Mainichi Shimbun - 14 Jan 46. Translator: J. Kinoshita.
Summary:

A pickpocket, named KATADA, Toraichi, was caught in the act at the open market place in front of SHIBUYA Station at 1430, 11 January. He later confessed to 31 crimes. In the lockup of the SHIBUYA Police Station, he collapsed and died shortly after. His sudden death was caused by hydrocyanic poisoning according to autopsy by Dr. SAKADATE, Professor at KEIO University.

ITEM 6 Conditions of Japanese in MANCHURIA and KOREA - Asahi Shimbun - 14 Jan 46. Translator: S. Inoue.
Summary:

- 3 -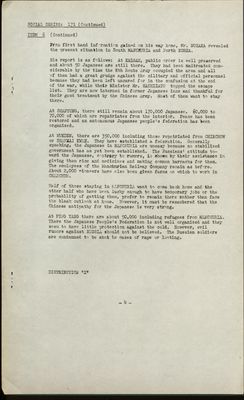 (View Page Image)
SOCIAL-SERIES: 171 (Continued)
From first hand information gained on his way home, Mr. NOZAKA revealed the present situation in South MANCHURIA and Forth KOREA.

His report is as follows: At KALGAN, public order is well preserved and about 50 Japanese are still there. They had been maltreated considerable by the time the 8th Route Army occupied the area and all of them had a great grudge against the military and official personnel because they had been left uncared for in the confusion at the end of the war, while their Minister Mr. HACHIZATO topped the escape list. They are now interned in former Japanese inns and thankful for their good treatment by the Chinese Army. Most of them want to stay there.

At SHANTUNG, there still remain about 170,000 Japanese. 60,000 to 70,000 of which are repatriates from the interior. Peace has been restored and an autonomous Japanese people's federation has been organized.

At MUKDEN, there are 350,000 including those repatriated from CHINCHOW or SHANHAI KWAN. They have established a federation. Generally speaking, the Japanese in MANCHURIA are uneasy because no stabilized government has as yet been established. The Russians' attitude toward the Japanese, contrary to rumors, is shown by their assistance in giving them rice and medicines and making common barracks for them. The employees of the Manchurian Railway Company remain as before. About 2,000 pioneers have also been given farms on which to work in CHANCKUK.

Half of those staying in MANCHURIA want to come back home and the other half who have been lucky enough to have temporary jobs or the probability of getting them, prefer to remain there rather than face the bleak outlook at home. However, it must be remembered that the Chinese antipathy for the Japanese is very strong.

At PING YANG there are about 50,000 including refugees from MANCHURIA. There the Japanese People's Federation is not well organized and they seem to have little protection against the cold. However, evil rumors against RUSSIA should not be believed. The Russian soldiers are condemned to be shot in cases of rape or looting.

DISTRIBUTION "X"

- 4 -