Press translations [Japan]. Social Series 0169, 1946-01-15.
translation-number: social-0767
call-number: DS801 .S84
---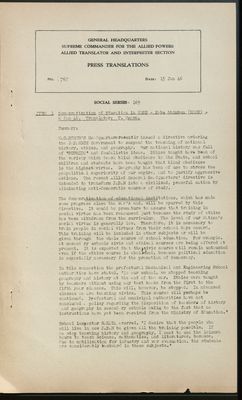 (View Page Image)
GENERAL HEADQUARTERS

SUPREME COMMANDER FOR THE ALLIED POWERS

ALLIED TRANSLATOR AND INTERPRETER SECTION

PRESS TRANSLATIONS

SOCIAL SERIES: 169

ITEM 1 Democratization of Education in KOBE - Kobs Shimbun (KOBE) - 6 Jan Translator: T. Ogawa.
Summary:

MacARTHUR'S Headquarters recently issued a directive ordering the JAPANESE Government to suspend the teaching of national history, ethics, and geography. Our national history was full of "BUSHIDO" and feudalistic ideas. Ethics taught have been of the variety which teach blind obedience to the State, and school children and students have been taught that blind obedience is the highest virtue. Geography has been of use to stress the geopolitical superiority of our empire, and to justify aggressive actions. The recent Allied General Headquarters' directive is intended to transform JAPAN into a civilized, peaceful nation by eliminating anti-democratic courses of study.

The democratization of educational institutions, which has made some progress since the war's end, will be spurred by this directive. It would be premature to assume that training in social virtue has been renounced just because the study of ethics has been withdrawn from the curriculum. The level of our Nation's social virtue is generally low. Therefore, it is necessary to train people in social virtues from their school days onward. This training will be included in other subjects or will be given through the whole course of school education. For example, at second at schools civic and ethical courses are being offered at present. It is expected that the civic course will remain untouched even if the ethics course is abolished, because political education is especially necessary for the promotion of democracy.

In this connection the prefectural Mechanical and Engineering School authorities have stated, "In our school, we stopped teaching geography and history at the end of the war. Ethics were taught by teachers without using any text bocks from the first to the fifth year classes. This will, however, be stopped. In advanced classes we are teaching civics. This course will perhaps be continued. Prefectural and municipal authorities have not concluded a policy regarding the disposition of teachers of history and geography in secondary schools owing to the feet that no instructions have yet been received from the Ministry of Education."

School inspector NAKATA averred, "I desire that the people who will live in new JAPAN be given all the training possible. If we stop teaching history and geography, I want to use the leisure hours to teach science, mathematics, and literatures, because, due to mobilization for industry and war evacuation, the students are considerably backward in these subjects."

(View Page Image)
SOCIAL SERIES: 169 (Continued)
Mr. MARUTANI, President of the KOBE Economic University, said, "It is expected that from universities down to primary schools, courses in history, ethics, and geography will be abolished. In our university we are teaching economic history. The study of this will be permitted because it is necessary for the study of economics. I believe, however, that ethics, geography; and history in the preparatory courses will surely be abolished."

Mr. FUJITA, Master of the SUWAYAMA Primary School, opines, "We must teach children in a more scientific way by wiping out militarism and mysticism from history, geography, and ethics.

This will not be easy, For instance, we cannot teach history by adding private opinions. We will have to eliminate these three courses in the forthcoming third term unless we receive some concrete instructions from the authorities. We intend, however, to hold a conference of teachers without waiting for instructions from the Authorities. Of course, we will eliminate such parts as those which state JAPAN to be the leader of Greater EAST ASIA, and those which refer to KOREA and FORMCSA. After studying carefully the textbooks published before the MANCHURIA Incident, we will draw up new teaching material regarding industry, climate, topography, communications, and cities and towns. As for ethics, it is utterly impossible to select material from the existing textbooks. We may, however, be able to emphasize morals in everyday life, or point out examples of men who observed the spirit of liberty and equality. It will, however, be quite impossible to teach history unless the authorities supply us with suitable teaching material."

Mr. MIKI, Master of the HIGASHI-KAWASAKI Primary School, stated, "There is nothing we can do unless we are instructed by the authorities. We will abolish the teaching of ethics, geography, and history in this third term. We can thus save six hours a week, which we want to use for science and mathematics in order to fill the gap caused by the evacuation during the war."

Mr. MATSUI, Assistant Master of the NISHI-SUMA Primary School, said, "Of the three courses, I do not think we can abolish ethics, even if the text books are abolished. Of course, we will not adhere to the nationalistic way of education, but we must properly teach the children morals. Public morality in defeated JAPAN is very lax. Therefore, we must endeavor to raise morality at least to the prewar level. We cannot teach history until we get instructions from the instruction Ministry."

ITEM 2 New Universities for Women - Mainichi Shimbun - 13 Jan 46. Translator: Y. Akabane.
Summary:

The Education Ministry has clarified its revolutionary intention of bringing about educational equality between men and women through mixed education in universities and the establishment of women's universities. The new policy was made public the other day in a pamphlet called "New Outline on the Renovation of Female Education." Along this line the JAPAN Women's University at MEJIRO and TSUEA-JUKU Professional School are now going to raise their status to real universities by next April. The following are the plans of these two schools:

JAPAN Women's University: An entirely new women's university will be established, and the existing institution, functioning under the

- 2 -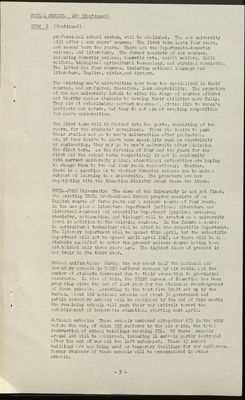 (View Page Image)
SOCIAL SERIES: 169 (Continued)
professional school system, will be abolished. The new university will offer a six years' course. The first term lasts four years, and second term two years. There are two departments-domestic science, and literature. The former consists of six courses, including domestic science, domestic arts, social welfare, Child welfare, biological agricultural technology, and physical chemistry. The latter has four courses, including national language and literature, English, civics, and history.

The existing men's universities have been too specialized in their courses, and graduates, therefore, lack adaptability. The promotors of the new university intend to widen the range of courses offered and thereby enable students to develop their abilities more fully. They aim at establishing perfect womenhood, giving life to women's instincts and nature, but they do not aim at creating competition for men's universities.

The first term will be divided into two parts, consisting of two years, for the students' convenience. Those who desire to push their studies may go to men's universities after graduation, or, if they desire to learn some speciality such as electricity or engineering, they may go to men's university after finishing the first term. As the division of four and two years for the first and the second terms respectively is not in conformity with current university policy, educational authorities are hoping to change them to two and four years respectively. Besides, there is a question as to whether domestic science ban be made a subject of learning in a university. The promoters are now negotiating with the Education Ministry about these two items.

TSUHA-JUKC University: The name of the University is not yet fixed. The existing TSUDA Professional School program consists of an English course of three years and a science course of four years. In the new plan a literature department (national literature and historical courses) and scientific department (physical sciences, chemistry, mathematics, and biology) will be created on a university level in addition to the existing courses. In the future a course in agricultural technology will be added to the scientific department. The literary department will be opened this April, but the scientific department will not be opened until April 1947, as there will be no students qualified to enter the present science course having been established only three years ago. The highest class at present is now truly in its third year.

School unification: During the war about half the national and secondary schools in TOKYO suffered damages by air raids, and the number of students decreased due to their evacuation to provincial districts. In view of this, the TOKYO Bureau of Education has been preparing since the end of last year, for the wholesale rearrangement of these schools, according to the tentative draft set up by the Bureau, about 100 national schools and about 30 government and public secondary schools will be abolished by the end of this month the remaining schools will push their way actively toward the establishment of democratic education, starting next April.

National schools: These schools numbered altogether 675 in the city before the war, of which 355 suffered by the air raids, the total destruction of school buildings reaching 274. Of these schools around 100 will be abolished, including 11 schools partly destroyed after the end of war and two left undamaged. These 13 school buildings are now being used as temporary dwellings for war sufferers Former students of these schools will, be accommodated in other schools.

- 3 -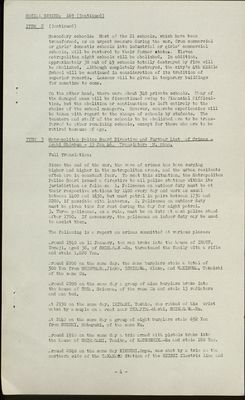 (View Page Image)
SOCIAL SERIES: 169 (Continued)
Secondary schools: Most of the 21 schools, which have been transformed, as an urgent measure during the war, from commercial or girls' domestic schools into industrial or girls' commercial schools, will be restored to their former status. Eleven metropolitan night schools will be abolished. In addition, approximately 30 out of 49 schools totally destroyed by fire will be abolished. Although completely destroyed, the city's 4th Middle School will be continued in consideration of its tradition of superior records. Lessons will be given in temporary buildings for sometime to come.

On the other hand, there were about 340 private schools. Many of the damaged ones will be discontinued owing to financial difficulties, but the abolition or continuation is left entirely to the choice of the school managers. However, concrete expediencies will be taken with regard to the change of schools by students. The teachers and staff of the schools to be abolished are to be transferred to other remaining schools, except for those who are to be retired because of age.

ITEM 3 Metropolitan Police Board Directive and Further List of Crimes - Asahi Shimbun - 13 Jan 46. Translator: M, Ohno.
Full Translation:

Since the end of the war, the wave of crimes has been surging higher and higher in the metropolitan areas, and the urban residents often are in constant fear. To meet this situation, the Metropolitan Police Board issued a directive to all police stations within its jurisdiction as follows: 1. Policemen on outdoor duty must be at their respective stations by 1400 every day and work as usual between 1400 and 1630, but must patrol in pairs between 1730 and 2200, if possible with lanterns, 2. Policemen on outdoor duty must be given time for rest during the day for night patrol. 3. Three policemen, as a rule, must be on duty at each police stand after 1700. If necessary, the policemen on indoor duty may be used to assist them.

The following is a report on crimes committed at various places:

Around 1940 on 11 January, two men broke into the house of INOUE, Tomeji, aged 38, of SHINAGAWA-Ku, threatened the family with a rifle and stole 1,820 Yen.

Around 2200 on the same day the same burglars stole a total of 500 Yen from SHINOHARA, Jinko, ICHIKAWA, Kinko, and KAKINUMA, Takaichi of the same Ku.

Around 2200 on the same day a group of nine burglars broke into the house of TODA, Seiemon, of the same Ku and stole 13 radiators and one bed.

At 2130 on the same day, IKEGAMI, Yoshio, was robbed of his wrist watch by a couple on a road near TERAJIMA-Machi, SHINAGAWA-Ku.

At 2140 on the same day a group of eight burglars stole 652 Yen from SUZUKI, Nobuyuki, of the same Ku.

Around 1910 on the same day a trio armed with pistols broke into the house of SHIMAGAMI, Tamiko, of KATSUSHIKA-Ku and stole 180 Yen.

Around 2040 on the same day KIKUCHI, Ompu, was shot by a trio on the northern side of the TAKASA
[illegible]
O Station of the KEISEI Electric Line and
- 4 -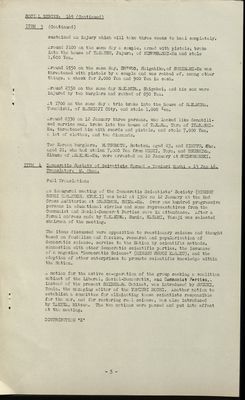 (View Page Image)
SOCIAL SERIES: 169 (Continued)
sustained an injury which will take three weeks to heel completely.

Around 2100 on the same day a couple, armed with pistols, broke into the house of TAKATSU, Jujuro, of NIHONBASHI-Ku and stole 1,600 Yen.

Around 1950 on the same day, SHTNDO, Shigehiko, of SUGINAMI-Ku was threatened with pistols by a couple and was robbed of, among other things, a check for 2,000 Yen and 900 Yen in cash.

Around 2350 on the same day NAKAMURA, Shigehei, and his son were injured by two burglars and robbed of 850 Yen.

At 1700 on the same day a trio broke into the house of NAKAMURA, Tomokichi, of HACHIOJI City, and stole 1,000 Yen.

Around 0330 on 12 January three persons, who looked like demobilized service men, broke into the house of TAKARA, Taro of ITABASHI-Ku threatened him with swords and pistols, and stole 7,000 Yen a lot of clothes, and two diamonds.

Two Korean burglars, MATSUMOTO, Hotetsu, aged 23, and KINJYU, Sho, aged 21, who had stolen 7,000 Yen from HIOKI, Toyo, and TSUSHIMA, Kikuzo of ARAKAWA-Ku, were arrested on 10 January at SHIMONOSEKI.

ITEM 4 Democratic Society of Scientists Formed - Yomiuri Hochi - 13 Jan 46. Translator: M. Ohno.
Full Translation:

An inaugural meeting of the Democratic Scientists' Society (MINSHU SHUGI KAGAKUSHA KYOKAI) was held at 1300 on 12 January at the Red Cross Auditorium at ONARIMON, SHIBA-Ku. Over one hundred progressive persons in educational circles and some representatives from the Communist and Social-Democrat Parties were in attendance. After a formal address made by TAKAKUWA, Sumio, KAZAMI, Yasoji was selected chairman of the meeting.

The items discussed were opposition to reactionary science and thought based on feudalism and fascism, research and popularization of democratic science, service to the Nation by scientific methods, connection with other democratic scientific parties, the issuance of a magazine "Democratic Science" (MINSHU SHUGI KAGAKU), and the adoption of other enterprises to promote scientific knowledge within the Nation.

A motion for the active co-operation of the group seeking a coalition cabinet of the Liberal, Social-Democratic, and Communist Parties instead of the present SHIDEHARA Cabinet, was introduced by SUZUKI, Tomin, the managing editor of the YOMIURI HOCHI. Another notion to establish a committee for eliminating those scientists responsible for the war, and for restoring real science, was also introduced by TAKEYA, Mitsuo. The two motions were passed and put into effect at the meeting.

DISTRIBUTION "X"

- 5 -