Press translations [Japan]. Social Series 0152, 1946-01-07.
translation-number: social-0660
call-number: DS801 .S84
---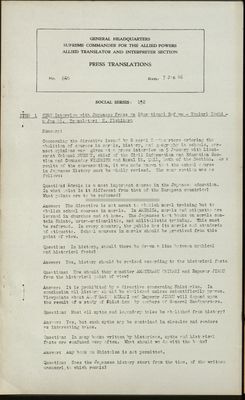 (View Page Image)
GENERAL HEADQUARTERS

SUPREME COMMANDER FOR THE ALLIED POWERS

ALLIED TRANSLATOR AND INTERPRETER SECTION

PRESS TRANSLATIONS

SOCIAL SERIES: 152

ITEM 1 CI&E Interview with Japanese Press on Educational Reform - Yomiuri Hochi - 6 Jan 46. Translators H. Nishihara
Summary:

Concerning the directive issued by General Headquarters ordering the abolition of courses in morals, history, and geography in schools, earnest opinions were given at a press interview on 5 January with Lieutenant Colonel NUGENT, chief of the Civil Information and Education Section and Commander WINDRICH and Naval Lt. HALL, both of the Section. As a results of the conversation, it was made known that the school course in Japanese History must be wholly revised. The conversation was as follows:

Question: Morals is a most important course in the Japanese education. In what point is it different from that of the European countries? What points are to be reformed?

Answer: The directive is not meant to abolish moral training but to abolish school courses in morals. In AMERICA, morals and etiquette are learned in churches and at home. The Japanese text books on morals contain Shinto, urtra-nationalitic, and militaristic training. This must be reformed. In every country, the public has its morals and standards of etiquette. School courses in morals should be practised from this point of view.

Question: In history, should there be drawn a line between mythical and historical facts?

Answer: Yes, history should be revised according to the historical facts.

Questions: How should they consider AMATERASU CMIKAMI and Emperor JIMMU from the historical point of view?

Answer: It is prohibited by a directive concerning Shinterism. In conclusion all history should be abolished unless scientifically proven. Viewpoints about AMATERASUO MIKAMI and Emperor JIMMU will depend upon the result of a study of Shinteism by members of General Headquarters.

Question: Must all myths and legendary tales be abolished from history?

Answer: Yes, but such myths may be contained in classics and readers as interesting tales.

Question: In many books written by historians, myths and historical facts are confused very often. What should we do with the books?

Answer: Any book on Shintoism is not permitted.

Question: Does the Japanese history start from the time, of the written manuscripts which remain?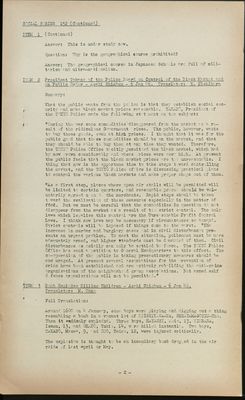 (View Page Image)
SOCIAL SERIES 152 (Continued)
Answer: This is under study now.

Question: Why is the geographical course prohibited?

Answer; The geographical course in Japanese Schools are full of militarism and ultra-nationalism.

ITEM 2 President Takano of the Police Board on Control of the Block Market and on Public Order - Asahi Shimbun - 6 Jan 46. Translator: H. Nishihara
Summary:

What the public wants from the police is that they establish social security and make black market prices reasonable. TAKANO, President of the TOKYO Police made the following statement on the subject:

"During the war some commodities disappeared from the market as a result of the ridiculous Government prices. The public, however, wants to buy these goods, even at high prices. I thought that it was for the public good that these commodities should be on the market, and that they should be able to buy them at any time they wanted. Therefore, the TOKYO Police Office tacitly permitted the black market, which had by now grown considerably and where prices were very high. At present the public feels that the black market prices are too unreasonable. I thing that now is the opportune time to take steps toward controlling the market, and the TOKYO Police office is discussing practical plans to control the various black markets and make proper shops out of them.

"As a first step, places where open air stalls will be permitted will be limited to certain quarters, and reasonable prices should be voluntarily agreed upon be the merchants, Rapid steps should be taken toward the realization of these measures especially in the matter of food. But we must be careful that the commodities in question do not disappear from the market as a result of too strict control. The only laws which legalize this control are the Unreasonable Profit Control Laws. I think new laws may be necessary if circumstances so demand. Strict controls will be imposed if things come to the worst. "The increase in murder and burglary cases and in civil disturbances presents an urgent problem. To meet the situation, policemen must be more adequately armed, and higher Standards must be demanded of them. Civil disturbances especially can only be settled by force. The TOKYO Police Office has sent a petition to General Headquarters to this effect. The co-operation of the public in taking precautionary measures should be encouraged. At present several associations for the prevention of crime have been established and are actively rebuilding the anti-crime organizations of the neighborhood group associations. But armed self defense organizations will not be permitted."

ITEM 3 Bomb Explodes Killing Children - Asahi Shimbun - 6 Jan 46. Translator: M. Ohno
Full Translation:

Around 1600 on 4 January, some boys were playing and digging out a thing resembling a bomb in a vacant lot of KOISHIKAWA-Ku, SHRAYAMAGOTEN-Cho. Then it suddenly exploded. Three boys, HAYASHI, Akio, 13, KIMBAPA, Isamu, 13, and OKADO, Yukio, 14, were killed instantly. Two boys, TAKANO, Masac, 9, and OITO, Tadao, 12, were injured critically.

The explosive is thought to be an incendiary bomb dropped in the air raids of last April or May.

- 2 -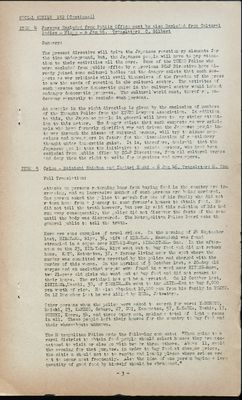 (View Page Image)
SOCIAL SERIES 152 (Continued)
ITEM 4 Persons Excluded from Public Office-must be also Excluded from Cultural Bodies - Ninpo - 6 Jan 46. Translator: C. Gilbert
Summary:

The present directive will drive the Japanese reactionary elements for the time underground, but, the Japanese people will have to pay attention to their activities all the more. Some of the TOKKO Police who were excluded from public office by a, previous SCAP Directive have already joined some cultural bodies and the danger exists that such suspects as war criminals will avail themselves of the freedom of the press to sow the seeds of reaction in the cultural sector. The activites of such persons under democratic guise in the cultural sector would indeed endanger democratic progress. The cultural world must, therefore, endeavour earnestly to exclude such persons.

An example in the right direction is given by the exclusion of members of the Thought Police from the KYOTO Lawyers Association. In addition to this, the Japanese people in general will have to say stricy attention to this matter. The danger exists that such suspects as war criminals who have formerly glorified war and driven the Japanese people into war through the misuse of cultural organs, win try to misuse magazines and newspapers in future for the dissemination of reactionary thought under democratic guise. It is, therefore, desirable that the Japanese people take the initiative, to exclude persons, who have been excluded from public office by SOAP Directives, from all cultural organs and deny them the right to write for magazines and newspapers.

ITEM 5 Crime Mainichi Shimbun and Yomiuri Hochi - 6 Jan 46. Translator: M. Ohn
Full Translation:

Attacks on persons returning home from buying food in the country are increasing, and an increasive number of such persons are being murdered. One person asked the police to search for one of his family who did not return home from a journey to some farmer's houses to obtain food. He did not tell the truth however, but merely said this relation of this had run away consequently, the police did not discover the facts of the case until the body was discovered. The Metropolitan Police Board asks the general public to tell the truth.

Here are some examples of cruel crimes. On the morning of 24 September last, HIRAYAMA Miyo, 36, wife of HIRAYAMA, Masamichi was found strangled in a copse near MINAMI-Mura. MINAMITAMA-Gun. In the afternoon on the 23, HIRAYAMA, Miye went out to buy food and did not return home. KATO, Metomatsu, 37, farmer living near the spot where the murder was committed was arrested by the police and charged with the murder of this woman. On the morning of 5 October last, a. 20-day old corpse and an unclothed corpse were found in a word near KIYOSE-Mura, two 21-year old girls who went out to buy food and did not return to their homes. The criminal has not been arrested. On 12 October last, ISHIKAWA, Masahi, 30, of TOSHIMA-Ku went to the AKITA-Ken to buy 8,000 yen worth of rice. He also obtained 10,000 yen from his family in TOKYO. On 12 December last he was killed by HODA, Jetsutaro.

Other persons whom the police were asked to search for were: YASUMOTO, Meiski, 23, KANEKO, Saburo, 27, DOI, Kanomatsu, 57, KATAOKA, Yoshic, 17, SUZUKI, Keeru, 54, and three other man, making a total of eight persons in all. These people left their houses for the country to buy food and their whereabouts unknown.

The Metropolitan Police made the following comments: "When going to a rural district to obtain food people should select houses they are accustomed to visit or else go with two or three others. Above all, avoid the evening for that purpose, in order to buy food at cheaper prices, the citizen should not to to remote and lonely places where crimes are apt to occur most frequently. Also the idea of one person buying a larg quantity of good food by himself should be abandoned."

- 3 -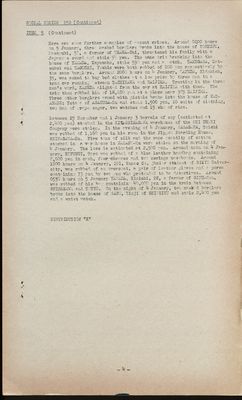 (View Page Image)
SOCIAL SERIES 152 (Continued)
Here are some further examples of recent crimes. Around 0200 hours on 5 January, three masked burglars broke into the house of YOSHINO, Masayuki, 57, a farmer of URAWA-Shi, threatened his family with a Japanese sword and stole 94 yen. The same trio breaking into the house of YAMADA, Kayusaku, stole 590 yen and a atch. TAKEGASA, Katsukei and TAGUCHI, Yoshie were both robbed of 200 yen respectively by the same burglars. Around 2000 hours on 4 January. KANEDA, Hidekich, 35, was asked to buy bed clothes at a low price by three men in a tram car running between TACHIKAWA and HAIJIEA. Trusting in the three men's word, KANEDA alighted from the car at HAIJIMA with them. The trio then robbed him of 18,200 yen at a place near 389 HAIJIMA. Three other burglars armed with pistols broke into the house of WATANABE; Yuta a of ASAKUSA-Ku and stole 1,500 yen, 10 suits if clothing, two kan of rape sugar, two watches and 15 sho of rice.

Between 29 December and 1 January 3 barrels of soy (estimated at 2,400 yen) stocked in the KITASHINAGAWA warehouse of the OKI DEINKI Company were stolen. In the evening of 4 January, SASAGAWA, Toichi was robbed of 1,160 yen in his room in the Nippon Boarding House. SHINAGAWA-Ku. Five tons of silk and the same quantity of cotton stocked in a warehouse in NAKANO-Ku were stolen on the morning of 4 January. The loss is estimated at 2,500 yen. Around noon on 4 January, KOFURUI, Tare was robbed of a blue leather handbag containing 8,000 yen in cash, four cheques and two savings passbooks. Around 1600 hours on 4 January, KUI, Kumac Co, junior student of RIKYO University, was robbed of an overcoat, a pair of leather gloves and a purse containing 73 yen by two men who protended to be detectives. Around 0530 hours on 5 January YAMADA, Kinichi, 28, a farmer of GIFU-Kan, was robbed of his bag containing 40,000 yen in the train between SHINAGAWA and TOKYO. On the night of 4 January, two masked burglars broke into the house of SANO, Kinji of SEINSIKU and stole 2,400 yen and a wrist watch.

DISTRIBUTION "4"

- 4 -