Press translations [Japan]. Social Series 0139, 1945-12-31.
translation-number: social-0585
call-number: DS801 .S84
---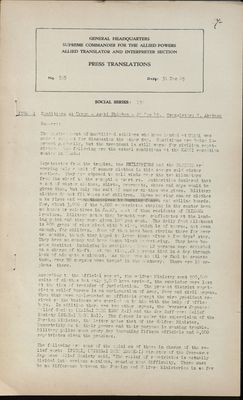 (View Page Image)
GENERAL HEADQUARTERS

SUPREME COMMANDER FOR THE ALLIED POWERS

ALLIED TRANSLATOR AND INTERPRETER SECTION

PRESS TRANSLATIONS

SOCIAL SERIES: 139

ITEM 1 Conditions At Uraga - Asahi Shimbun - 29 Dec 45. Translator: Y. Akabane
Summary:

The mistreatment of demobilized soldiers who have landed at URAGA was made a subject for discussion the other day. Conditions are being improved gradually, but the treatment is still worse for civilian repatriates. The following are the actual conditions at the KAMOI reception center in URAGA:

Repatriates from the tropics, the PHILIPPINES and the PACIFIC are wearing only a suit of summer clothes in this severe cold winter weather. They exposed to cold winds over the two kilometers from the wharf to the reception quarters. Authorities declared that a set of winter clothes, shirts, overcoats, shoes and caps would be given them, but only one suit of summer clothes was given. Military clothes do not fit women and children. These wearing summer clothes make fires and warm themselves by burning fences and coiling hoards. Now, about 3,000 of the 4,000 repatriates staying in the center have no homes or relatives in JAPAN, most of them residents of OKINAWA Province. Military notes they brought were confiscates at the landing point and they were given 100 yen each. The daily food allotment is 400 grams of rice mixed with barlay which is of course, not even enough, for children. Some of than have been staying there for over two months, though they hoped to leave there after a few days' stay. They have no money and have begun black marketering. They have become destitute indulging in gambling. Once 12 persons were arrested on a charge of theft. At one time, 20 persons died in a day through lack of adequate equipment. As there was no oil or fuel to cremate them, over 50 corpses were heaped in the montuary. There are 19 orphans there.

According to the official record, the welfare Ministry sent 500,000 suits of clothes but only 5,000 have arrived, the remainder were lost at time of transfer of jurisdiction. The present district repatriates relief bureau is an amalgamation of Army, Navy and civil organs. When they were amalgamated no officials except the wire president arrived so the business was carried on by him with the help of office boys. In addition there are two other organs, the Overseas Japanese Belief Society (KAIGAI DCHC ENGC KAI) and the War Sufferers Relief Society (SENSAI ENGO KAI). The former is under the supervision of the Foreign Minister, the latter under that of the Welfare Minister, Uncertainty as to their powers and their purpose is causing trouble. Military police come every day demanding fifteen officials and 4,000 repatriates clean the premises.

The following are some of the opinions of those in charge of the relief work: IFICHI, (VISIGAI DOHO ENGOKAI) director of the Over-seas Japanese relief Society said, "The relief of repatriates is actually divided into various sections, causing some difficulty, There must be no difference between the Foreign and Welfare Ministeries in so far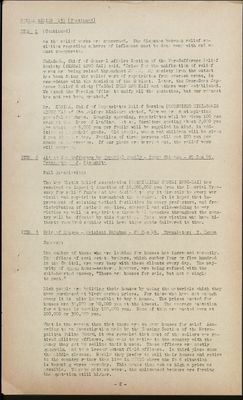 (View Page Image)
SOCIAL SERIES 139 (Continued)
as the relief works are concerned. The disputes between relief societies regarding spheres of influence must be done away with and we must co-operate.

NAKAGAWA, Chief of General Affairs Section of the War-Sufferers Relief Society (SENSAI ENGO KAI) said, "Cries for the unification of relief works are being raised throughout JAPAN. My society from the outset has been doing the relief work of repatriates from oversea areas, in accordance with the decision of the Cabinet. Later, the Over-Seas Japanese Relief Society (VAIGAI DOKO ENGOKAI) and others were established. We asked the Foreign Office to unify all the societies, but our request as not yet been granted."

Mr. KOJIMA, Chief of Repatriates Relief Section (UCOSEISHO HIKIAGEMIN KYUCO
[illegible]
A) of the Welfare Ministry stated, "Now we are contemplating powerful measures. Roughly speaking, repatriates will be given 100 yen each at the place of landing. At so, furniture costing about 2,000 yen per capit
[illegible]
5,000 yen per family will be supplied in kind, in addition
[illegible]
ahold goods. Old people, women and children will be given 2 yen
[illegible]
day. Families of three persons will get 200 yen per month on
[illegible]
average. If our plans are carried out, the relief work will improve.
ITEM 2 Aid to War Sufferers by Imperial Family - Tokyo Shimbun - 29 Dec 45. Translator: J. Kinoshita
Full Translation:

The War Victim Relief Association (O
[illegible]
SHI
[illegible]
AIDAN S
[illegible]
NSAI ENGO-KAI) has received an Imperial donation of 10,000,000 yen from the Imperial Treasury for relief funds and has decided to pay it directly to every war victim and repatriate throughout the country. It is hoped that improvement of existing medical facilities in every prefecture, and free distribution of medical supplies, charecal and silk-wadding to war victims as well as repatriates through branches throughout the country will be effected by this donation. These war victims who have hitherto received nothing will have those goods delivered to them.
ITEM 3 Sale of Houses - Mainichi Shimbun - 29 Dec 45. Translator: T. Ogawa
Summery:

The number of those who are looking for houses has increased recently. The offices of real estate brokers, which number four or five hundred, in the Capital, are very busy with these clients every day. The majority of these house-seekers, however, are being refused with the cold-hearted answer, "There are houses for sale, but not a single to rent."

Rich people are building their houses by using the materials which they have purchased at black market prices. For those who have not enough money it is quite impossible to buy a house. The prices quoted for houses are 30,000 or 40,000 yen at the lowest. The average quotation for a house is usually 100,000 yen. Some of them are quoted even at 200,000 or 300,000 yen.

What is the reason then that there are so many houses for sale? According to an investigation made by the Housing Section of the Metropolitan police Board, it was revealed that most of the sellers retired military officers, who want to retire to the country with the money they get by selling their houses. These officers are mostly generals, and to a lesser extent field officers. In third place come the middle classes. Mostly they prefer to sell their houses and retire to the country rather then live in TOKYO where the food situation is becoming worse everyday. This makes them ask as high a price as possible. To make matters worse, the unlicensed brokers are forcing the quotation still higher.

- 2 -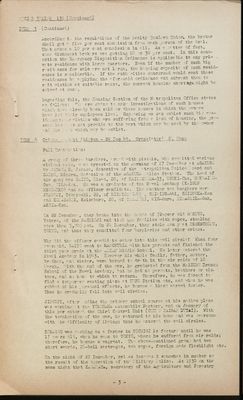 (View Page Image)
SOCIAL SERIES 139 (Continued)
According to the regulations of the Realty Dealers Union, the broker shall get a five per cent commission from each person of the deal. That makes a 10 per cent commission in all. As a matter of fact, some dishonest brokers are getting 20 or 30 per cent. In this connection the Emergency Disposition Ordinance is applicable to any private residence with large quarters. Even if the number of such big residences for sale are not large, the housing capacity of such residences is considerble, If the authorities concerned would rent these residences by applying the aforesaid ordinance and subrent them to raid victims at suitable rents, the current housing short age might be solved at once.

Regarding this, the Housing Section of the Metropolitan Office states as follows: "We are going to make investigations of such houses which have already been sold or those houses in which the owners have
[illegible]
their employees live. Supposing we can sublet such bio residences war victims who are suffering from a lack of housing, the present law
[illegible]
s not provide to the part which may be used by the owner and the
[illegible]
which may be sublet.
ITEM 4 Crimes - Asahi Shimbun - 29 Dec 45. Translator: M. Ohno
Full Translation:

A group of three burglars,
[illegible]
ed with pistols, who committed various violent acts, were arrested on the morning of 27 December at ASAKUSA by
[illegible]
E, Jsuneo, detective of the Metropolitan Police Board and SAITC, Minoru, detective of the ASAKUSA Police Station. The head of the gang was SAITO, Hisao, 20, of KAIZO
[illegible]
-33, USUKI-Cho, HOKKAI
[illegible]
U-Gun. CITA-Ken. He was a graduate of the Naval Academy (KAIGUN HEICAKKO) and an officer candidate. The another two burglars were JINGUJI, Takayoshi, 22, of KITATES
[illegible]
-658, SHI
[illegible]
IZU-Shi, SHIZUOKA-Ken and KO
[illegible]
AYASHI, Keisaburo, 20, of
[illegible]
RI. MIE-Mura, HIRASHIKA-Gun, AKITA-Ken.
On 22 December, they broke into the house of 72-year old MCKUYO, Yotaro, of the HACHICJI and tied the families with ropes, stealing more than 1,000 yen. On 24 December, they stole money at DENENCHO
[illegible]
U, TOKYO, and thus they committed, four burglaries and other crimes.
Why did the officer candidate enter into this evil circle? When four years old, SAITC went to MANCHURIA with his parents and finished the third year grade at the
[illegible]
N Middle School. He later entered the Naval Academy in 1943. However his whole family, father, mother, brother, and sister, were burned to death in the air raids of 10 March. With the end of the war, he graduated from the MAIZURU Branch School of the Naval Academy, but he had no parrots, brothers or sisters, and no home to which to return. Therefore, he was forced to find a temporary resting place at UENO Station etc, and when he was robbed of his personal effects, he became a black market dealer. Thus he gradually fell into evil circles.
JINGUJI, after ending the primary school course at his native place was working at the YOKOHAMA Automobile Factory, and on January of this yen entered the Third Central Unit (CH
[illegible]
U DAISAM BUTAI). With the termination of the war, he returned to his home and was overcome with the difficulty of living; thus he entered the evil circles.
KOMATSU was working as a farmer in TOCHIGI Prefecture until he was 17 years old, when he came to TOKYO, where he suffered from air raids; therefore, he became a vagrant. The above-mentioned group had two short swords, 26-ball cartrages, two ropes, foreign made flashlight etc.

On the night of 27 December, crimes decreased somewhat in number so the result of the operation of the Military Police. At 1930 on the same night that K
[illegible]
ATA, secretary of the Agriculture and Forestry
- 3 -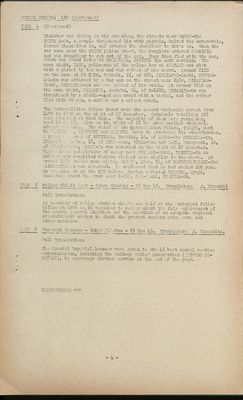 (View Page Image)
SOCIAL SERIES: 139 (Continued)
Minister was riding in his car along the streets near SAMON-Cho SHITA
[illegible]
A-Ku, a couple threatened him with pistols, halted his automobile, forced themselves in, and ordered the chauffeur to drive on. When the car came near the OKIDO Police Stand, the burglars ordered KAWABATA and his chauffeur to got out of the car. They then fled with the car, which was found later at DOGENZAKA, SHIBUYA the next morning. The same night, KATO, policeman of the police box at AKABANE was shot with a pistol by two men and was robbed of his sword. Around 2110 on the same might ENDO, Yokichi, 25, of 266, CIHAYASHI-Machi, SHIMAGAWA-Ku was attacked by a big man on the street near 245, OIKAIGAN-Michi, SHINAGAWA-Ku and was robbed of his watch. At around 2040 on the same night, MAKAMURA, Jentoku, 64, of 2-1280, SETAGAYA-Ku was threatened by a middle-aged man armed with a pistol, and the robber fled with 80 yen, a muffer and a writst watch.
The Metropolitian Police Board made the second wholesale arrest from 1400 to 2000) on the night of 27 December. Criminals totalling 328 were arrested at that time. The majority of them were young man, aged 16 or 17. Also on the night of 28 December another wholesale arrest was made. The chief of the Metropolitan Police, TAKANO, went to
[illegible]
, KYOBASHI and SHISUYA Wards to encourage his subordinates. A group
[illegible]
sed of SUZUYAMA, Tashihi, 16, of AZUMA-Cho MUKOJIMA-Ku, KUM
[illegible]
[illegible]
ime, 18, of IRINL-Gun, GUMMA-Ken and SATO, Takeyoshi, 16, of
[illegible]
be, OMORI-Ku was arrested on the night of 27 December. They robbed pedestrians of money near SHIMANO-Machi, YOTSUYA-Ku on October and committed various violent acts similar to the above. At around 1900 on the same night, TANABE, Jiro, 24, of HONDENTATEISHI-Cho KATSUSHIKA-Ku was arrested. He confessed that he had stolen 100 yen. On the same night the OKU Police Station arrested SHIDMODA, Syuji, wandering about the road, near 2-255, ORU-Machi, ARAKOWA-Ku.
ITEM 5 Police Chiefs Meet - Tokyo Shimbun - 29 Dec Translator: J. Kinoshit
Full Translation:

An assembly of police station chiefs was held at the Municipal Police Office at 0900 on 28 December to confer about the fair enforcement of the coming general election and the creation of an adequate regional precautionary system to check the present serious crime wave and other matters.

ITEM 6 Imperial Bonuses - Tokyo Shimbun - 29 Dec 45. Translator: J. Kinoshita.
Full Translation:

The Special Imperial bonuses were given to the 45 best social service organizations, including the Railway Relief Association (TETSUDO KOSAIKAl), to encourage further service at the and of the year.

DISTRIBUTION "X"

- 4 -