Press translations [Japan]. Social Series 0134, 1945-12-26.
translation-number: social-0563
call-number: DS801 .S84
---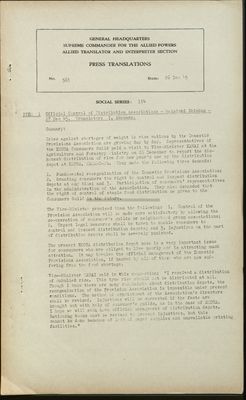 (View Page Image)
GENERAL HEADQUARTERS

SUPREME COMMANDER FOR THE ALLIED POWERS

ALLIED TRANSLATOR AND INTERPRETER SECTION

PRESS TRANSLATIONS

SOCIAL SERIES: 134

ITEM 1 Official Control of Distribution Associations - Mainichi Shimbun - 27 Dec 45. Translator: Y. Akabane.
Summary:

Cries against shortages of weight in rice rations by the Domestic Provisions Association are growing day by day. Representatives of the EKOTA Consumers Guild paid a visit to Vice-Minister KAWAI at the Agriculture and Forestry Ministry on 26 December to report the dis-honest distribution of rice for new year's use by the distribution depot at EKOTA, NAKANO-Ku. They made the following three demands:

1. Fundamental reorganization of the Domestic Provisions Association; 2. Granting consumers the right to control and inspect distribution depots at any time; and 3. Participation of consumers' representatives in the administration of the Association. They also demanded that the right of control of staple food distribution be given to the Consumers Guild in the future.

The Vice-Minister promised them the following: 1. Control of the Provision Association will be made more satisfactory by allowing the co-operation of consumer's guilds or neighborhood group associations; 2. Urgent legal measures shall be taken to enable consumers to control and inspect distribution depots; and 3. Injustices on the part of distribution depots shall be severely punished.

The present EKOTA distribution depot case is a very important issue for consummers who are obliged to live poorly and is attracting much attention. It may involve the official management of the Domestic Provisions Association, if backed by all of those who are now suffering from the food shortage.

Vice-Minister KAWAI said in this connection; "I received a distribution of unhulled rice. This type rice should not be distributed at all. Though I know there are many complaints about distribution depots, the reorganization of the Provision Association is impossible under present conditions. The method of appointment of the Association's directors shall be revised. Injustices will be corrected if the facts are brought out with help of consumer's guilds, as in the case of EKOTA. I hope we will soon have official management of distribution depots. Rationing books must be revised prevent injustices, but this cannot be done because of lack of paper supplies and unavailable printing facilities."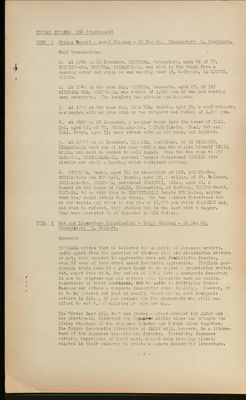 (View Page Image)
SOCIAL SERIES: 134 (Continued)
ITEM 2 Crimes Report - Asahi Shimbun - 28 Dec 45. Translator: H. Nishihara.
Full Translation:
At 2240 on 26 December, HIROZAWA, Makisaburo, aged 48 of 70, SHIMIZU-cho, SHIMURA, ITABASHI-Ku, was shot in the thigh from a passing motor car while he was walking near 13, 4-Chrome, KANIJUJYO, OJI-Ku.
At 2040 on the same day, MITSUDA, Masamote, aged 27, of 319 MIDORIGA OKA, MEGURO-Ku, was robbed of 1,860 yen by two men wearing navy overcoats. The burglars had pistols and daggers.
At 1700 on the same day, NAKAKURA, Sachio, aged 39, a confectioner, was beaten with an iron club by two burglers and robbed of 1,200 yen.
At 2430 on 27 December, a burglar broke into the house of IMAI, Tei, aged 67, of 50, HONTAWARA-Cho, KATSUSHIKA-Ku. IMAI, Tei and IMAI, Setsu, aged 33, were struck with an air pump, and injured.
At 17000 on 26 December, KICHISE, Yoshifusa, of 58 TAISHIDO, SETAGAYA-Ku went out of his home with a man who called himself TORII, Grjin, who said he wanted to sell sugar. When the two come to 257 KAGO-Cho, KOISHIGAWA-Ku, several Koreans threatened KICHISE with pistols and stole a handbag which contained nothing.
TSUKIOKA, Masao, aged 32, an ex-convict of 218, SHI

[illegible]

JU-Cho, SUGINAMI-Ku and FURUTANI, Sachio, aged 28, a tailor, of 24, 4-Chome, ISHINARA-Cho, HONJO-in, persuaded IMAISUMI, "MASao, aged 21, a tenant at the house of NAGATA, Tetsushiro, at 2-Chome, FUKURO-Mashi, OHJI-Ku, to go with them to DONRYUDAISHI temple GUMMA-Ken, saying that they could obtain food there. The two robbers threatened him at the temple and tried to rob him of 10,000 yen which IMAIJUMI had, and when he refused, they stabbed him in the back with a dagger. They were arrested on 27 December by OTA Police.
ITEM 3 War and Literature (Conclusion) - Tokyo Shimbun - 28 Dec 45. Translator: C. Gilbert.
Summary:

TOKUNAGA writes that he believes the majority of Japanese writers, quite apart from the question of whether they are proletarian writers or not, were opposed to aggressive wars and feudalistic fascism, even if some of them erred under fascistic oppression. TOKUNAGA personally would deem it a great honor to be called a proletarian writer. But, apart from that, the reform of JAPAN into a bourgeois democracy is now in progress and all writers will therefore have no choice, regardless of their learnings, but to unite in destroying feudal Fascism and attain a complete democratic order in JAPAN. However, it is to be pointed out that in reality there are no more bourgeois authors in JAPAN, if you exclude the few plutocrats who still can afford to eat 5,000 calories or more per day.

The "Great East ASIA War" has proved a great leveler for JAPAN and has practically destroyed the Japanese middle class and brought the living standard of the Japanese laborer and farmer close together. The future democratic literature of JAPAN will, however, be a literature of the Japanese laborers and farmers. Therefore, Japanese authors, regardless of their past, cannot help becoming closely related in their endeavor to create a modern democratic literature.

- 2 -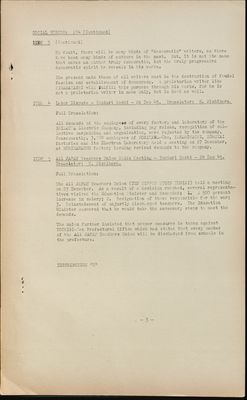 (View Page Image)
SOCIAL SERIES: 134 (Continued)
No doubt, there will he many kinds of "democratic" writers, as there have been many kinds of authors in the past. But, it is not the name that makes an author truly democratic, hut the truly progressive democratic spirit he reveals in his works.

The present main theme of all writers must be the destruction of feudal fascism and establishment of democracy. A proletarian writer like HIRABAYASHI will fulfill this purpose through his works, for he is not a proletarian writer in name only, but in deed as well.

ITEM 4 Labor Dispute - Yomiuri Hochi - 28 Dec 45. Translator: H. Nishihara.
Full Translation:

All demands of the employees of every factory and laboratory of the SHIBAURA Electric Company, including pay raises, recognition of collective bargaining and organization, were rejected by the company. Consequently, 3,000 employees of HORIKAWA-Cho, YANAGIMACHI, KOMUKAI factories and its Electron Laboratory held a meeting on 27 December, at HORIKAWACHO factory issuing revised demands to the company.

ITEM 5 All JAPAN Teachers Union Holds Meeting - Yomiuri Hochi - 28 Dec 45. Translator: H. Nishihara.
Full Translation:

The All JAPAN Teachers Union (ZEN NIPPON KYOIN KUMIAI) held a meeting on 23 December. As a result of a decision reached, several representatives visited the Education Minister and demanded; 1. A 500 percent increase in salary; 2. Resignation of those responsible for the war; 3. Reinstatement of unjustly discharged teachers. The Education Minister answered that he would take the necessary steps to meet the demands.

The union further insisted that proper measures be taken against TOCHIGI-Ken Prefectural Office which had stated that every member of the All JAPAN Teachers Union will be discharged from schools in the prefecture.

DISTRIBUTION "X"

- 3 -