Press translations [Japan]. Social Series 0133, 1945-12-29.
translation-number: social-0561
call-number: DS801 .S84
---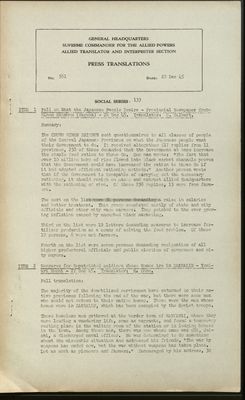 (View Page Image)
GENERAL HEADQUARTERS

SUPREME COMMANDER FOR THE ALLIED POWERS

ALLIED TRANSLATOR AND INTERPRETER SECTION

PRESS TRANSLATIONS

SOCIAL SERIES: 133

ITEM 1 Poll on What the Japanese people Desire - Provincial Newspaper Chubu Nihon Shimbun (Nagoya) - 24 Dec 45. Translator: C. Gilbert.
Summary:

The CHUBU NIHON SHIMBUN sent questionnaires to all classes of people of the Central Japanese Provinces on what the Japanese people want their Government to do. It received altogether 517 replies from 11 provinces, 233 of these demanded that the Government at once increase the staple food ration to three Go, One man wrote: "The fact that over 10 million koku of rice flowed into black market channels proves that the Government could have increased the ration to three Go if it had adopted efficient rationing methods" Another person wrote that if the Government is incapable of carrying out the necessary rationing, it should resign en masse and entrust Allied Headquarters with the rationing of rice. Of these 238 replies, 13 were from farmers.

The next on the list were 34 persons demanding a raise in salaries and better treatment. This group consisted mostly of state and city officials and other city wage earners. They pointed to the ever, growing inflation caused by uncurbed black marketing.

Third on the list were 19 letters demanding measures to increase fertilizer production as a means of solving the food problem. Of these 19 persons, 6 were not farmers.

Fourth on the list were seven persons demanding resignation of all higher prefectural officials and public election of governors and city mayors.

ITEM 2 Measures for Repatriated soldiers whose Homes Are in SAKHALIN - Yomiuri - Hochi - 27 Dec 45. Translator: M. Ohno.
Full translation:

The majority of the demobilized servicemen have returned to their native provinces following the end of the war, but there were some men who could not return to their native homes. Those were the men whose homes were in SAKHALIN, which has been occupied by the Soviet troops.

Those homeless men gathered at the border town of WAKKANAI, where they were leading a wandering life, some as vagrants, and found a temporary resting place in the waiting room of the station or in lodging houses in the town. Among those men, there was one whose name was OBA, Jaichi, a discharged, naval officer. He was determined to do something about the miserable situation and addressed his friends, "The war by weapons has ended now, but the war without weapons has taken place. Let us work as pioneers and farmers." Encouraged by his address, 30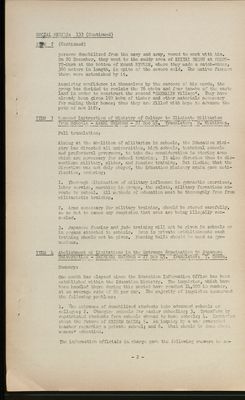 (View Page Image)
SOCIAL SERIES: 133 (Continued)
persons demobilized from the navy and army, vowed to work with him. On 20 December, they went to the muddy area of KEITAI BETSU at HOKUR-YU-Mura at the bottom of Mount RYUREN, where they made a catch-water, 360 meters in length, in spite of the severe cold. The native farmers there were astonished by it.

Acquiring confidence in themselves by the success of his words, the group has decided to reclaim the 76 chobu and four tan-bu of the waste land in order to construct the second "SAKHALIN Village", They have already been given 150 kobu of timber and other materials necessary for making their homes; thus they are filled with hope to advance the path of new life.

ITEM 3 Renewed Instruction of Ministry of Culture to Eliminate Militarism from Schools - Asahi Shimbun - 27 Dec 45.Translator: H. "Nishihara.
Full translation:

Aiming at the abolition of militarism in schools, the Education Ministry has directed all universities, high schools, technical schools and prefectural governors, to take due consideration in storing arms which are necessary for school training. It also directed them to discontinue military, glider, and fencing training. But finding that the directive was not duly obeyed, the Education Ministry again gave notification, ordering:
Thorough elimination of military influence in gymnastic exercises, labor service, marching in groups, the salute, military formations enroute to school. All methods of education must be thoroughly free from militaristic training.
Arms necessary for military training, should be stored carefully, so as not to cause any suspicion that arms are being illegally concealed.
Japanese fencing and judo training will not be given in schools or in organs attached to schools. Even in private establishments such training should not be given. Fencing halls should be used as gymnasiums.
ITEM 4 Abolishment of Limitations in the Entrance Examination to Japanese Universities - Mainichi Shimbun - 27 Dec 45. Translator: T. Ogawa.
Summary: One month has elapsed since the Education Information Office has been established within the Education Ministry. The inquiries, which have been handled there during this period have reached 14,000 in number, at an average rate of 50 per day. The majority of inquiries concerned the following problems:

1. The entrance of demobilized students into advanced schools or colleges; 2. Changing schools for easier schooling; 3. Transfers by repatriated students from schools abroad to home schools; 4. Inquiries about the future of SEINEN GAKKO; 5. An inquiry by a war evacuated teacher regarding a private school; and 6. What should be done about womens' education.

The information officials in charge gave the following answers to se

- 2 -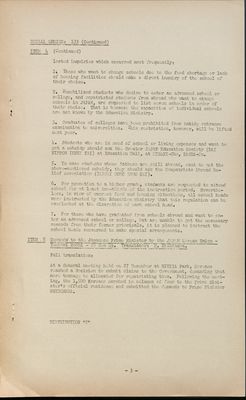 (View Page Image)
SOCIAL SERIES: 133 (Continued)
lected inquiries which occurred most frequently:
Those who want to change schools due to the food shortage or lack of housing facilities should make a direct inquiry of the school of their choice
Demobilized students who desire to enter an advanced school or college, and repatriated students from abroad who want to change schools in JAPAN, are requested to list seven schools in order of their choice. That is because the capacities of individual schools are not known by the Education Ministry.
Graduates of colleges have been prohibited from taking entrance examination to universities. This restriction, however, will be lifted next year.
Students who are in need of school or living expenses and want to get a subsidy should ask the Greater JAPAN Education Society (DAI NIPPON IKUEI KAI) at Education Hall, at MISAKI-Cho, KANDA-Ku.
In case students whose fathers are still abroad, want to get the above-mentioned subsidy, they should ask the Compatriots Abroad Relief Association (ZAIGAI DOHO ENGO KAI).
For promotion to a higher grade, students are requested to attend school for at least two-thirds of the instruction period. Nevertheless, in view of current food and housing situations, all school heads were instructed by the Education Ministry that this regulation can be overlooked at the discretion of each school head.
For those who have graduated from schools abroad and want to enter an advanced school or college, but are unable to get the necessary records from their former principals, it is planned to instruct the school heads concerned to make special arrangements.
ITEM 5 Demands to the Japanese Prime Minister by the JAPAN Korean Union Yomiuri Hochi - 28 Dec 45. Translator: H. Nishihara.
Full translation:

At a General meeting held on 27 December at HIBIYA Park, Koreans reached a decision to submit claims to the Government, demanding that more tonnago be allocated for repatriating them. Following the meeting, the 1,500 Koreans marched in columns of four to the Prime Minister's official residence and submitted the demands to Prime Minister SHIDEHARA.

DISTRIBUTION "X"

- 3 -