Press translations [Japan]. Social Series 0131, 1945-12-29.
translation-number: social-0556
call-number: DS801 .S84
---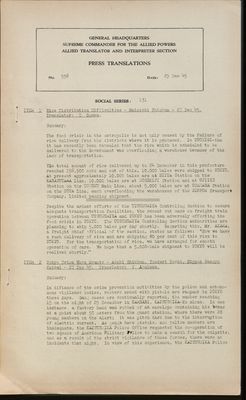 (View Page Image)
GENERAL HEADQUARTERS

SUPREME COMMANDER FOR THE ALLIED POWERS

ALLIED TRANSLATOR AND INTERPRETER SECTION

PRESS TRANSLATIONS

SOCIAL SERIES: 131

ITEM 1 Rice Distribution Difficulties - Mainichi Shimbun - 27 Dec 45. Translator: T. Ogawa.
Summary:

The food crisis in the metropolis is not only caused by the failure of rice delivery from the districts where it is produced. In TOCHIGT-Ken it has recently been revealed that the rice which is scheduled to be delivered to the Government was overflooding a warehouse because of the lack of transportation.

The total amount of rice delivered up to 24 December in this prefecture reached 156,500 koku and out of this, 10,000 bales were shipped to TOKYO. At present approximately 10,000 bales are at NIITA Station on the KARASUYAMA Line, 10,000 bales are at HOSEKIJI Station and at UJIIYE Station on the TOHOKU Main Line, about 5,000 bales are at OTAHARA Station on the TOYA Line, each overflooding the warehouses of the NIPPON Transport Company, Limited pending shipment.

Despite the ardent efforts of the UTSUNOMIYA Controling Section to secure adequate transportation facilities, the recent cut made on freight train operation between UTSUNOMIYA and TOKYO has been adversely effecting the food crisis in TOKYO. The UTSUNOMIYA Controling Section authorities are planning to ship 5,000 bales per day shortly. Regarding this, Mr. AKAMA, a freight chief official of the section, states as follows: "Now we have a rush delivery of rice and are shipping 80 per cent of this rice to TOKYO. For the transportation of rice, we have arranged for smooth operation of cars. We hope that a 5,000-bale shipment to TOKYO will be realized shortly."

ITEM 2 Tokyo Grime Wave Mounts - Asahi Shimbun. Yomiuri Hochi, - Nippon Sangyo Keizai - 27 Dec 45. Translator: Y. Akabane.
Summary:

In difiance of the crime prevention activities by the police and autonomous vigilance bodies, robbers armed with pistols are rampant in TOKYO these days. Gang cases are continually reported, the number reaching 15 on the night of 25 December in KAMEARI, KATSUSHIKA-Ku alone. In one instance, a factory hand was robbed of an envelope containing his bonus at a point about 50 meters from the guard station, where there were 20 young members on the alert; it was pitch dark due to the interruption of electric current. As gangs have pistols, and police members are inadequate, the KATSUSHIKA Police Office requested the co-operation of two squads of American Military Police to make a search for the culprits, and as a result of the strict vigilance of these forces, there were no incidents that night. In view of this experience, the KATSUSHIKA Police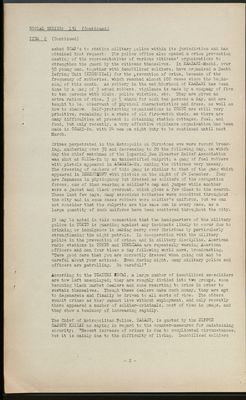 (View Page Image)
SOCIAL SERIES: 131 (Continued)
asked SCAP's to station military police within its jurisdiction and has obtained that request. The police office also opened a crime prevention meeting of the representatives of various citizens' organizations to strengthen the guard by the citizens themselves. In KAMEARI-Machi, over 50 young men, together with demobilized soldiers, have organized a Death Defying Unit (KESSHITAI) for the prevention of crime, because of the frequency of robberies, which reached almost 100 cases since the beginning of this month. As robbery in the neighborhood of KAMEARI has been done by a gang of 3 armed robbers, vigilance is made by a company of five to ten persons with clubs, police whistles, etc. They are given an extra ration of rice, 3 go 5 shaku for each ten persons a day, and are taught to be, observant of physical characteristics and dress, as well as how to shadow. Self-protecting organizations in TOKYO are still very primitive, remaining in a state of old fire-watch sheds, as there are many difficulties at present in obtaining station cottages, fuel, and food, but only recently, a very effective vigilance organization has been made in OSAEI-Ku, with 24 men on night duty to be continued until next March.

Crimes perpetrated in the Metropolis on Christmas eve were record breaking, numbering over 30 and decreasing to 20 the following day, on which day the chief watchman of the Imperial Sea Disaster Relief Association was shot at SHIBA-Ku by an unidentified culprit; a gang of fuel robbers with pistols appeared in ASAGAYA-Ku, making the citizens very uneasy. The dressing of members of this gang is similar to that of the gang which appeared in DENENCKOFU with pistols on the night of 24 December. They are Japanese in physiognomy but dressed as soldiers of the occupation forces, one of them wearing a soldier's cap and jumper while another wore a jacket and black overcoat, which gives a few clues to the search. These last few days, many atrocious robberies were committed throughout the city and in some cases robbers wore soldier's uniforms, but we can not consider that the culprits are the sane men in every case, as a large quantity of such uniforms have been scattered throughout the city.

It may be noted in this connection that the headquarters of the military police in TOKYO is guarding against any incidents likely to occur due to drinking or indulgence in making merry over Christmas by particularly strengthening the night patrols. In co-operation with the military police in the prevention of crimes and in military discipline, American radio stations in TOKYO and YOKOHAMA are repeatedly warning American officers and men four times a day following world news, broadcasting, "Take good care that you are correctly dressed when going out and be careful about your actions. Even during night, many military police and officers are patrolling. Be careful!"

According to the YOMIURI NOCHI, a large number of demobilized ex-soldiers are now left unemployed; they are roughly divided into two groups, some becoming black market dealers and some resorting to crime in order to sustain themselves. Though these dealers make much money, they are apt to degenerate and finally be driven to all sorts of vice. The others commit crimes as they cannot live without employment, and only recently there appeared a number of soldier-criminals, most of them in gangs, and they show a tendency of increasing rapidly.

The Chief of Metropolitan Police, TAKANO, is quoted by the NIPPON SANGYO KEIZAI as saying in regard to the counter-measures for maintaining security: "Recent increase of crimes is due to complicated circumstances, but it is mainly due to the difficulty of living. Demobilized soldiers

- 2 -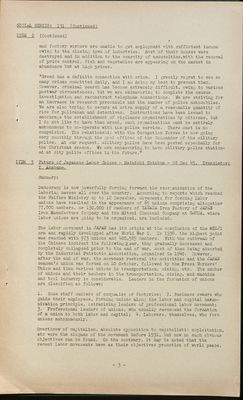 (View Page Image)
SOCIAL SERIES: 131 (Continued)
and factory workers are unable to get employment with sufficient income owing to the closing down of industries. Most of their houses were destroyed and in addition to the scarcity of necessities, with the removal of price control, fish and vegetables are appearing on the market in abundance but at high prices.

"Greed has a definite connection with crime. I greatly regret to see so many crimes committed daily, and I am doing my best to prevent them. However, criminal search has become extremely difficult, owing to various postwar circumstances, but we are endeavoring to complete the census investigation and reconstruct telephone connections. We are striving for an increase in research personnels and the number of police automobiles. We are also trying to secure an extra supply of a reasonable quantity of rice for policemen and detectives. Instructions have been issued to encourage the establishment of vigilance organizations by citizens, but I do not like to have them armed, such organizations must be entirely autonomous to co-operate with the police service. There must be no compulsion. The relationship with the Occupation Forces is now going very smoothly through the good offices of the Commander of the military police. At our request, military police have been posted especially for the Christmas season. We are endeavoring to have military police stationed at city police offices in the future."

ITEM 3 Future of Japanese Labor Unions Mainichi Shimbun - 28 Dec 45. Translator: Y. Akabane.
Summary:

Democracy is now powerfully forcing forward the reorganization of the laboring masses all over the country. According to reports which reached the Welfare Ministry un to 12 December, movements for forming labor unions have resulted in the appearance of 65 unions comprising altogether 77,000 members, or 130,000 if members of YAWATA Iron Factory of JAPAN Iron Manufacture Company and the Mitsui Chemical Company at OMUDA, where labor unions are going to be organized, are included.

The labor movement in JAPAN has its origin at the conclusion of the MEIJI era and rapidly developed after World War I. In 1936, the highest point was reached with 973 unions and 420,589 members. With the outbreak of the Chinese incident the following year, they gradually decreased and completely collapsed prior to the end of war, most of them being absorbed by the Industrial Patriotic Association, organized in 1940. However, after the end of war, the movement restored its activities and the JAPAN seamen's union was formed on 10 October, followed by the Press Workers' Union and then various unions in transportation, mining, etc. The number of unions and their members in the transportation, mining, and machine and tool industry is considerable. Leaders in the formation of unions are classified as follows:

1. Some staff members of companies or factories; 2. Business owners who guide their employees, forming unions along the labor and capital harmonization principle, ostracizing leaders of professional labor movement; 3. Professional leaders of unions, who usually recommend the formation of a union to both labor and capital; 4. Laborers, themselves, who form unions autonomously.

Overthrow of capitalism, absolute opposition to capitalistic exploitation, etc were the slogans of the movement before 1931, but now no such obvious objectives can be found. On the contrary, it may be noted that the recent labor movements have as their objectives promotion of world peace,

- 3 -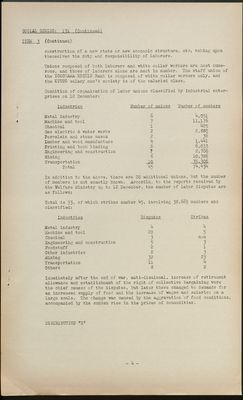 (View Page Image)
SOCIAL SERIES: 131 (Continued)
construction of a new state or new economic structure, etc, taking upon themselves the duty and responsibility of laborers.

Unions composed of both laborers and white collar workers are most numerous, and those of laborers alone are next in number. The staff union of the YOKOHAMA KOSEIN Bank is composed of white collar workers only, and the KYOTO salary men's society is of the salaried class.

Condition of organization of labor unions classified by industrial enterprises on 12 December:
| | | |
| --- | --- | --- |
| Industries | Number of unions | Number of members |
| Metal industry | 6 | 4,051 |
| Machine and tool | 7 | 11,176 |
| Chemical | l | 425 |
| Gas electric & water works | 2 | 2,880 |
| Porcelain and stone mason | 2 | 36 |
| Lumber and wood manufacture | 4 | 1, 441 |
| Printing and book binding | 6 | 6,033 |
| Engineering and construction | 7 | 2,700 |
| Mining | 6 | 10,386 |
| Transportation | 10 | 35,306 |
| Total | 45 | 74,434 |
In addition to the above, there are 20 additional unions, but the number of members is not exactly known. According to the reports received by the Welfare Ministry up to 12 December, the number of labor disputes are as follows:

Total is 93, of which strikes number 45, involving 38,669 members and classified:
| | | |
| --- | --- | --- |
| Industries | Disputes | Strikes |
| Metal industry | 4 | 4 |
| Machine and tool | 20 | 5 |
| Chemical | 3 | non |
| Engineering and construction | 5 | 3 |
| Foodstuff | 2 | 1 |
| Other industries | 8 | 3 |
| Mining | 32 | 23 |
| Transportation | 11 | 4 |
| Others | 8 | 2 |
Immediately after the end of war, anti-dismissal, increase of retirement allowance and establishment of the right of collective bargaining were the chief causes of the disputes, but later these changed to demands for an increased supply of food and the increase of wages and salaries on a large scale. The change was caused by the aggravation of food conditions, accompanied by the sudden rise in the prices of commodities.

DISTRIBUTION: "X"

- 4 -