Press translations [Japan]. Social Series 0127, 1945-12-27.
translation-number: social-0529
call-number: DS801 .S84
---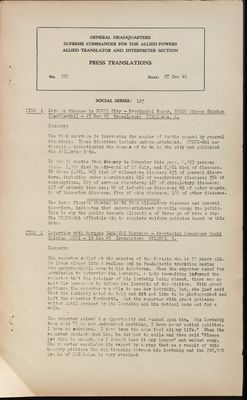 (View Page Image)
GENERAL HEADQUARTERS

SUPREME COMMANDER FOR THE ALLIED POWERS

ALLIED TRANSLATOR AND INTERPRETER SECTION

PRESS TRANSLATIONS

SOCIAL SERIES: 127

ITEM 1 Data on disease In FUKUI City - Provincial Paper, CHUBU Nippon Shimbun (NAGOYA-Shi) - 23 Dec 45. Translator: NISHIHARA, H.
Summary:

The food shortage is increasing the number of deaths caused by general disorders. These disorders include undernourishment. FUKUI-Shi authorities investigated the causes of death in the city and published the following data.

In the 11 months from January to November this year, 4,053 persons died. 1,592 died in air-raid of 19 July, and 2,461, died of diseases. Of these 2,46l, 463 died of alimentare disease; 435 of genreal disorders, including under nourshiment; 416 of respiratory diseases; 354 of consumptions, 285 of nervous disorders; 167 of circulatory diseases; 117 of urinary diseases; 45 of infections diseases; 45 of outer wounds, 19 of locomotor diseases; five of skin diseases, 109 of other diseases.

The large figures showing death from alimentary diseases and general disorders, indicates that undernourishment prevails among the public. This is why the public demands allocation of three go of rice a day. The FUKUI-Shi officials aim to complete welfare policies based on this data.

ITEM 2 Interview with Marquis YAMAUCHI Toyokage - Provincial Newspaper Kochi Shimbun KOCHI - 18 Dec 45 Translator: GILBEPT, C.
Summary:

The reporter called at the mansion of the Marquis who is 70 years old. He lives almost like a recluse and in feudalistic tradition making him unapproachable even to his telatives. When the reporter asked for permission to interview his lordship, a lady in-waiting informed the reporter that the retainer of his lordship being absent, there was no suitable personage to inform his lordship of the visitor. With great patience the reporter was able to see her ladyship, but, she just said that his lordship hated to talk and did not like to be photographed and left the reporter forthwith. But the reporter with great patience waited until present by his Lordship and his retinal came out for a walk.

The reporter seized the opportunity and rushed upon him. His Lordship then said "I do not understand anything, I have never studied politics. I have no opinions. I have been the same fool all my life." When the reporter photographed him, he deigned to smile and then said "Please lot this be enough, as I cannot bear it any longer" and walked away. The reporter concludes his report by saying that as a result of this haughty attitude the relationship between his Lordship and the 700,000 people of KOCHI-Ken is very strained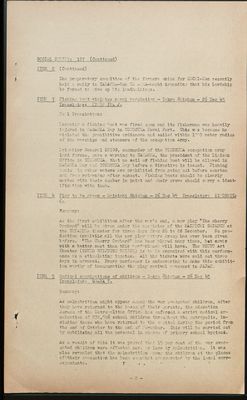 (View Page Image)
SOCIAL SERIES: 127 (Continued)
The preparatory committee of the farmers union for KOCHI-Kan recently held a rally in TAKAOKA-Kun TAKAOKA-Machi demanding that his Lordship be forced to give up his landholdings.

ITEM 3 Fishing boat violates naval regulation - Tokyo Shimbun - 26 Dec 45 Translator: KINOS

[illegible]

TA J:
Full Translation:

Recently a fishing boat was fired upon and its fisherman was heavily injured in a NAGAURA Bay in YOKOSUKA Naval Port. This was because he violated the prohibitive ordinance and sailed within 1000 meter radius of the warships and steamers of the occupation Army.

Brigadier General BRIGG, commander of the YOKOSUKA occupation army land forces, gave a warning to TAKAOKA, the president of the Liaison Office in YOKOSUKA, that no sail of fishing boat will be allowed in NAGAURA Bay and YOKOSUKA Bay before a directive is issued. Fishing boats in other waters are prohibited from going out before sunrise and from a returning after sunset. Fishing boats should be clearly marked with their number in paint and their crews should carry a identification with them.

ITEM 4 Play to be given - Mainichi Shimbun - 26 Dec 45 Translator: KINOSHITA J.
Summary:

As the first exhibition after the war's end, a new play "The cherry Orchard" will be given under the auspicies of the MAIINICHI SHIMBUN at the YURAKUZA theater for three lays from 26 to 28 December. No production involving all the new play actors group has ever been given before. "The Cherry Orchard" has been played many times, bat never with a better cast than this performance will have. The TOKYO Art Theater (TOKYO GEIJUTSU GEKIJO) is to be organized with this performance as a stimulating impetus. All the tickets were sold out three days in advanced. Every performer is endeavoring to make this exhibition worthy of inaugurating the play revival movement in JAPAN.

ITEM 5 Medical examinations of children - Tokyo Shimbun - 26 Dec 45 Translator: OGAWA T.
Summary:

As malnutrition might appear among the war evacuated children, after they have returned to the bosom of their parents, the education Bureau of the Metropolitan Office has enforced a strict medical examination of 278,086 school children throughout the metropolis, including those who have returned to the capital during the period from the end of October to the end of November. This will be carried out by mobilizing all the personal in charge of primary school hygiend.

As a result of this it was proved that 15 per cent of the war evacuated children were affected more less by malnutrition. It was also revealed that the malnutrition among the children at the places of their evacuation has been some what exaggerated by the local correspondents.

- 2 -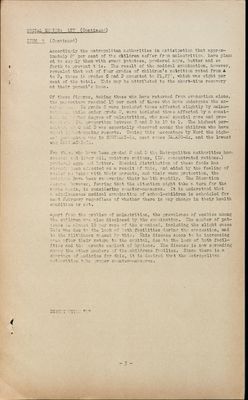 (View Page Image)
SOCIAL SERIES: 127 (Continued)
Accordingly the metropolitan authorities in anticipation that approximately 20 per cent of the children suffer from malnutrition, have planed to supply them with sweet potatoes, powdered eggs, butter and so forth to prevent this. The result of the medical examination, however, revealed that out of four grades of children's nutrition rated from A to D, those in grades C and D amounted to 21,270, which was eight per cent of the total. This may be attributed to the short-time recovery at their parent's home.

Of these figures, taking those who have returned from evacuation alone, the percentage reached 15 per cent of those who have undergone the examination. In grade C were included those affected slightly by malnutation while under grade D, were included those affected by a consi
[illegible]
degree of malnutrition, who need special care and pro
[illegible]
. The proportion between C and D is 10 to 1. The highest per
[illegible]
in C and D was especially observed among the children who have
[illegible]
to hot spring resorts. Taking this percentage by Ward the highest percentage was in SUGINAMI-Ku, nest comes NAKANO-Ku, and the lowest was
[illegible]
CHI-
[illegible]
.
For these who have been graded C and D the Metropolitan authorities have secured cod liver oil, aviators rations, (TN. concentrated rations.) powdered eggs and butter. Special distribution of these foods has already been effected as a result of this, and aided by the feeling of relief an being with their parents, and their warm protection, the children have been recovering their health rapidly. The Education Bureau however, fearing that the situation might take a turn for the worse again, is considering counter-measures. It is understood that a simultaneous medical examination of school-children is scheduled for next February regardless of whether there is any change in their health condition or not.

Apart from the problem of malnutrition, the prevalence of scabies among the children was also disclosed by the examination. The number of patients is almost 16 per cent of the examined, including the slight cases This was due to the lack of both facilities during the evacuation, and to the filthiness caused by this. This disease seems to be increasing even after their return to the capital, due to the lack of both facilities and the parents neglect of hygiene. The disease is now spreading among the other members of the childrens families. Since there is a shortage of medicine for this, it is desired that the Metropolitan authorities take proper counter-measures.

DISTRIBUTION "X"

- 3 -