Press translations [Japan]. Social Series 0126, 1945-12-28.
translation-number: social-0523
call-number: DS801 .S84
---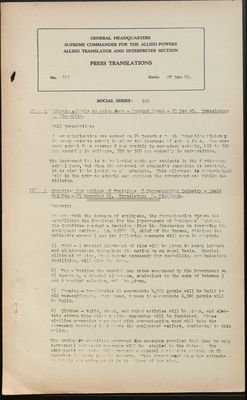 (View Page Image)
GENERAL HEADQUARTERS

SUPREME COMMANDER FOR THE ALLIED POWERS

ALLIED TRANSLATOR AND INTERPRETER SECTION

PRESS TRANSLATIONS

SOCIAL SERIES: 126

ITEM 1 Private schools to

[illegible]

aise

[illegible]

ees - Yomiuri Hochi - 25 Dec 45. Transistor: J. Kineshita.
Full Translation:

A
[illegible]
ew notification was served on 24 December by the Education Ministry to every private school to allow the increase of school fees. The current school fees average 8 yen monthly in secondary schools, 200 to 300 yen annually in colleges, 350 to 500 yen annually in universities.
The increased fee is to he levied on the new students in the forthcoming school year, but when the approval of student's guardians is received, it is also to be levied on all students. This allowance is acknowledged only in the private to schools and excludes the Government end public institutes.

ITEM 2 Committee for welfare of Employees of Communication Industry - Asahi Shimbun - 25 December 45. Translator; H. Nishihara.
Summary:

To cope with the demands of employees, the communication Bureau has established the Committee for the Improvement of Employees' welfare. The Committee reached a decision after the discussion on improving the employees' welfare. Mr. MATSU
[illegible]
E, chief of the Bureau, obtained the Cabinet's approval and the following measures will soon be adopted:
Food - A Special allotment of rice will be given to heavy labours and night-workers throughout the nation on an equal basis. Special allotment of rice, when demand necessary for re-building com unication facilities, will also be given.
Pay - Besides the special nay rates announced by the Government on 21 December, a special allowance, equivalent to the sums of between 3 and 6 months' salaries, will be given.
Fusing - Dormitories to accomodate 4,500 people will be built to aid war-sufferers. Next year, houses to accomodate 6,000 people will be built.
Clothes - Suits, shoes, and other articles will be given, and electric stores plus other heating apparatus will be furnished. Those civilian companies con

[illegible]

rred with communication work will take the necessary measures t

[illegible]

the employees' welfare, conforming to this policy.
The employers committee approved the measures provided that they be only temporary; permanent measures will be studied in the future. The employee's committee will sponsor a general employee's meeting on 25 December in order to
[illegible]
reports. This improvement plan has attracted public attention as it is the first of its kind.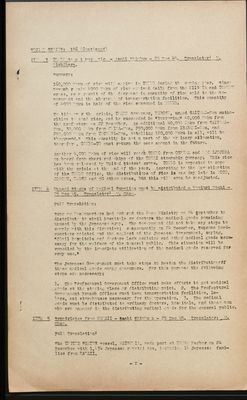 (View Page Image)
SOCIAL SERIES: 126 (Continued)

ITEM 3 TOKYO to c

[illegible]

t Mor

[illegible]

Pic

[illegible]

- Asahi Shimbun - 25 Dec 45. Translator:

[illegible]

. Nishihara.
Summay:

160,000 yoku of rice will arrive TOKYO during the coming year. Since November only 4000 Koku of rice arrived daily from the NIIGATA and TOHOKU areas, as a result of the decrease in quantity of rice sold to the Government and the shortage of transportation facilities. This quantity of 4000 Koku is half of the rice consumed in TOKYO.

To tide over the crisis, TOKYO Governor, HIROSE, urged SAITAMA-Ken authorities to send rice, and he succeeded in "borrowing" 40,000 Koku from the prefecture on 22 December. An additional 40,000 Koku from SAIT
[illegible]
-Ken, 30,000 Koku from C
[illegible]
IBA-Ken, 250,000 Koku from IBARAKI-Ken, and 250,000 Koku from TOCH
[illegible]
GI-Ken, totalling 120,000 Koku in all, will be
[illegible]
ed." This quantity is not a part of the ordinary allocation, there fore, TOKYO-TO must return the same amount in the future.
Another 4,000 Koku of rice will reach TOKYO from OSHIMA and
[illegible]
C IJOJIMA on board from chartered ships of the TOKAI steamship Company. This rice has been released by United States' crops. TOKYO is expected to cope with the crisis at the end of the year. According to the investigation of the TOKYO office, the distributions of rice is one day late in KOTO, JOHO
[illegible]
U,
[illegible]
ISU and 50 other areas, but this will soon be readjusted.
ITEM 4 Unused Stocks of Medical Supplies must be Distributed - Yomiuri Hochi - 25 Dec 45. Translator: M. Ohno.
Full Translation:

Supreme Headquarters had ordered the Home Ministry or 24 September to distribute to civil hospitals or doctors the medical goods remaining unused by the Japanese army. The Government did not take any steps to comply with this directive; consequently on 24 December, Supreme Headquarters pointed out the neglect of the Japanese Government, saying, "Civil hospitals and doctors lack medicine and other medical goods necessary for the welfare of the General public. This situation win be remedied by the immediate utilization of the medical goods reserved for army use."

The Japanese Government must take steps to hasten the distribution of those medical goods among consumers. For this purpose the following steps are necessary:

1. The prefectural Government Office must make efforts to get medical goods at the storing place or distributing point. 2. The Prefectural Government Branch Offices must have transportation facilities, labors, and storehouses necessary for the operation. 3. The medical goods must be distributed to ordinary doctors, hospitals, and those men who are en
[illegible]
aged in the distributing medical goods for the general public.
ITEM 5 Repatriates from HAWAII - Asahi Shimbun - 25 Dec 45. Translator: M. Ohno.
Full Translation:

The UNITED STATES vessel, MATSONIA, made port at
[illegible]
GA Harbor on 24 December with l.434 Japanese repatri
[illegible]
tes, including 14 Japanese families from HAWAII.
- 2 -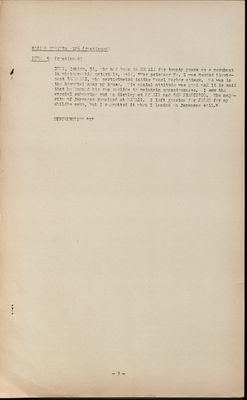 (View Page Image)
SOCIAL SERIES: 126 (Continued)
DEKI, Ichiro, 51, who had been in HAWAII for twenty years as a merchant in Photographic materials, said, "war prisoner No. 1 was second Lieutenant SA
[illegible]
AKI, who participated in the
[illegible]
earl Harbor attack. He was in the hospital near my house. His mental attitude was good and it is said that he burned his own eyelids to maintain consciousness. I saw the special submarine put on display at FA
[illegible]
All and SAN FRANCISCO. The majority of Japanese remained, at HAWAII. I left America for JAPAN for my child's sake, hut I regretted it when I landed on Japanese soil."
DISTRIBUTION "X"

- 3 -