Press translations [Japan]. Social Series 0125, 1945-12-26.
translation-number: social-0521
call-number: DS801 .S84
---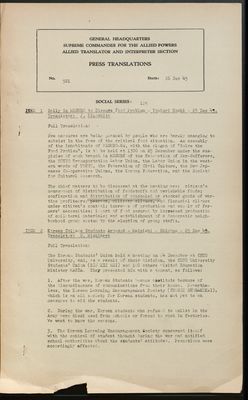 (View Page Image)
GENERAL HEADQUARTERS

SUPREME COMMANDER FOR THE ALLIED POWERS

ALLIED TRANSLATOR AND INTERPRETER SECTION

PRESS TRANSLATIONS

SOCIAL SERIES: 125

ITEM 1 Rally in MEGURO to Discuss Food Problem - Yomiuri Hochi - 25 Dec 45. Translator: J. Kinoshita
Full Translation:

Nwe measures are being planned by people who are barely managing to subsist in the face of the critical food situation. An assembly of the inhabitants of NEGURO-Ku, with the slogan of "Solve the Food Problem", is to be held at 1300 on 25 December under the auspices of each branch in MEGURO of the Federation of War-Sufferers, the TOKYO Transportation labor Union, the Labor Union in the western wards of TOKYO, the Federation of Civil Culture, the New Japanese Co-operative Unions, the Korean Federation, and the Society for Cultural Research.

The chief matters to be discussed at the meeting are: citizen's management of distribution of foodstuffs and perishable foods; confiscation and distribution of concealed or stocked goods of wartime profiteers; peerage, military cliques, and financial cliques under citizen's control; increase of production and supply of farmers' necessities; import of food secured by increased production of collateral materials; and establishment of a democratic neighborhood group system by the election of group staffs.

ITEM 2 Korean College Students Aroused - Mainichi - Shimbun 25 Dec 45. Translator: H. Mishihara
Full Translation:

The Korean Students' union held a meeting on 24 December at CHUO University, and, as a result of their dicision, the CHUO University Students' Union (KIN KEI SEI) and 100 others visited Education Minister MAEDA. They presented him with a demand, as follows:
After the war, Korean Students became destitute because of the discontinuance of communications from their homes, nevertheless, the Korean Learning Encouragement Society (CHOSEN SHOGAKUKAI), which is an aid society for Korean students, has not yet taken measures to aid the students.
During the war, Korean students who refused to enlist in the Army were dismissed from schools or forced to work in factories. We want to know the reasons.
The Korean Learning Encouragement Society concerned itself with the control of student thought during the war and notified school authorities about the students' attitude. Promotions were accordingly affected.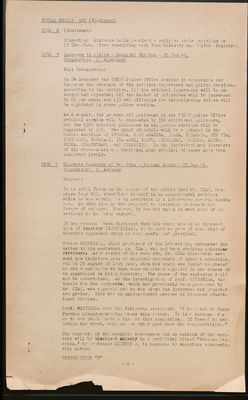 (View Page Image)
SOCIAL SERIES 125 (Continued)
Education: Minister MAMDA promised a reply to their questions on 27 December, after consulting with Home Ministry and Welfar Ministry.

ITEM 3 Increase in Police - Mainichi Shimbun - 25 Dec 45. Translator: H. Mishihara
Full Translation:

On 24 December the TOKYO Police Office decided to reorganize and increase the personal of the criminal department and police stations According to the decision, (l) the criminal department will he enlarged and expanded; (2) the number of detectives will be increased by 60 per cent; and (3) two officials for investigating crimes will be appointed in every police station.

As a result, the present 227 policemen in the TOKYO police Office criminal section will be augmented by 330 additional policemen, and the 1354 criminal policemen in all police stations will be augmented by 609. Two chief officials will be a pointed in the police stations of YOTSUYA, UENO ASAKUSA,
[illegible]
ARA, SEITAGAYA, SHIUYA, YODODASEI, SUGINAMI. ITA
[illegible]
ASHI, SENJU, NISHIARAI, AUKJIMA, KATSUSHIKA, KOMATSUGAWA and LUSASHINO. In the juristictional districts of the above-mentioned stations, many criminal of sences have been committed lately.'
ITEM 4 Electric Research of Dr. Odan - Yomiuri Hochi 25 Dec Translator: Y. Akabane
Summary:

It is still fresh in the memory of the public that Mr. ODAN, Masaharn (age 23), sacrificed himself in an experimental accident while he was working as an assistant in a laboratory several months ago. At that time he was promoted to assistant professor and doctor of science. However, it was not known in what kind of experiment he had been engaged.

It has recent! been disclosed that his study was on an improved type of isolator (ZETSUENTAl), to be used as part of some kind of electric apparatus which is very useful and prattical.

Doctor MIZUSEIIA, chief professor of the laboratory, entrusted the matter to his assistant, Mr. ODA, who had been studying molecular structure .As a result of his research, Mr. ODAN discovered several new isolators made of chemical compounds of special molecules, and. on 15 August of last year, on his study was almost completed he met a sudden death when some chemicals exploded in the course of an experiment in his laboratory. The cause of the explosion could not be ascertained. At the investigation of Prof. MIZUSHIMA, the thesis for the doctorate, which had previously been presented by Mr. ODAN, was approved and he was given the doctorate and promoted two grades. This was an unprecedented measure in Japanese educational circles.

Prof. MIZUSHIMA made the following statement: "I have not to incur further misunderstanding about this matter. It is a nuisance for me to see people make a fuse in this connection. If forced to make public the truth, some one other must bear the responsibility."

The contents of the complete researches end an outline of the accident will be disclosed shortly in a periodical titled "Science Magazine," by Professor MIZUSHIA, in response to questions concerning this matter.

DISTRIBUTION "X"

- 2 -