Press translations [Japan]. Social Series 0121, 1945-12-25.
translation-number: social-0501
call-number: DS801 .S84
---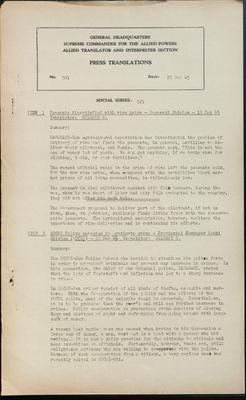 (View Page Image)
GENERAL HEADQUARTERS

SUPREME COMMANDER FOR THE ALLIED POWERS

ALLIED TRANSLATOR AND INTERPRETER SECTION

PRESS TRANSLATIONS

SOCIAL SERIES: 121

ITEM 1 Peasants dissatisfied with rice price - Nagasaki Shimbun - 15 Dec Translator: GILBERT C.
Summary:

NAGASAKI-Ken Agricultural association has investigated the problem of delivery of rice and finds the peasants, in general, unwilling to deliver their allotment, and funds. The peasant says, "This is not the age of money but of goods. We can get anything, if we trade rice for clothing, tools, or even fertilizer."

The recent official raise in the price of rice left the peasants cold, for the new rice price, when compared with the prohibitive black market prices of all living necessities, is ridiculously low.

The peasant is also embittered against city folk because, during the war, when he was short of labor and city folk evacuated to the country, they did not offer him much help.

The Government proposal to deliver part of the allotment, if not in rice, then, in potatoes, similarly finds little favor with the conservative peasants. The agricultural association, however, realizes the importance of rice deliveries and is continuing its efforts.

ITEM 2 KOCHI Police measures to eradicate crime - Provincial Newpaper Kochi Shimbun (KOCHI) - 15 Dec 45 Translator: GILBERT C.
Summary:

The KOCHI-Ken Police bureau has decided to strenthen its police force in order to apprehend criminals and prevent any increase in crimes. In this connection, the chief of the Criminal police, TAKAGAMO, stated that the lack of foodstuffs and inflation has led to a sharp increase in crime.

In KOCHI-Ken crimes consist of all kinds of thefts, assaults and murders. With the Co-operation of the public and the efforts of the KOCHI police, most of the culprits could be arrested. Nevertheless, it is to be presumed that the year's end will see farther increase in crimes. Public cc-operation in preventing crime consists of closing door and shatters at night and refraining from going around with large sums of money.

A recent beat murder case was caused when having in his possession a large sum of money, a man, went out in a boat with a person who had nothing. It is now a daily practice for the citizens to ridicule and heap invectives on officials. Fortunately, however, there are, still enlightened citizens who are willing to co
[illegible]
with the police. Because of such co-operation from a citizen, a very serious case was recently solved in KOCHI-Ski.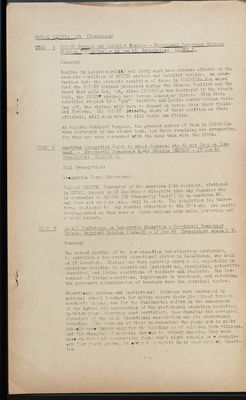 (View Page Image)
SOCIAL SERIES: 121 (Continued)
ITEM 3 SHIMTO Chrines and Buddhist Temples - Provincial Newspaper Chukoku Shimbun (HIPOSHIMA) - 16 Dec 45 Translator: GILERT C.
Summary:

Decline in public morality and piety must have adverse effects on the economic condition of SHINTO shrines and Buddhist temples. An examination into the economic condition of those in HIROSHIMA. Ken shows that the SHIITO shrines prospered daring the Chinese Conflict and the Great East ASIA War, but, since HIROSHIMA was destroyed by the atomic bomb, the SHINTC shrines have become lonsesome places. With State subsidies stopped by a "gay" directive and public contributions falling off, the shrines will have to depend on income from their fields and forests. The SHIMTO priests, shown of their position as State officials, will soon have to till their own fields.

As regards Buddiust temples, the greater number of them in HIROSHIMA were destroyed by the atomic bomb, but those remaining are prospering, for they are more concerned with the dead than with the livin
[illegible]
.
ITEM 4 American occupation Force to shoot Japanese who do not Stop on Command. - Provincial Newspaper Kochi Shimbun (KOCHI) - 17 Dec 45 translator: GILEBT C.
Full Translation:

Occupation Force Directive:

Colonel RENSUX, Commander of the American 19th Regiment, stationed in KOCHI, issued on 16 December a directive that any Japanese who is commanded to HOHUDO (TH Presumably 'halt') by an American MP, and does not stop at one, will be shot. The population is, there-fore, cautioned to pay special attention to the MP's who are easily distinguished as they wear a black armband with white lettering and a white helmet.

ITEM 5 NA

[illegible]

A

[illegible]

O Conference on Democratic Education - Provincial Newspaper Shinamo Mainichi Shimbun (NAGANO) - 17 Dec 45 Translator: AKABAWE Y.
Summary:

Thu second meeting of the new education investigation conference, to establish a democratic educational system in NAGANO-Ken, was held on 16 December. Discussions were actively carried on, especially on questions relating to educational institutions, discipline, scientific education, and living conditions of teachers and students. The betterment of living conditions, improvement in treatment, and reforming the personnel administraion of teachers were the principal topics.

Educational systems and instiutions: Opinions were expressed by national school teachers for making secure their livelihood through teacher's unions, and for the fundemental reform in the management of the mutual aid association of the prefectural education societies, in which young educattis must participat, thus changing the personnel structure of the JAPAN Educational Association and its prefectural branches. The opinions of those representing the young men is night schools were imanimeusly for the building up of cultural farm villages, and the changing of national schools to primary schools. They were also in favor of reorganizing young men's night schools on a compulsory four years system in order to complete their professional education.

- 2 -

(View Page Image)
SOCIAL SERIES: 121 (Continued)
According to this latter opinion, graduates from young men night schools are to go on to universities and, after finishing universities, return to their respective village offices to work.

Middle school teachers insisted on establishing popular educational research organizations for teachers and obtaing the right to make their own administrative decisions. They also insisted replacing productiye technical education above cultural education and giving equal qualification to teachers and abolishing the differences between primary and secondary school teachers.

Fostering of better relations among teachers and intagonisms and jealousies among teachers must be removed and replaced by harmony. The history of social economics, especially the modern histories of the UNITED STATES and the SOVIET UNION, must be studied.

Feudalization of democratic influences must be strictly guarded against. Uniformity of salary is deemed necessary and school Clique, must be swept away.

Problems concerning the livelihood of both teachers and students were discussed. In view of its importance, many concrete opinions were voiced, some of which ere as follows:

According to investigations of national schools in MATSUMOTO, expenses for October and November, for teachers with a family of three, amounted to 700 yen. It was therefore suggested that present salaries and allowances be raised. Half of the salaries must be paid by cities, towns and villages, and one third of the commondity price allowances by each state, prefecture, and city, town or village. The special additional allowances may be left as they are but family allowances must be increased to ten yen per family member. Commodity price allowance must be adjusted according to the rise and fall of prices of essential commodities. Dwellings ought to be constructed by cities, towns and villages, and rented to teachers. Daily necessities for teachers must be supplied by consummer societies, formed from existing mutual aid associations under the supervision of the prefectural authorities. One person strongly demanded the early realization of provincial education, increased production of foodstuffs by early dismissal of classes each day, cultivation of school farms by teachers from non-agrarian families, and an increase in the number of holidays.

Scientific education and student discipline, Opinions were expressed as to the necessity of stressing the systematic teaching of science in order that scientific education become the basis of proper observation and social criticism. There were also opinions regarding student discipline, which stated that collective and uniform training is wrong that the students life must be respected in order to clarify the true spirit of democracy, and that the re-establishment of political education is absolutely necessary now that women suffrage has become a reality.

DISTRIBUTIOE "X"

- 3 -