Press translations [Japan]. Social Series 0118, 1945-12-24.
translation-number: social-0491
call-number: DS801 .S84
---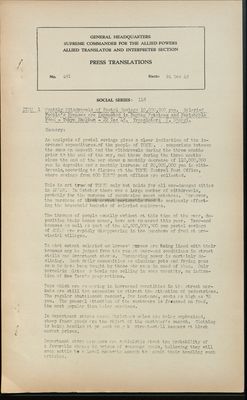 (View Page Image)
GENERAL HEADQUARTERS

SUPREME COMMANDER FOR THE ALLIED POWERS

ALLIED TRANSLATOR AND INTERPRETER SECTION

PRESS TRANSLATIONS

SOCIAL SERIES: 118

ITEM 1 Monthly Withdrawals of Postal Savings 10,000,000 yen. Salaried People's Bonuses are Exhausted in Buying Potatoes and Perishable Food Tokyo Shimbun 22 Dec 45. Translator: K. Minagi.
Summary:

An analysis of postal savings gives a clear indication of the increased expenditures of the people of TOKYO. A comparison between the suns on deposit and the withdrawals during the three months prior to the end of the war, and those during the three months since the end of the war shows a monthly decrease of 110,000,000 yen in deposits and a monthly increase of 20,000,000 yen in withdrawals, according to figures at the TOKYO Central Post Office, where savings from 600 TOKYO post offices are collected.

This is not true' of TOKYO only but holds for all war-damaged cities in JAPAN. In October there was a large number of withdrawals, probably for the purpose of purchasing sweet potatoes. Moreover, the purchase of black market perishable food is seriously affecting the household budgets of salaried employees.

The throngs of people usually evident at this time of the year, depositing their bonus money, have not appeared this year. Year-end bonuses as well as part of the 40,000,000,000 yen postal savings of JAPAN are rapidly disappearing in the purchase of food at provincial villages.

To what extent salaried employees' purses are being lined with their bonuses may be judged from the recent rear-end conditions in street stalls end department stores. Purchasing power is certainly declining. Such daily necessities as aluminum, pots and frying pans seem to have been bought by those who were in need of them. Only porcelain elates or bowls are selling in some quantity, an indication of New Year's preparations.

Toys which are appearing in increased quantities in the street markets are still too expensive to attract the attention of pedestrians. The regular shuttlecock recquet, for instance, costs as high as 30 yen. The general attention of the customers is focussed on food, the most popular item being sardines.

In department stores where Christmas sales are being emphasized, cheap fancy goods are the object of the customer's search. Clothing is being handled at present only by street-stall keepers at black market prices.

Department store managers are optimistic about the probability of a favorable chance in prices of consumer goods, believing they will soon settle to a level moderate enough to permit their handling such articles.

(View Page Image)
SOCIAL SERIES: 118 (Continued)
ITEM 2 Crimes - Asahi Shimbun - 22 Dec 45. Translator: H. Nishihara.
Summary:

The increase in the number of burglary and murder incidents has aggravated the uneasiness of the public. The police is considered too understaffed and inept to cope with the situation. General Headquarters was petitioned for an increase in the number of police officials, but Permission was not granted.

The following account is of an interview of Mr. KOIZUMI, Chief of the Public Peace Bureau (KEIHO KYOKU) of the Hone Ministry by an ASAHI reporter:

Question: Burglaries are perpetrated every day in TOKYO, and crime throughout the nation has increased greatly in number. Isn't it a reflection of the weakness of the police?

Answer: I regret that the incidence of crimes in both large and small cities has increased tremendously since the war's end. The current crime wave may be regarded as a manifestation of difficult living conditions, public demoralization, and a misconception of liberalism. It is the aftermath of war in a defeated nation.

The police failed to handle the situation because the police in JAPAN had been accustomed to exceeding their authority, and were not under suitable administrative control. They considered democracy and their concepts of the function of a policeman incompatible, and as a result, lost considerable self-confidence For example, the practice of patrols questioning suspicious pedestrians was discontinued because it was thought contrary to the principles of democracy. This practice must be revised. Public opinion opposed this practice because of the bad manners of the police. I do wish the public would not consider it a personal affront when questioned by the police, since it is necessary in the prevention of crime.

Question: Isn't it true that the police neglect their crime-prevention duties because they have other matters to look after?
Answer: To a certain extent that is true. Matters concerned with labor service and-labor have been placed under the administrative control of other agencies, but matters pertaining to economic, price-fixing, etc. are in the hands of the police. General Headquarter's order prohibits us from increasing the number of police, so the only alternative is to improve the quality of the police. Their wages will be raised in an effort to improving their standards.

Question: Criminals operate in groups of two or three or even ten. Do you plan to equip the police with more effective arms?

Answer: It's a very complicated problem for which no satisfactory solution has been found. We wish to increase the number of policemen.

Question: Do you intend to encourage the public to organize self-defense groups which would operate with police in crime prevention?

Answer: I favor such a plan, yet at the same time, fear placing authority in the hands of untrained people. We intend to discuss that matter at a meeting of police staff members.

- 2 -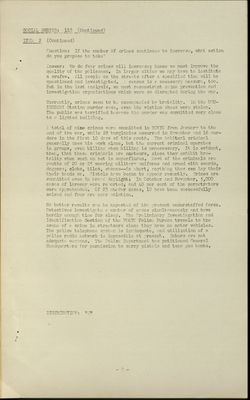 (View Page Image)
SOCIAL SERIES: 118 (Continued)
Question: If the number of crimes continues to increase, what action do you propose to take ?

Answer: We do fear crimes will increase; hence we must improve the quality of the policemen. In larger cities we may have to institute a crufew. All people on the streets after a specified time will be questioned and investigated. A census is a necessary measure, too. But in the last analysis, we must reconstruct crime prevention and investigation organizations which were so disrupted during the war.

Currently, crimes seem to be accompanied by brutality. In the UGUISUDANI Station murder case, even the victims shoes were stolen. The public was terrified because the murder was committed very close to a lighted building.

A total of nine crimes were committed in TOKYO from January to the end of the war, while 28 burglaries occurred in November and 16 murders in the first 10 days of this month. The habitual criminal generally does his work alone, but the current criminal operates in groups, even killing when killing is unnecessary. It is evident, then, that these criminals are amateurs, since they exhibit brutality when such an act is superfluous. Most of the criminals are youths of 20 or 25 wearing military uniforms and armed with swords, daggers, clubs, tiles, stones—in short, anything they can lay their hands on. Pistols have begun to appear recently. Crimes are committed even in broad daylight. In October and November, 5,000 cases of larceny were reported, and 40 per cent of the perpetrators were apprehended. Of 23 murder cases, 10 have been successfully solved and four are near solution.

No better results can be expected of the present understaffed force. Detectives investigate a number of cases simultaneously and. have hardly enough time for sleep. The Preliminary Investigation and Identification Section of the TOKYO Police Bureau travels to the scene of a crime in streetcars since they have no motor vehicles. The police telephone system is inadequate, and utilization of a police radio network is impossible at present. Sabers are not adequate weapons. The Police Department has petitioned General Headquarters for permission to carry pistols and tear gas bombs.

DISTRIBUTION: "X"

- 3 -