Press translations [Japan]. Social Series 0117, 1945-12-24.
translation-number: social-0489
call-number: DS801 .S84
---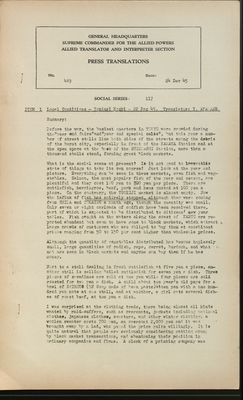 (View Page Image)
GENERAL HEADQUARTERS

SUPREME COMMANDER FOR THE ALLIED POWERS

ALLIED TRANSLATOR AND INTERPRETER SECTION

PRESS TRANSLATIONS

SOCIAL SERIES: 117

ITEM 1 Local Conditions - Yomiuri Hochi - 22 Dec Translator: Y. AKA

[illegible]

ANE.
Summary:

Before the war, the busiest quarters in TOKYO were crowded during the "year end fairs" and "year end special sales", hut this year a number of street stalls line both sides of the streets among the d
[illegible]
ris of the burnt city, especially in front of the KAMATA Station and at the open space at the beck of the SHIM
[illegible]
ASHI Station, more than a thousand stalls stand, forming great black markets.
What is the social scene at present? Is it not good to leave this state of things to take its own course? Just look at the year end picture. Everything can be seen in these markets, even fish and vegetables. Salmon, the most popular fish of the year end season, are plentiful and they cost 180 yen to 300 yen per piece. There are cuttlefish, herringroe, beef, pork and hens quoted at 100 yen a piece. On the contrary, the TSUKIJI market is almost empty. Now the influx of fish has entirely stopped, although they were cooing from CHIBA and TOKAIDO a month ago, though the quantity was small. Only seven or eight carloads of codfish have been received there, part of which is expected to be distributed to citizens' new year tables. Fish caught on the waters along the coast of KANTO are reported abundant but seem to have gone to black markets, which attract large crowds of customers who are obliged to buy them at exorbitant prices ranging from 50 to 150 per cent higher than wholesale prices.

Although the quantity of vegetables distributed has become hoplessly small, large quantities of radish, rape, carrot, burdock, and what
[illegible]
not are seen in black markets and anyone can buy them if he has money.
Next to a stall dealing in fresh cuttlefish at five yen a piece, another stall is selling boiled cuttlefish for seven yen a dish. Three pieces of saradines are sold at one yen while four pieces are sold roasted for two yen a dish. A child about ten year's old pays for a bowl of SHIRUKO (TN Soup made of bean paste) attend yen with a one hundred yen note at one stall, and at another, a girl eats several dishes of roast beef, at ten yen a dish.

I was surprised at the clothing trade, there being almost all kinds wanted by raid-suffers, such as overcoats, jackets including national clothes, Japanese clothes, sweaters, and other winter clothing: a woolen sweater costs 700 yen, an overcoat 2,000 yen and it was
[illegible]
brought away by a lad, who played the price quite willingly. It is quite natural that people are seriously considering getting money by black market transactions, and abandoning their position in ordinary companies and firms. A clerk of a printing company was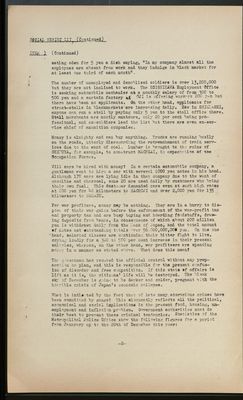 (View Page Image)
SOCIAL SERIES 117 (Continued)
eating oden for 5 yen a dish saying, "In my company almost all the employees are absent from work and they indulge in black market for at least one third of each month".

The number of unemployed and demoblized soldiers is over 13,200,000 but they are not inclined to work. The KOISHIKAWA Employment Office is seeking automobile mechanics at a monthly salary of from 300 to 500 yen and a certain factory
[illegible]
OJI is offering workers 200 yen but there have been no applicants. On the other hand, applicants for street-stalls in blackmarkets are increasing daily. Now in SHIMIASHI, anyone can run a stall by paying only 5 yen to the stall office there. Stall merchants are mostly amateurs, only 20 per cent being professional, and ex-soldiers lead the list but there are even ex-service chief of amunition companies.
Money is almighty and can buy anything. Trucks are running busily on the roads, utterly disregarding the retrenchament of train services due to the want of coal. Lumber is brought to the ruins of SHI
[illegible]
UYA, for example, to construct MACHIAI, in expectation of the Occupation Forces.
Will cars be hired with money? In a certain automobile company, a gentleman went to hire a car with several 1000 yen notes in his hand. Although 170 oars are lying idle in that company due to the want of gasoline and charcoal, some 20 are used daily by customers who bring their own fuel. This customer demanded cars even at such high rates at 800 yen for kilometers to HACROJI and over 2,000 yen for 135 kilometers to NAMAZU.

For war profiters, money may be nothing. They are in a hurry to dispose of their war gains before the enforcement of the war-profit tax and property tax and are busy buying and hoarding foodstuffs, drawing deposits from banks, in consequence of which about 200 million yen is withdrawn daily from the Bank of Japan, and the total amount of notes not outstanding totals over 56,000, 000,000 yen. On the one hand, salaried classes are continuing their bitter fight to live, crying loudly for a 300 to 500 per cent increase in their present salaries; whereas, on the other hand, war profiteers are spending money in a manner as stated above. What does this mean?

The government has removed the official control without any preparation or plan, and this is responsible for the present confusion of disorder and free competition. If this state of affairs is lift as it is, the citizens' life will be destroyed. The bleak sky of December is going to be darker and colder, pregnant with the horrible crisis of Japan's economic collapse.

What is indicated by the fact that of late many atorocious crimes have been committed by gangs? This eloquently reflects all the political, economical and social implications in the present food, housing, unemployment and inflation problem. Government authorities must do their best to prevent these criminal tendencies. Statistics of the Metropolital Police Office show the following figures for a period from Janurary up to the 20th of December this year:

- 2 -

(View Page Image)
SOCIAL SERIES 117 (Continued)
| | | | |
| --- | --- | --- | --- |
| | Before War | After War | Total |
| Burglarers | 10 | 93 | 103 |
| Murders | 7 | 29 | 31 |
The above table shows the marked increase in crimes, indication clearly the aggravation of popular sentiment and social confusion after the war. The burglarers and murders from November up to the 20 December numbered altogether
[illegible]
5, of which 5
[illegible]
cases, this is 70 per cent, were committed by gands, gangs of two persons numbered 22, three persons 28, four persons 6, five a persons 1 and seven persons 1. Only 10 per cent, that is 9 cases, showed convisions. This unsatisfactory police service is partly due to the difficulty of searchers caused by various unfavorable conditions regarding food, communications and transportation etc and partly the diversity of criminal styles, because gang members are amateurs. According to various statements, first offenders decidedly numerous and the crimes are products of the recent distorted social structure.
One cannot get food even if one works, prices of commodities are always far above incomes; no dwellings; cold and hunger! In spite of these facts the year is approaching mercilessly. When those who are placed under such conditions, go out on the streets, they close to their eyes the tempt of black markets, where steaming dishes of food and other lining necessities can easily be obtained if money is paid. They are wanting courage to satisfy their desire, by committing crimes alone and accordingly seek collaboration of other and first commit a small crime forming a gang, gradually committing Larger and larger
[illegible]
.
In such a way, amateur gangs resort to burglary and murder instead of demanding food, occupation and dwelling, in order to satisfy their appetite with food and wine obtained by the stolen money.

ITEM 2 Conditions in North China - Yomiuri Nochi - 22 Dec 45 Translator: J. KINGSNITA.
Full Translation:

Two repartriates, who returned from North CHINA, arrived at SAS
[illegible]
O on 13 December and told the present condition of JAPANESE people there.
Repatriation of JAPANEASE people in North CHINA began at the end of October with the trip of the
[illegible]
SHI
[illegible]
AMARC. The in M
[illegible]
LIA and KALGAN were sent first, then those in SHANSI and the northern part of HUPEI, and lastly those in the PEPING-TIENSING area. A majority of Japanese who are scattered in the southern part of HUPE SHANTONG are gathering at TSI
[illegible]
AN, waiting to return via TSTNG-TAU, as soon as the TSININ-KIAOCHOW Railway is opened.
Out of 80,000 Japanese inhabints in PEPING, some 25,000 who lived outside the palace wall, were summoned and taken to re-location

- 3 -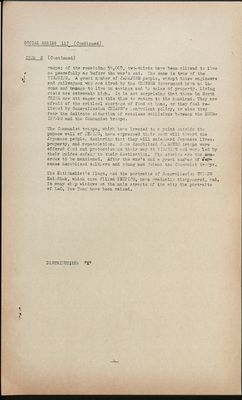 (View Page Image)
SOCIAL SERIES 117 (Continued)
camps; of the remaining 55,000, two-thirds have been allowed to live as peacefully as before the war's end. The same is true of the TIENSING. A great number of JAPANESE people, except those engineers and railwaymen who are hired by the CHINESE Government have no income and manage to live on savings and by sales of property. Living costs are extremely high. It is not surprising that those in North CHINA are not eager at this tine to return to the homeland. They are afraid of the critical shortage of food at home, or they foel relieved by Generalissimo CHIANG's Eenovolent policy, or else they fear the delicate situation of ceasless Collisions between the KUOMINTANG and the Communist troops.

The Communist troops, which have invated to a point outside the papace wall of PEPING, have expressed their good will toward the Japanese people, declaring that they will safeguard Japanese lives, property, and repatriation. Some demoblized JAPANESE troops were offered food and protection on their way to TIENSING and were led by their guides safely to their destination. The stories are too numerous to be mentioned. After the war's end a great number of Japanese demoblized soldiers and young men joined the Communist troops.

The Nationalist's flags, and the portraits of Generalissimo CHIANG Kai-Shek, which once filled PEIPING, have gradually disappeared, and, in many shop windows on the main streets of the city the portraits of MAO, Tse Tung have been raised.

DISTRIBUTION: "X"

- 4 -