Press translations [Japan]. Social Series 0115, 1945-12-23.
translation-number: social-0482
call-number: DS801 .S84
---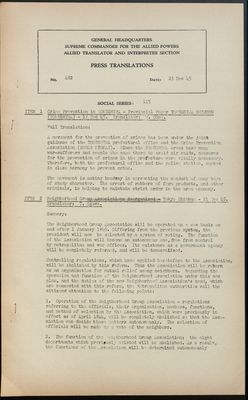 (View Page Image)
GENERAL HEADQUARTERS

SUPREME COMMANDER FOR THE ALLIED POWERS

ALLIED TRANSLATOR AND INTERPRETER SECTION

PRESS TRANSLATION

SOCIAL SERIES: 115

ITEM 1 Crime Prevention in TOKUSHIMA - Provincial Paper TOKUSHIMA SHIMBUN (TOKUSHIMA) - 17 Dec 45. Translator: M. Ohno.
Full Translation:

A movement for the prevention of crimes has boon under the joint guidance of the TOKUSHIMA prefectural office and the Crime Prevention Association (BOHAN KYOKAI). Since the TOKUSHIMA, areas have many war-sufferers and people who came there to avoid air raids, measures for the prevention of crimes in the prefecture were vitally necessary. Therefore, both the prefectural office and the police station, worked in close harmony to prevent crime.

The movement is making headway in correcting the conduct of many boys of shady character. The arrest of robbers of farm products, and other criminals, is helping to maintain strict order in the area economy,

ITEM 2 Neighborhood Group Associations Reorganized - Tokyo Shimbun 21 Dec 45. Translator: T. Ogawa.
Summary:

The Neighborhood Group Association will be operated on a new basis on and after 1 January 1946. Differing from the previous system, the president will now be selected by a system of voting. The function of the Association will become an autonomous one, free from control by metropolitan and war offices. Its existence as a government agency will be completely reformed, and will be democratized.

Controlling regulations, which have applied heretofore to the Association, will be abolished by this reform. Thus the Association will be reborn as an organization for mutual relief among neighbors. Regarding the operation and function of the Neighborhood Association under this new plan, and the duties of the now Neighborhood Association's head, which are connected with this reform, the metropolitan authorities call the citizens' attention to the following points:
Operation of the Neighborhood Group Association - regulations referring to the officials, their organization, numbers, functions, and method of selection by the Association, which were previously in effect as of April 1944, will be completely abolished so that the Association can decide these matters autonomously. The selection of officials will be made by a vote of the neighbors.
The function of the neighborhood Group Association: the eight departments which previously existed will be abolished. As a result, the functions of the Association will be determined autonomously.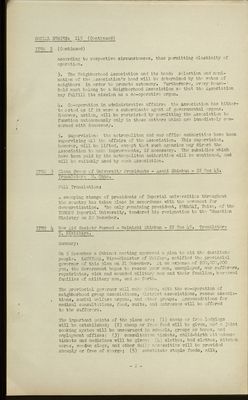 (View Page Image)



SOCIAL SERIES: 115 (Continued)





ITEM 2

(Continued)

according to respective circumstances, thus permitting elasticity of operation.
The Neighborhood Association and its head: selection and nomination of the Association's head will be determined by the votes of neighbors in order to promote autonomy, Furthermore, every household must belong to a Neighborhood Association so that the Association may fulfill its mission as a co-operative organ.
Co-operation in administrative affairs: the Association has hitherto acted as if it were a subordinate agent of governmental organs. However, action, will be restricted by permitting the Association to function autonomously only in those matters which are immediately concerned with democracy.
Supervision: the metropolitan and war office authorities have been supervising all the affairs of the Association. This supervision, however, will be lifted, except that such agencies may direct the Association to make improvements, if necessary. The subsidies which have been paid by the metropolitan authorities will be continued, and will be suitably used by each Association.
ITEM 3 Clean Sweep of University Presidents Asahi Shimbun 22 Dec 45. Translator: M. Ohno.
Full Translation:

A sweeping change of presidents of Imperial universities throughout the country has taken place in accordance with the movement for democratization. The only remaining president, KUMAGAI, Taizo, of the TOHOKU Imperial University, tendered his resignation to the Education Ministry on 20 December.

ITEM 4 Now Aid Society-Formed - Mainichi Shimbun - 22 Dec 45. Translator: H. Nishihara.
Summary:

On 5 December a Cabinet meeting approved a plan to aid the destitute people, KAMEYAI, Vice-Minister of Welfare, notified the provincial governor of this plan on 21 December. At an expense of 200,000,000 yen, the Government hopes to rescue poor men, unemployed, war sufferers, repatriates, sick and wounded military men and their families, bereaved families of military men, and so forth.

The provincial governor will male plans, with the co-operation of neighborhood group associations, district associations, rescue associations, social welfare organs, and other groups. Accommodations for medical consultations, food, suits, and matrasses will be offered to the sufferers.

The important points of the plans are: (1) cheap or free lodgings will be established; (2) cheap or free food will be given, and a joint cooking system will be encouraged in schools, groups or homes, and employment offices;(3) consultation tickets, child-birth attendance tickets and medicines will be given; (4) clothes, bed clothes, kitchen wares, wooden clogs, and other daily necessities will be provided cheaply or free of charge; (5) substitute staple foods, milk,

- 2 -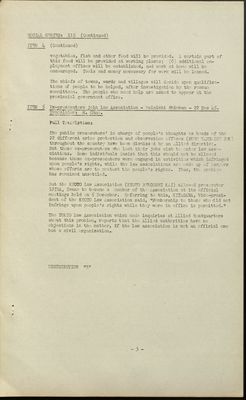 (View Page Image)
SOCIAL SERIES: 115 (Continued)
vegetables, fish and other food will be provided. A certain part of this food will be provided at working places; (6) additional employment offices will be established, and work at homo will be encouraged. Tools and money necessary for work will be loaned.

The chiefs of towns, wards and villages will decide upon qualifications of people to be helped, after investigation by the rescue committees. The people who need help are asked to appear at the provincial government office.

ITEM 5 Ex-prosecutors join law Association - Mainichi Shimbun 22 Dec 45. Translator: M. Ohno.
Full Translation:

The public prosecutors' in charge of people's thoughts as heads of the 22 different crime protection and observation offices (HOGO KANSATSU SHO) throughout the country have been dismissed by an Allied directive.. But those ex-prosecutors who lost their jobs wish to enter law associations. Some individuals insist that this should not be allowed because these ex-prosecutors were engaged in activities which infringed upon people's rights, while the law associations are made up of lawyers whose efforts are to protect the people's rights. Thus, the problem has remained unsettled.

But the KYOTO Law Association (KYOTO BENGOSHI KAI) allowed prosecutor IJIMA, Iwane to become a member of the Association at its official meetings held on 5 December. Referring to this, KITAGAWA, Vice-president of the KYOTO Law Association said, "Membership to those who did not infringe upon people's rights while they wore in office is permitted."

The TOKYO Law Association which made inquiries at Allied Headquarters about this problem, reports that the Allied authorities have no objections in the matter, if the law association is net an official one but a civil organization.

DISTRIBUTION "X"

- 3 -