Press translations [Japan]. Social Series 0113, 1945-12-23.
translation-number: social-0474
call-number: DS801 .S84
---
(View Page Image)
GENERAL HEADQUARTERS

SUPREME COMMANDER FOR THE ALLIED POWERS

ALLIED TRANSLATOR AND INTERPRETER SECTION

PRESS TRANSLATIONS

SOCIAL SERIES: 113

ITEM 1 Peasant Youth Protest Against Being Sent on Forced Labor to Coal Mines - Provincial Newspaper KOCHI SHIMBUN (KOCHI) - 14 Dec 45. Translator: C. Gilbert.
Summary:

On 11 December peasant youth of four villages in GOGAWA-Gun, KOCHI-Ken, assembled in a public hall in AKIYAMA Mura and resolved that before peasant youth who are now laboring hard to increase food production are sent to the coal mines as forced labor, villainous GUMBATSU, State officials, TOKKO's, and unemployed should be sent. They then sent a written resolution to the Occupation Forces Headquarters in KOCHI-Shi and to Japanese authorities in KOCHI-Ken. The written resolution stated that peasants had to make the heaviest sacrifices during the war, the GUMBATSU and the ZAIBATSU misusing them in the name of the Emperor for their own fascistic aims.

Japanese peasant youths wish more than anybody for a democratic reform and are doing their share by working hard to produce food. It is therefore unjust that the Japanese Government should requisition them as laborers in the coal mines. Before the Government requisitions peasants, they should mobilize members of the GUMBATSU, ZAIBATSU and KANRYO, who have committed many crimes, and the vast army of unemployed in the cities.

ITEM 2 Victory of Boycotting Group composed of AKITA Citizens - Provincial Paper KAHOKU SENDAI) - 16 Dec 45. Translator: K. Minagi.
Summary:

The boycott by 110,000 AKITA citizens for three days after 11 December against black market commodities was fairly successful. AKITA's special food product, HATAHATA, which previously cast 60 yen par kan had completely disappeared on the second day of the boycott. YAMA-IMO (TN: A sort of yam) which once cost five or seven yen each, came down to three or four yen and on the third day it, also, completely disappeared. As a counter-measure aga
[illegible]
at black market activities, AKITA Prefectural Marina Products Distribution Company unexpectedly distributed on 12 December, 100 momme of HATAHATA at 90 sen to every family in AKITA which satisfied all the city people. The movement succeeded in wiping out exhorbitant black market prices except for dry cuttlefish which still costs two yen a piece. But they will soon come dorm to the Association's lower price. AT OPATE-machi, AKITA Prefecture, the rationing of sweet potatoes at 35 yen caused a fury among the towns-people and they decided to organize a co-operative consumers association to import from other prefectures soma cheap perishable food to relieve the people's costly living expenses.
(View Page Image)
SOCIAL SERIES: 113 (Continued)
ITEM 3 Two Nisei Sisters on their impression of the G.I. in Japan - Provincial Newspaper HYUGA NICHINICHI SHIMBUN (MIYAZAKI) - 17 Dec 45. Translator: C. Gilbert.
Summary:

Two Nisei sisters, YAMAGUCHI, Tamiko and Tomiko acting as interpreters for the Occupation Forces in the city of MIYAZAKI gave their impressions of the American G.I. in an interview as follows: "The G.I. is very kind, never takes an overbearing attitude as a victor, is not stuck up, in fact, one does not get the feeling that he is an alien at all, so it is easy to become friendly with him. Americans are brought up on a co-educational basis so free intercourse between boys and girls requires no unnatural or strained efforts as is the case among the Japanese. American boys are taught to be civil to girls from their teens so it is a matter of course to offer seats in trains or trams to girls. Boys and girls are very frank with each other, so no impure thoughts arise. They dance together, but, avoid walking in the dark in couples. Friendships between couples last even after marriage and husbands and wives do not object to this. Mutual understanding and conginiality is the American ideal of marriage. Divorce or secret love affairs are not frequently indulged by the average American man, because the woman usually wins the case and is awarded heavy alimony. The American husband always helps the wife with her housework in his spare time. The American boys and girls are equally well educated. The impression of some Japanese that the American woman is placed on a pedestal and the American man looked down upon, is mistaken. However, the American man honors women as a matter of good taste and courtesy.

"In JAPAN on the other hand, the Japanese vice of putting man on a pedestal and looking down on women, is now running the risk of being reversed in some cases. The Japanese girl compared with the American girl is quieter but more narrow minded, she indulges too often in malicious gossip behind people's backs which is cowardly. MIYAZAKI girls frequently stare at G.I.'s which is very rude. The American G.I. on the average thinks the Japanese girl pretty, but too timid. NISEI girls did not have an easy time in JAPAN, kids in the neighborhood threw stones at them, they were often accused during the war as spies. It is to be hoped that the Japanese will now get over this pettiness and become really nice people."

ITEM 4 Five more Crime Cases - Yomiuri Hochi - 20 Dec 45. Translator: T. Ogawa.
Summary:

Five more burglary cases have been reported. They are as follows:
At about 2300 on Wednesday, a burglar broke in an eating house, run by TERADA, Yoshio at 69 MIKAWASHIMA 7-chomo, ARAKAWA-Ku. He broke into the house through the back door of the kitchen, and hit the owner on the head with a beer bottle and demanded that the victim hand over his money. Badly frightened by the victims timely cry for help, the burglar ran away empty handed.
About the same time on that same night, a trio of burglars broke in the house of KUROKAMA, Heikichi, a chauffeur, at 3 BANSHU-CHO, YOTSUYA-Ku. The trio succeeded in robbing the victim of 400 yen in cash by threatening him with a dagger and then they fled.

- 2 -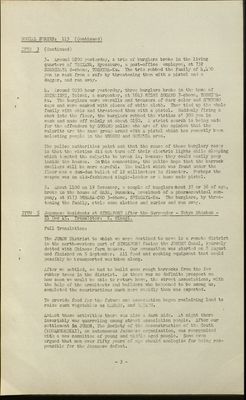 (View Page Image)



SOCIAL SERIES: 113 (Continued)





ITEM 3

(Continued)
Around 0200 yesterday, a trio of burglars broke in the living quarters of EBIZAWA, Ryozaburo, a post-office employee, at 732 ZOSHIGAYA 2-chomo, TOSHIMA-Ku. The trio robbed the family of 4,400 yen in cash from a safe by threatening them with a pistol and a dagger, and ran away.
Around 0030 hour yesterday, three burglars broke in the home of SHIRAISHI, Toichi, a carpenter, at 1643 NISHI SUGAMO 7-chome, TOSHIMA-Ku. The burglars wore overalls and trousers of dark color and SENTOBO caps and were masked with pieces of white cloth. They tied up the whole family with obis and threatened them with a pistol. Suddenly firing a shot into the floor, the burglars robbed the victims of 300 yen in cash and made off calmly at about 0150. A strict search is being made for the offenders by SUGAMO police who are of the opinion that the culprits are the same group armed with a pistol which has recently been molesting people in the MEGURO and GOTANDA area.

The police authorities point out that the cause of these burglary cases is that the victims did not turn off their electric lights while sleeping which tempted the culprits to break in, because they could easily peep inside the houses. In this connection, the police hope that the barrack dwellers will be more careful. The bullet which was found under the floor was a dum-dum bullet of 12 millimeters in diameter. Perhaps the weapon was an old-fashioned single-loader or a home made pistol.
About 1100 on 19 December, a couple of burglars about 37 or 38 of age, broke in the house of HARA, Bunsaku, president of a pharmaceutical company, at 9173 UEHARA-CHO 3-chome, SETAGAYA-Ku. The burglars, by threatening the family, stole some clothes and curios and ran away.
ITEM 5 Japanese Residents at SINGAPORE After the Surrender - Tokyo Shimbun - 21 Dec 45. Translator: K. Minagi.
Full Translation:

The JURON District to which we were destined to move is a remote district in the north-western part of SINGAPORE facing the JOHORE Canal, sparsely dotted with Chinese farm houses. Our evacuation was start d on 8 August and finished on 5 September. All food and cooking equipment that could possibly be transported was taken along.

After we settled, we had to build some rough barracks from the few rubber trees in the district. As there was no definite prospect on how soon we would be able to return home, the street associations, with the help of the architects and builders who happened to be among us, completed the constructions much more rapidly than was expected.

To provide food for the future one association began reclaiming land to raise such vegetables as KANKON, and BAYAMU.

Amidst these activities there was also a dark side. At night there invariably was quarreling among street association people. After our settlement in JURON, The Society of the Reconstruction of the South (KOHANHOKOKAI), an autonomous Japanese organization, was reorganized with a new committee of young and middle aged people. Some even argued that men over fifty years of age should apologize for being responsible for the Japanese defeat.

- 3 -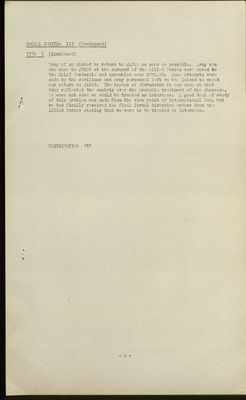 (View Page Image)
SOCIAL SERIES: 113 (Continued)
Many of us wished to return to JAPAN as soon as possible. Army men who came to JURON at the command of the Allied Forces were moved to the MALAY Peninsula and assembled near RENGAMU. Some attempts were made by the civilians and army personnel left on the Island to speed our return to JAPAN. The topics of discussion in our camp at that time reflected the anxiety over the probable treatment of the Japanese. We were not sure we would be treated as internees. A good deal of study of this problem was made from the view point of international law, but we had finally received the final formal directive orders from the Allied Forces stating that we were to be treated as internees.

DISTRIBUTION "X"

- 4 -