Press translations [Japan]. Social Series 0112, 1945-12-23.
translation-number: social-0469
call-number: DS801 .S84
---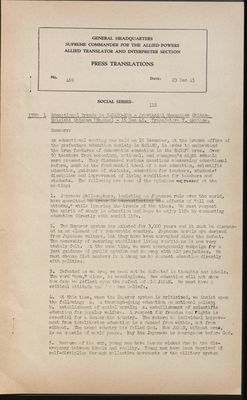 (View Page Image)
GENERAL HEADQUARTERS

SUPREME COMMANDER FOR THE ALLIED POWERS

ALLIED TRANSLATOR AND INTERPRETER SECTION

PRESS TRANSLATIONS

SOCIAL SERIES: 112

ITEM 1 Educational Trends in NAGANO-Ken - Provincial Newspaper Shinano Mainichi Shimbun (Nagano) - l6 Dec 45. Translator: Y. Akabane.
Summary:

An educational meeting was held on 15 December, at the branch office of the prefecture education society in NAGANO, in order to understand the true features of democratic education in the NAGANO area. Over 50 teachers from secondary, national, and youngmen's night schools were present. They discussed various questions concerning educational reform, such as the fundamental ideal of a new education, scientific education, guidance of students, education for teachers, students' discipline and improvement of living conditions for teachers and students. The following are some of the opinions expressed at the meeting:
Japanese philosophers, insisting on Japanese rule over the world, have committed an error in overestimating the effects of "all out attacks," while ignoring the trends of the times. We must respect the spirit of study in education and hope to enjoy life by connecting education directly with social life.
The Emperor system has existed for 3,000 years and it must be discussed as an element of a democratic country. Japanese morals are derived from Japanese culture, but they have been corrupted since the defeat. The necessity of securing stabilized living conditions is now very acutely felt. At the same time, we must courageously campaign for a just guidance of public opinion and do away with old prejudices. We must choose Diet members from among us to connect education directly with politics.
Defeated as we are, we need not be defeated in thoughts and ideals. The word "new," alone, is meaningless. New education will not show how deep we reflect upon the defeat of old JAPAN. We must have a critical attitude and from new beliefs.
At this time, when the Emperor system is criticized, we insist upon the following: a. A thorough-going education on national policy; b. establishment of social morals; c. establishment of scientific education for popular welfare. A respect for freedom and rights is essential for a democratic country. The return to individual improvement from totalitarian education is a demand from within, net from without. The armed country has failed God. Now JAPAN, without arms, is an apostle of world peace. May the Japanese be courageous before God.
Because of the war, young men have become wicked due to the discrepancy between ideals and reality. Young men have been deprived of self-discipline through collective movements or the military system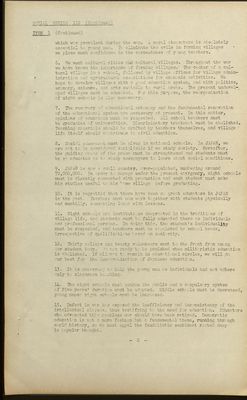 (View Page Image)



SOCIAL SERIES 112 (Continued)





ITEM 1

(Continued)

which was prevalent during the war. A moral atmosphere is absolutely essential to young men. To eliminate the evils in farming villages we place much confidence in the earnestness of young teachers.
We want cultural cities and cultural villages. Throughout the war we have known the importance of farming villages. The center of a cultural village is a school, followed by village offices for village administration and agricultural associations for economic activities. We hope to develop villages with a good education system, and with politics, economy, science, and arts suitable to rural areas. The present undeveloped villages must be educated. For this purpose, the reorganization of night schools is also necessary.
The recovery of educational autonomy and the fundamental renovation of the educational system are necessary at present. In this matter, opinions of educators must be respected. All school teachers must be graduates of universities. Discriminatory treatment must be abolished. Teaching materials should be drafted by teachers themselves, and village life itself should contribute civil education.
Social education must be given in national schools. In JAPAN, we are apt to be considered socialistic if we study society. Hereafter, the guiding power of the press must be strengthened and students must be so educated as to study newspapers to learn about social conditions.
JAPAN is new a small country, over-populated, numbering around 72,000,000. In order to manage under the present emergency, night schools must be directly connected with production and each student must make his studies useful to his home village before graduating.
It is regretted that there have been no great educators in JAPAN in the past. Teachers must now work together with students physically and mentally, connecting labor with lessens.
Night schools are institutions deep-rooted in the traditions of village life, and students must be fully educated there as individuals and professional persons. In doing this, the student's individuality must be respected, and teachers must be appointed by school heads, irrespective of qualifications based on seniority.
Thirty soldiers and twenty volunteers went to the front from among our student body. We are ready to be punished when militaristic education is abolished. If allowed to remain in educational circles, we will do our best for the democratization of Japanese education.
It is necessary to help the young men as individuals and not adhere only to classroom teaching.
The night schools must awaken the public and a compulsory system of five years' duration must be adopted. Middle schools must be decreased, young mens' night schools must be increased.
Defeat in war has exposed the inefficiency and inconsistency of the intellectual classes, thus testifying to the need for education. Educators who advocated this reckless war should have been retired. Democratic education is not a mere fashion but a fundamental theme, running through world history, so we must expel the feudalistic sentiment rooted deep in popular thought.

- 2 -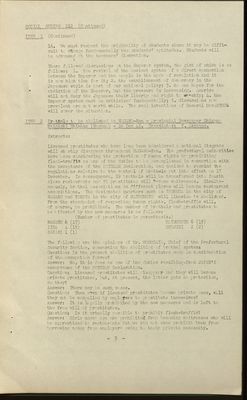 (View Page Image)



SOCIAL SERIES 112 (Continued)





ITEM 1

(Continued)
We must respect the originality of students since it may be difficult to change fundamentally the students' aptitudes. Students will be advanced at the teachers' discretion.
There followed discussions on the Emperor system, the gist of which is as follows: 1. the revival of the ancient system of a direct connection between the Emperor and the people is the mode of revolution and it is now high time for it; 2. the establishment of democracy in the Japanese style is part of our national policy; 3. no one hopes for the abdiction of the Emperor, but the pressure is increasing. America will net deny the Japanese their liberty and right to worship; 4. the Emperor system must be criticized fundamentally; 5. discussions now prevalent are not worthwhile. The real intentions of General MacARTHUR will cover the situation.

ITEM 2 Brothels to be abolished in NAGANO-Ken - Provincial Newspaper Shinano Mainichi Shimbun (Nagano) - 16 Dec 45. Translator: Y. Akabane.
Extracts:

Licensed prostitutes who have long been considered a national disgrace will shortly disappear throughout NAGANO-Ken. The prefectural authorities have been considering the protection of human rights by prohibiting flesh-traffic as one of the duties to be accomplished in connection with the acceptance of the POTSDAM Declaration, and decided to rescind the regulations relative to the control of brothels put into effect on 17 December. In consequence, 19 brothels will be transformed into fourth class restaurants and 50 prostitutes will become waitresses. Simultaneously, brothel associations in different places will become restaurant associations. The designated quarters such as TSURUGA in the city of NAGANO and YOKOTA in the city of MATSUMOTO will likewise be abolished. From the standpoint of respecting human rights, flesh-traffic will, of course, be prohibited. The number of brothels and prostitutes to be affected by the new measures is as follows:

(Number of prostitutes in parenthesis.)

| | | |
| --- | --- | --- |
| NAGANO 6 (17) | MATSUMOTO 6 (15) | |
| IIDA 4 (15) | SHOJIRI 2 (2) | |
| SAKAKI 1 (1) | | |
The following are the pinions of Mr. HOSOGAYA, Chief of the Prefectural Security Section, concerning the abolition of brothel system: Question: Is the present abolition of prostitutes made in consideration of the occupation forces?

Answer: No, it is done as one of the duties resulting from JAPAN'S acceptance of the POTSDAM Declaration.
Question: Licensed prostitutes will disappear and they will become private prostitutes, but, at present, the latter gets no protection, do they?
Answer: There may be such cases.
Question: Then even if licensed prostitutes became private ones, will they net be compelled by employers to prostitute themselves?
Answer: It is legally prohibited by the new measures and is left to the free will of prostitutes.
Question: Is it actually possible to prohibit flesh-traffic?
Answer: Girls under age are prohibited from becoming waitresses who will be apprenticed to restaurants but we can not even prohibit them from borrowing money free employers owing to their private necessity.

- 3 -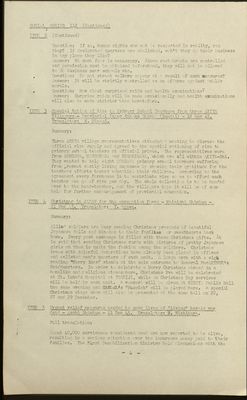 (View Page Image)
SOCIAL SERIES 112 (Continued)
Question: If so, human rights can not be respected in reality, can they? If designated quarters are abolished, won't they do their business in any place they like?

Answer: No such fear is necessary. Since restaurants are controlled and permission must be obtained beforehand, they will not be allowed to do business near schools etc.
Question: Do not street walkers appear at a result of such measures?
Answer: It will be strictly controlled as an offence against public morals.
Question: How about surprised raids and health examinations?
Answer: Surprise raids will be made occasionally and health examinations will also be made stricter than heretofore.

ITEM 3 Special Ration of Rice to Primary School Teachers from three AKITA Villagers - Provincial Paper Kahoku Shimpo (Sendai) - 18 Dec 45. Translator: K. Minagi.
Summary:

Three AKETA village representatives attended a meeting to discuss the official rice supply and agreed to the special rationing of rice to primary school teachers at official prices. The representatives were from SOEGAWA, MATSUBARA and NIGORIGAWA, which are all within AKITA-Shi. They wanted to help eight SOEGAWA primary school teachers suffering from present costly living expenses be showing their gratitude for the teachers efforts toward educating their children. According to the agreement every farmhouse is to contribute rice so as to afford each teacher one go of rice per day. The whole collection is to be handed over to the head-teacher, and the villagers hope it will be of some help for further encouragement of provincial education.

ITEM 4 Christmas in JAPAN far the occupation force - Mainichi Shimbun - 21 Dec 45. Translator: T. Ogawa.
Summary:

Allied soldiers are busy sending Christmas presents of beautiful Japanese dolls and kimonos to their families or sweethearts back home. Every post exchange is filled with these Christmas gifts. It is said that sending Christmas cards with pictures of pretty Japanese girls on them is quite the fashion among the soldiers. Christmas trees with colorful decorations have already been placed in officer and enlisted men's quarters of each unit. A large arch with a sigh reading "Merry Xmas" stands at the main entrance to General MacARTHUR's Headquarters, In order to celebrate a Merry Christmas abroad in a homelike and religious atomosphere, Christmas Eve will be celebrated at St. Luke's Hospital at TSUKIJI, while on Christmas Day services will be held by each unit. A concert will be given at HIBIYA Public Hail the same evening and HANDEL's "Messiah" will be played here. A special Christmas stage show will also be presented at the same hall on 22, 27 and 29 December.

ITEM 5 Urgent relief measures needed to save lives of "living" heroic war dead - Asahi Shimbun - 21 Dec 45. Translator: H Nishihara.
Full translation:

About 40,000 servicemen considered dead, are now reported to be alive, resulting in a serious situation over the insurance money paid to their families. The First Demobilization Ministry held discussions with the

- 4 -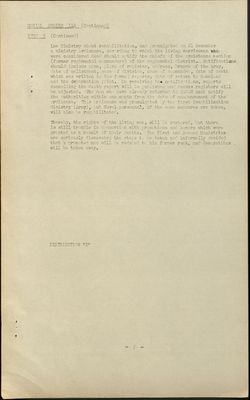 (View Page Image)
SOCIAL SERIES 112 (Continued)
Law Ministry about rehabilitation, and promulgated on 21 December a ministry ordinance, according to which the living servicemen who were considered dead should notify the chiefs of the assistance section (former regimental commanders) of the regimental district. Notifications should include name, place of register, address, branch of the army, date of enlistment, name of division, name of commander, date of death which was written in the formal reports, date of return to homeland and the debarkation point. On receiving the notifications, reports cancelling the death report will be published and census registers will be adjusted. The men who have already returned to JAPAN must notify the authorities within one month from the date of announcement of the ordinance. This ordinance was promulgated by the. First Demobilization Ministry (Army), but Naval personnel, if the sane measures are taken, will also be rehabilitated.

Thereby, the rights of the living men, will be restored, but there is still trouble in connection with promotions and honors which were granted as a result of their deaths. The First and Second Ministries are seriously discussing the steps to be taken and informally decided that a promoted man will be reduced, to his farmer rank, and decorations will be taken away.

DISTRIBUTION "X"

- 5 -